When buying a new Jet Ski or personal watercraft, it's easy to overlook everything else you need to go with it.
Here is our Top 11 list of essential gear for a great day on the water.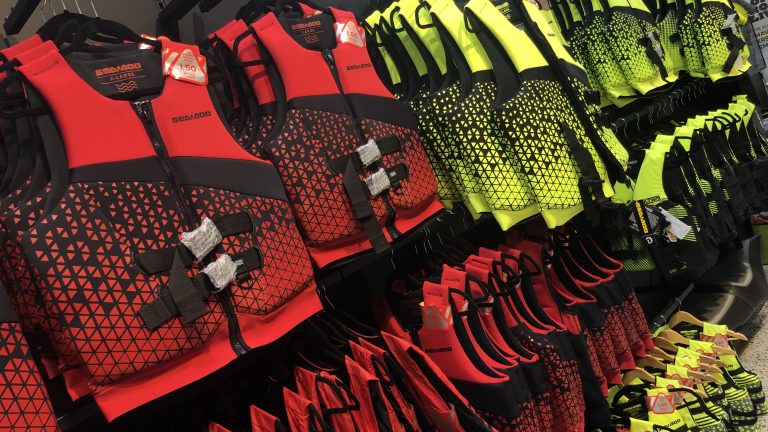 Life vests
It is compulsory to wear an approved life vest when operating a Jet Ski or personal watercraft – or riding as a passenger – in Australia. The fines are expensive and the consequences of not wearing a life vest have in some cases proven to be deadly.
Life vests sold by Jet Ski and personal watercraft showrooms will likely meet the necessary minimum requirements.
Some dealers supply two or three life vests with each new watercraft (depending on whether it's a two-seater or three-seater), however most dealers sell them separately. Prices typically range from $90 to $200 – although some specialised types can cost more than this.
There are two main types: basic nylon designs with flotation foam inside, and more expensive neoprene designs with flotation foam inside. Most companies that sell PWC vests offer both types.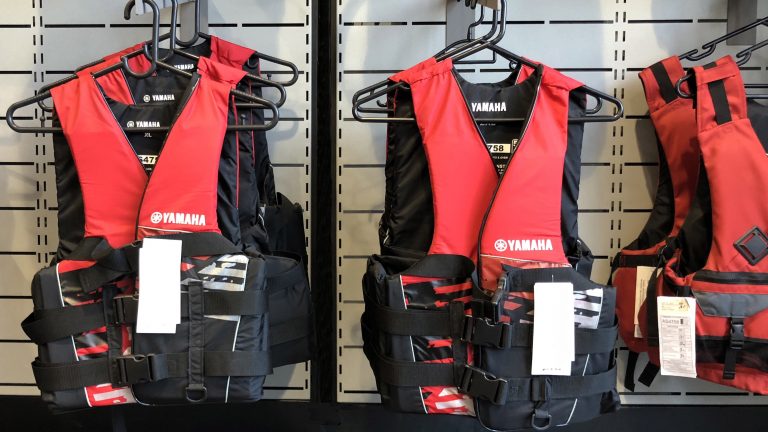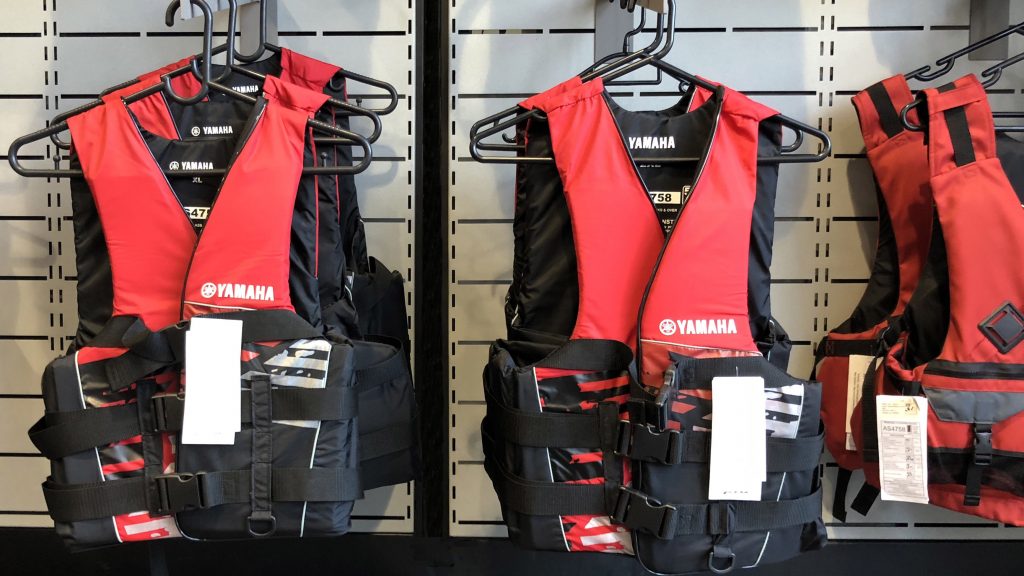 Both types will give you enough buoyancy, however the neoprene vests have some advantages.
Neoprene life vests tend to fit tighter, are more comfortable to wear, and can better protect your body if you come off at speed. Neoprene life vests don't wriggle around as much as nylon vests.
Neoprene life vests also have less chance of chafing your neck than the loose-fitting nylon designs.
Yamaha and Sea-Doo sell their own brand of life vests (both nylon and neoprene) and aftermarket supplier Jet Pilot offers a range of both types.
In recent years, top-end PFDs (personal flotation devices) or life vests have become available with storage pockets, which can be handy for carrying a phone (if it's in a waterproof case) or your PWC licence. 
There are also PWC vests designed for fishing, and others which have a built-in sleeve for hydration packs.
A number of vests have GoPro mounts already fitted, making them camera-ready. However it's worth noting that even with GoPro image stabilisation, the footage from vest-mounted cameras can still be shaky.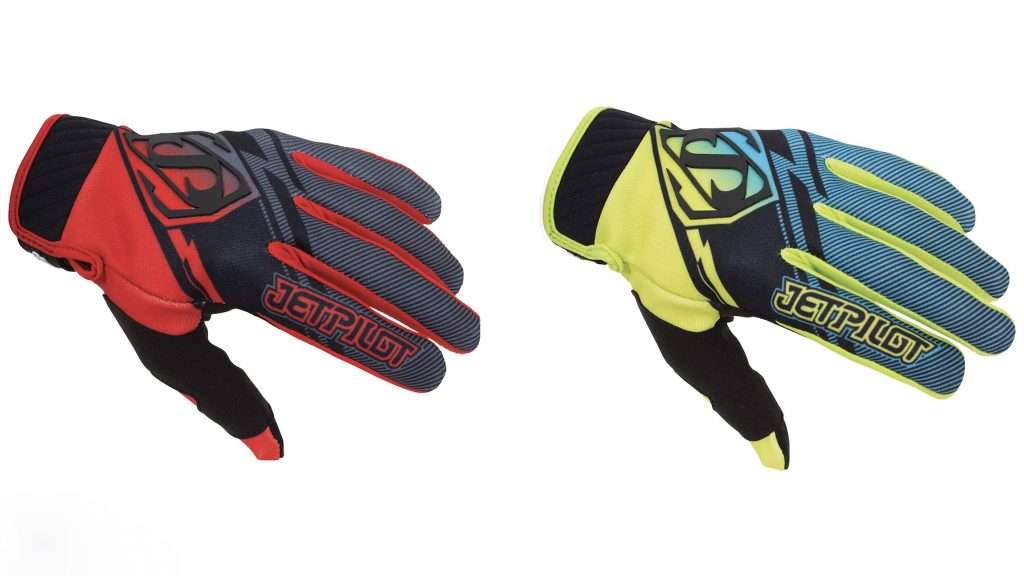 Gloves
You may want to consider gloves to avoid blisters from the throttle and handlebar grips. Be sure to check the gloves don't have stitching inside that could cause a blister.
There is a vast range of branded gloves for Jet Skis and personal watercraft, and they're usually expensive.
But gloves designed to handle heavy-duty tools can work, as can mountain biking gloves. 
Just be sure to wash and dry them after use so they don't develop mould between your rides.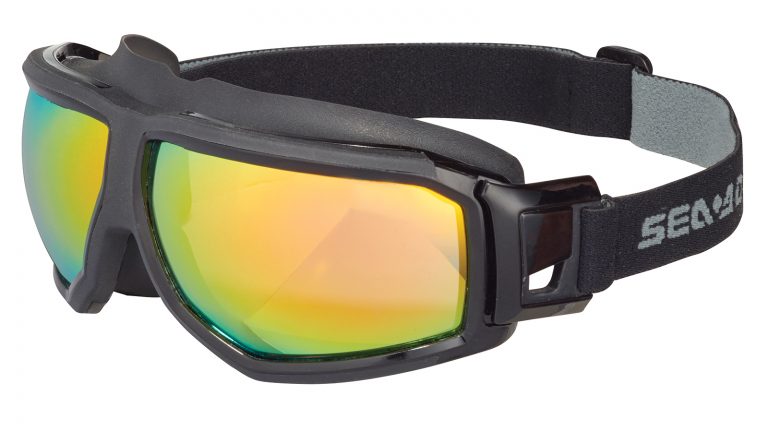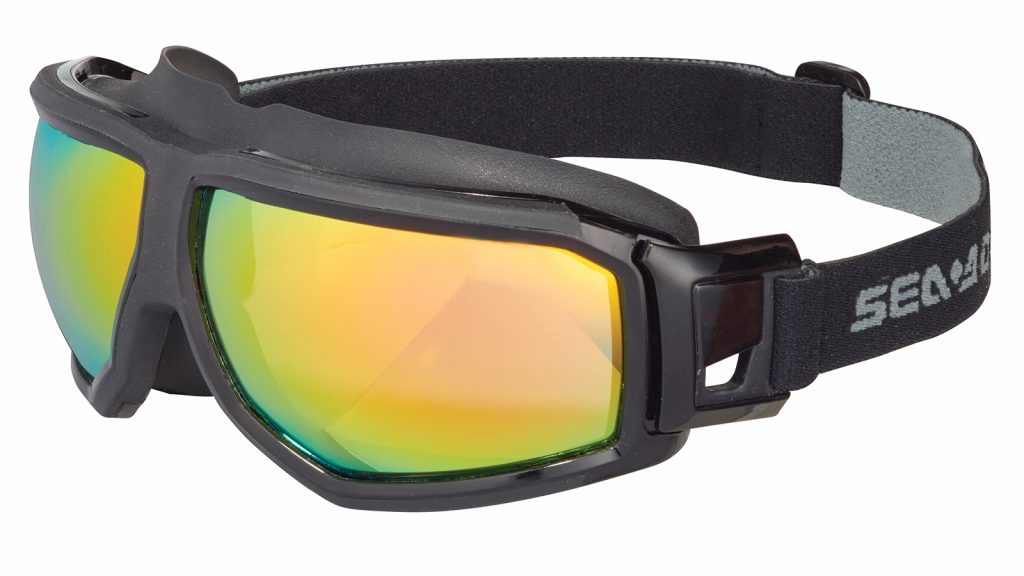 Goggles
It's a common rookie mistake to lose a pair of sunglasses on your first ride. Even with elastic straps, sunglasses can be blown off your face by a decent wave or water spray.
You will also find sunglasses do little to prevent salt and water spray getting in your eyes.
There are numerous types of goggles designed for personal watercraft; most float and drain water. But it can still be tricky to stop them falling off, especially as the elastic band starts to wear.
One way to ensure they stay on is with a helmet, but that's not for everybody either.
We have experimented with snow ski goggles and they work brilliantly until they get drenched with water; they're not designed to drain. 
Your best bet is a pair of goggles designed for use on a personal watercraft, such as those sold by Jet Pilot. 
Sea-Doo also offers prescription-style inserts for certain types of fitted goggles it sells.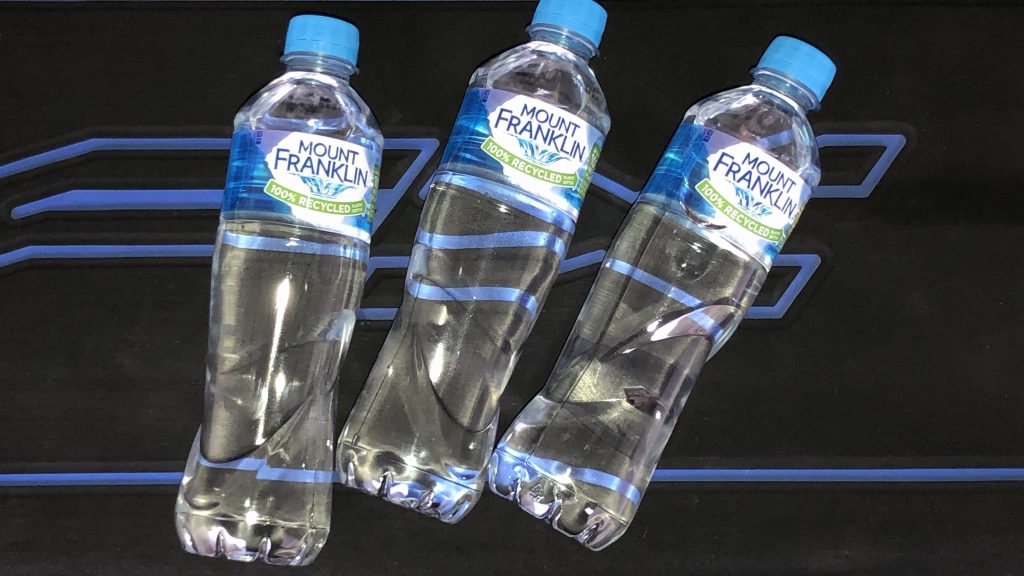 Water
It goes without saying that a day on the water is thirsty work, so make sure you have plenty to drink. Keeping bottled water in the ski is an option, but sometimes rough conditions can burst open bottles and wet your phone or wallet – and of course leave you without drinking water.
One option is to wear a water backpack such as a Camelback or Caribee water reservoir/hydration pack, such as those used by bush walkers and mountain bike riders.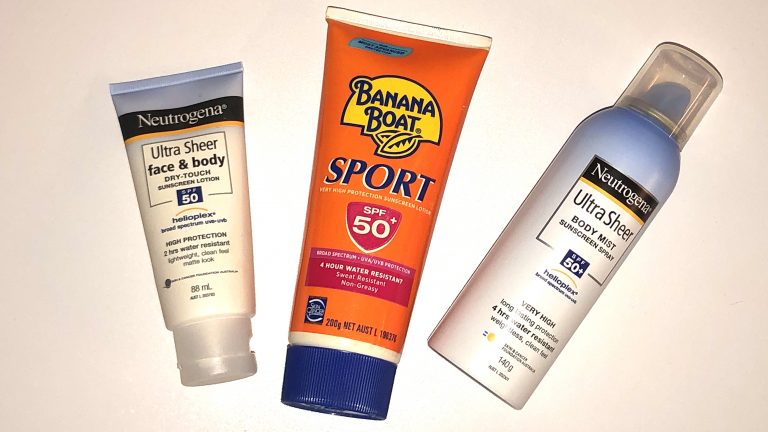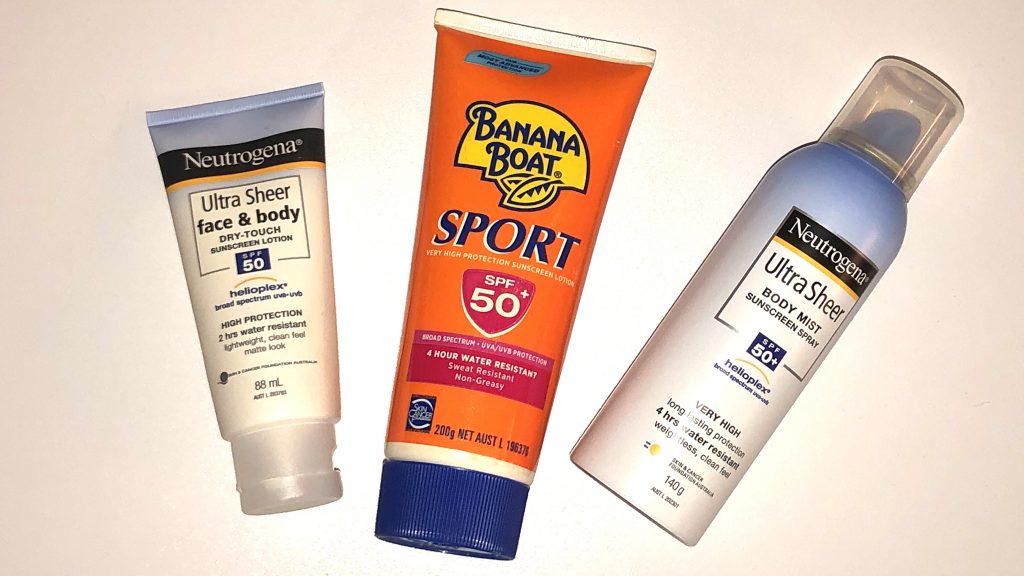 Sun protection
Even if you apply sunscreen like a coat of paint, the spray off the water can dilute your protection.
Wiping sweat away from your eyes and face will also wipe away some of the sunscreen.
The best advice is to apply sunscreen either at home or in the air-conditioned comfort of your car – long before you get to the ramp – so the sunscreen has at least 20 minutes or so to set.
It's then worth reapplying sunscreen every two to four hours, depending on the type.
Most sunscreens leave a shiny film, though there are some types that are dry to the touch after they've been applied.
To limit sunscreen use to your face, head, and neck, you may want to consider a long sleeve "rashie" surf top and long board shorts or wet suit pants to cover arms and legs.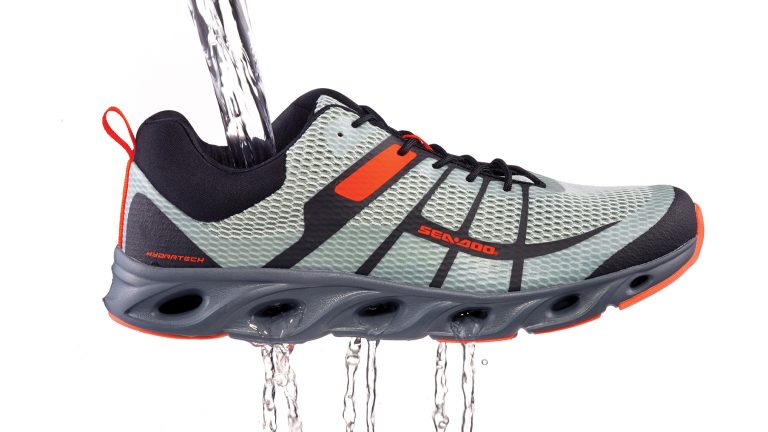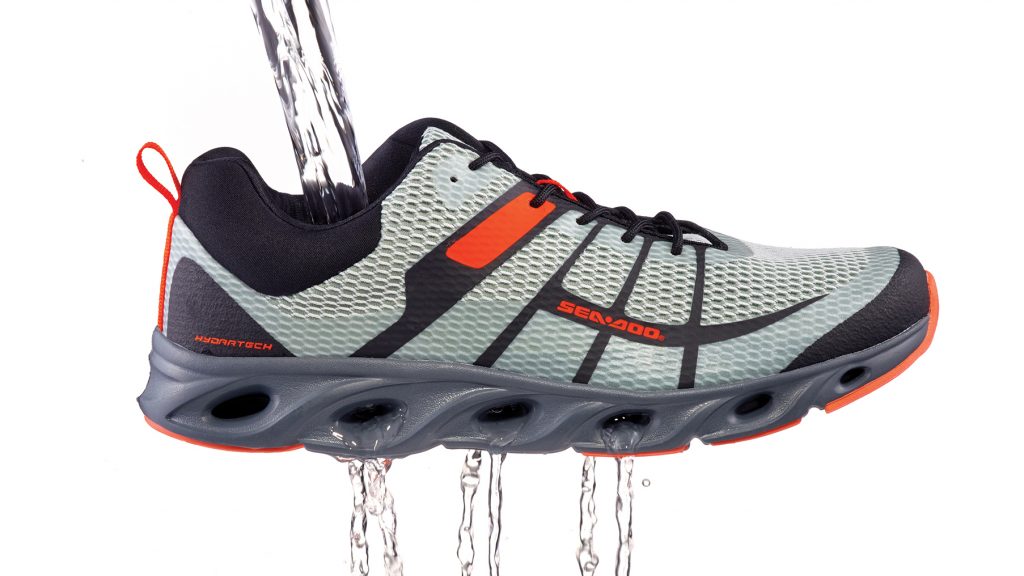 Shoes
Slip-on marine shoes (similar to those worn by divers) can be handy when loading and unloading your Jet Ski or personal watercraft, and avoiding shrapnel, debris or broken glass at the boat ramp.
These slip-on shoes usually cost about $30 to $50, though some riders just use an old pair of running shoes.
Just be sure the soles of the old running shoes have enough grip when wet, otherwise they could have less grip than bare feet.
Shoes dedicated for personal watercraft – and which have built-in drainage – such as those pictured above, cost $160.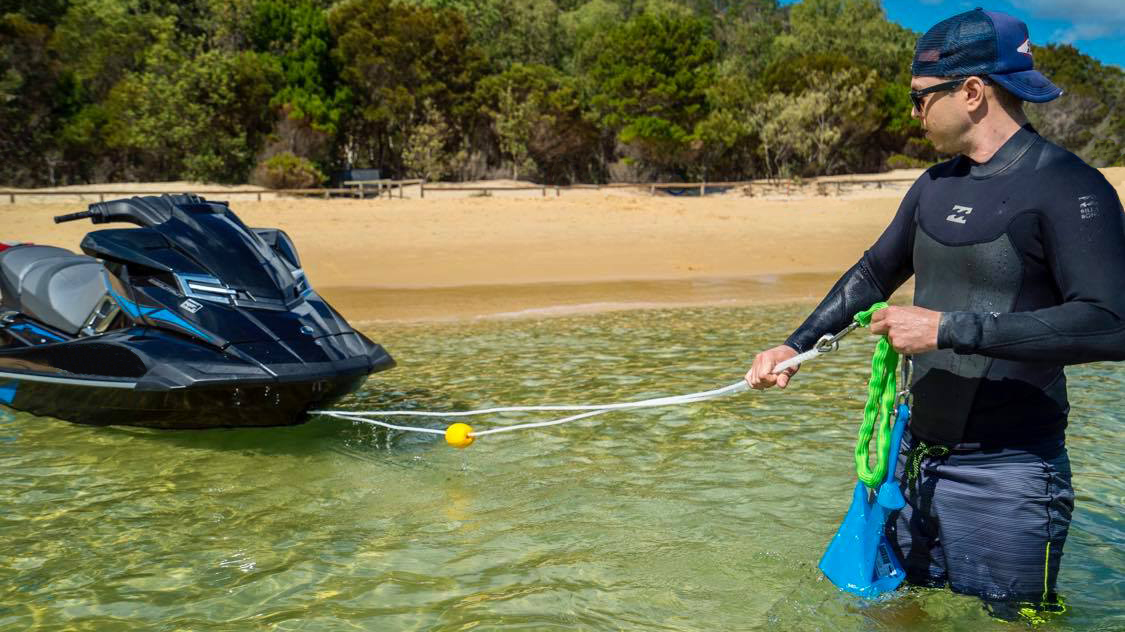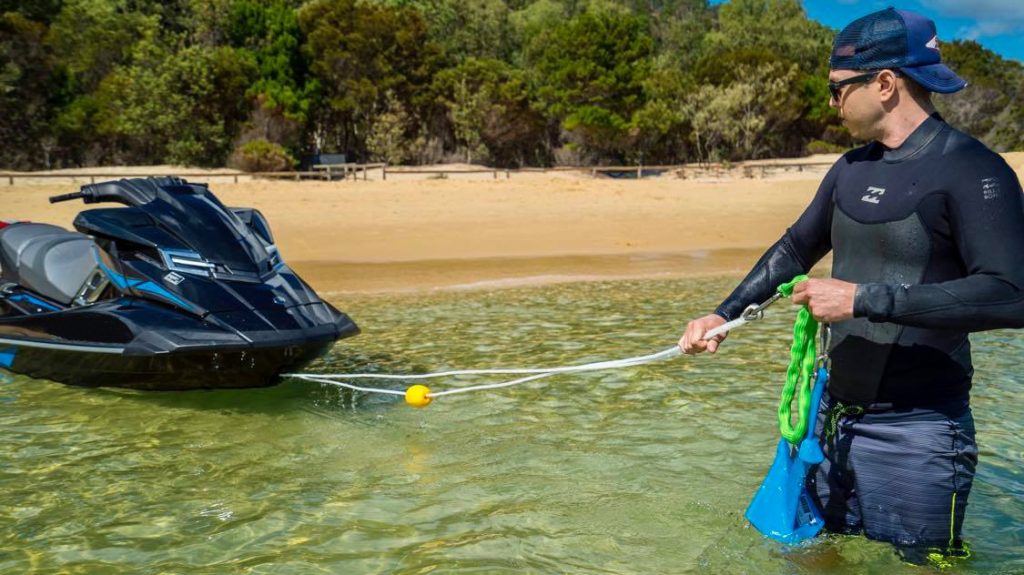 Anchor
We recommend anchoring your watercraft in shallow water rather than "beaching" it, because that can damage your hull and the repairs are time-consuming and expensive.
There are three main types of anchor from which to choose. We have the main options listed here.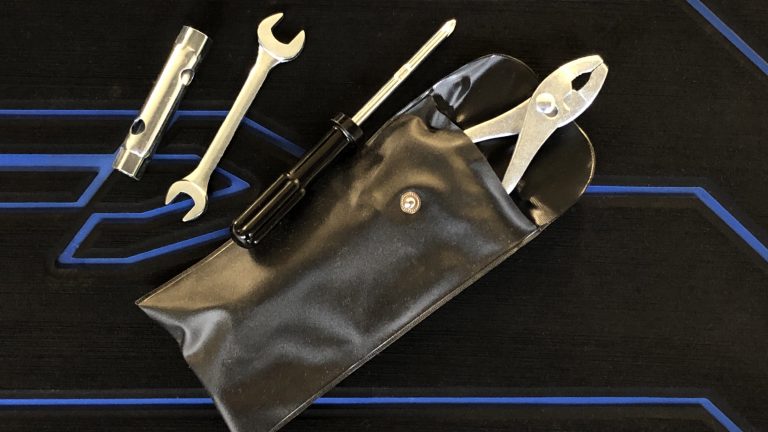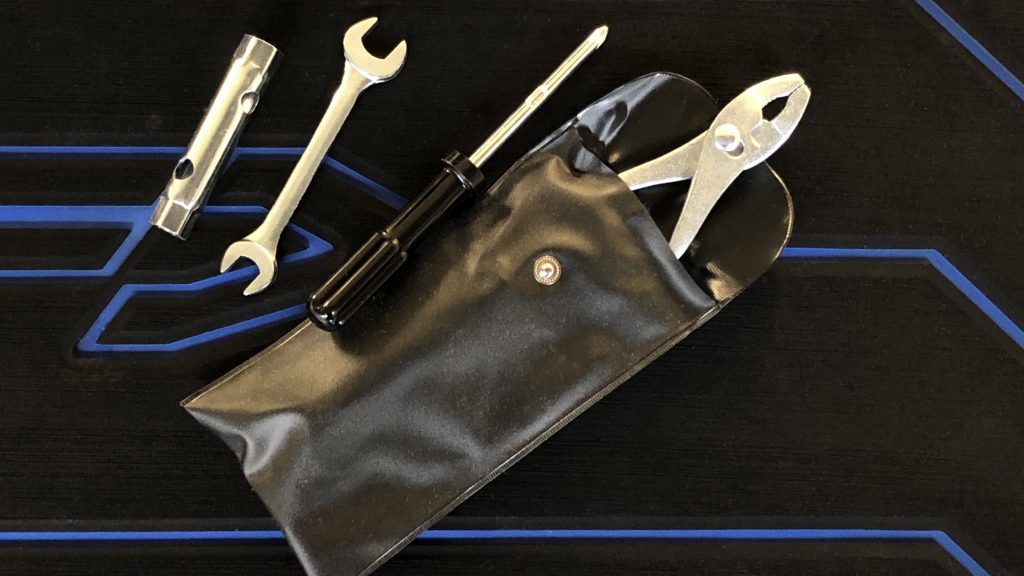 Tools
Most personal watercraft come with a handy tool pouch with the basics: a flathead and star screwdriver, and a spanner with common sizes for the watercraft.
You may want to expand on this with some long narrow plyers that you could use to extract a plastic bag caught in the intake grate – and zip ties in case you need to improvise if a clamp or hose comes loose.
It may also be worth carrying an extra lanyard or security key in case you lose one.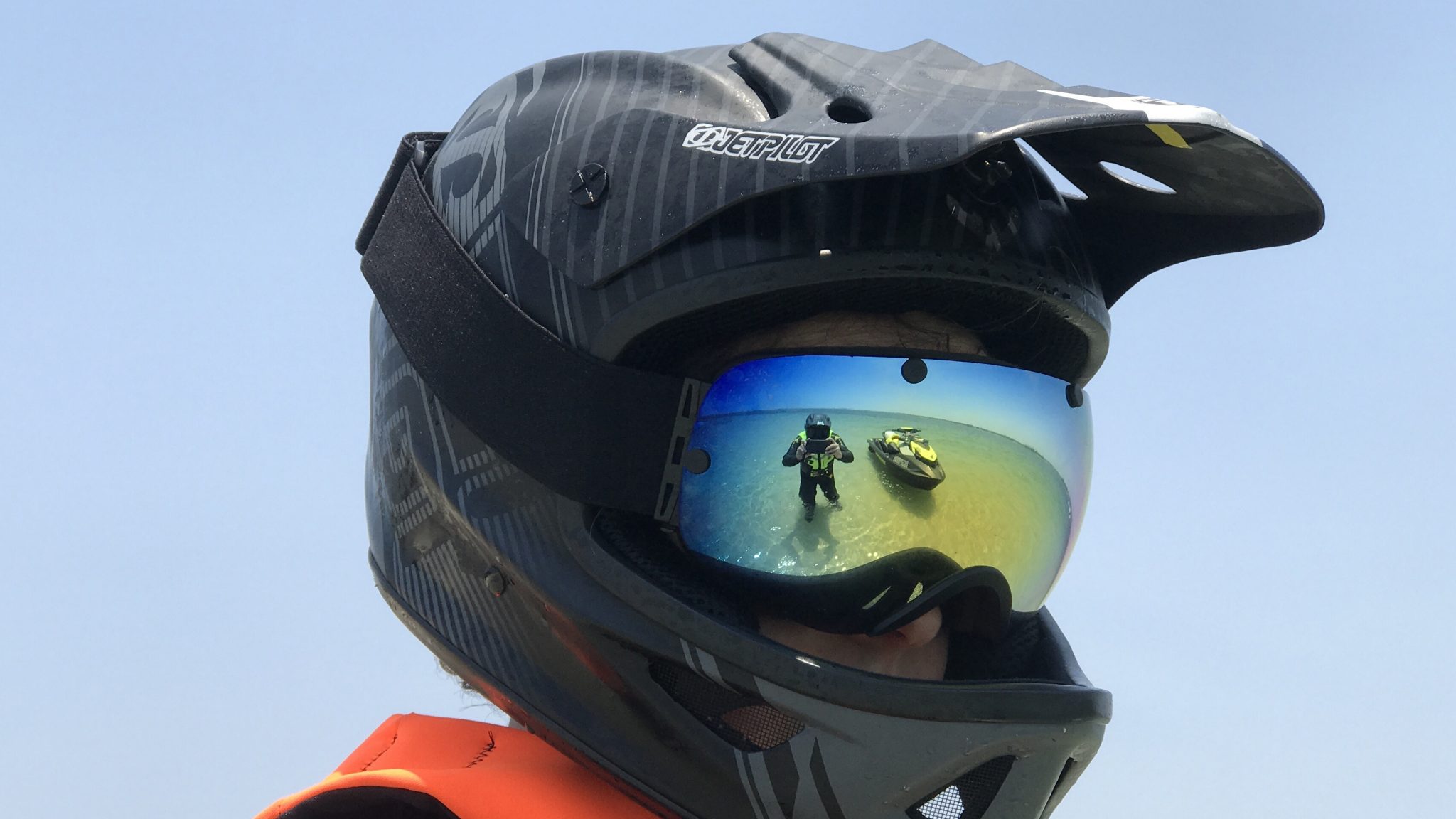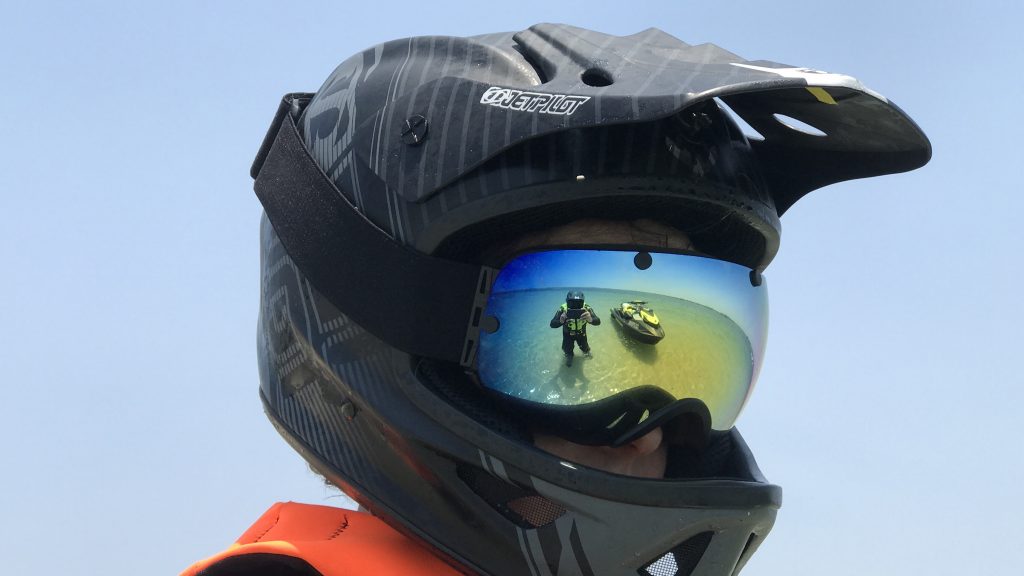 Helmet
Jet Ski riders are divided over the use of helmets. They are compulsory for Jet Ski racing and in stunt riding events but, anecdotally, fewer than 5 per cent of leisure riders wear a helmet.
Some enthusiasts believe a helmet is more dangerous at high speed (such as river riding) because the helmet could act as a bucket in the water and injure the rider's neck if they fall off at speed.
Some wave-jumpers and ocean riders prefer wearing a helmet because the speeds are lower, and yet the consequences of coming off and hitting the craft with their head can still be serious.
Few companies make helmets specifically for personal watercraft; one popular Jet Ski accessory brand offers helmets from time to time but there is often limited stock.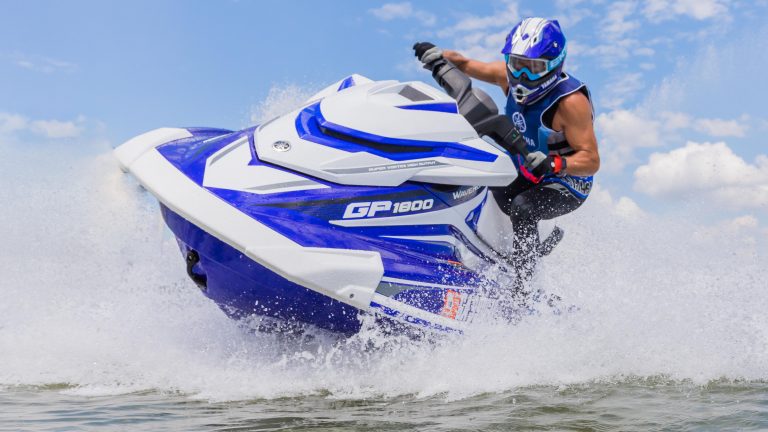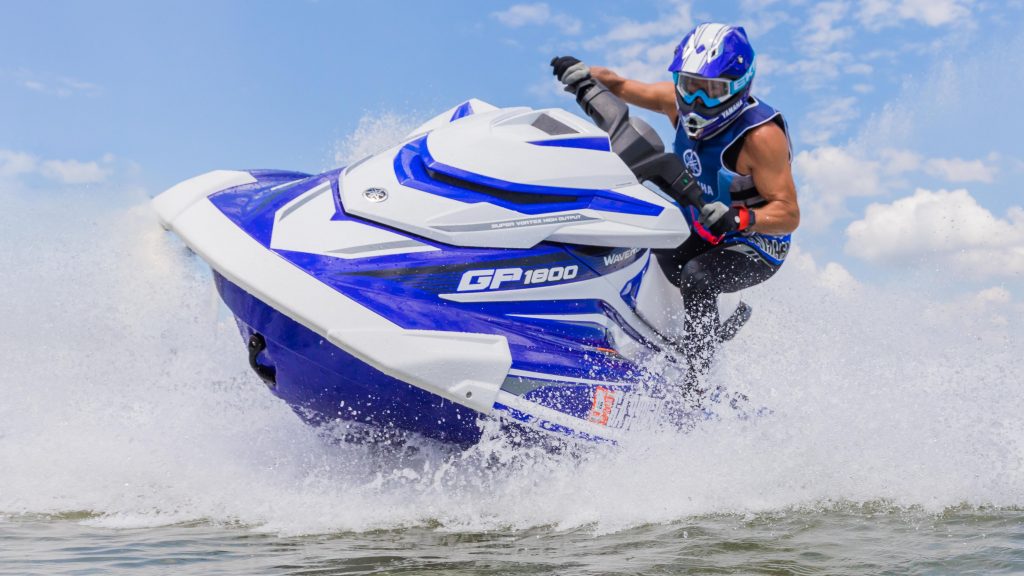 One popular option is to use a mountain bike helmet with large openings or air vents. Some riders prefer full face helmets (to protect your nose, mouth and chin from striking the handlebars), while other riders prefer an open face design.
Helmets are also handy for mounting GoPro video cameras.
If you wear a helmet and you're carrying a passenger, make sure your passenger is wearing a helmet too, as they could injure themselves if their head hits your helmet.
Another point to note: many riders prefer a helmet that has a chin strap with plastic clips, because these can easily snap, releasing pressure on the neck if for some reason the helmet has started to act like a bucket and trap water during an off at high speed.
For this reason it's worth avoiding helmets with chin straps that thread through metal rings. Some riders fear this design could become a choking hazard.
In our experience, helmets have provided extra buoyancy and have not trapped water; in one instance it protected the rider's head after the ski was tossed by a wave.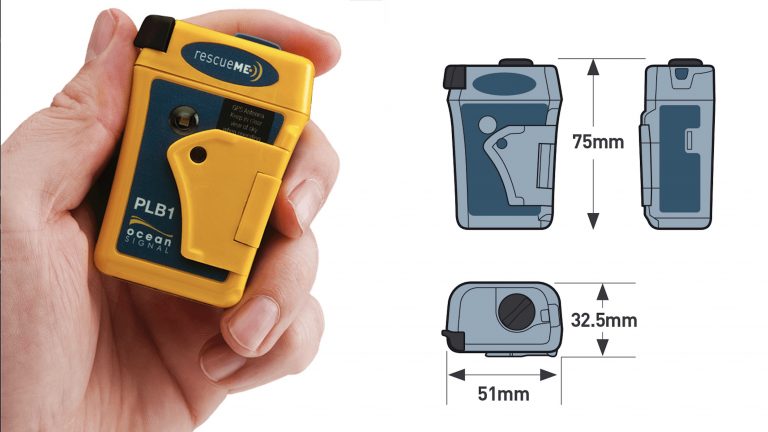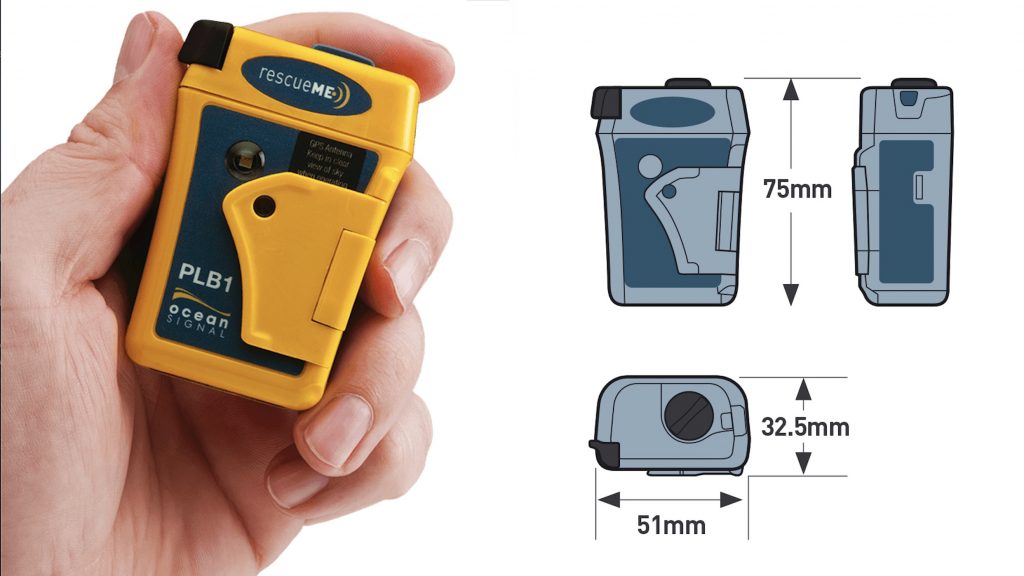 Emergency beacon 
In most cases a mobile phone in a waterproof case should be enough to get you out of trouble, especially on river rides or populated beachside areas.
However, if you plan to ride solo in remote areas or in the ocean, you may wish to consider adding a personal locator beacon (PLB) to your kit. 
These are in effect a miniature EPIRB. About the size of two matchboxes they can easily fit on your life vest. 
A PLB is a better option than an EPIRB, as most EPIRBs are so large they need to be stored on the watercraft. And an EPRIB is no good to you if you're in the water and have become separated from your ski. 
If you need to scramble a rescue helicopter, a PLB device is your life-saver. 
Just be sure to register your PLB or EPIRB with the Australian Maritime Safety Authority (AMSA) – on this link here – and preferably attach the device  to your body or life vest in such a way that it won't trigger a false alarm.
If you do accidentally raise a false alarm, be sure to advise authorities as quickly as possible. Calling them off to find you – when you're safe and well – could save someone else who really does need help.
Authorities also remind Jet Ski and personal watercraft riders that PLBs are not to be used for mechanical breakdowns.
That falls into the responsibility of Marine Rescue divisions around Australia, or a mate with a tow rope (see below).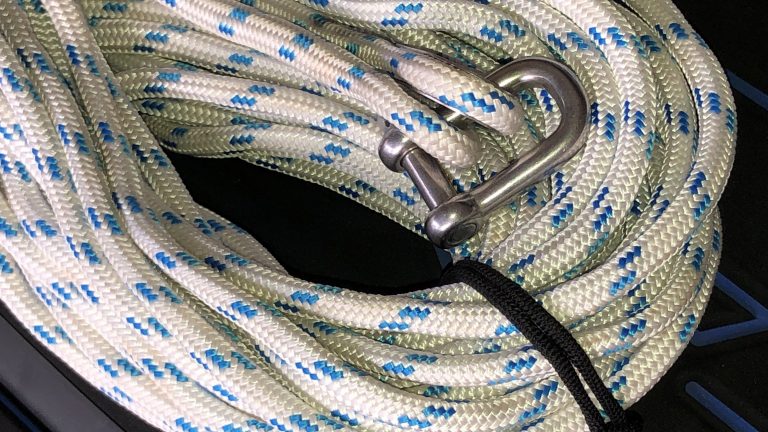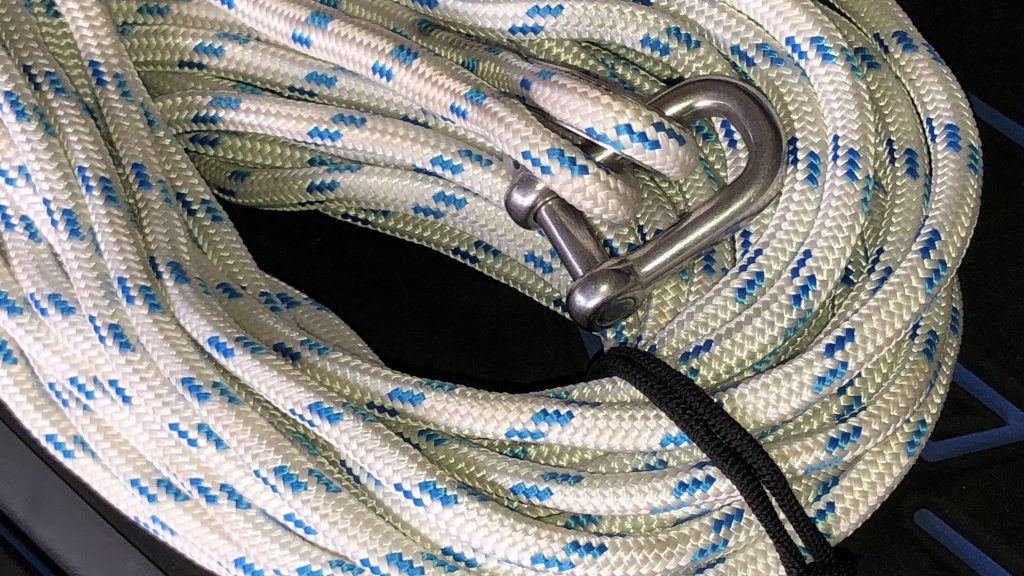 Tow rope
A tow rope is a good insurance policy and can usually lead to a quicker recovery if you get stranded due to a mechanical fault.
If a mate or a passing boat can't tow you, consider calling your local marine rescue authority.
In most cases the marine rescue operations are run by volunteers so it would be a good idea to make a generous cash donation after your rescue.
The money goes towards marine rescue facilities and their end-of-year barbecues.
Without them, though, you'd be left bobbing on the water indefinitely. 
If you do carry a tow rope, make sure it's at least 25 metres or longer, otherwise your watercraft will be caught up in the wash of whatever is towing you.
Keep your towing speed to about 5 knots (10kmh), unless you have equipped your watercraft with an optional "tow tap", which stops the engine filling with water when it's not running.