The Sea-Doo Switch – a brand-new, Jet Ski-powered pontoon party boat – has finally arrived in Australia two years after it went on sale in the US.
Even though it has supercharged Jet Ski power and Jet Ski handlebars instead of a steering wheel, it is legal to operate on Sydney Harbour because it is approved for use as a boat.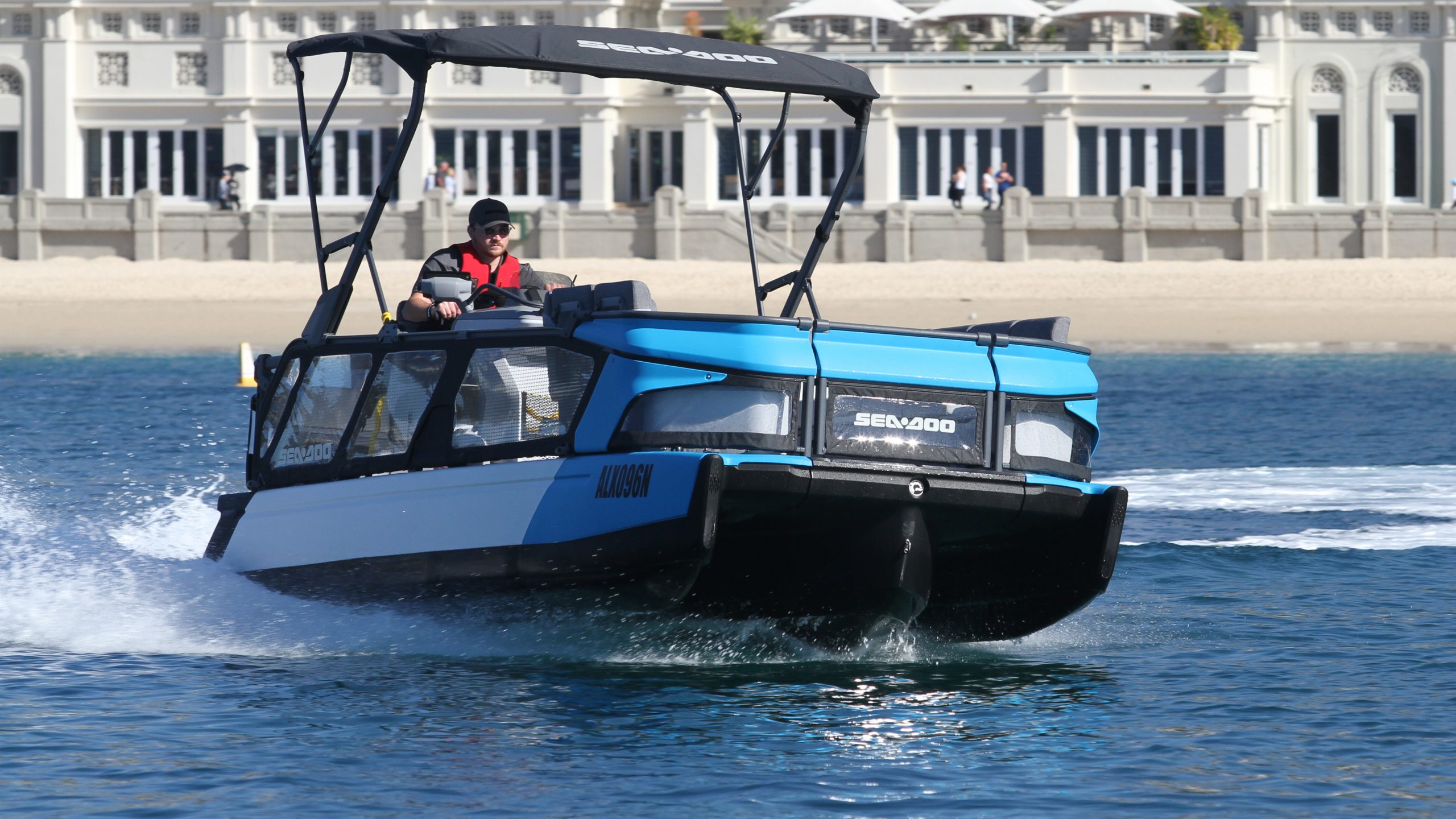 The Sea-Doo Switch brings a level of manouvreability that is unique to recreational boating, operated by the same acceleration and reverse triggers as a Jet Ski.
And the large flat deck maximises the use of space so you can fit more people on board than you can on traditional boats of the same length.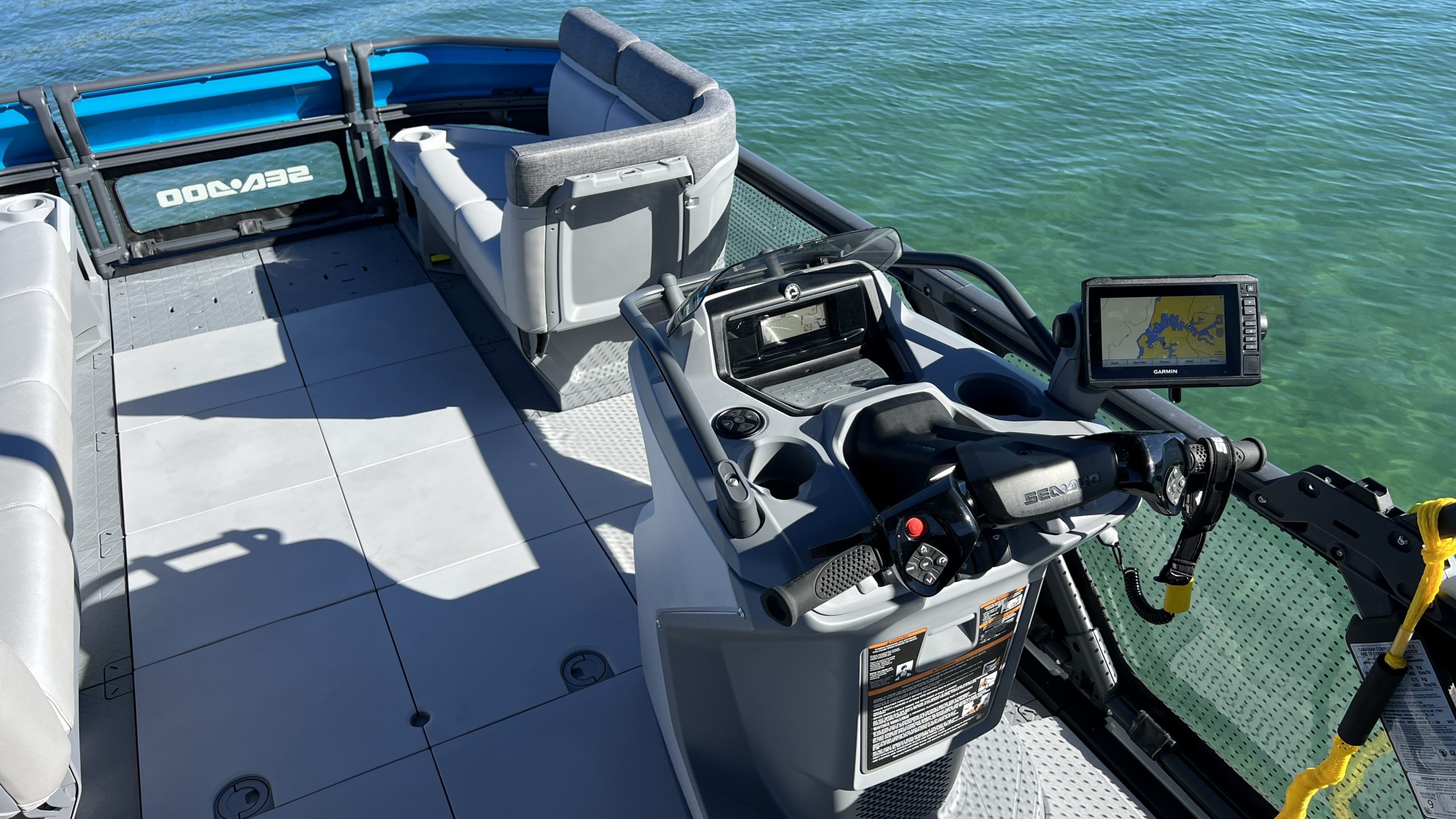 The Switch also has built-in fittings on the floor to accomodate a range Linq accessories – such as extra fuel caddies and cooler boxes – from Sea-Doo's personal watercraft range.
In this review we go through prices and specifications for the Sea-Doo Switch in Australia, tell you what it's like to drive – plus we ran performance numbers to see how fast it really is.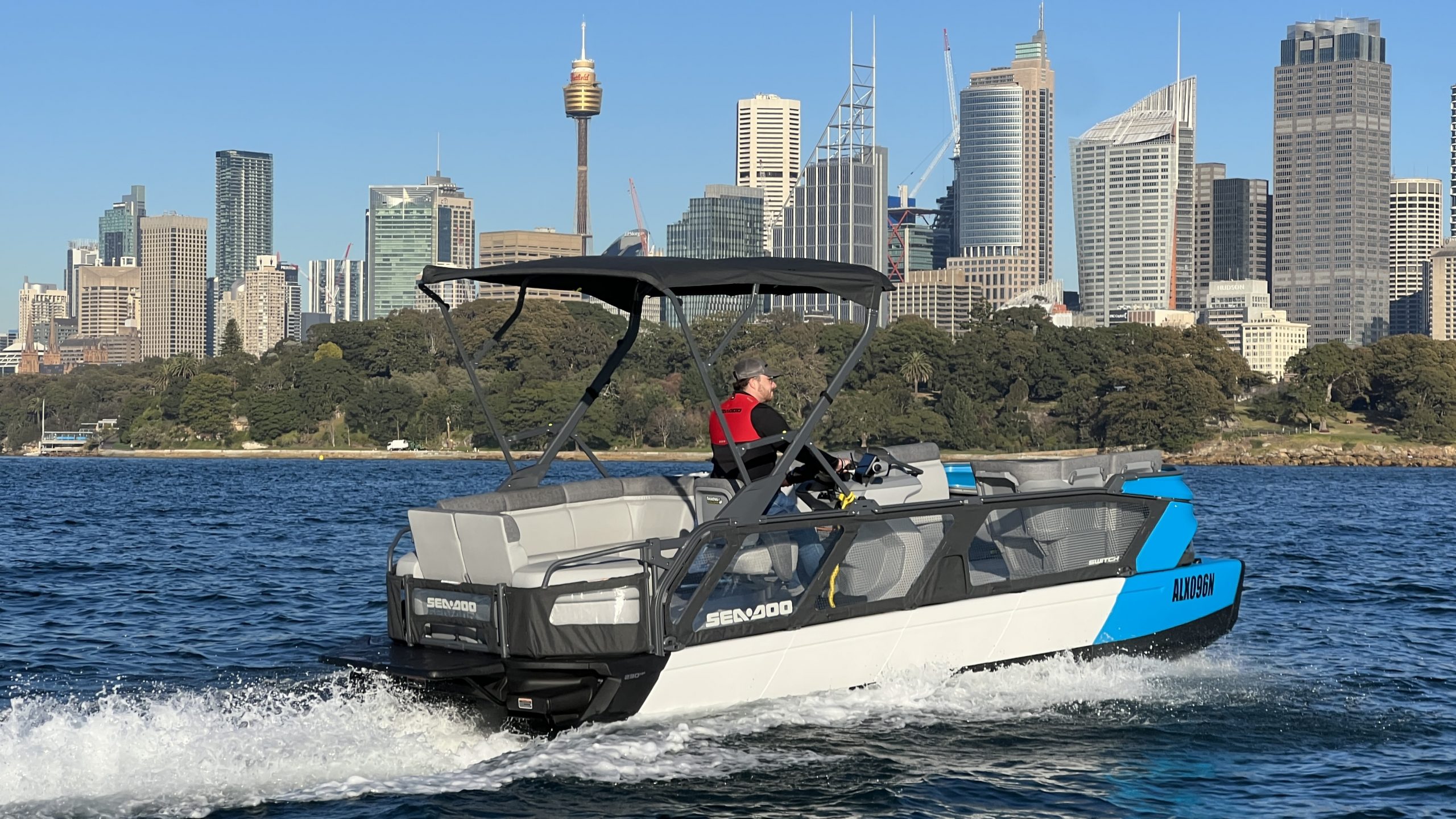 Sea-Doo on Sydney Harbour
Jet Skis have been banned on Sydney Harbour since October 2001 but now there is a way to enjoy Jet Ski propulsion on one of the most iconic waterways in the world.
While pontoon boats are hugely popular in the US where they are primarily used on lakes and rivers, pontoon boats are still a niche segment Down Under.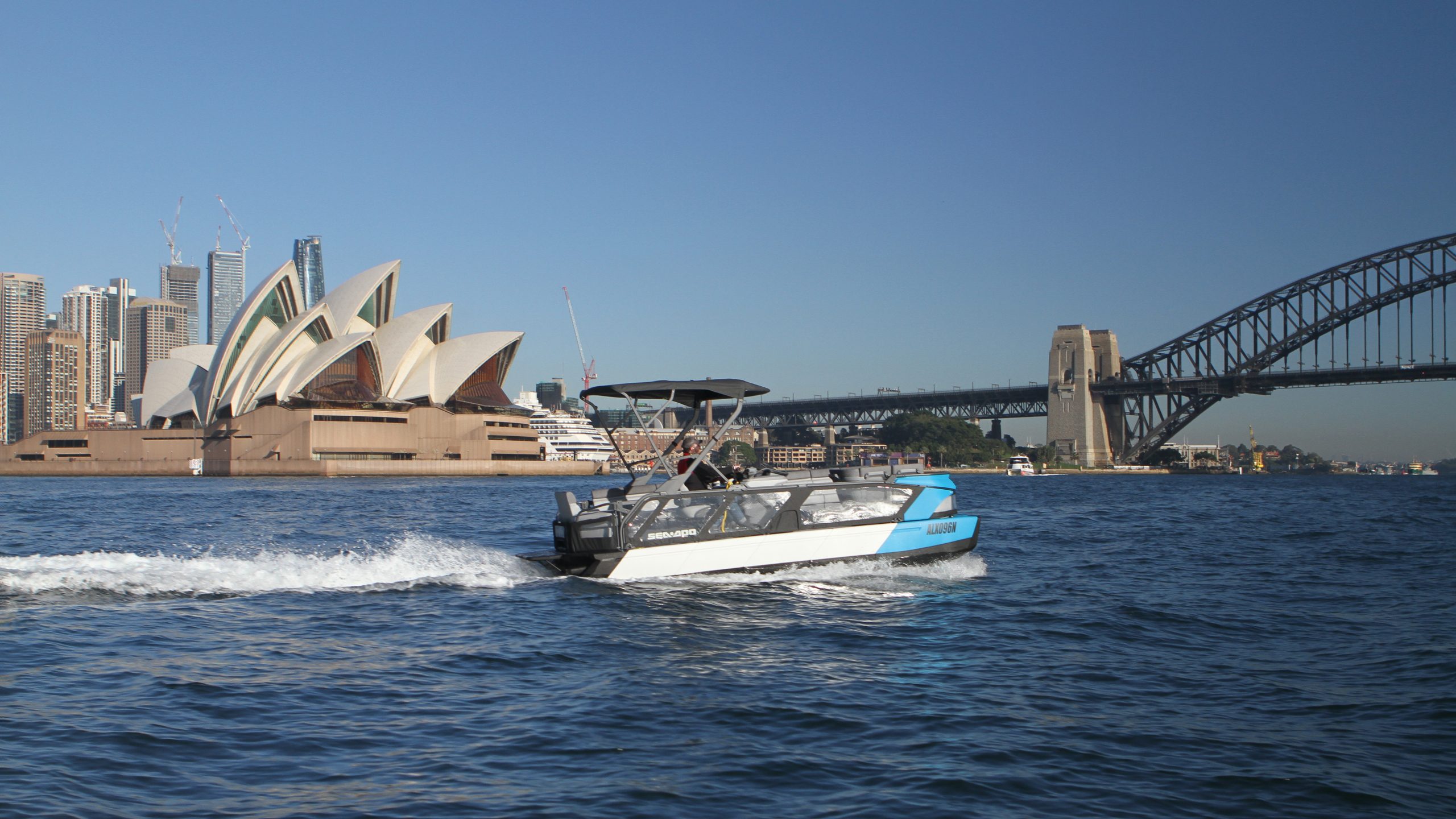 The tri-hull Sea-Doo Switch aims to make pontoon boats mainstream locally, however for now it comes with a high price and only one model is available Down Under, despite there being more than half-a-dozen Sea-Doo Switch models in the US. 
In North America there are three standard-length versions of the Sea-Doo Switch: 13-foot, 16-foot and 19-foot, ranging from approximately $US22,000 to $US34,000 (as this article was published) with a choice of 130hp or 170hp 1630cc three-cylinder engines, depending on the model.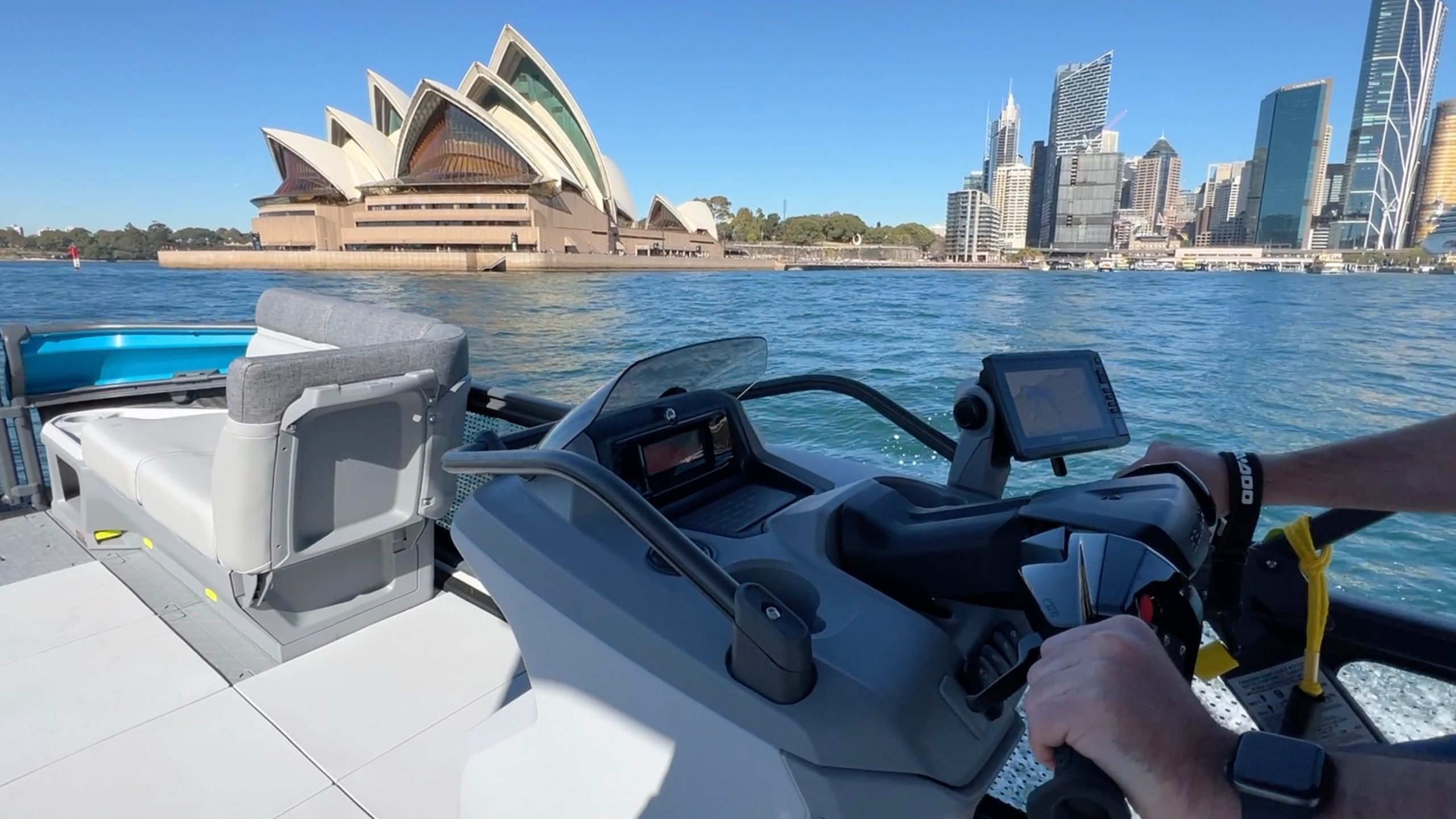 Sea-Doo Switch 13
13-foot 130hp $US21,799
Sea-Doo Switch 16

 

16-foot 130hp $US25,599
Sea-Doo Switch 19

 

19-foot 170hp $US34,099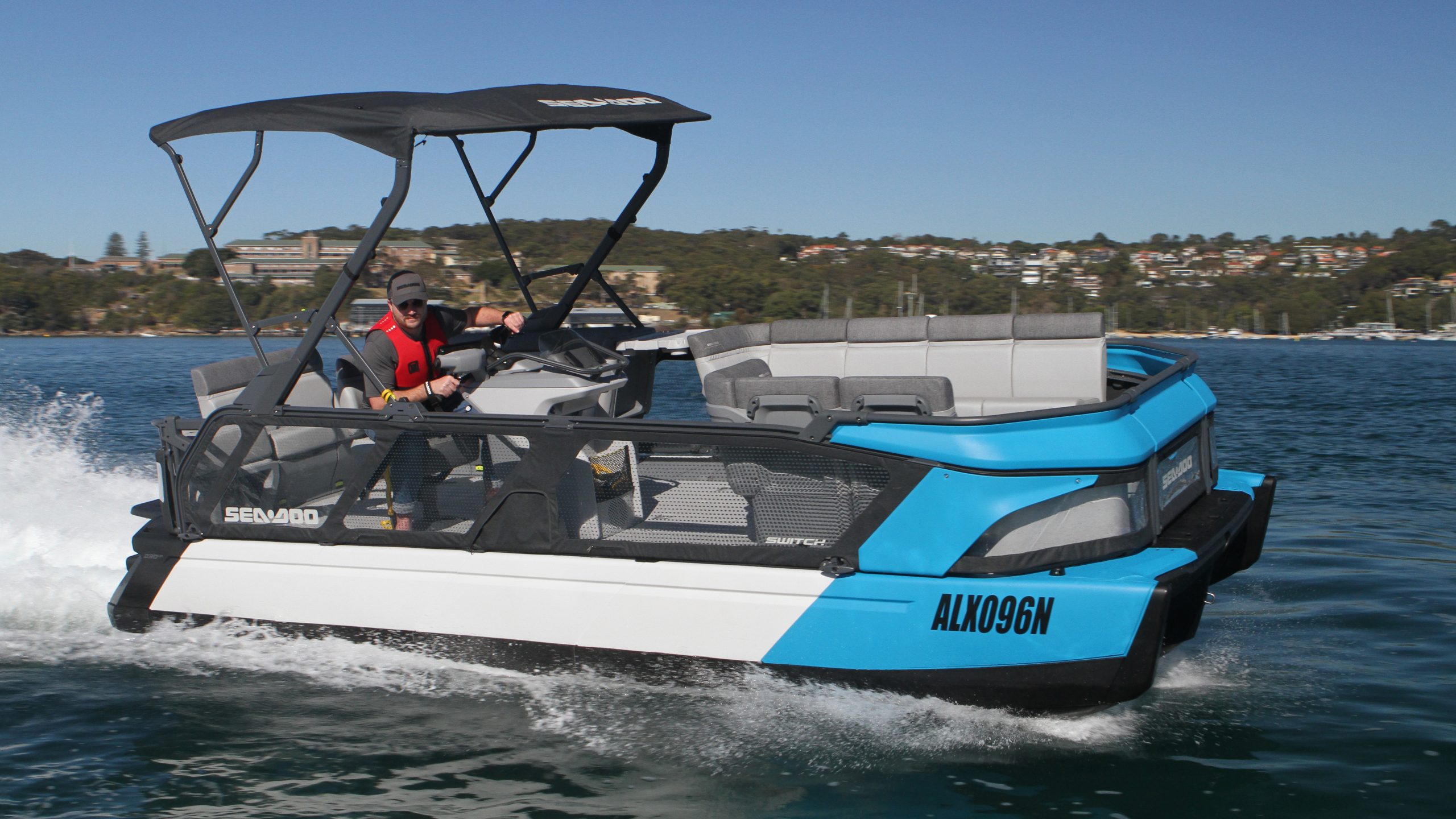 Then there is the flagship Sea-Doo Switch Cruise available in 18-foot or 21-foot configurations.
In the US, the 18-foot Sea-Doo Switch Cruise has a choice of all three available engines: 130hp, 170hp and a supercharged 230hp version of the 1630cc three-cylinder engine.
Sea-Doo Switch Cruise
18-foot 130hp $US31,399
18-foot 170hp $US35,399
18-foot 230hp $US38,399
21-foot 170hp $US38,899
21-foot 230hp $US41,399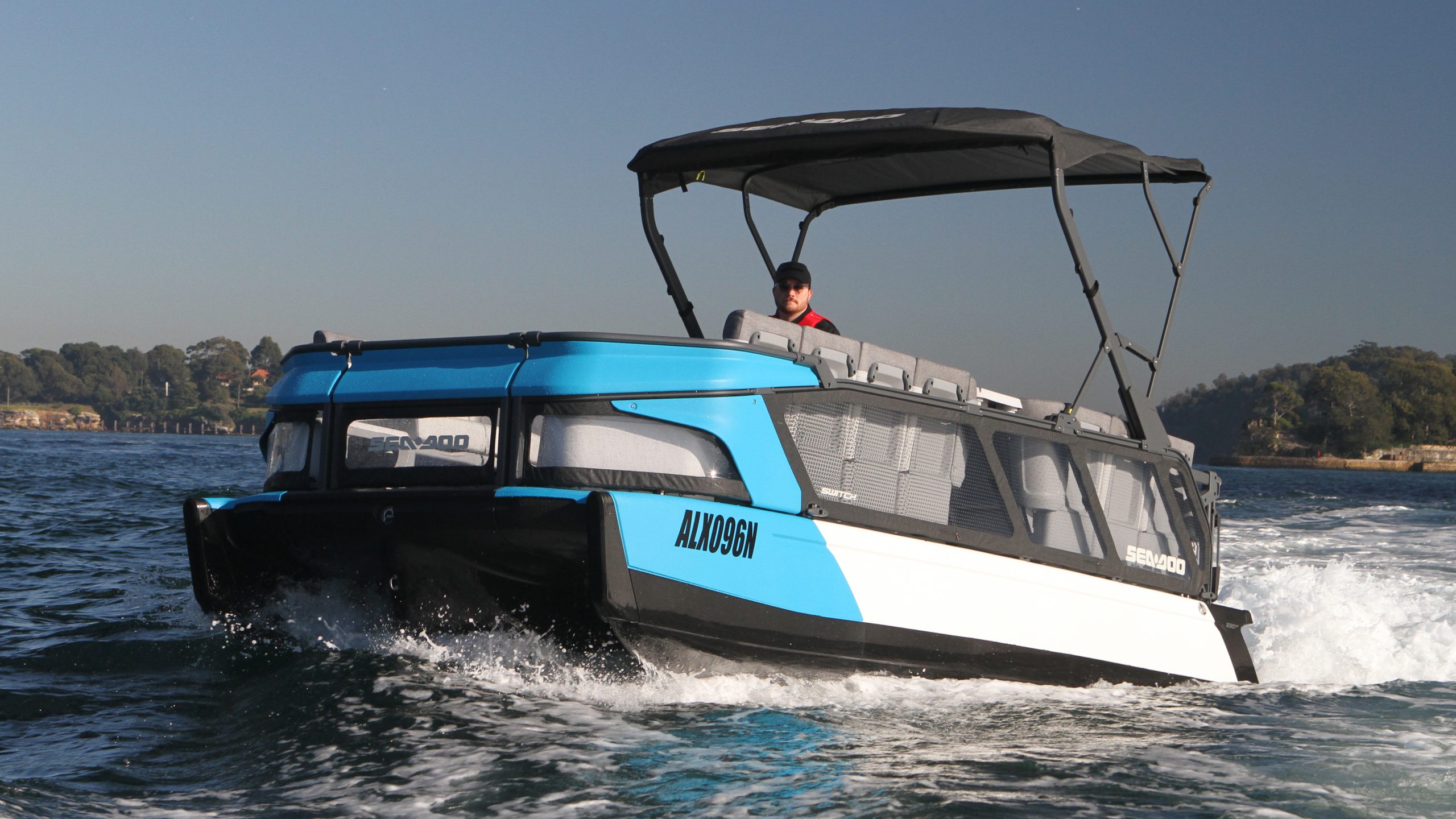 In the US, the flagship 21-foot Sea-Doo Switch Cruise has a choice of two engines: the 170hp 1630cc three-cylinder – also found in Sea-Doo personal watercraft models such as the Fish Pro and Explorer Pro – as well as the supercharged 230hp engine used in the GTR230 high performance ski.
However, Australia is for now only getting one Sea-Doo Switch model, the top-of-the range 21-foot Cruise edition with the 230hp supercharged engine.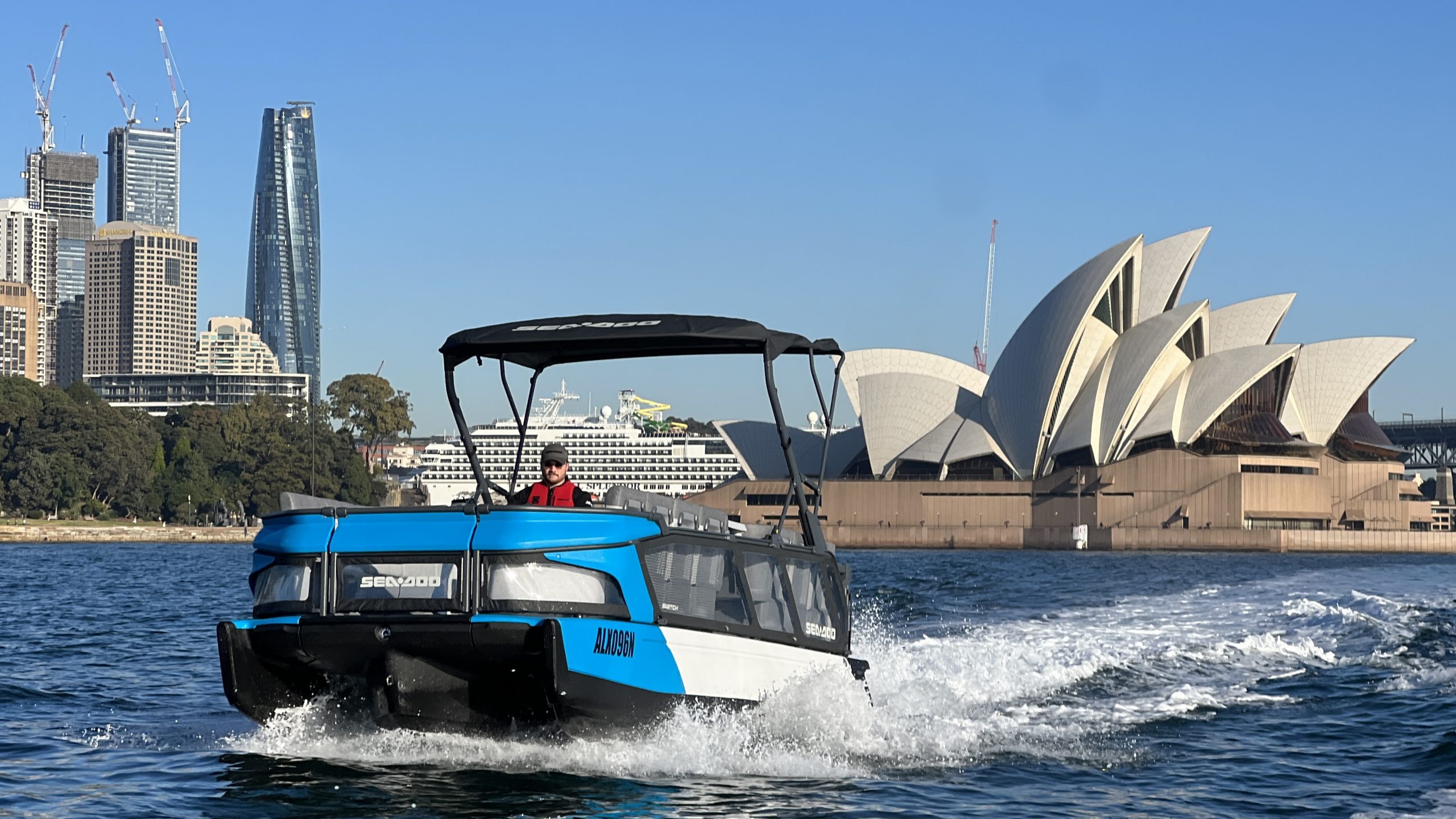 And that's the model we tested on Sydney Harbour.
Sea-Doo Switch pricing is vastly different in Australia than it is in the US.
While this craft costs about $US42,000 plus taxes in the US, Sea-Doo quotes a price estimate of $115,000 in Australian dollars for the 21-foot Switch Cruise model with the 230hp supercharged engine – including trailer and registration.
Even after taking currency conversions and shipping costs into account, that's still a significant price jump compared to the US market.
Sea-Doo Switch Cruise 21-foot
Supercharged 1630cc, 230hp: $AU115,000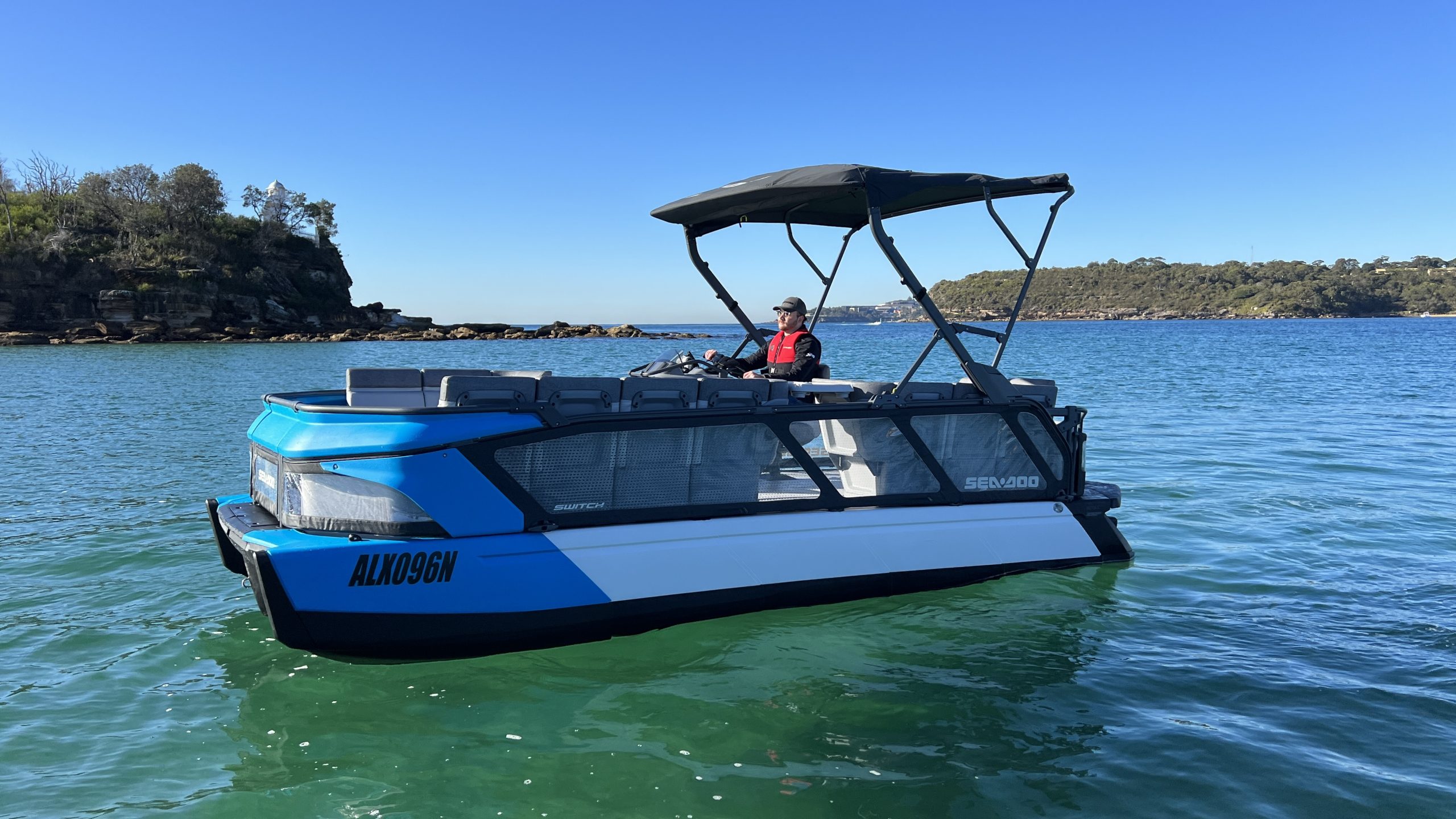 As this review was published, Sea-Doo had two identical examples of the Switch touring Australian boat shows and dealerships, to get customers to register their interest or place an order before the first local deliveries begin in 2024.
Is it worth the price and the hype? First, a quick look at the technical details.
Sea-Doo Switch Cruise 21-foot specifications
ENGINE: Supercharged 1630cc three-cylinder
POWER: 230 horsepower
JET PUMP: 161mm diameter, 10 vanes
HULL: Tri-hull design, Polytec (plastic-covered fibreglass)
DRY WEIGHT: 1156kg
LOAD CAPACITY (AU): 675kg
PERSON CAPACITY (AU): 8
FUEL CAPACITY: 110 litres (unleaded petrol)
STORAGE: 910 litres
LENGTH: 6.2 metres (20.4 feet)
WIDTH: 2.4 metres
HEIGHT: 2.1 metres (lowered bimini)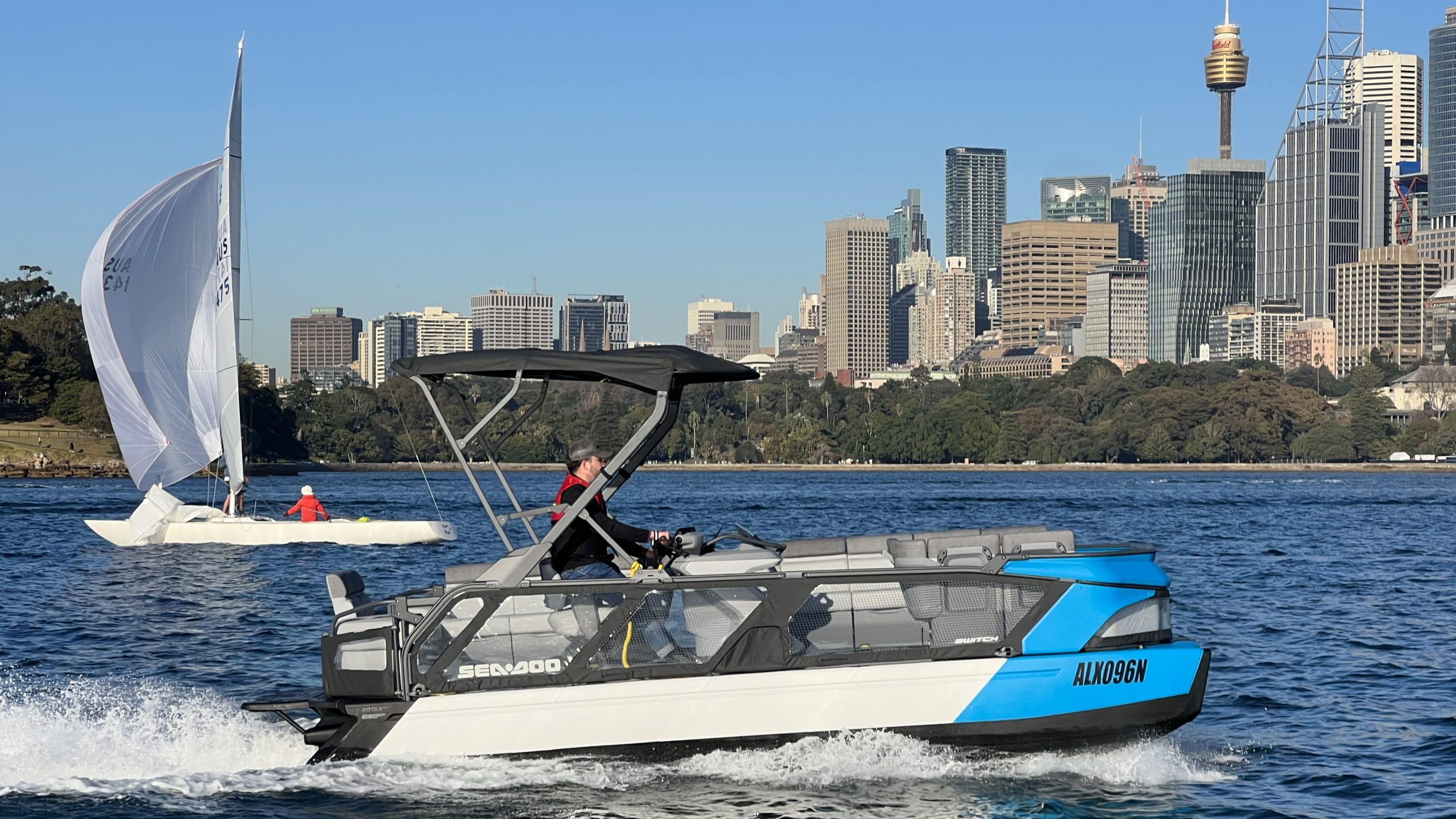 The Sea-Doo Switch Cruise 21-foot edition is about three times the weight of a large Jet Ski, but is lighter than boats of a similar size.
Fuel capacity has increased from 60 or 70 litres on most Sea-Doo Jet Ski models, to 110 litres for the Switch.
This model essentially has the same supercharged 230 horsepower engine and 161mm, 10-vane jet pump as the Sea-Doo GTR230 performance ski.
We didn't get a chance to run the Switch to empty to test fuel use, but we noted the engine ran at the following revs at the following speeds.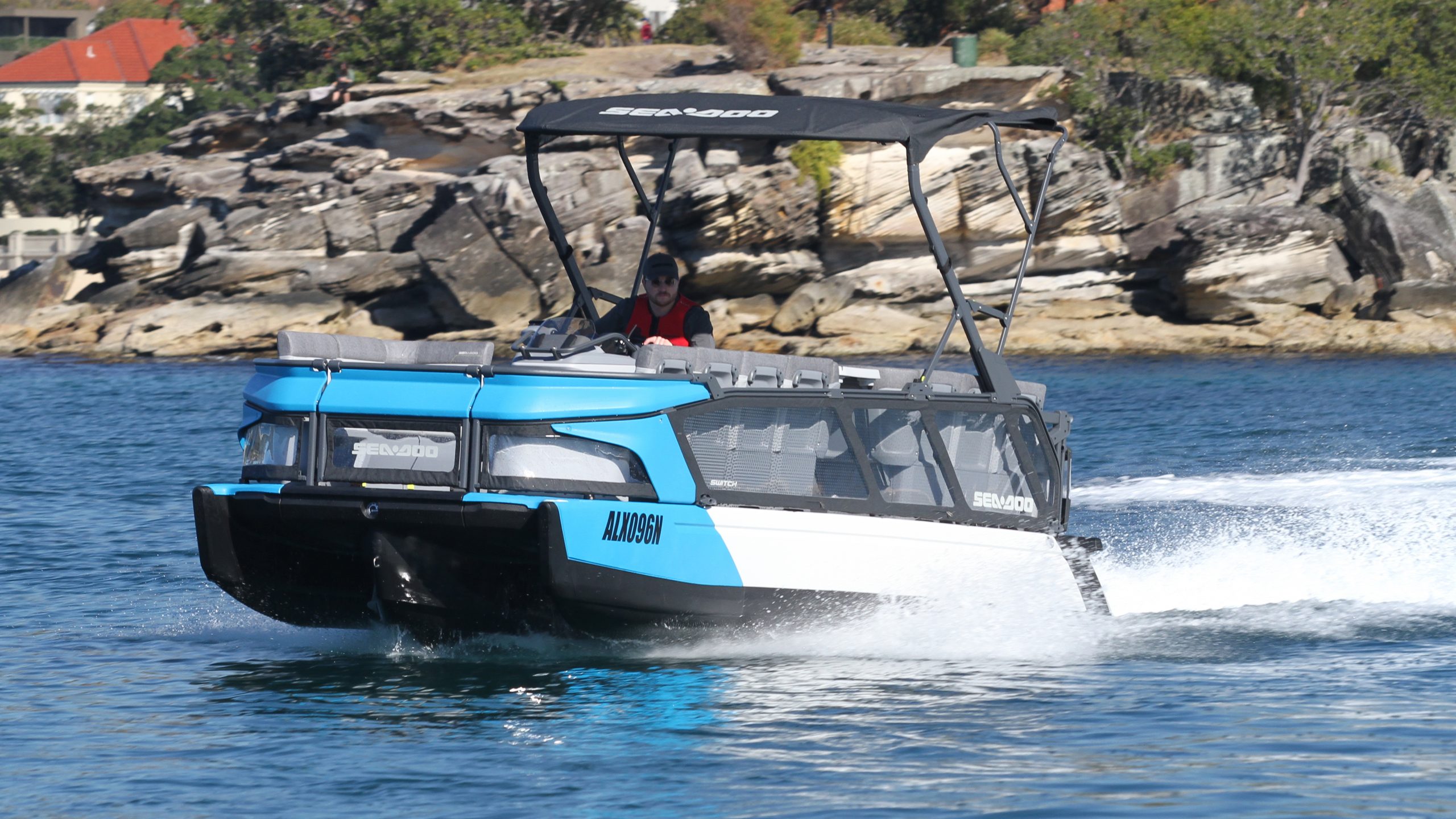 Sea-Doo Switch Cruise 21-foot engine revs and speed
1750rpm Idle speed
2500rpm 5.6km/h
3000rpm 7.8km/h
3500rpm 9.4km/h
4000rpm 10.2km/h
4500rpm 11.7km/h
5000rpm 12.8km/h
5500rpm 18.7km/h
6000rpm 26.7km/h
6500rpm 32.2km/h
7000rpm 42.8km/h
7500rpm 55.1km/h
7900rpm 60.1km/h
Sea-Doo claims the 230-horsepower Switch has a top speed of 70km/h, but the best we could achieve on our test day was 60.1km/h with two people on board and a full tank of fuel.
Out of curiosity we recorded acceleration times – from 5km/h because the gentle movement of the craft on the water triggers the timing device.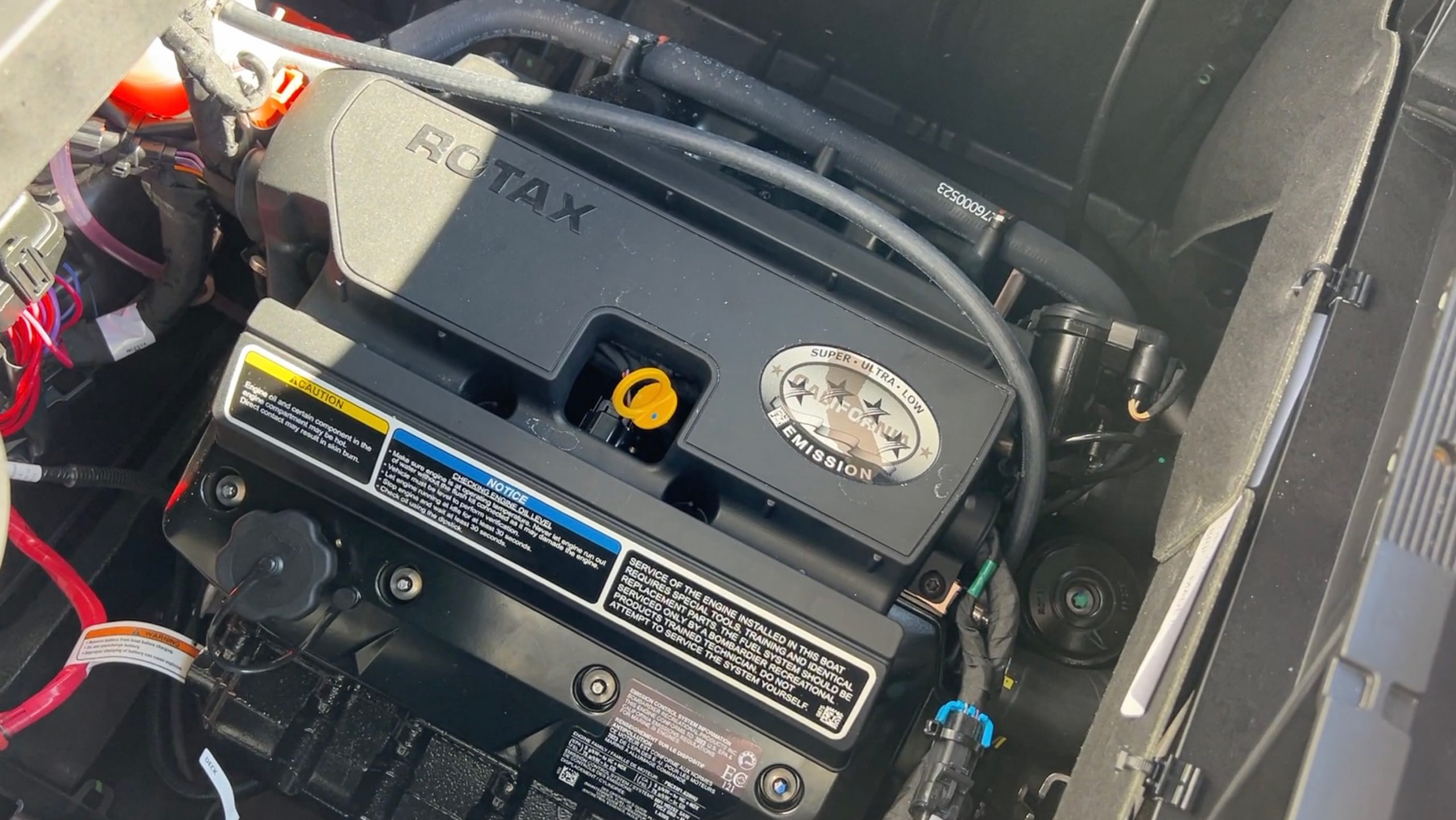 Sea-Doo Switch Cruise 21-foot acceleration times
5 to 40km/h 6.7 seconds
5 to 50km/h 10.4 seconds
5 to 60km/h 22.6 seconds
To put these numbers into context for Jet Ski fans, a non-supercharged Jet Ski can do the 5kmh to 100kmh dash in about 10 seconds and a supercharged Jet Ski can hit 100km/h in about 5 seconds.
So it's fair to say that although the Sea-Doo Switch Cruise has supercharged Jet Ski power, it's a leisure craft designed for a relaxing day on the water.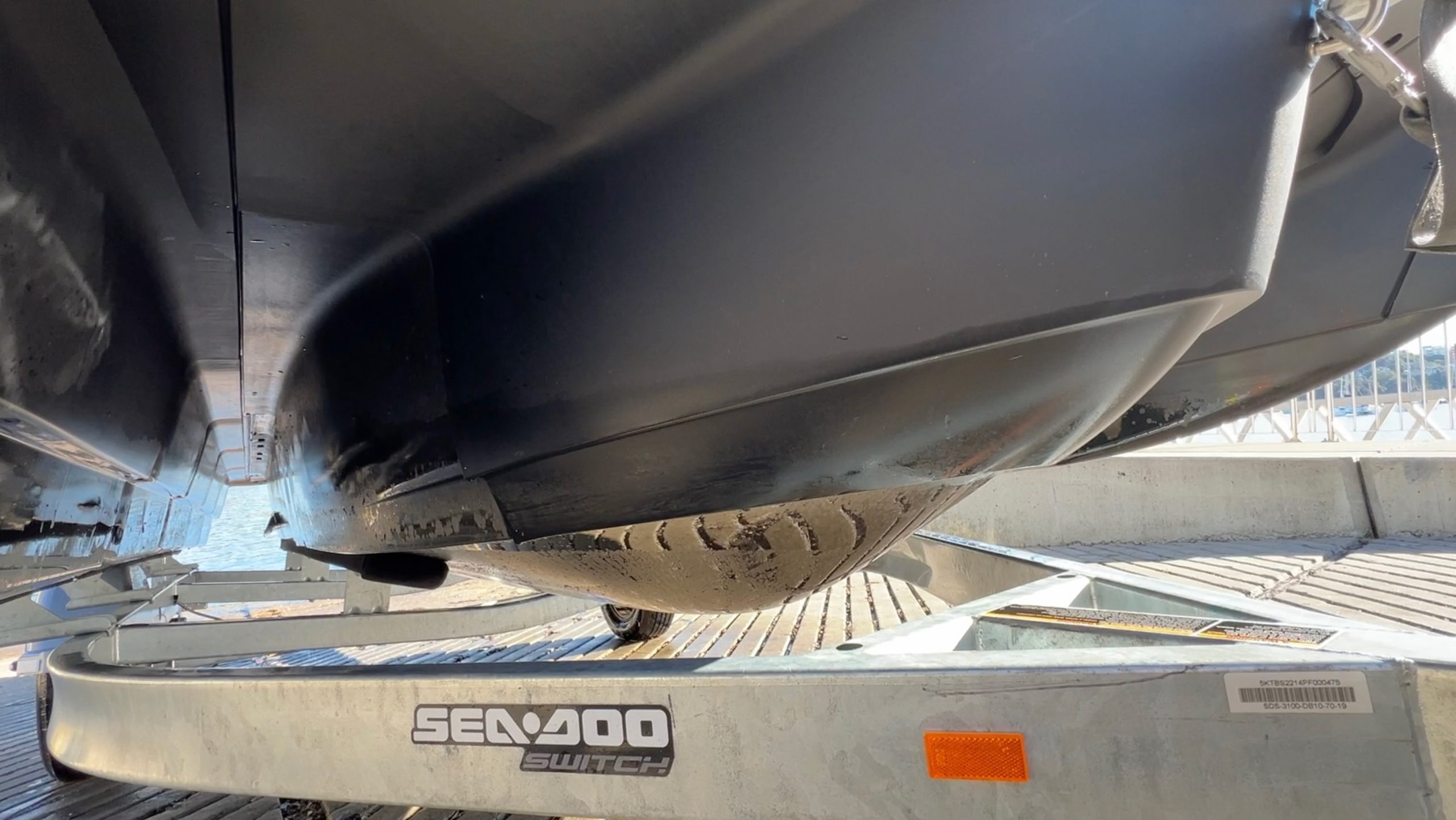 Sea-Doo Switch Cruise Trailer
Sea-Doo ships the Switch from the factory to Australia on a specially-built galvanised trailer designed to fit the tri-hull design. 
Dealers in Australia considered offering their own alternative but say the original Sea-Doo design is hard to beat.
Plus they don't know what they would do with the leftover Sea-Doo Switch trailers if they sold any new ones.
Helpfully, the Sea-Doo Switch – and its factory-delivered trailer – are less than 2.5-metres wide, which means they can legally be towed on Australian roads.
LENGTH: 6.52 metres
WIDTH: 2.3 metres
WEIGHT: 336kg
VESSEL WIDTH: 2.4 metres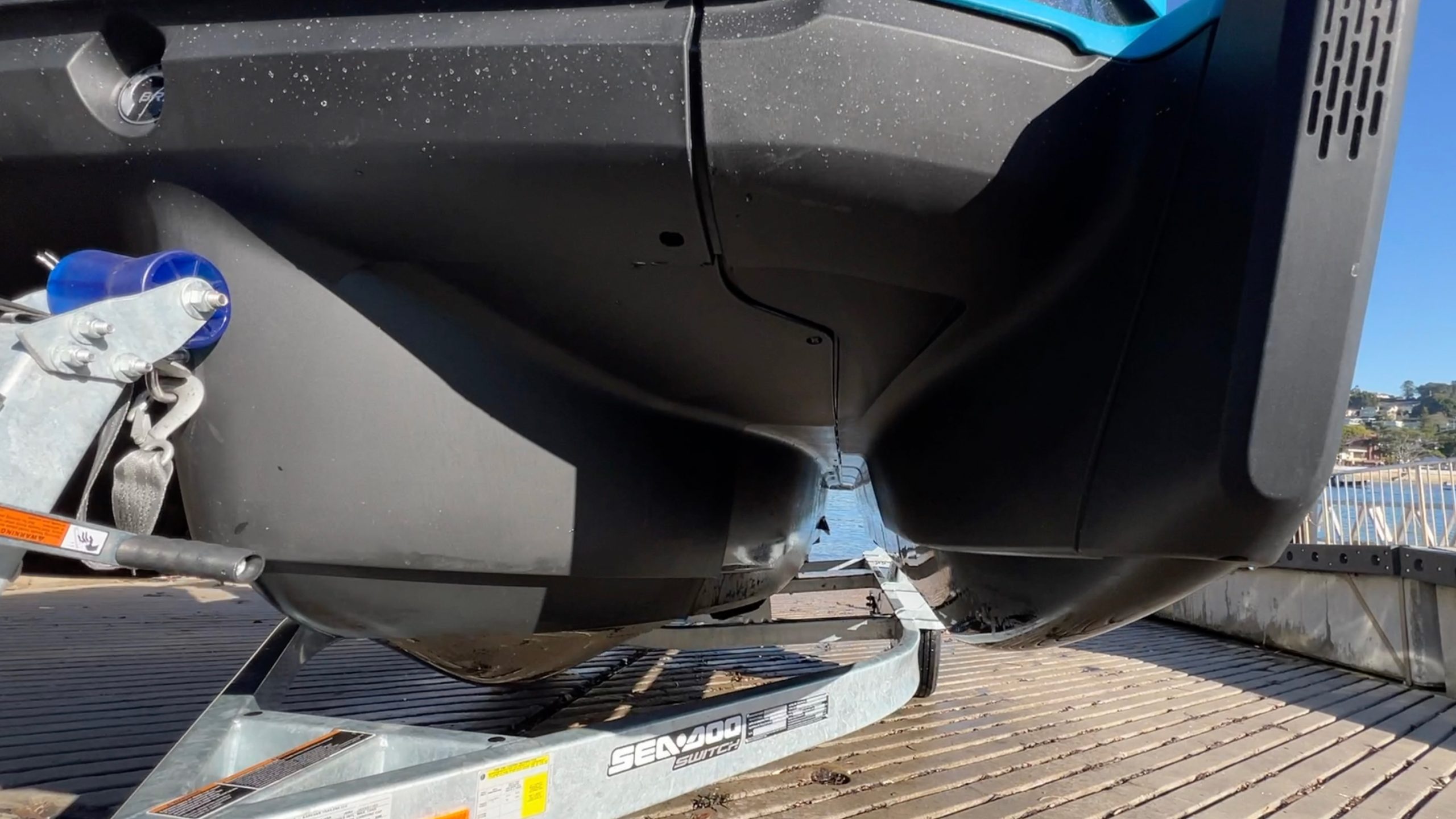 Sea-Doo Switch industry firsts
The Sea-Doo Switch marks a number of firsts.
It's the first mass-produced pontoon boat with Jet Ski power and Jet Ski steering.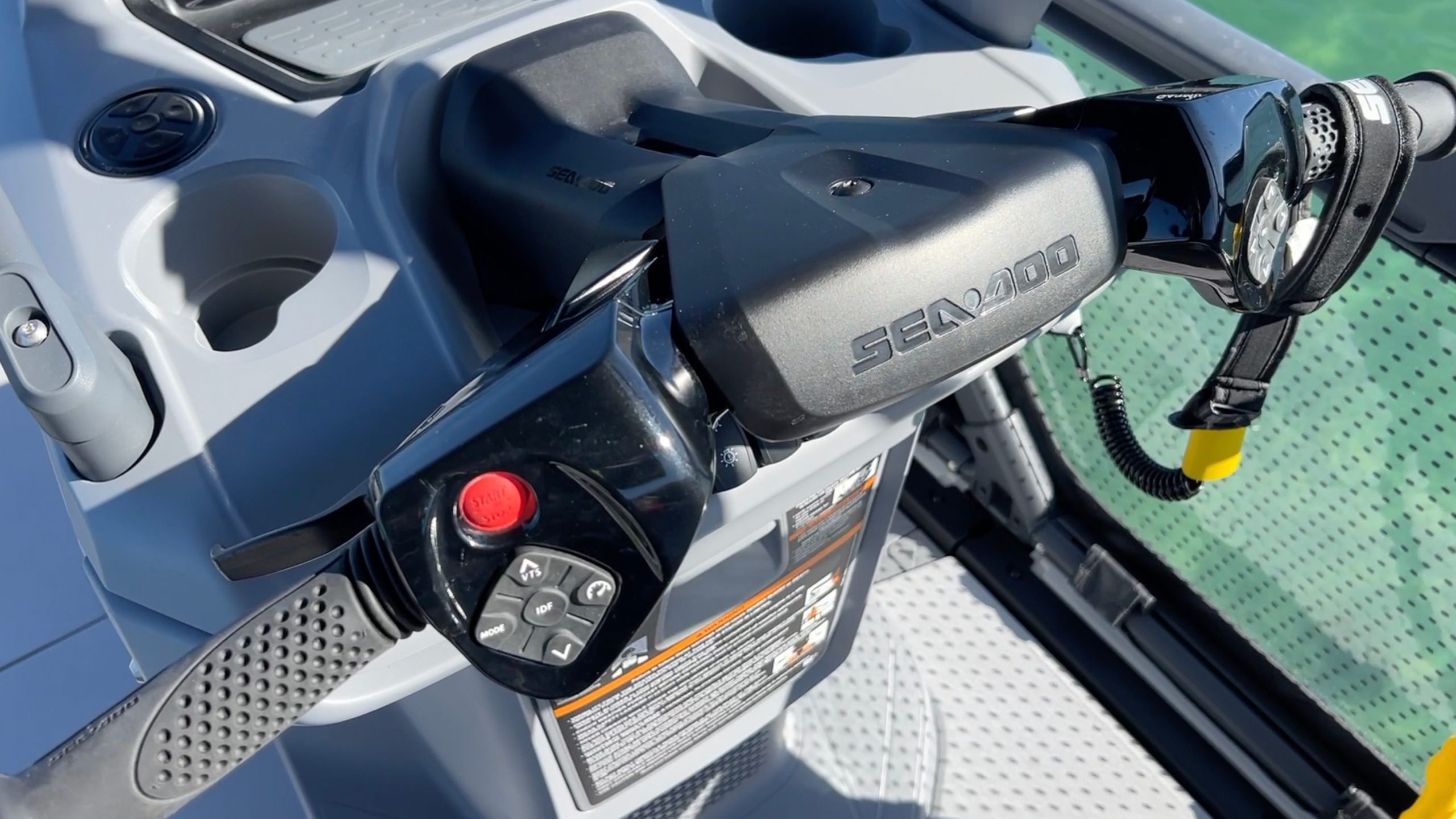 And it has an interchangeable seating layout that clicks in and out like Lego in a matter of seconds.
The seats themselves are lightweight, so they are easy to remove and refit.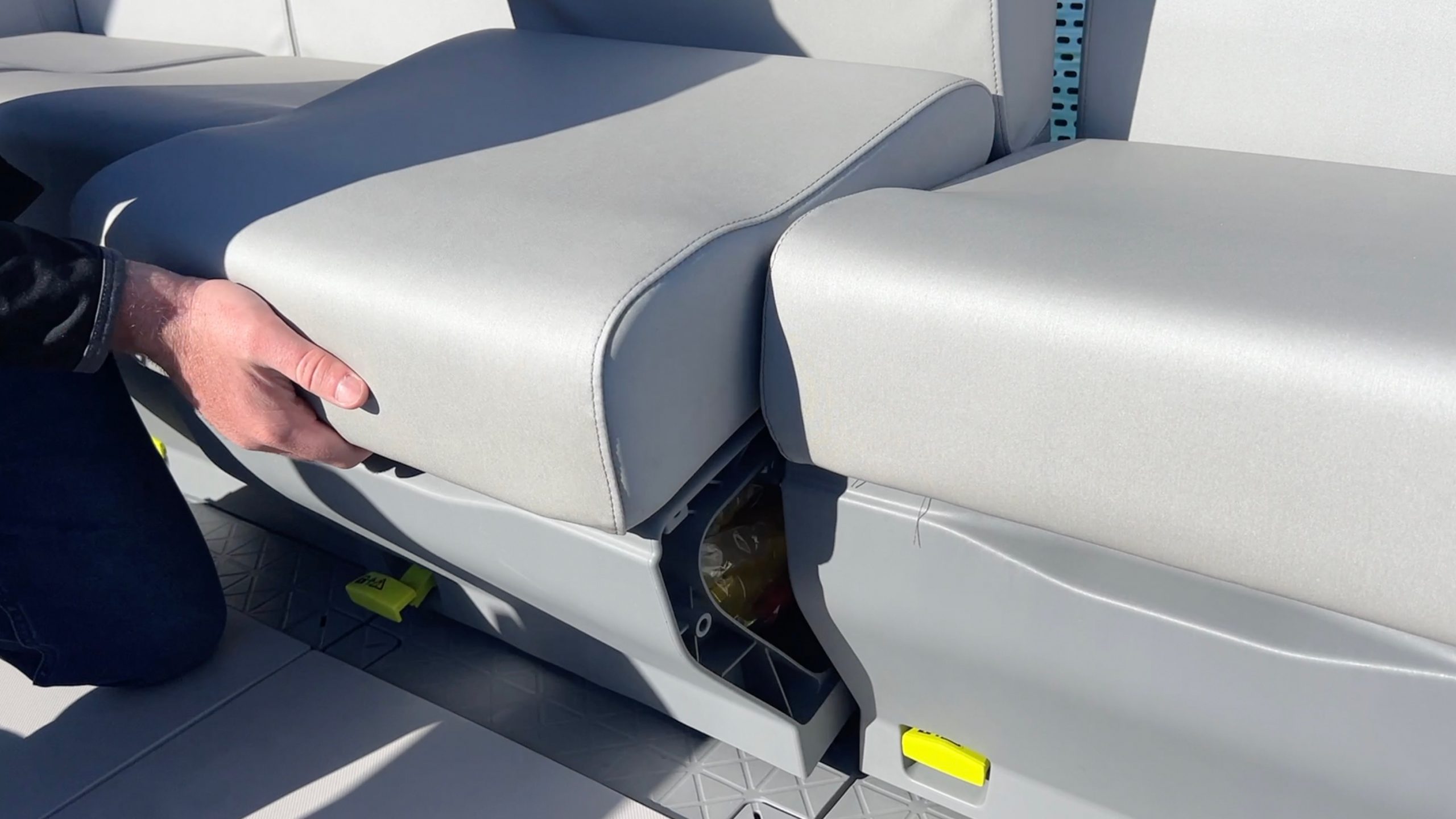 In Australia, the Sea-Doo Switch is limited to a maximum number of eight people on board; in the US the law allows up to 10 people.
There's storage under each seat – as well as storage under the tiled flooring, which lifts up after releasing two secure tabs.
The large under-floor storage area is in the belly of the large centre hull.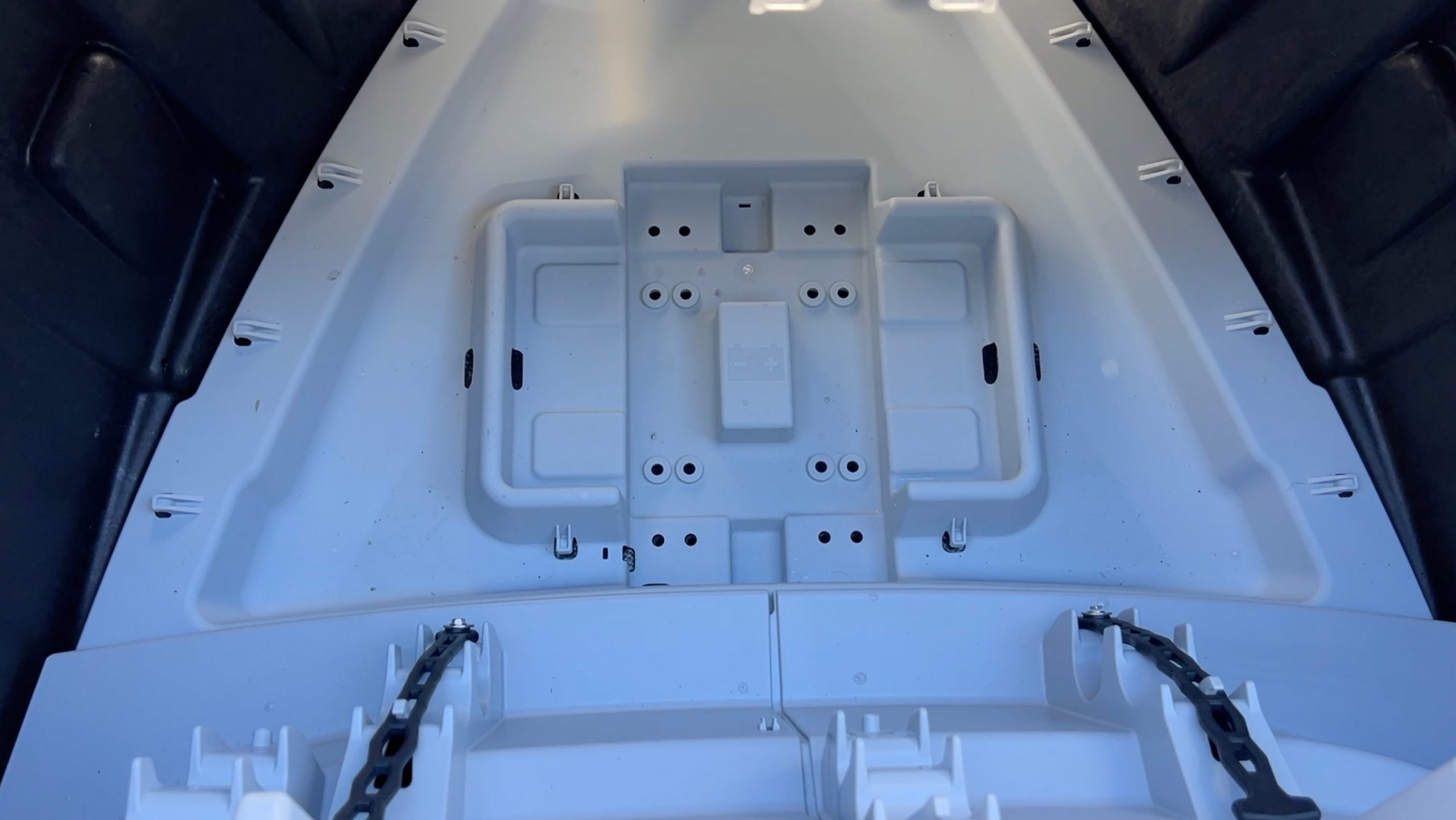 The driver's seat has a fold-up cushion for those who prefer to stand rather than sit.
And the handlebars, forward and reverse triggers, and digital instrument display are straight out of Sea-Doo's personal watercraft catalogue.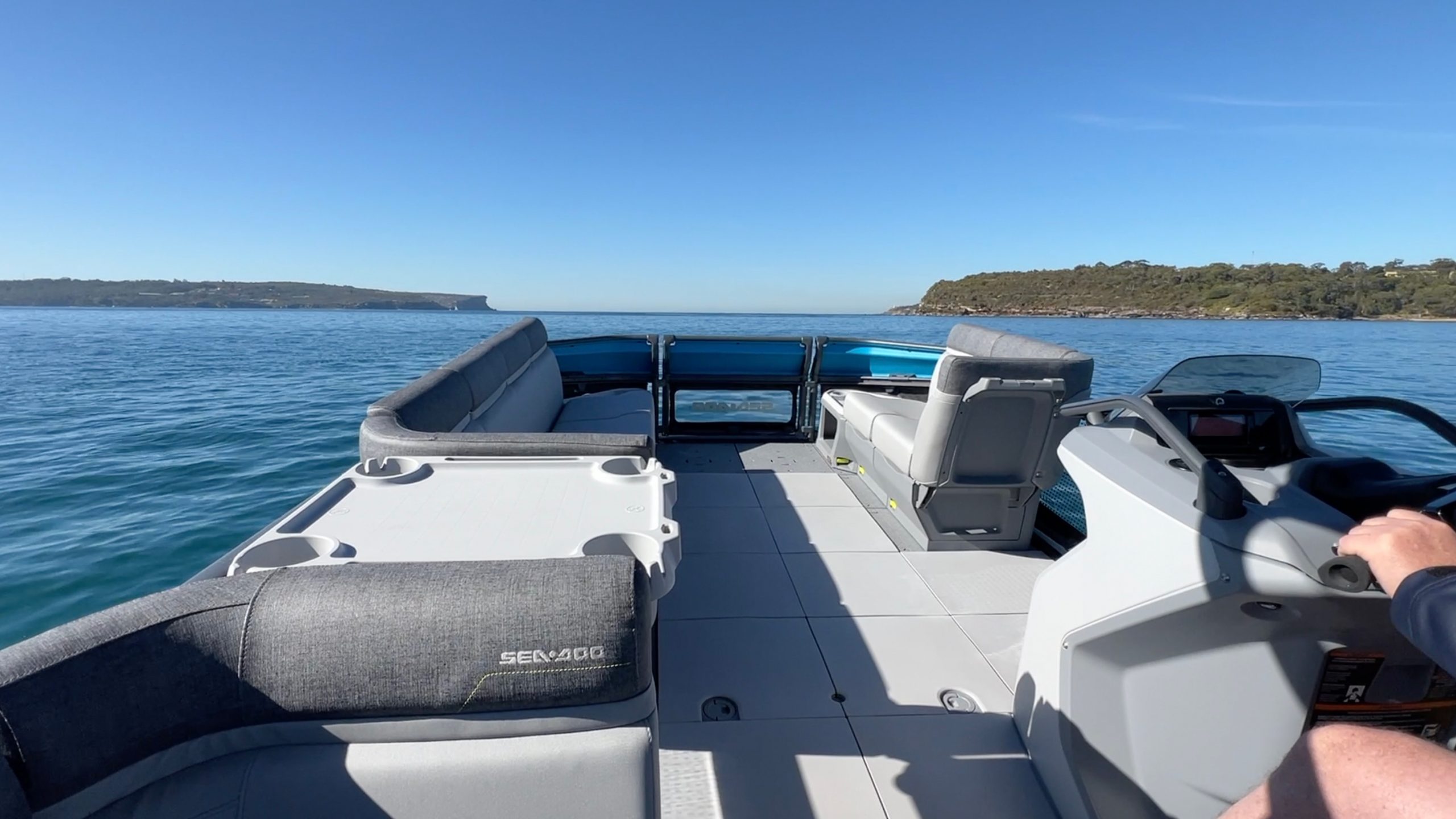 One observation: it would be good for future editions of the Sea-Doo Switch to offer height-adjustable handlebars from its personal watercraft range – such as those on the Spark Trixx or Explorer Pro – to make it easier to operate while standing.
Buttons on the handlebars activate cruise control as well as sport and economy modes and Sea-Doo's industry-leading debris removal system, which rids the jet pump and intake grate of debris such as sea weed and plastic bags in about 30 seconds, at the press of a button.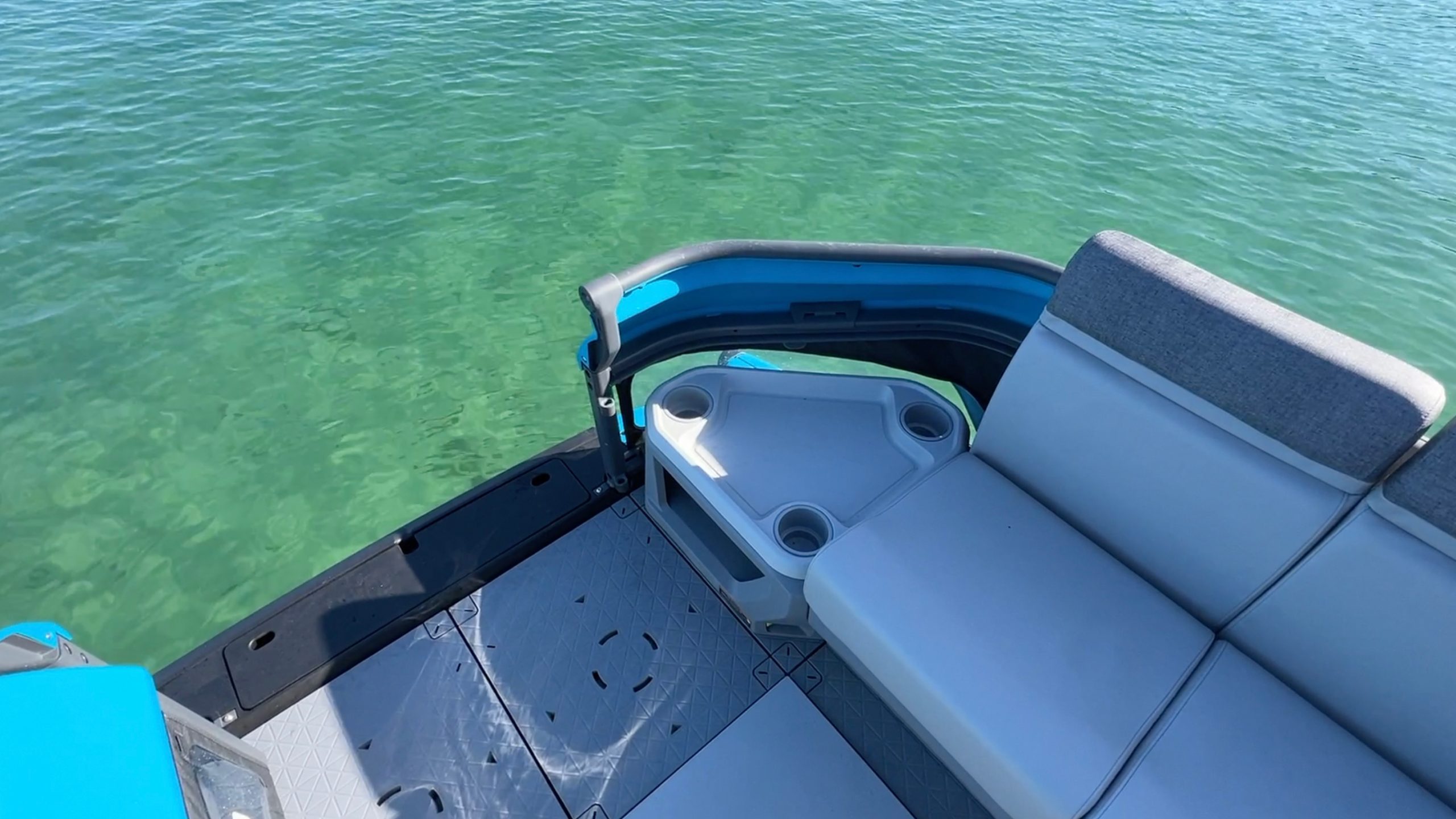 Two high output audio speakers are fitted in the base of the steering console – one front and one back – and there are handy pockets throughout the top deck, as well as 12-volt and USB charging ports.
Navigation lights – and deck area courtesy lights – are fitted as standard, as is a basic, short-length Bimini canvass top that covers the driving position.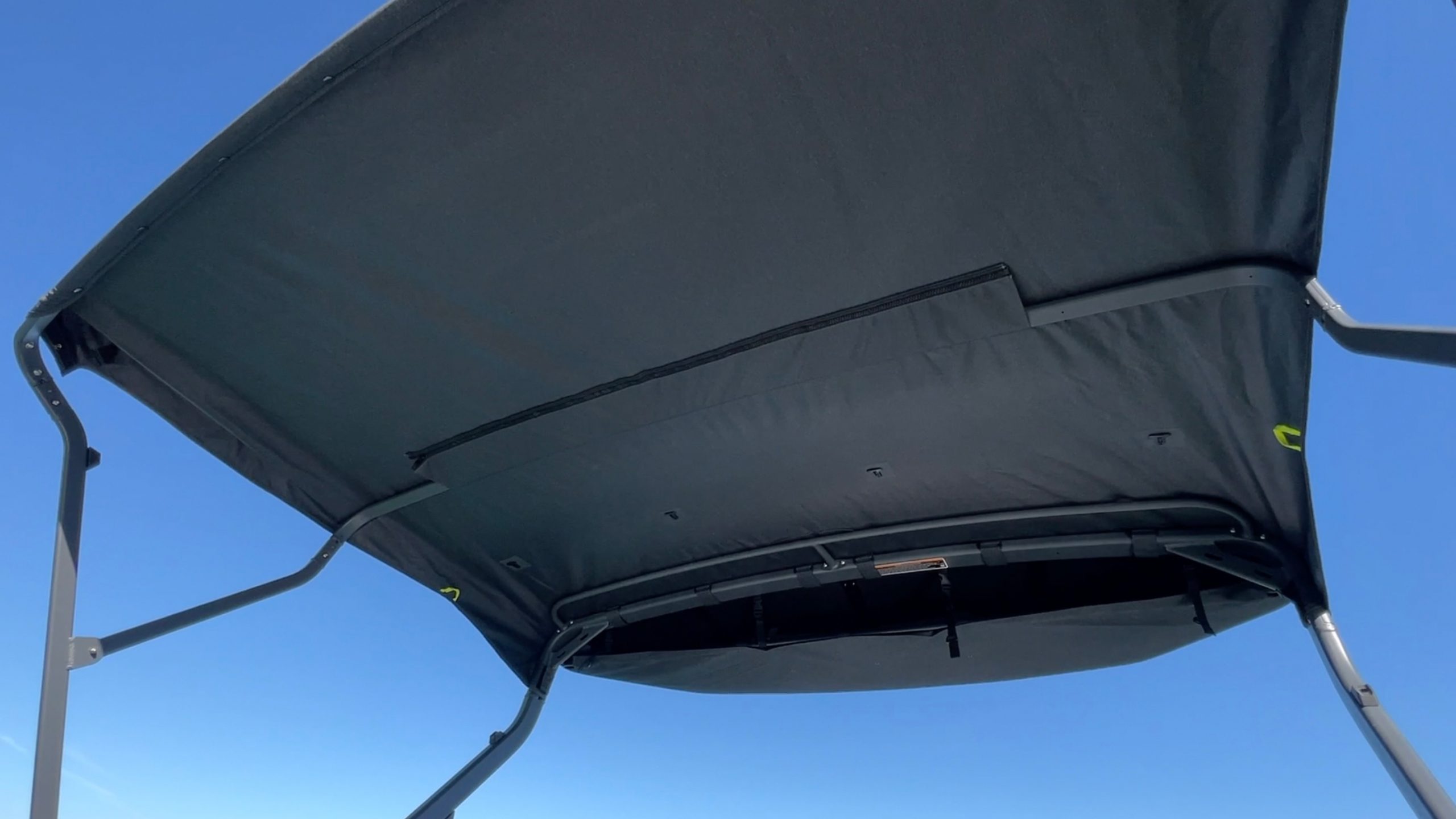 An extended canvass top – and plastic curtains to shield passengers from bad weather – are extra-cost options.
The bow has a special under-floor compartment to store an anchor.
The rear deck is ideal as a large swim step, and there is a retractable ladder embedded in the rear right rear corner of the craft that can be stowed or released at the press of a button.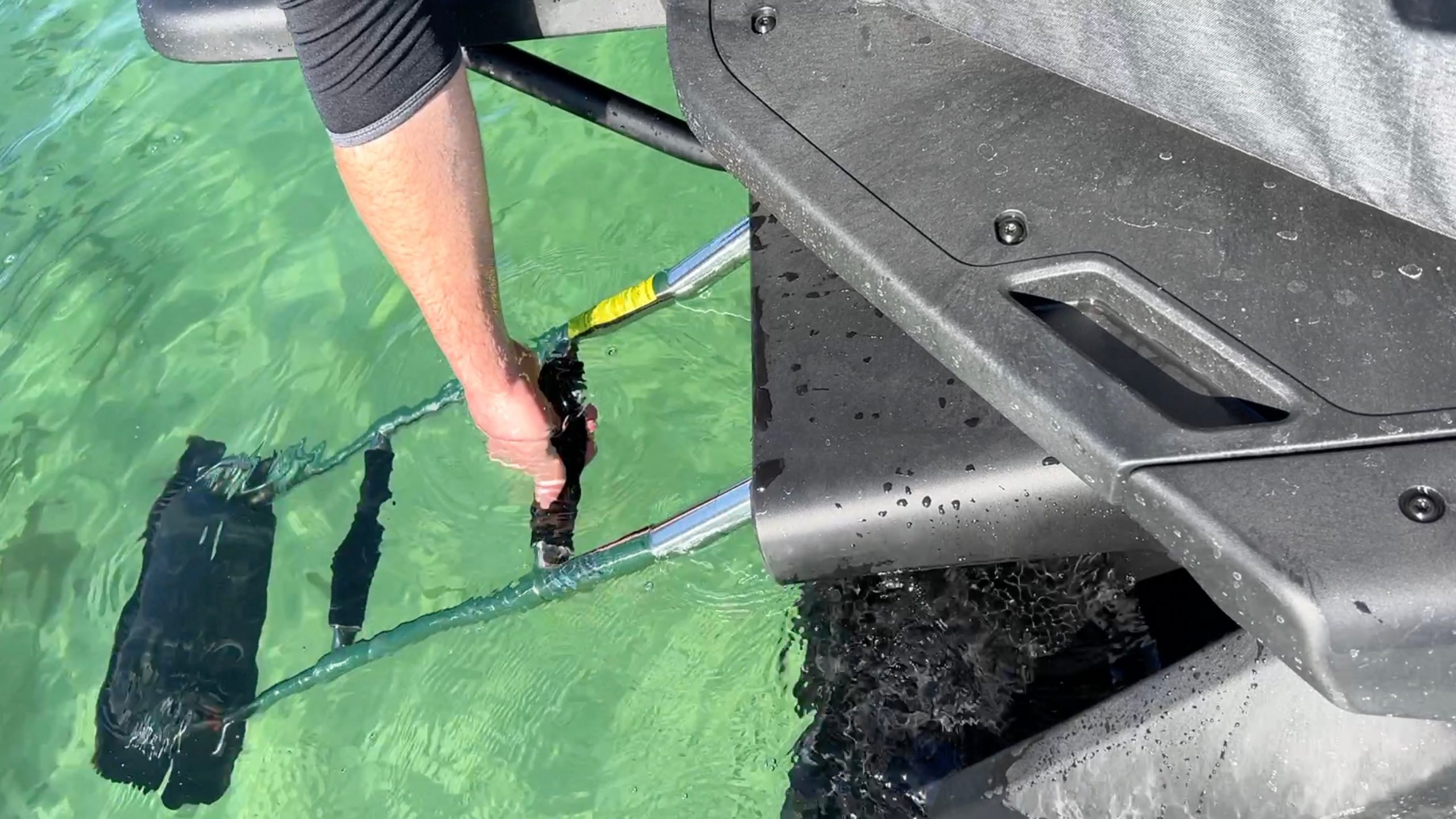 While most pontoon boats load passengers from the rear of the craft, guests board the Sea-Doo Switch from the front.
This helps with weight balance, and helps the Switch navigate shallower water when loading.
The Jet Pump at the rear of the craft only needs to be in about three-foot – or 1 metre deep – water, which is much shallower than what most propeller-powered pontoon boats need.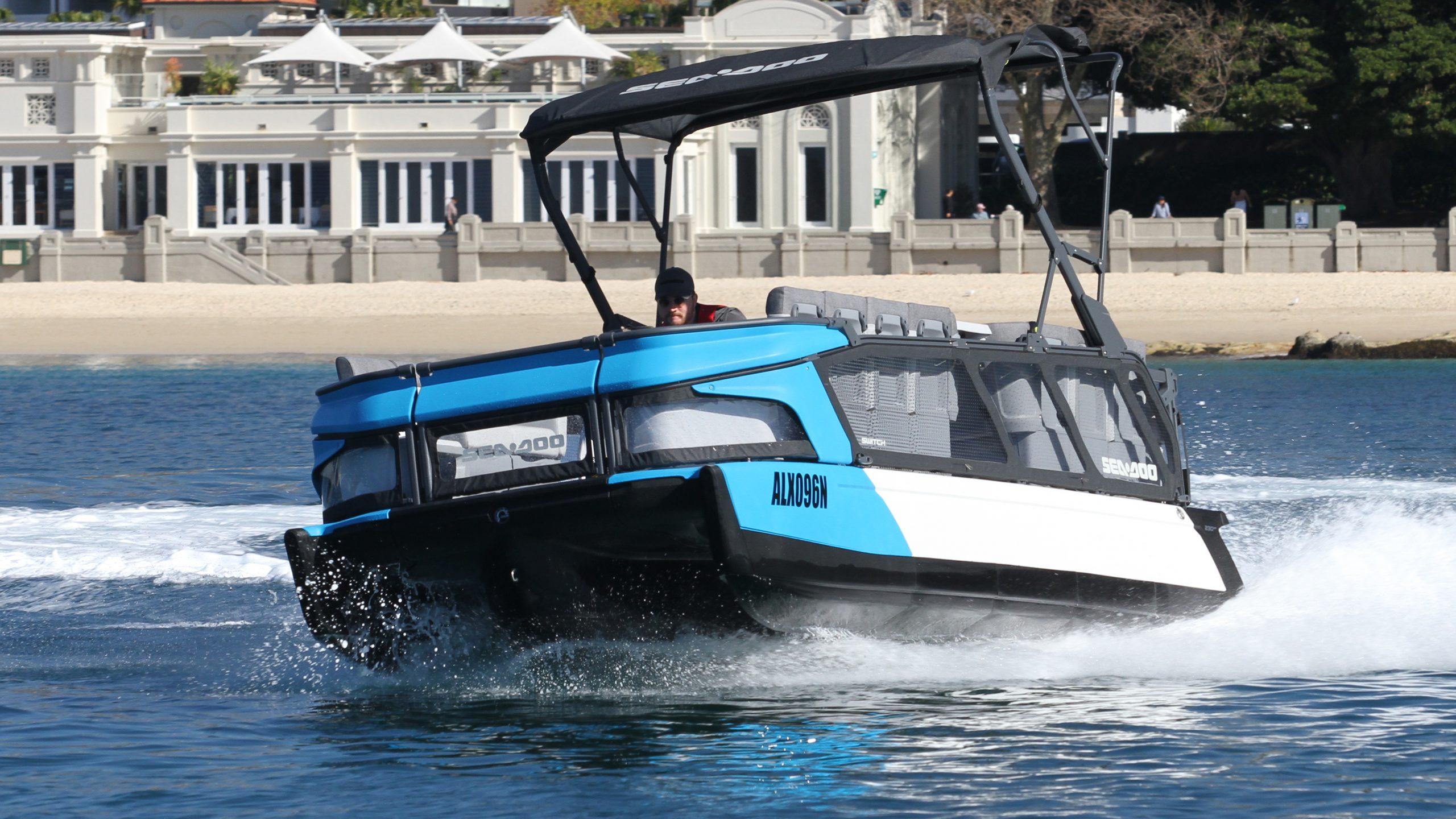 Sea-Doo Switch Cruise test drive
if you're coming from a Jet Ski the Switch won't feel as fast or as agile.
But if you're coming from a boat, the low-speed manouvreability is mind-blowing. At idle speeds it can turn on its own axis, in the same way a Jet Ski does.
It's also easier and more intuitive to control speed and direction using the reverse and accelerator triggers when approaching docks, or moving through shallow water.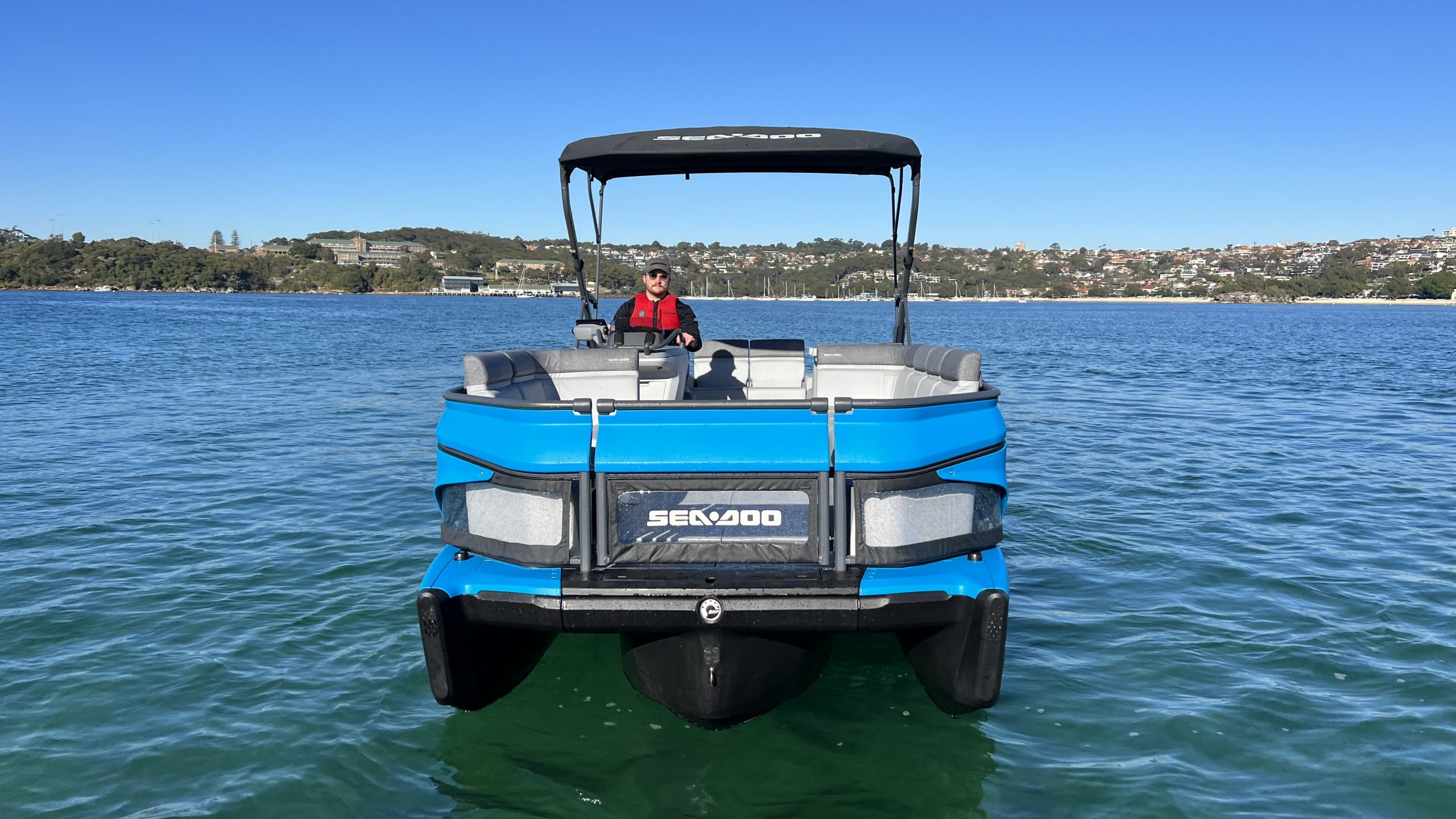 We had a passenger move around in different seating positions and found the craft felt best when other occupants were sitting towards the rear or behind the driver.
The Switch didn't lean too much with one person on one side of the front of the craft, but you would definitely want to have people sitting evenly across the deck when travelling at speed or in choppy conditions.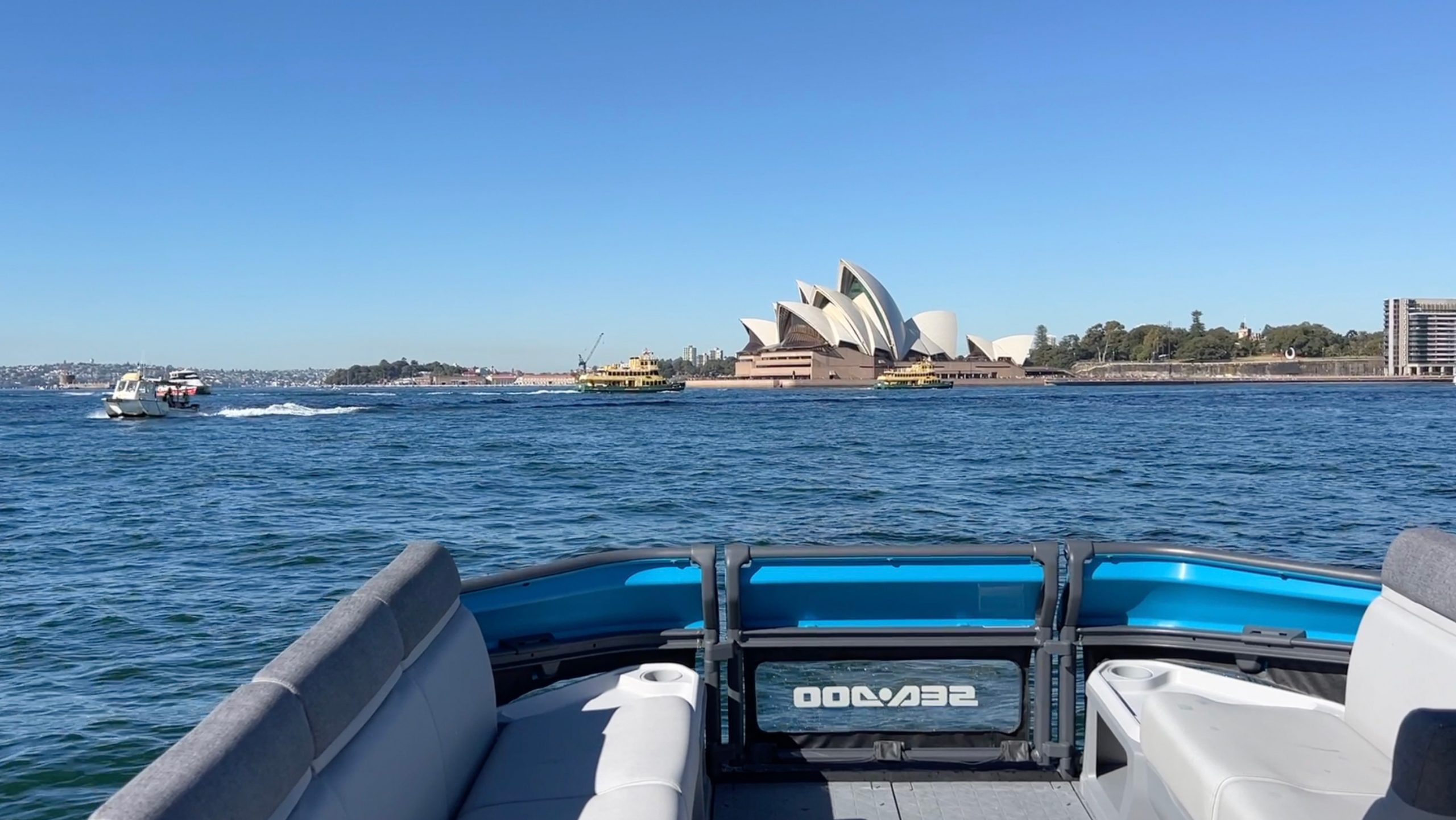 To be clear, the Sea-Doo Switch is primarily designed for flat water such as rivers and lakes. But there's no doubt when conditions are perfect – as was the case on our test day – the Switch is also enjoyable in mild chop.
We would not attempt, however, to navigate ocean swell as it has not been designed for that.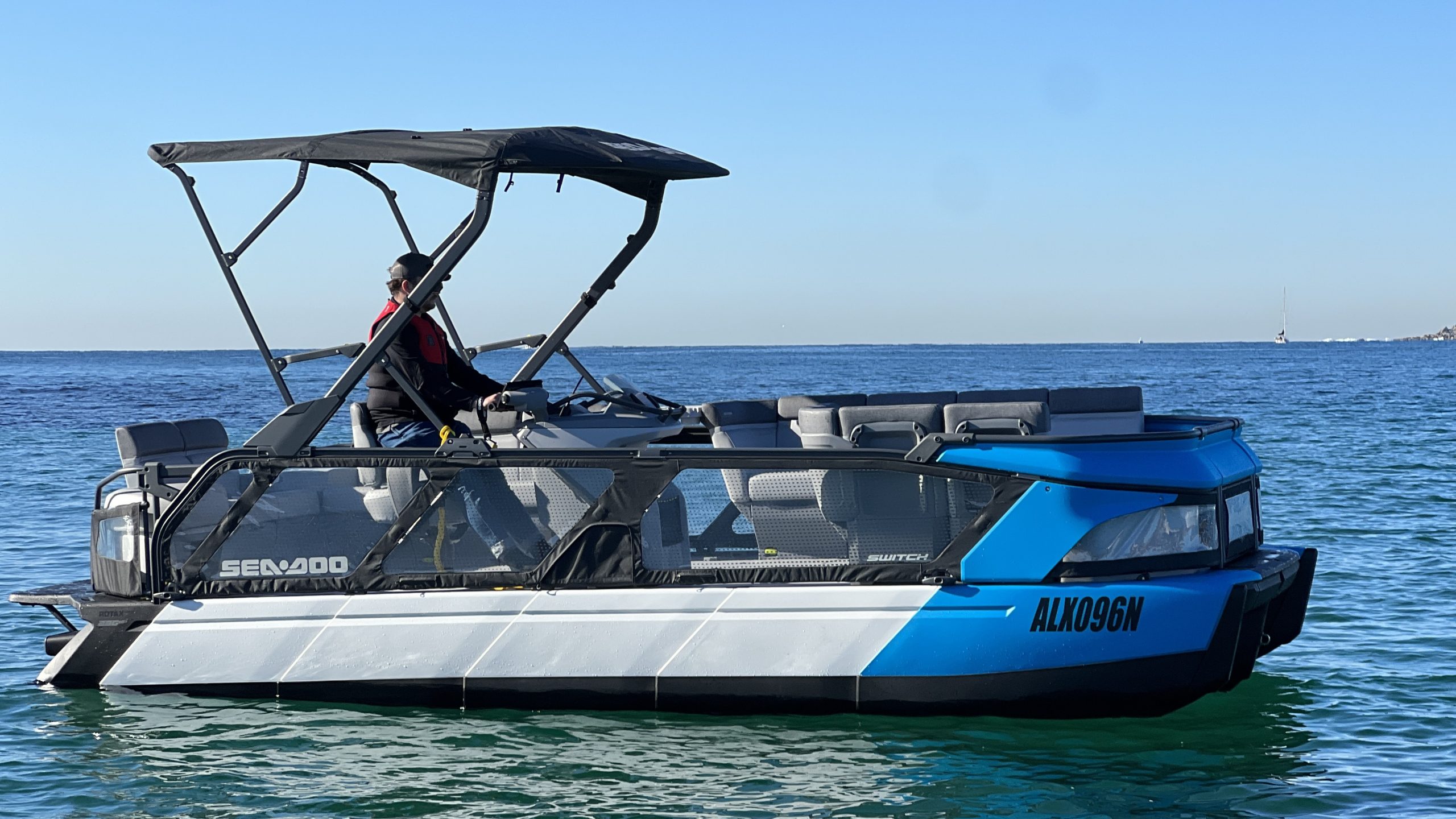 Sea-Doo Switch conclusion
As easy and as comfortable as the Sea-Doo Switch is to operate, a large part of its appeal is the flexibility and functionality of the top deck. 
For this craft, it really is about the destination rather than the journey. It would be very easy to spend a day on the water near your favourite swimming hole or fishing spot.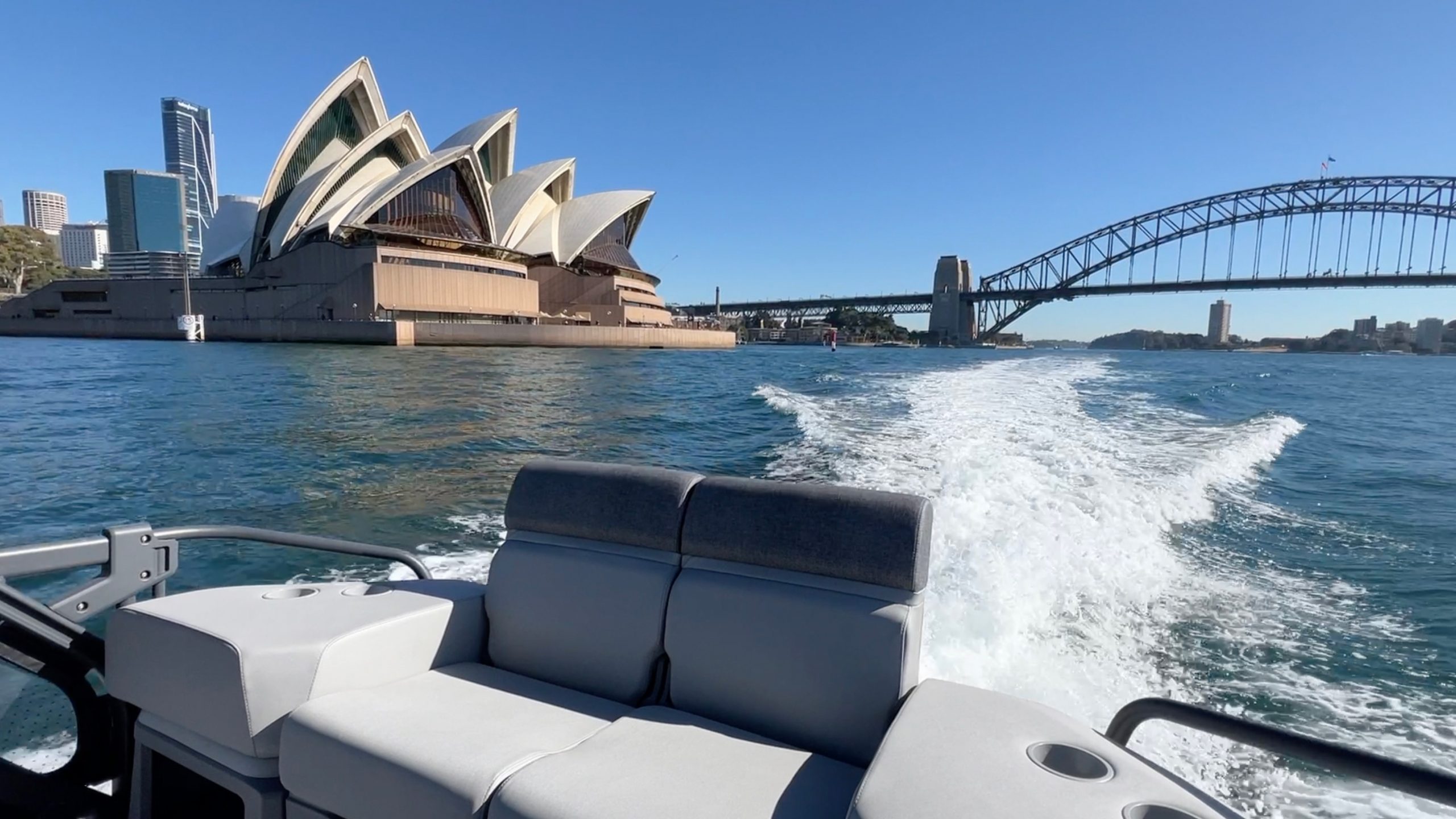 There's plenty of shelter from the sun, plenty of seats for everyone, and the convenient and clever click-in accessories such as fuel caddies or cooler boxes mean you don't need to spoil everyone's fun by cutting the day short and rushing back to the boat ramp.
On balance, there is not much to dislike about the Sea-Doo Switch other than the price in Australia.
Here's hoping the Switch proves so successful Sea-Doo eventually considers introducing more affordable models.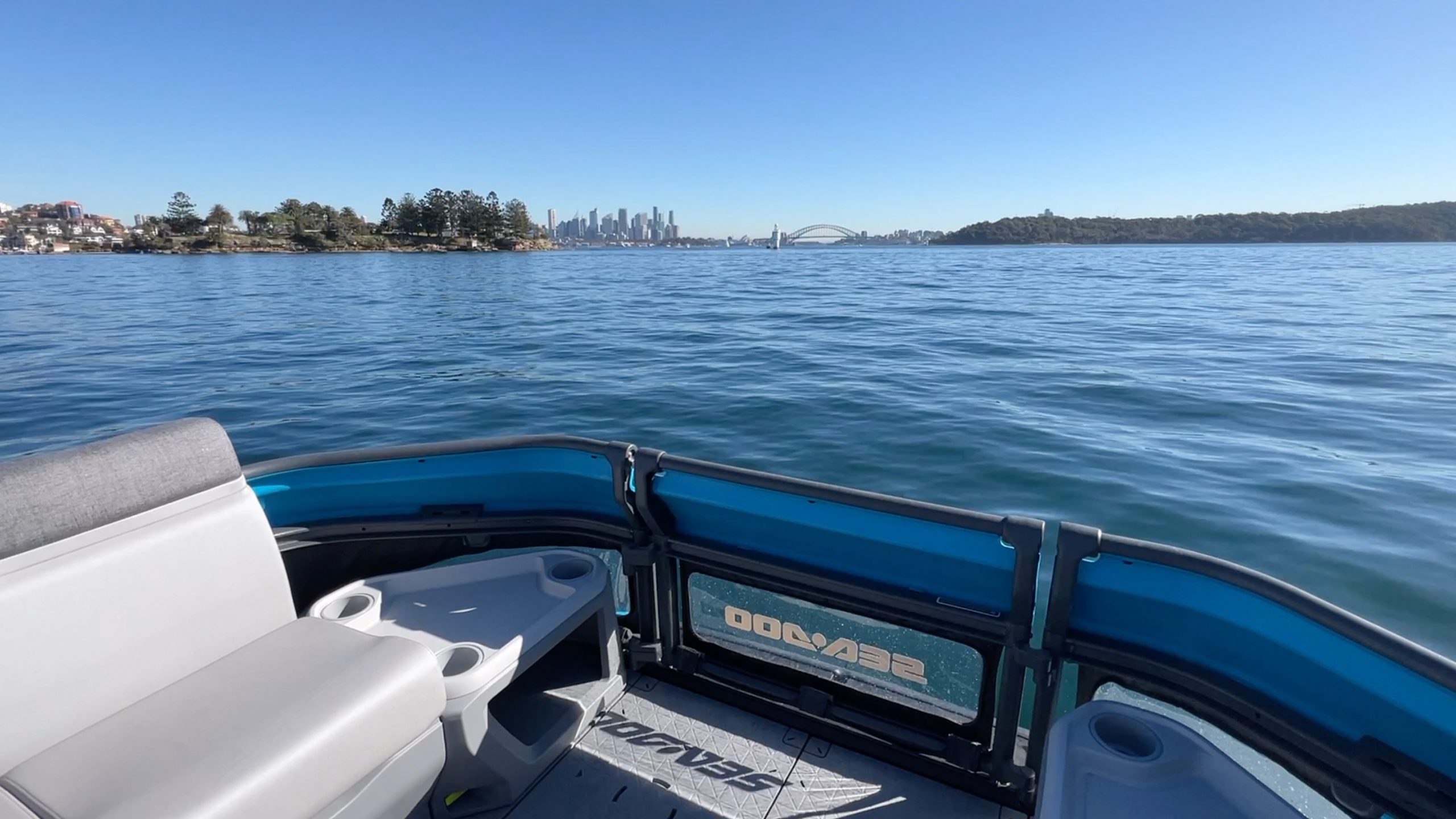 Footnote: The test craft was supplied by BRP Australia, the local distributor for Sea-Doo. We tested the craft for half a day in July on a warm winter's day.
MORE: All our Sea-Doo coverage in one click
MORE: All our Yamaha WaveRunner coverage in one click
MORE: All our Kawasaki Jet Ski coverage in one click
MORE: All our news coverage in one click
MORE: Follow us on Facebook
MORE: Follow us on YouTube