The Sea-Doo Explorer Pro 170 is a new model for 2023 – and establishes a new segment in the personal watercraft market.
If you think it looks familiar, you'd be right. The platform and rear deck extension are based on the Sea-Doo Fish Pro introduced in 2019.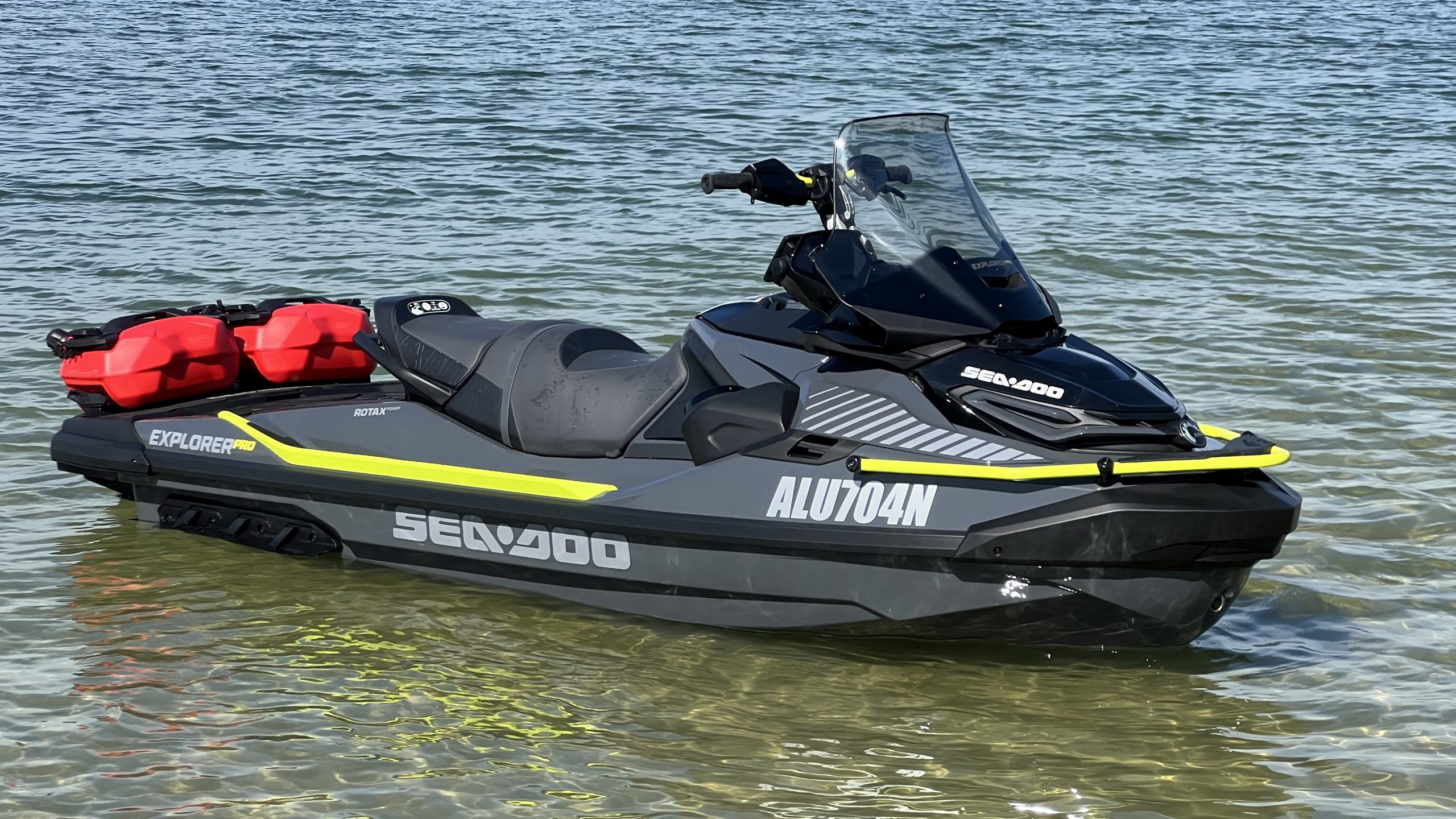 Which, in turn, was based on Sea-Doo's new generation ST3 hull and deck design introduced in late 2017 as a 2018 model year.
So the platform for the Sea-Doo Explorer Pro 170 is six years old, but it is a new model for 2023 – and no-one has manufactured a Jet Ski like this before.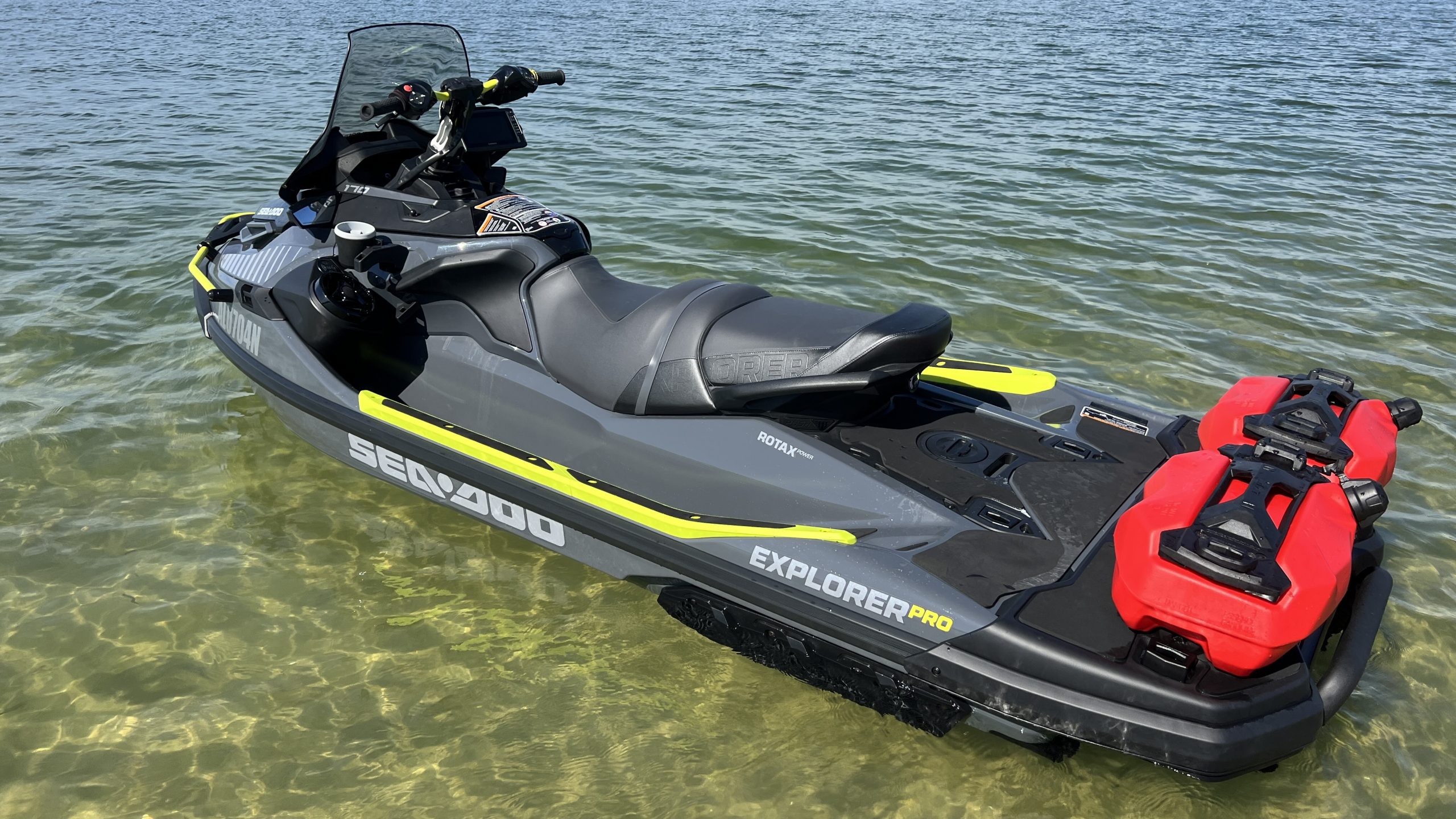 We clocked up more than 1000km – or 600 miles – over 30 hours during our test of this machine.
In this review we will go through prices, unique features, fuel consumption, what it's like to ride, and cover the pros and cons of the 2023 Sea-Doo Explorer Pro 170.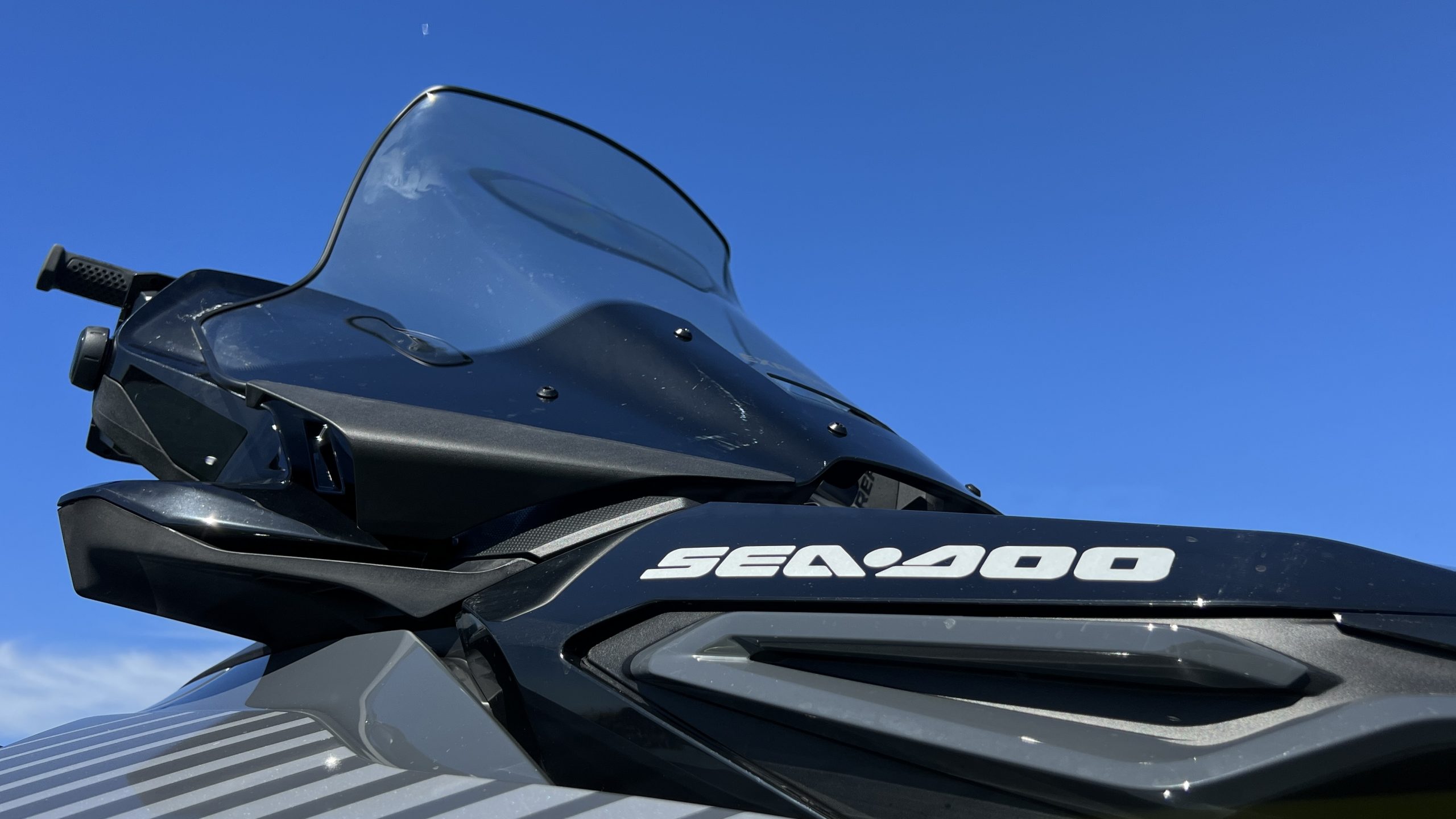 2023 Sea-Doo Explorer Pro 170 key features
Based on the extended platform developed for the Sea-Doo Fish Pro, the Sea-Doo Explorer Pro has a range of unique features – and a number of industry firsts – to appeal to riders with a sense of adventure.
The headline act is the plastic windscreen, to deliver a dryer ride and minimise wind chill in winter.
It's the first Jet Ski with a large factory-fitted windscreen of this type.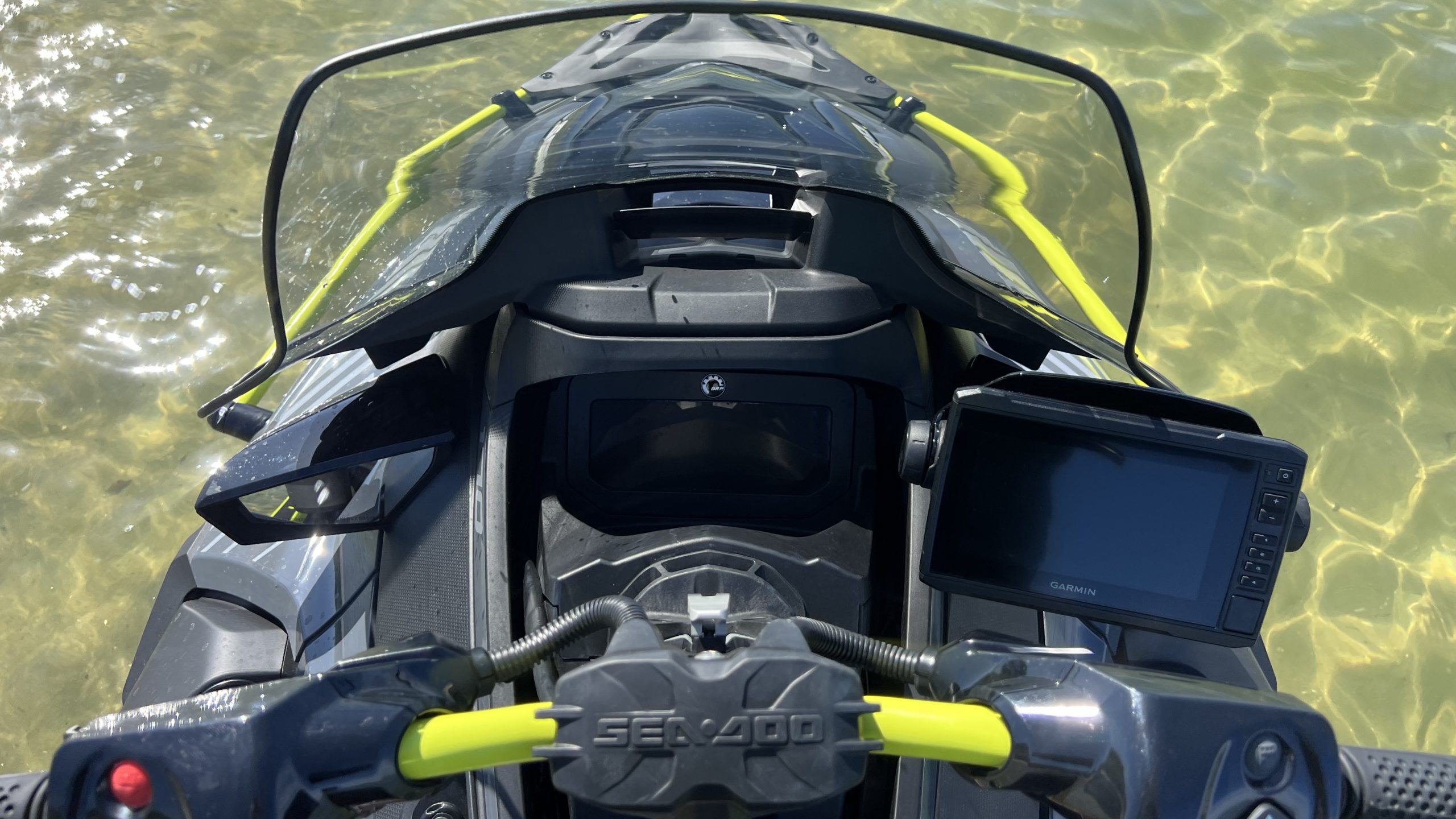 It is designed to fall forward and snap out of its locked position if struck by the rider after a hard landing or a sudden stop, and easily clicks back into place.
The angle of the windscreen is not adjustable – it's set in a fixed position – and it's not advisable to ride the craft with the windscreen stowed forward, because it bounces on the nose and could damage or crack the screen.
Removing the windscreen and its housing takes about 10 minutes and some tools. So you really need to decide before you ride whether you want the screen on or not.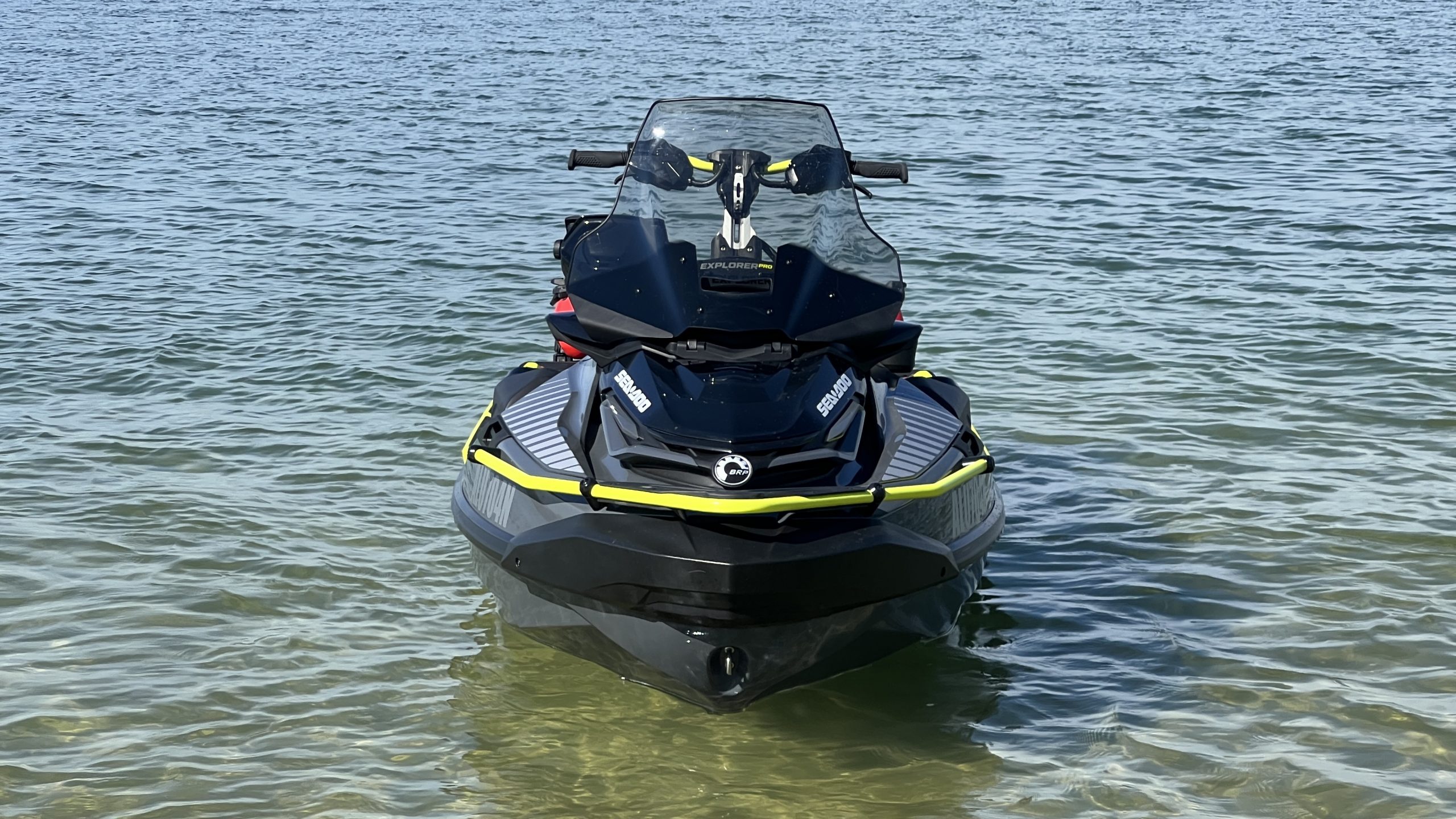 It is so effective at blocking air, it can get hot behind it in summer. So there is an air flap in the lower front section which can be opened or closed by hand.
Sitting down while riding at, say, 20km/h (12mph), the windscreen diverts air so efficiently it won't blow a wide-brim sun protection hat off your head. Standing while riding directs cool air onto your chest and face.
Of course, there is so much more to the 2023 Sea-Doo Explorer Pro 170 than the windscreen (although that's what attracts most attention from other Jet Ski riders).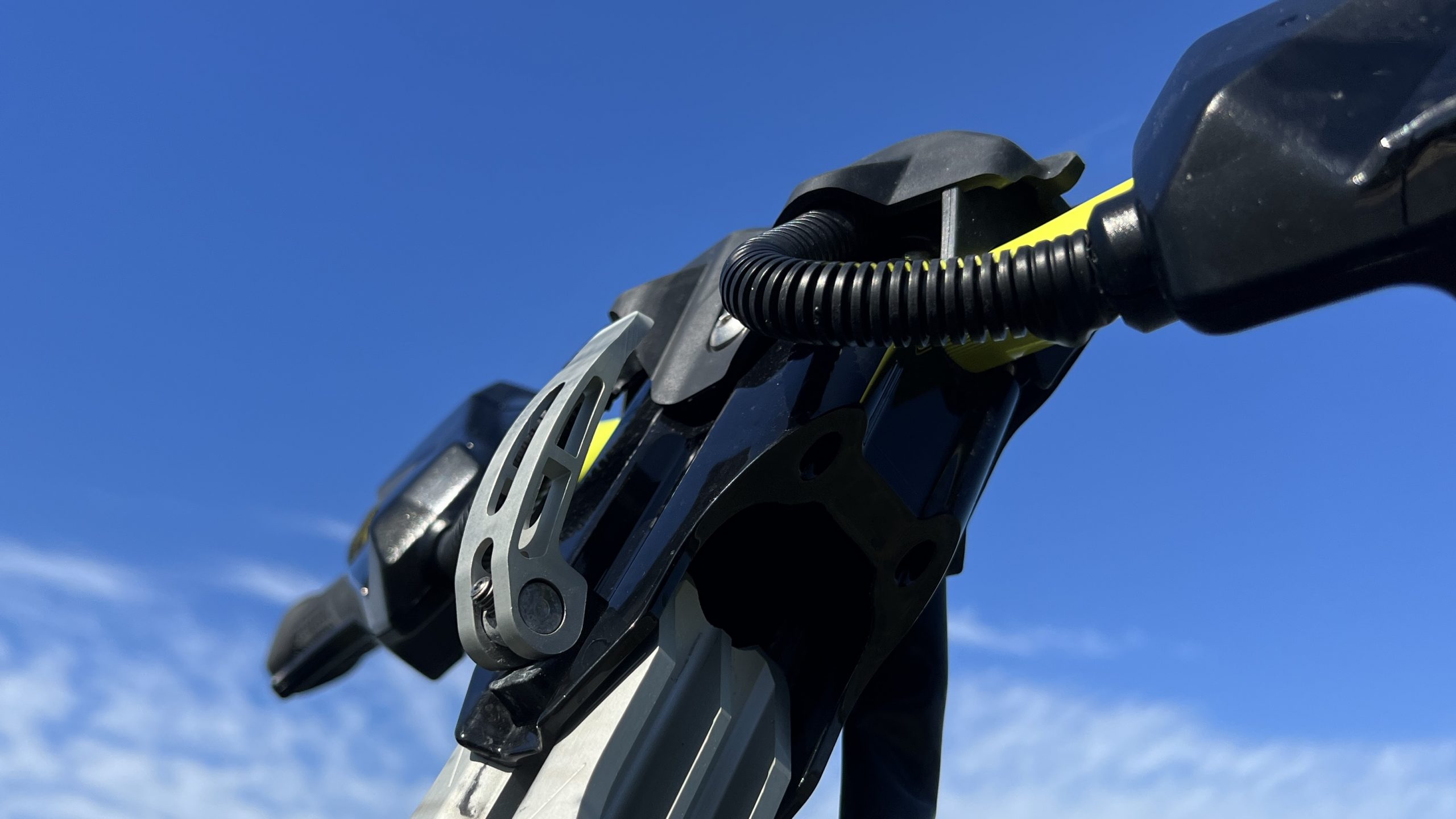 Most fellow riders wonder what the windscreen is for (kind of obvious really), and how effective it is (depends on the riding conditions, more about that later).
Other unique features: the 2023 Sea-Doo Explorer Pro 170 is the only Jet Ski on sale today with height and tilt adjustable steering, and the only one with large external rails on the bow to create additional dock tie points.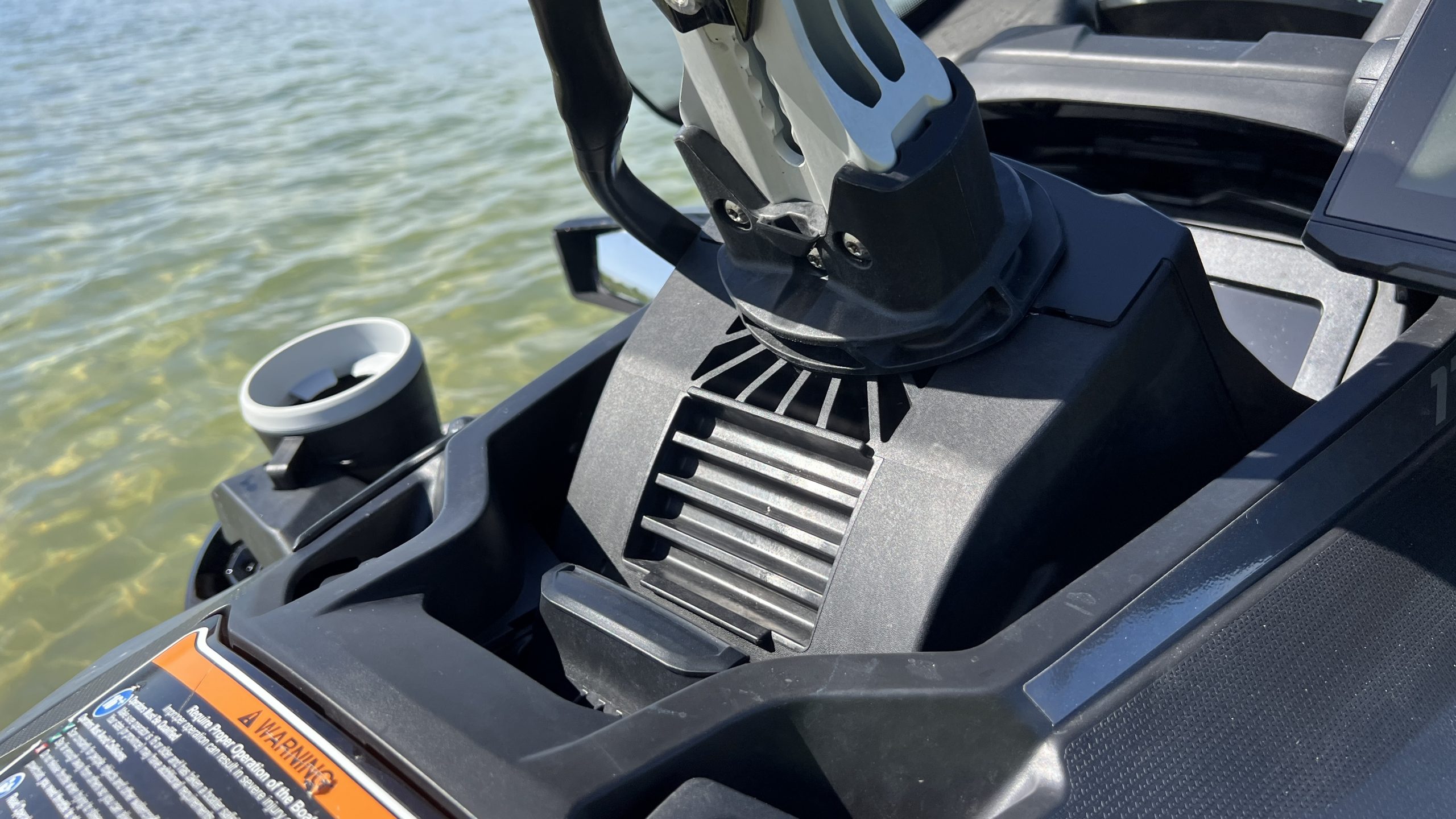 These features are in addition to Sea-Doo's 7.8-inch digital VIP instrument display (standard in Australia but optional in the US).
And the top-end factory-fitted 7-inch Garmin touchscreen navigation system – the Garmin Echomap UHD 70/90 – the same unit installed on the flagship Sea-Doo Fish Pro Trophy.
Scuff guards along the edges of the top deck, knee pads on the centre console, and a rear boarding rail are also part of the Explorer Pro package.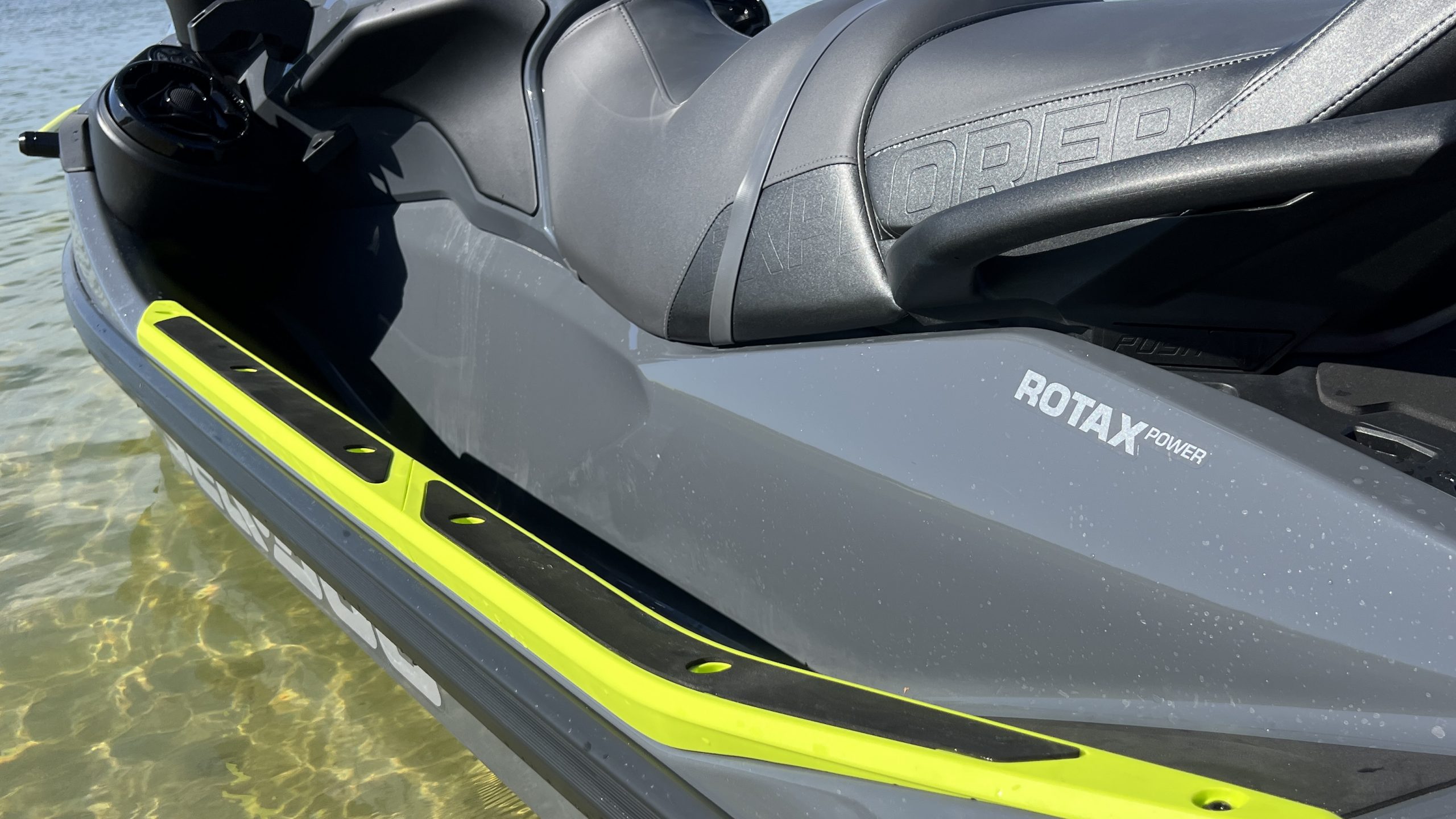 And Sea-Doo's highly-regarded audio system (standard in Australia but optional in the US) can now be controlled via buttons on the handlebars, as well as buttons on the left speaker.
Sea-Doo's unique – and industry-first – reverse thrust debris removal system called IDF is also standard, and proved to be a handy feature during our test ride.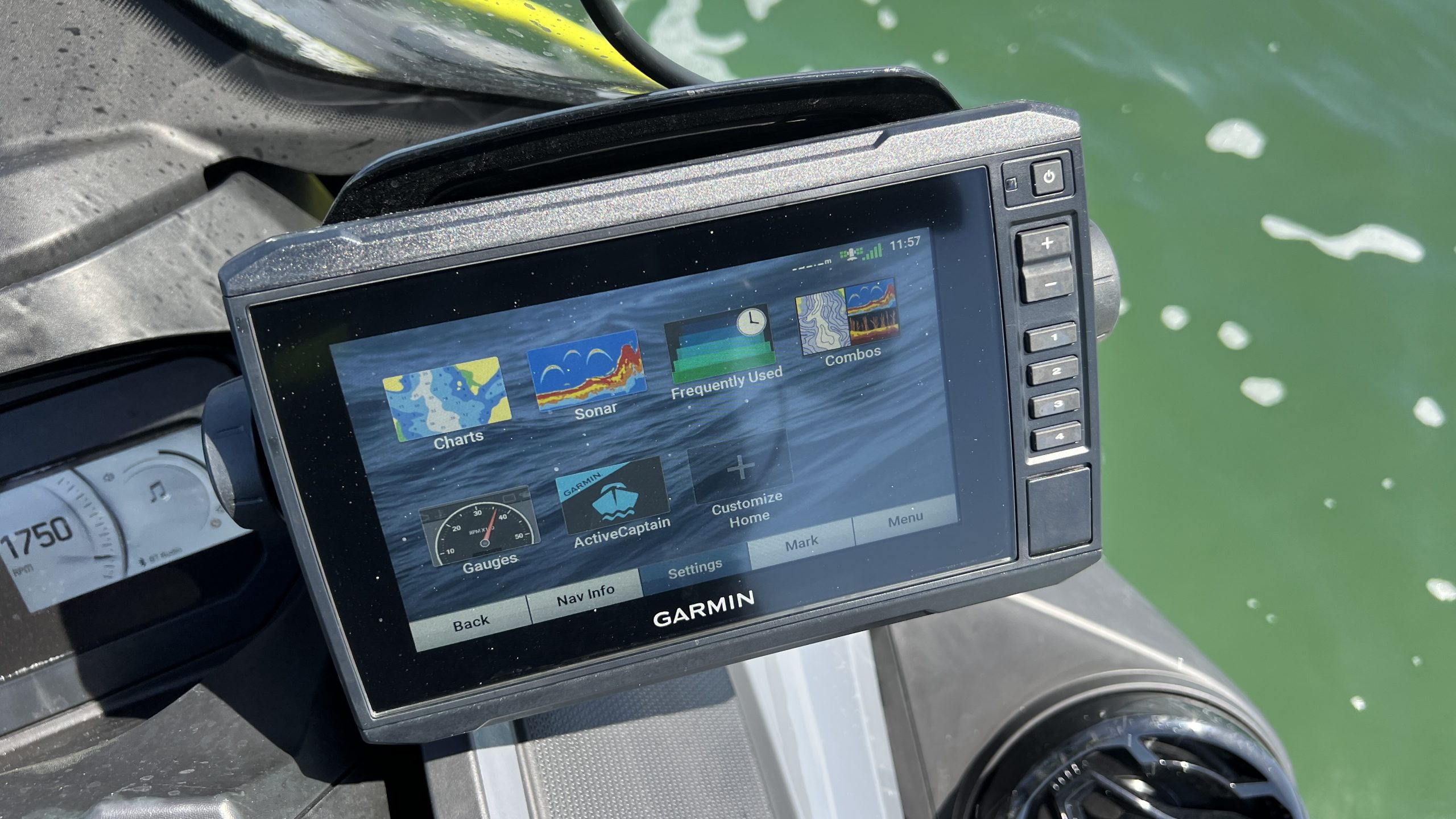 While the first batch of Sea-Doo IDF technology introduced two years ago had some gremlins, a number of significant hardware changes and improvements since then have made this system not only more robust, but a competitive advantage.
Rival Jet Ski brands don't have any type of automated debris removal system and, as we would discover, the Sea-Doo adds peace of mind, especially in remote areas.
We needed to activate Sea-Doo's IDF technology several times in during our long-range test of the Explorer Pro – and each time it got the job done in less than 60 seconds.
Other 2023 Sea-Doo Explorer Pro 170 highlights include an extended rear deck – which creates a platform for a range of clever accessories such as extra fuel storage, a large cooler box, and waterproof cargo bags.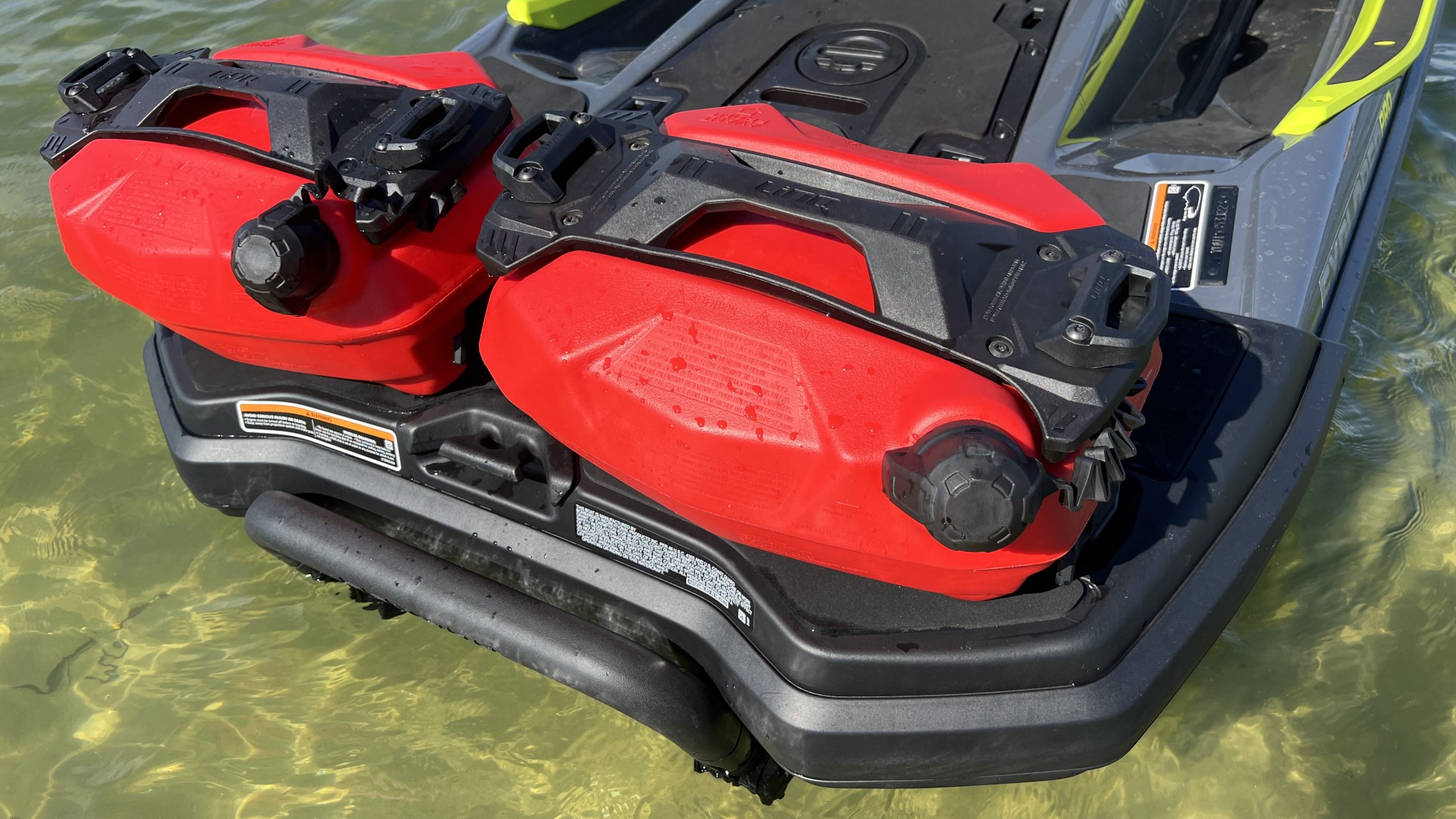 2023 Sea-Doo Explorer Pro 170 fuel capacity and fuel economy
Depending on the configuration, with the extended rear deck and the new detachable cargo platform, you can attach up to five of Sea-Doo's 15-litre (or 4 US gallon) fuel caddys.
When you include the standard 70-litre fuel tank in the nose – plus a maximum of five 15-litre fuel bladders on the back – you can more than double the fuel capacity to a total of 145 litres.
In US measurements, that's an 18.5 US gallon fuel tank in the nose, plus up to five examples of the 4 US gallon fuel bladders on the back, for a total capacity of 38.5 US gallons.
If you want get technical, you could possibly eke out an extra litre or so in each of those 15-litre bladders, as we did, so you could conceivably carry 150 litres (or almost 40 US gallons) filled to the brim.
In our experience, that would deliver a total riding range of more than 300km – or almost 190 miles – depending on your cruising speed and water conditions.
Even without the extra fuel on board, the Sea-Doo Explorer Pro's standard 70-litre (or 18.5 US gallon) fuel tank delivers a cruising range of 140km to 150km (or 85 to 95 miles) – depending on conditions. Some riders have even travelled further than this on a single tank.
In our experience, the low fuel warning starts to beep after about 100km to 120km (or 60 to 70 miles) of riding, so you want to be close to shore – or approaching a refuelling point – at that point, unless you have extra fuel bladders on board.
Of course, most Jet Ski riders rarely cover these distances on a day out. But given that this is called the Explorer Pro, fuel range is no doubt part of the appeal.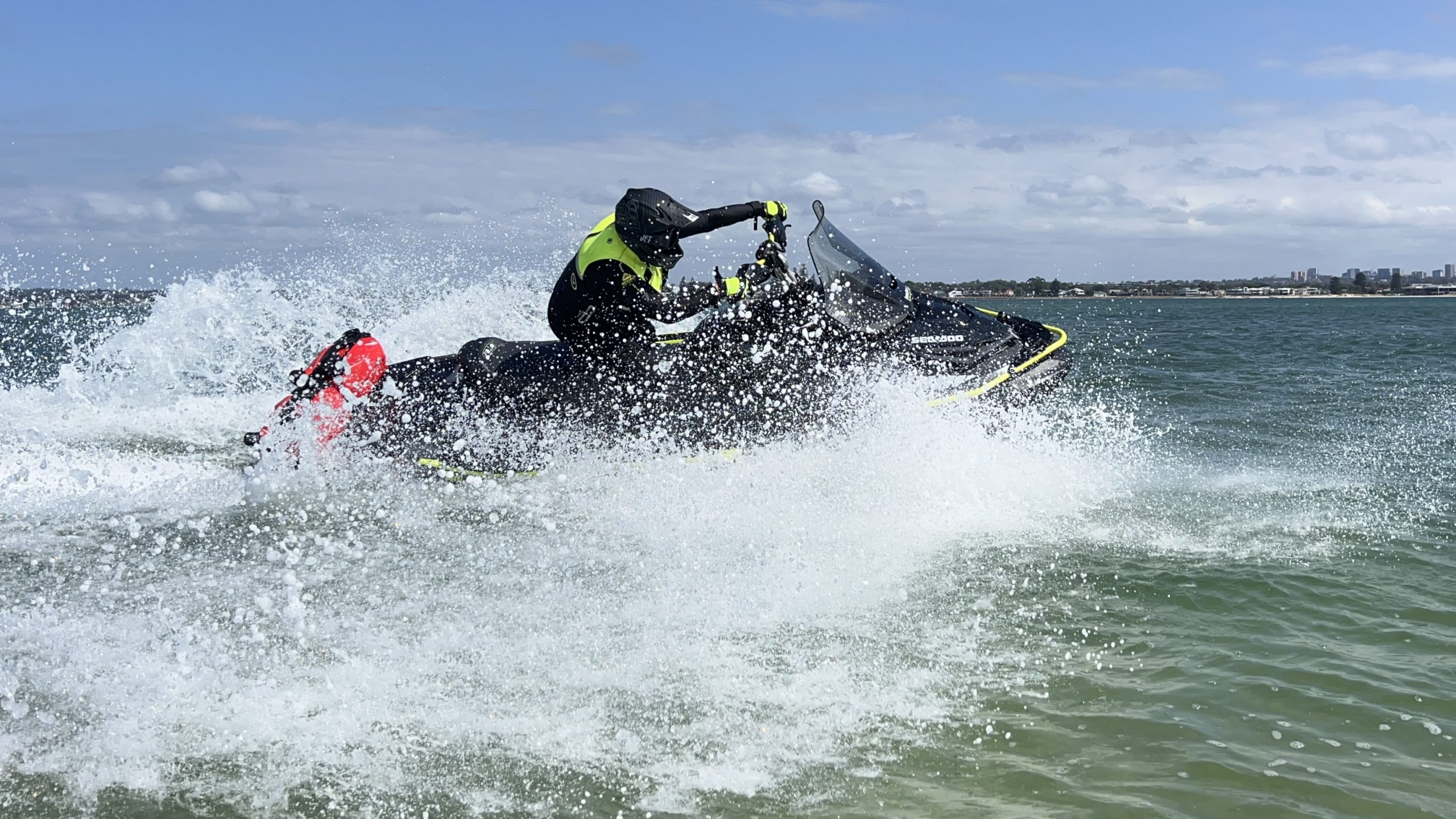 2023 Sea-Doo Explorer Pro 170 engine and performance
Powering the Explorer Pro is Sea-Doo's 1630cc, three-cylinder Rotax engine with an output of 170 horsepower. 
For now, there is no supercharged option on Explorer or Fish Pro models, because fuel range is a key criteria for buyers of these watercraft.
In our testing, the 1630cc non-supercharged Rotax three-cylinder is the most fuel-efficient craft in the full-size, three-seater Jet Ski segment.
Compared to the closest non-supercharged rivals, the Sea-Doo Explorer Pro and Fish Pro use about 10 per cent less fuel than the Yamaha FX HO 1.8-litre four-cylinder and about 15 per cent less fuel than the Kawasaki Ultra 1.5-litre four-cylinder in previous tests by Watercraft Zone.
Despite its fuel efficiency, Sea-Doo's 1630cc non-supercharged engine is still perky enough, delivering a top speed of close to 90kmh (55mph) in ideal conditions, and good acceleration once you activate Sport mode.
Speaking of top speed, Sea-Doo uses GPS to accurately measure the speed of the craft.
Other, older watercraft previously used speedo wheels in the ride plate, or speed estimates based on engine revs. 
A GPS-based speedo is the gold standard, as it means you're getting more accurate trip data and distance-to-empty estimates.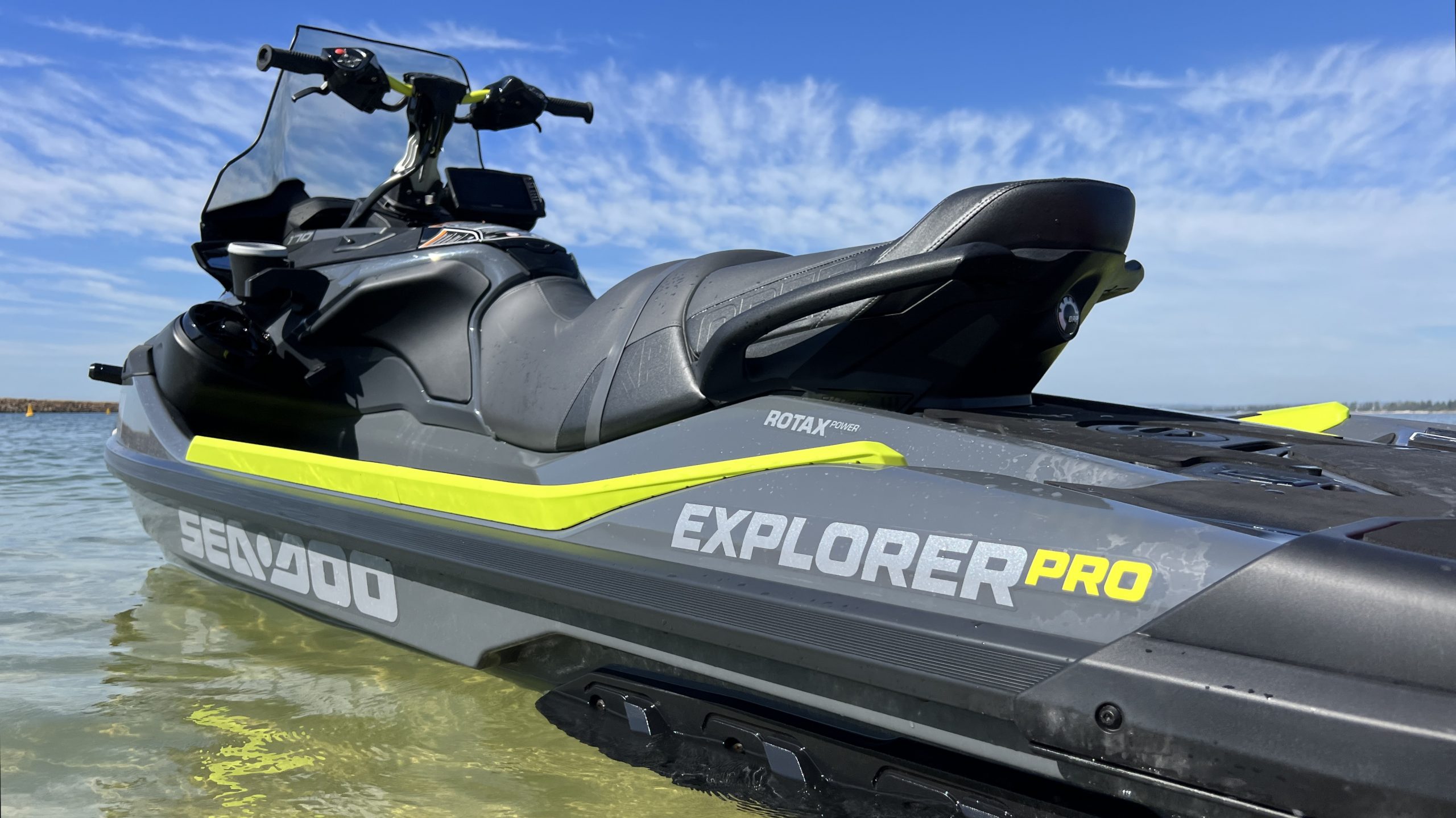 How much does the Sea-Doo Explorer Pro 170 cost?
In Australia, pricing for the Sea-Doo Explorer Pro starts from $28,054 excluding trailer and registration – $2000 less than the Sea-Doo Fish Pro Trophy as this review was published.
In the US, as this review was written, the Sea-Doo Explorer Pro was listed from $16,799 plus taxes, trailer and registration – excluding the sound system and VIP digital dash which are sold as a package.
In round numbers, in Australia, once a trailer and registration fees are included, you're looking at about $31,000 to tow away a Sea-Doo Explorer Pro – depending on how much money you want to spend on the trailer.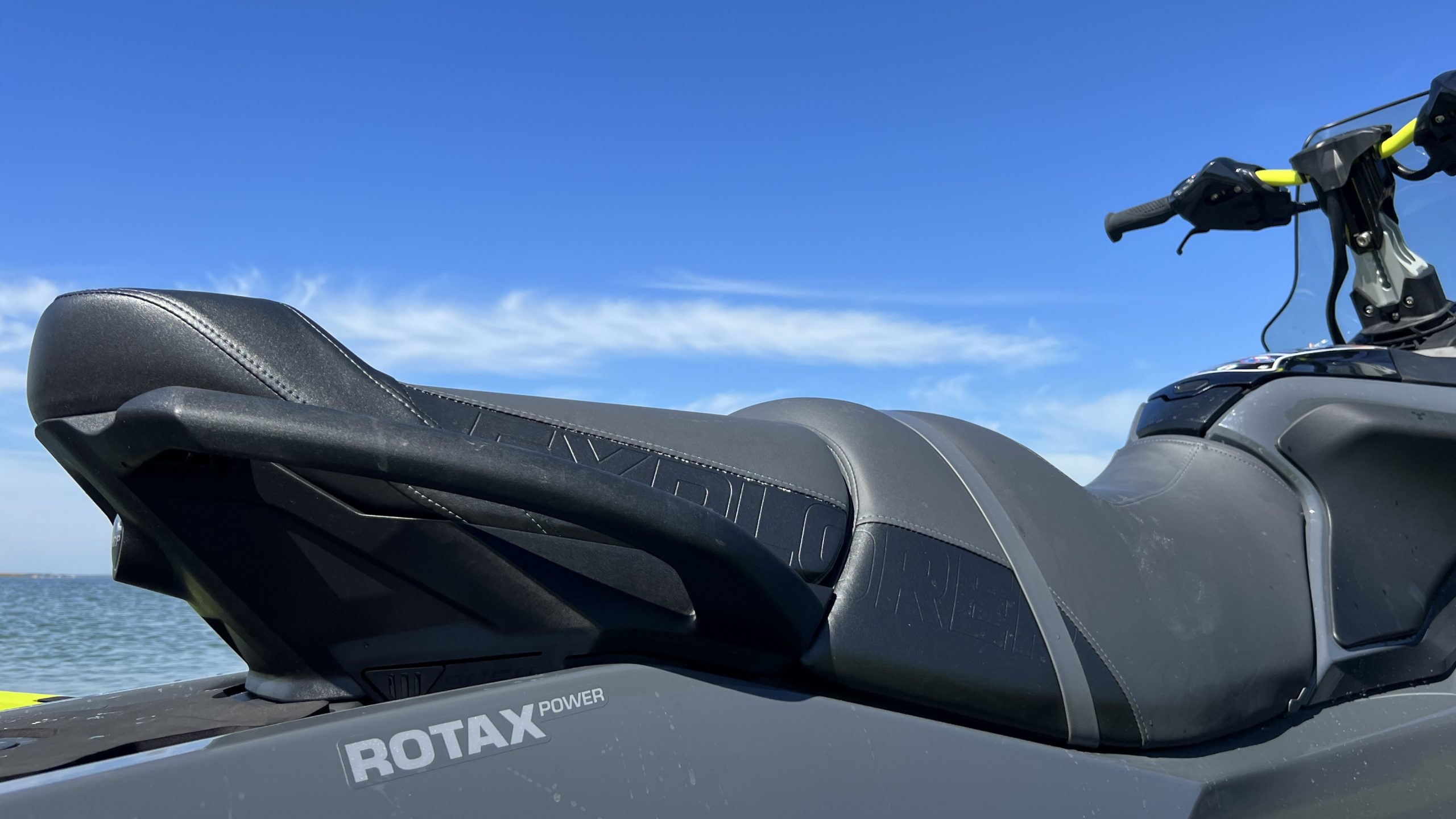 Service costs for the Sea-Doo Explorer Pro 170
Servicing intervals are 12 months or 100 hours (whichever comes first) and Sea-Doo dealers in Australia we canvassed said routine maintenance typically costs about $550 depending on what's required beyond and oil, filter and spark plug change.
You could attempt to service the watercraft yourself, but it's advisable to stay within the dealer network while it is still under warranty in case there are any routine software flash updates, or any future warranty claims.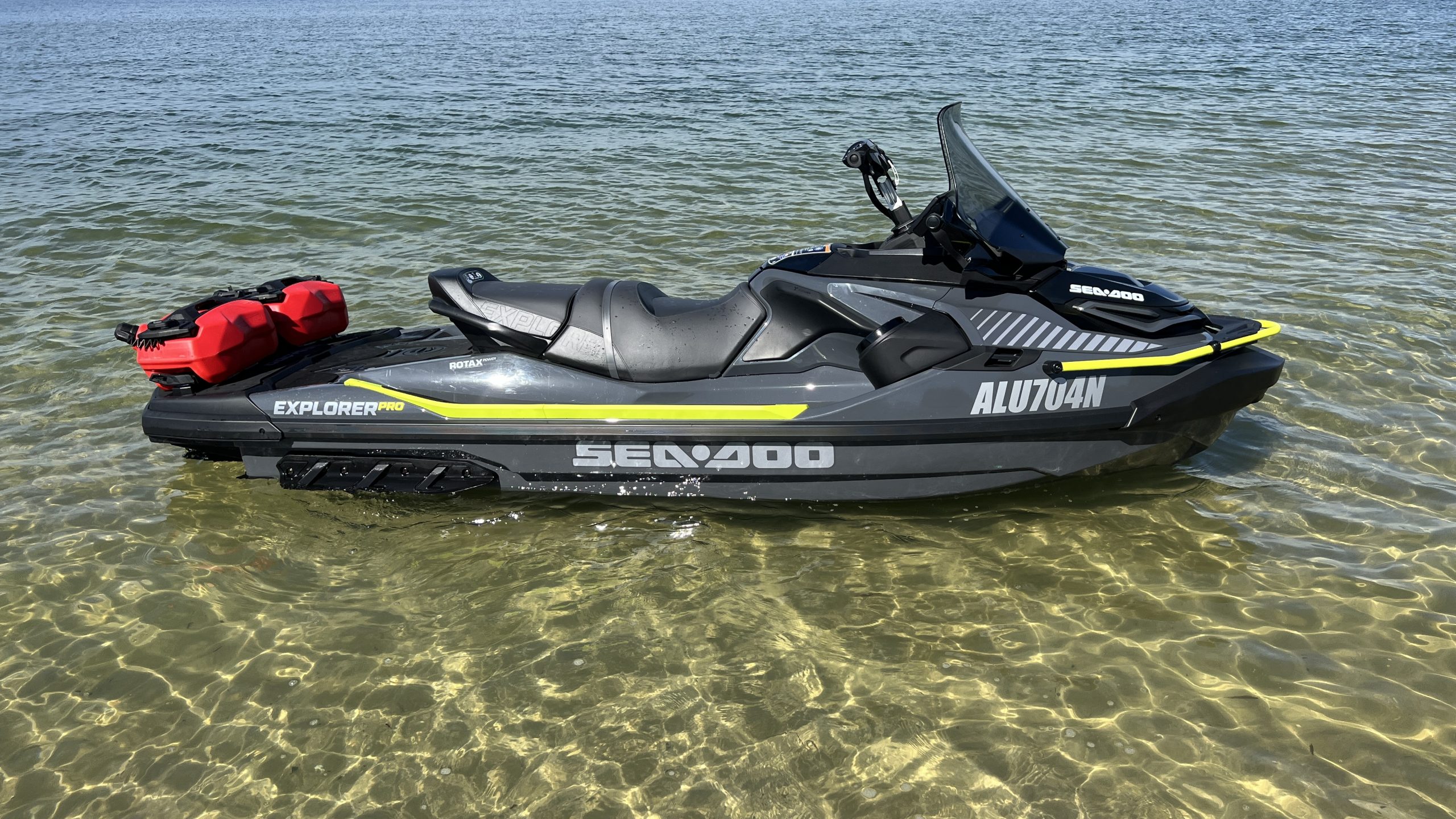 Warranty coverage for the Sea-Doo Explorer Pro 170
In Australia, the standard Sea-Doo warranty is two years, versus five-year coverage for Kawasaki Jet Skis. 
Yamaha WaveRunners have two-plus-one year warranty coverage in Australia (the third year only applying to Yamahas serviced within the dealer network).
Sea-Doo Australia occasionally offers three-year warranty coverage during special promotions, so be sure to check. However, it's worth noting the extra year of warranty is arranged by the manufacturer not the dealer, so it is not at the dealer's discretion.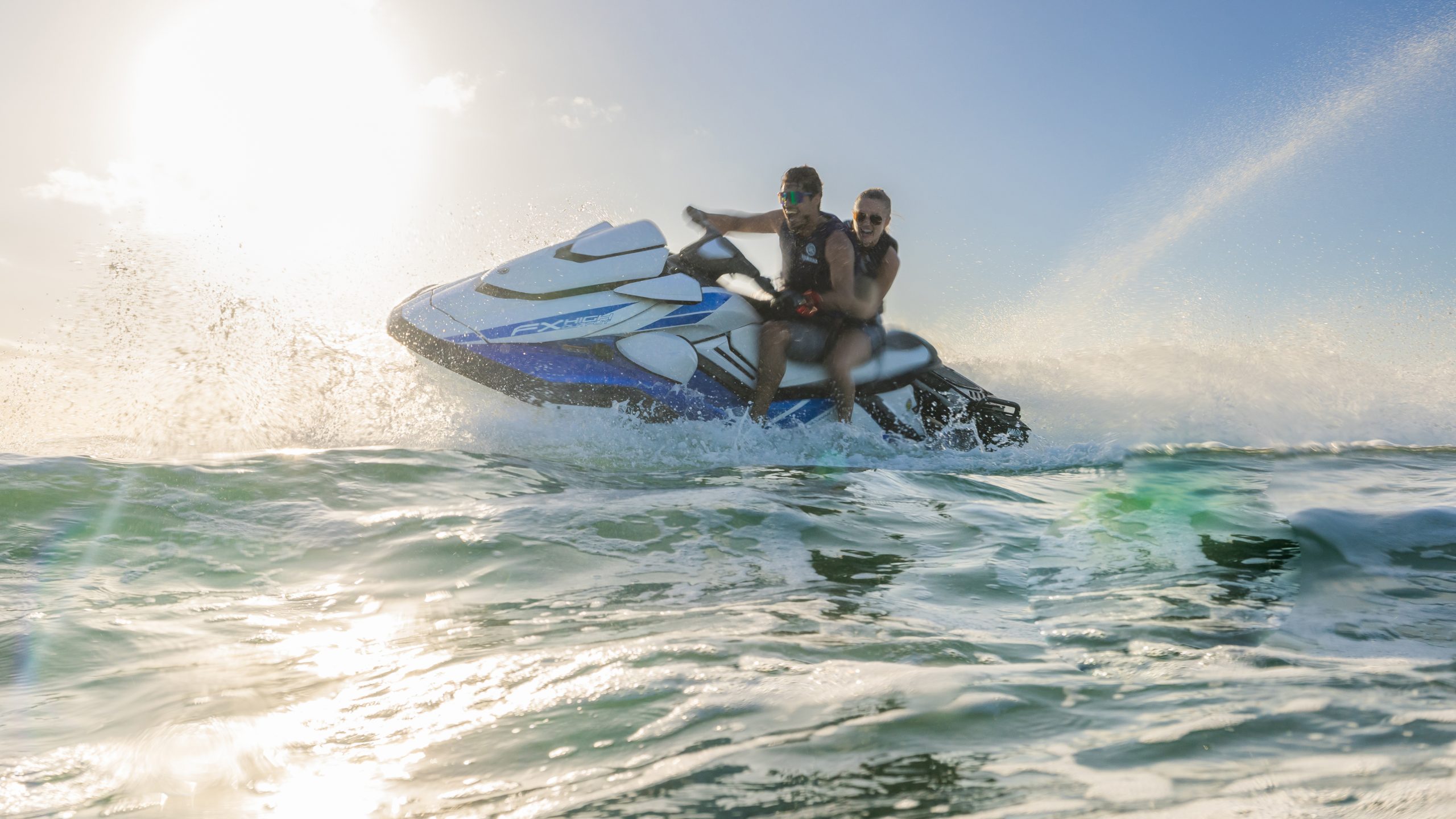 What are the closest rivals to the 2023 Sea-Doo Explorer Pro 170?
The 2023 Sea-Doo Explorer Pro 170 currently has no direct rival from Yamaha WaveRunner or Kawasaki Jet Ski.
The closest would be the latest versions of the Yamaha WaveRunner FX HO (pictured above) or the Kawasaki Ultra 160 LX Jet Ski (pictured below).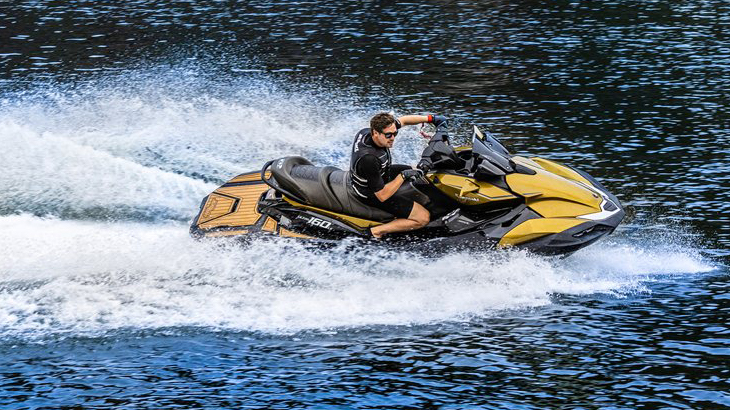 Both of these models have large rear decks – or the option of deck extensions – but then you would need to add accessories such as storage bags or fuel bladders, though extra fuel storage is not a plug-and-play option on the Yamaha or Kawasaki.
As a turn-key solution the 2023 Sea-Doo Explorer Pro 170 is, for now at least, in a class of its own.
What's the Sea-Doo Explorer Pro 170 like to ride?
In addition to a long distance on-water test completed over a weekend – after borrowing a demonstrator model from Beaches Sea-Doo in Sydney Australia – we also covered more than 800km (or 500 miles) of ocean riding on the 2023 Sea-Doo Explorer Pro 170 during a charity ride.
The annual Variety Jet Trek sees almost 100 Jet Skis cover some of Australia's most remote coastline over a week long ocean adventure.
Some legs covered more than 200km (or in excess of 120 miles) in a single day.
Loaded with a full tank and two 15-litre fuel caddys on the back, top speed was about 85kmh (or 53 mph) and fuel-efficiency worked out to be about 45 litres per 100km, which previous test data shows is about 10 per cent less than a Yamaha FX HO WaveRunner and about 15 per cent less than a Kawasaki Ultra LX in similar conditions.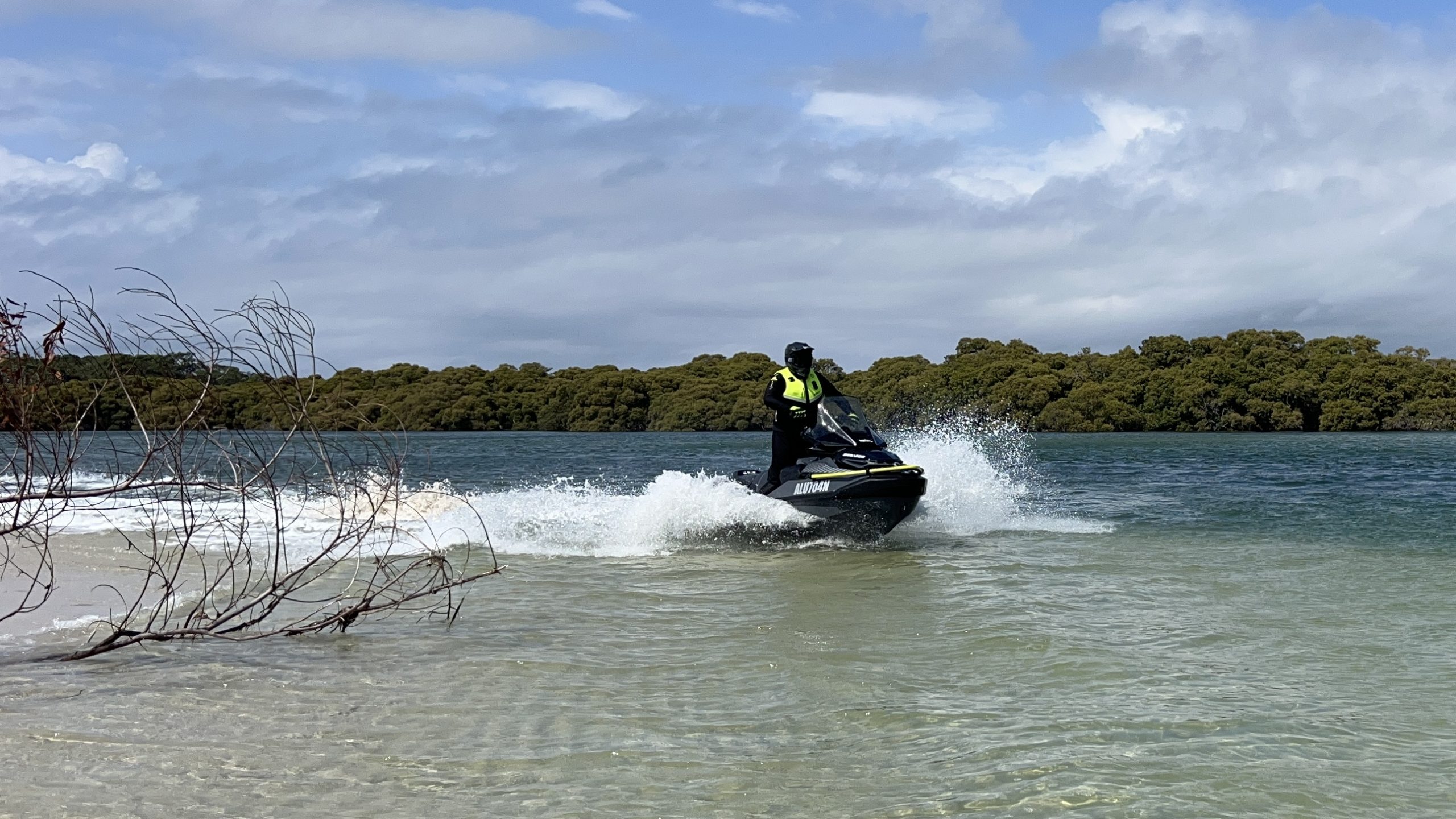 As with other Sea-Doo ST3-based models, the Explorer Pro feels best when the main fuel tank is full, as the extra weight is better at cutting through the chop.
As the fuel load gets lighter, the concave design of the bow has a tendency to get pushed around by cross chop.
It means when the nose comes down when the fuel load is light, you often don't know whether the ski will pivot left or right.
Lowering the trim helps combat bow-hunt to an extent, but it's advisable to top up the main fuel tank whenever possible during ocean riding.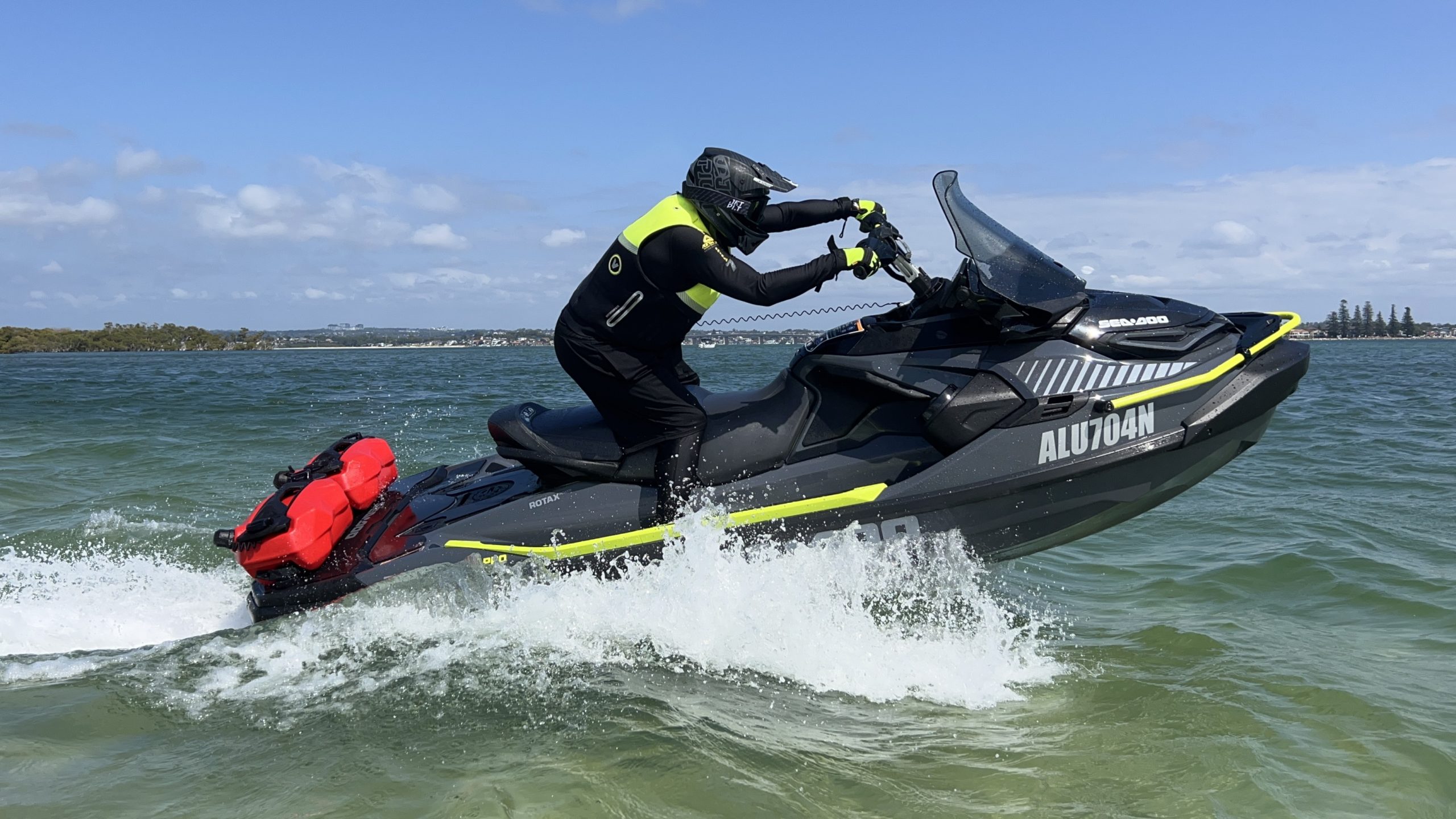 On the flat water of lakes and rivers, bow-hunt is a non-issue. Mild wind chop doesn't upset the nose too much in these conditions either.
But when the going gets rough you'll want to hang onto the handlebars.
The tilt and height adjustment of the handlebars is a game-changer, especially for taller riders.
Although it can take a while to feel comfortable standing while riding a sit-down Jet Ski, it's much easier on your body and lower back.
It's worth noting you may want to consider changing hand-grips to a simpler design than what comes standard – as we did.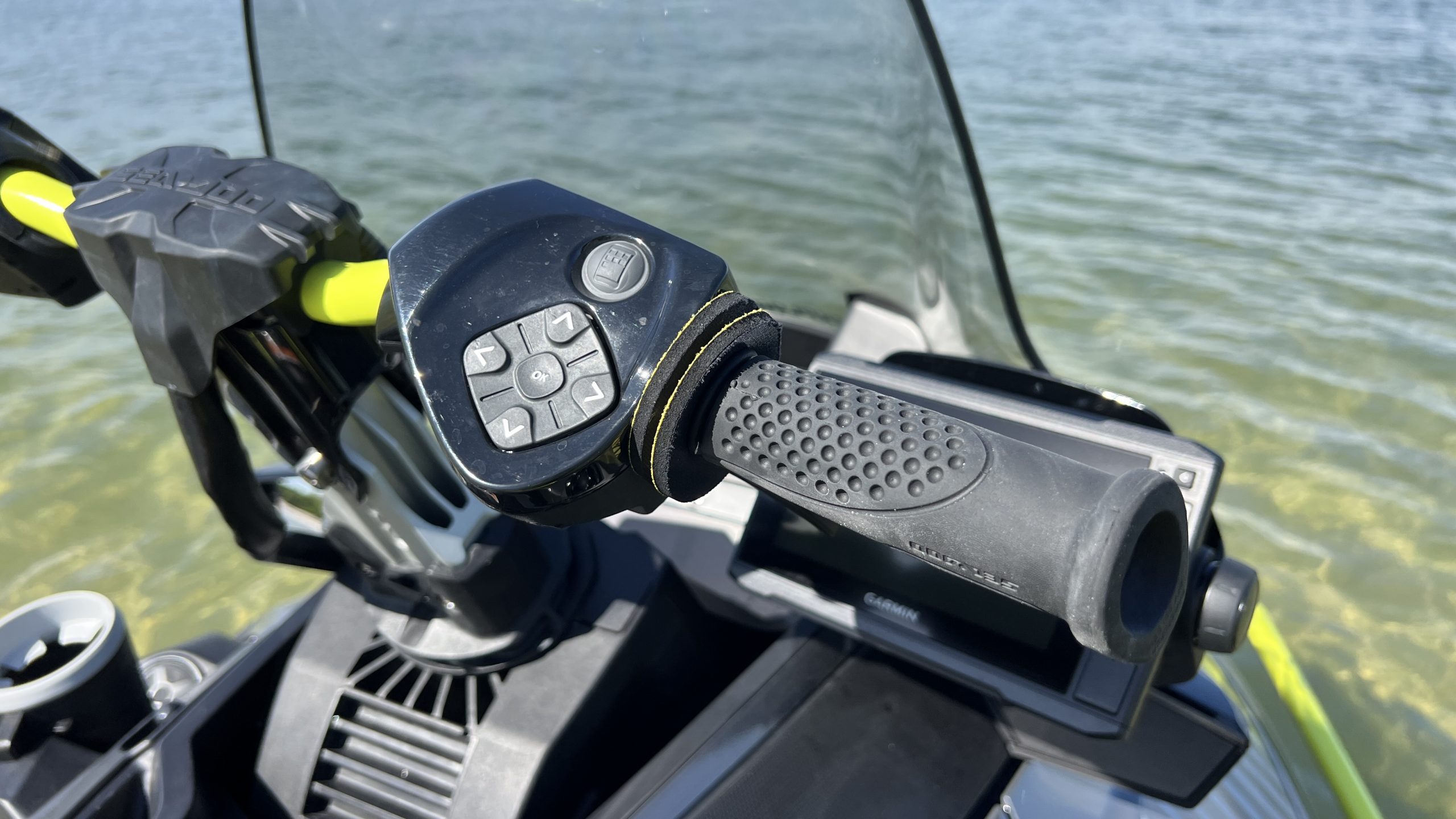 The more pronounced hand grips that come with the Explorer tend to push your thumbs up close to the plastic shrouds on the handlebars, and that can lead to blisters – even when wearing gloves.
In addition to fitting simpler hand grips from the high-performance Sea-Doo RXP-X300, we put neoprene rings near the plastic shrouds.
What worked best, however, was learning to adapt to keep a wider grip, and make sure your thumbs are away from the plastic shrouds.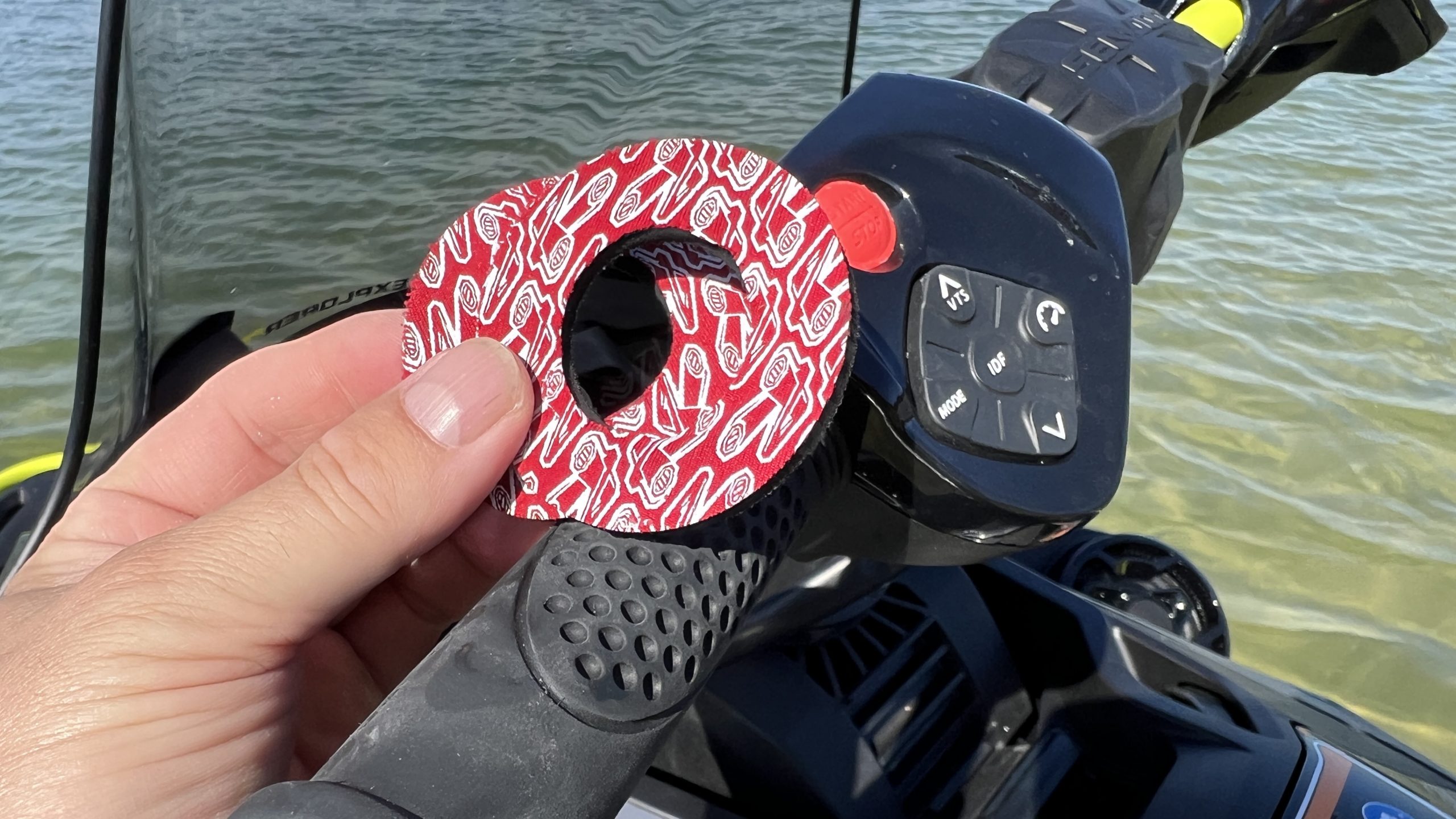 The windscreen works well at minimising water spray and wind. 
It's so effective at blocking the breeze, it can get hot if you're sitting down on a summer ride.
A flap that opens and closes enables you to let more or less air flow through.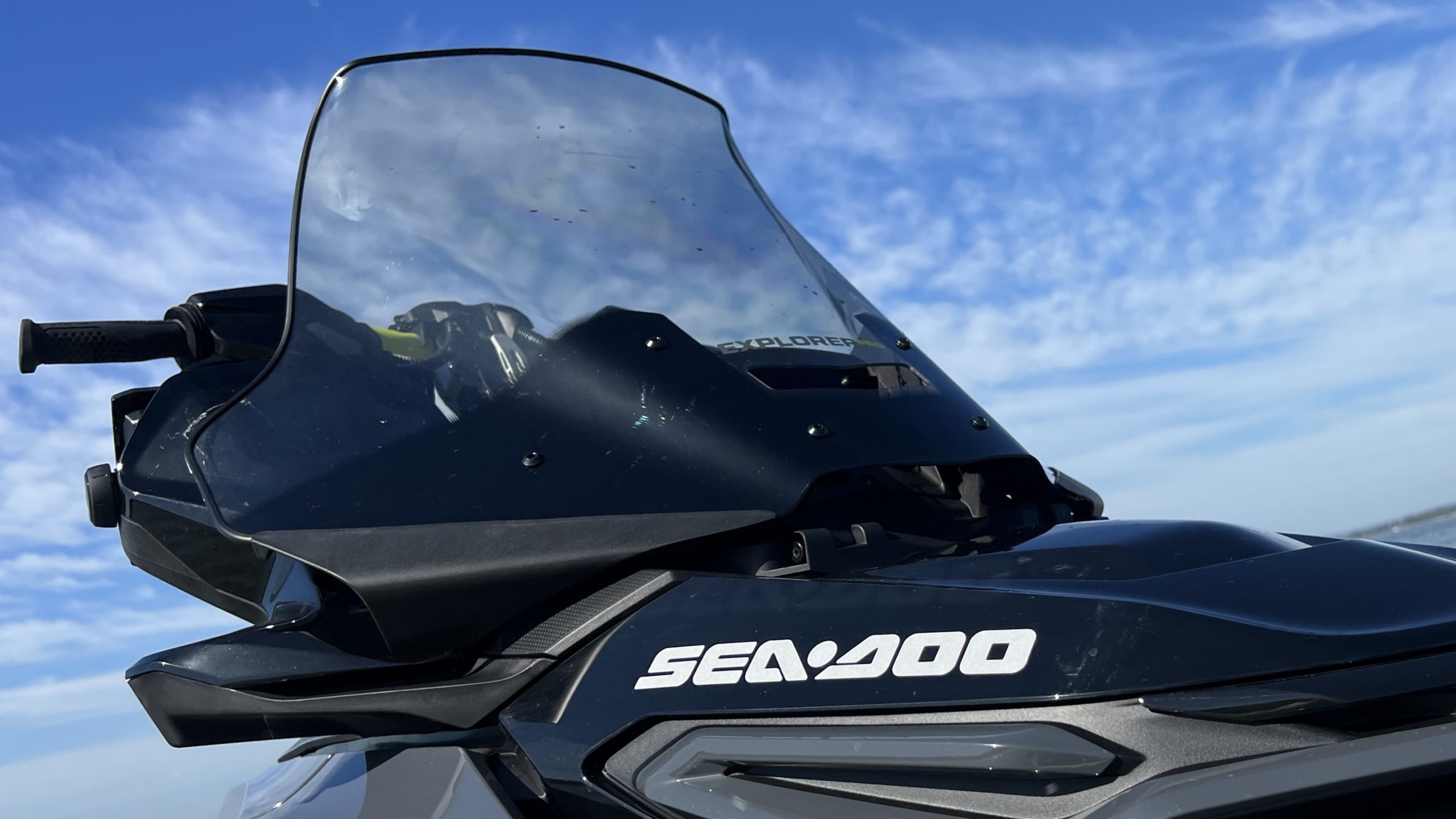 Riding while sitting down – and with the air flap closed – the windscreen is so effective you can even wear a wide-brim, sun-protection hat at modest speeds without it blowing off.
Riding when standing, the shape of the windscreen diverts air into your face and chest to keep you cool.
The screen does a good job of deflecting modest water spray but, frankly, the concave shape of the bow is the main reason the Sea-Doo ST3 hull is a dryer ride than most other Jet Skis.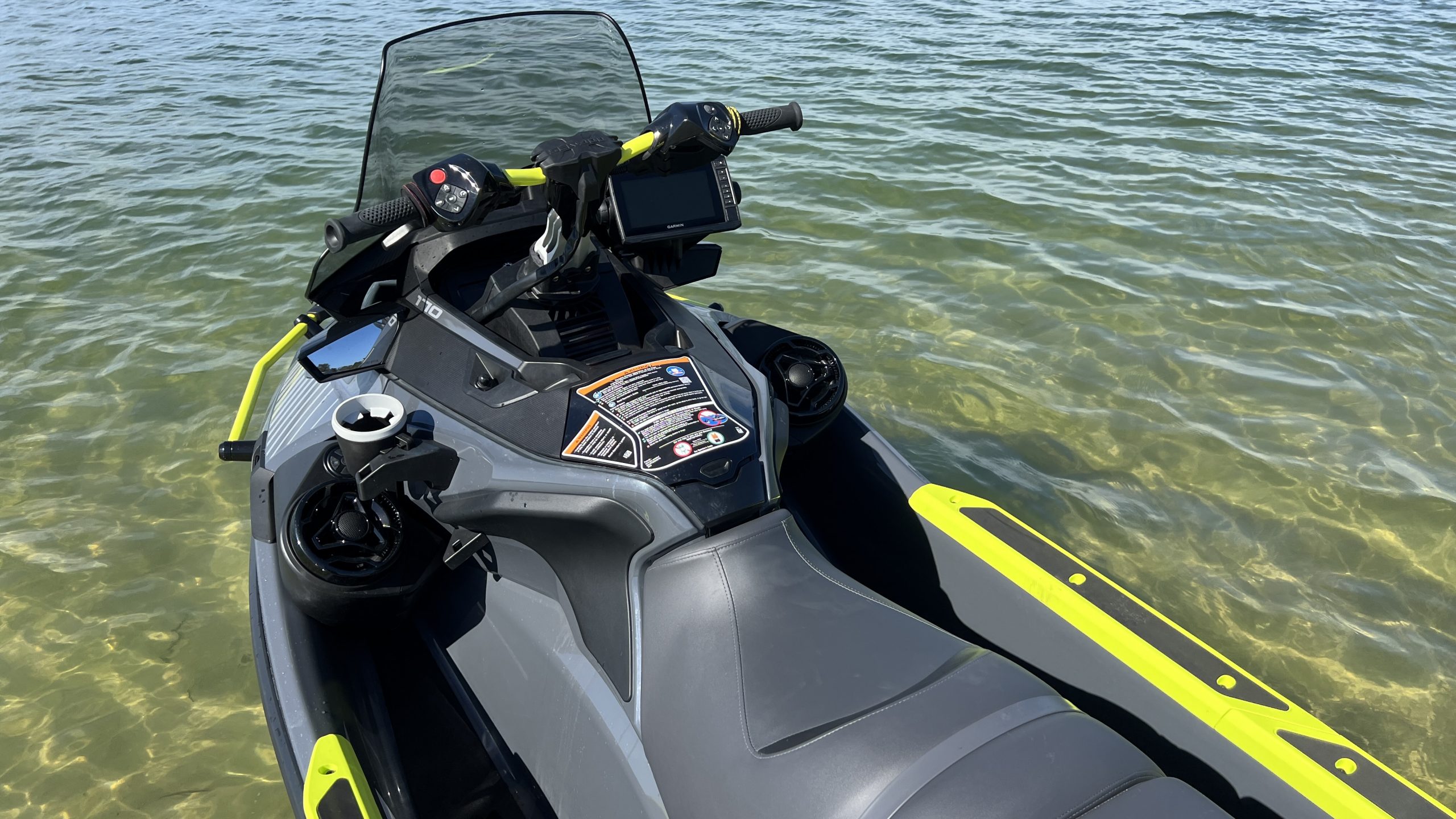 As with other ST3-based Sea-Doo models, there is plenty of foot room in the footwell and the narrow seat design means your legs aren't chafing against the engine housing.
The wider seats and engine housing in full-size Yamaha WaveRunners and Kawasaki Jet Skis are less comfortable when standing.
It's worth noting the Sea-Doo footwells can fill with water when you come to a quick stop, so you may need to give the throttle a blast to empty the footwells so you have better stability when idling.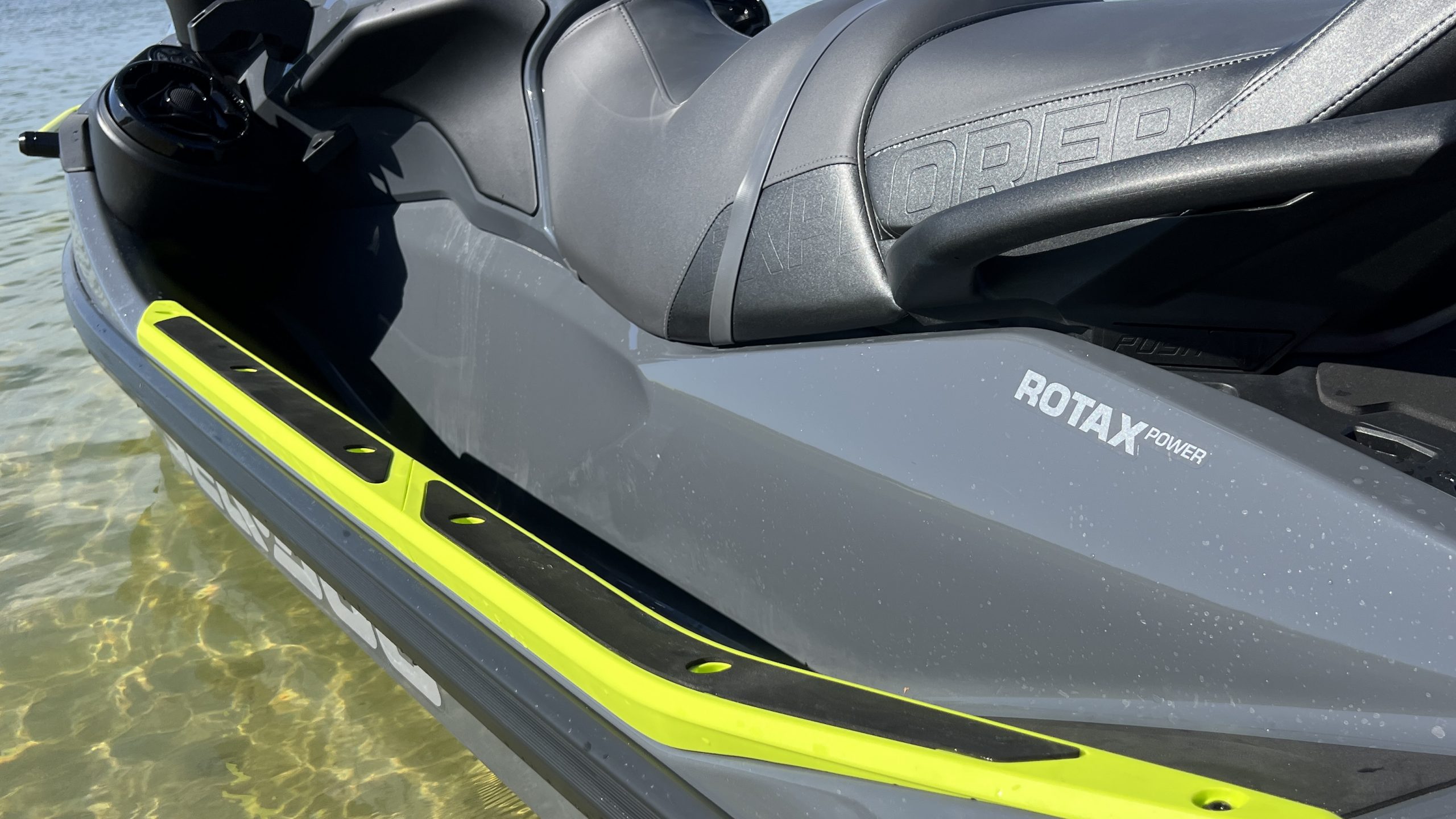 When washing the jet ski after your ride, it's advisable to use a wet vacuum or a water extraction hose to empty the footwells.
The audio system works well and has more volume and bass that the audio systems on Yamaha and Kawasaki models we've tested.
The VIP digital dash is not a touchscreen – at the moment only the Yamaha FX WaveRunner series has touchscreens – but you can control music and maps on thee Sea-Doo via buttons on the handlebar shrouds, once you connect your phone to the BRP Go smartphone app.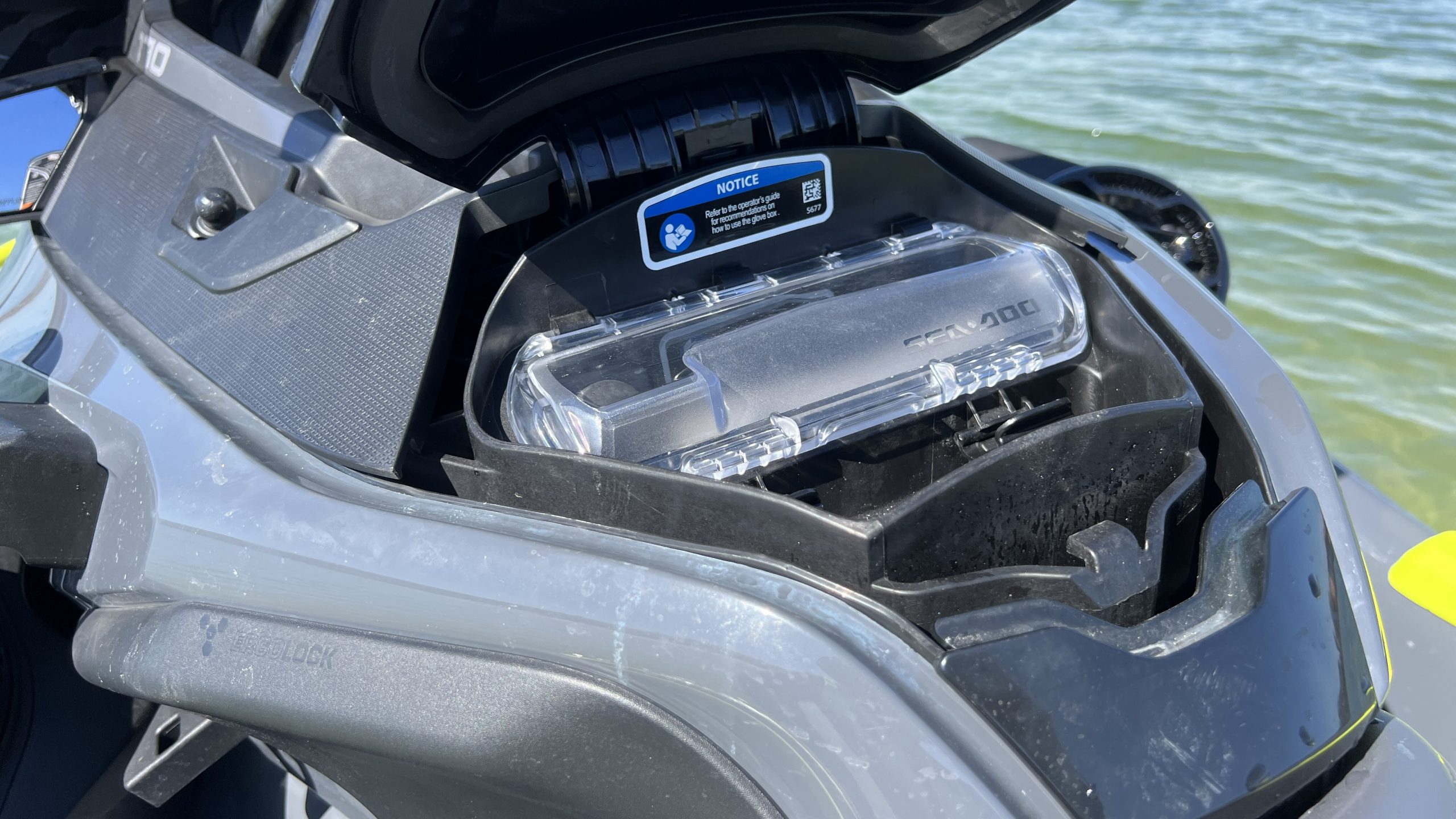 While the glovebox pocket is smaller than most other full-size three-seat Jet Skis, it has a waterproof container with a USB charging port – and a foam divider to stop your phone bouncing around.
If you want to charge the phone via the adjacent USB port, it's best to buy a short cord.
The 7-inch Garmin Echomap UHD 70/90 touchscreen (versus the cheaper Echomap UHD 60 non-touchscreen on the Sea-Doo Fish Pro Sport) is the same unit fitted to the top-line Sea-Doo Fish Pro Trophy.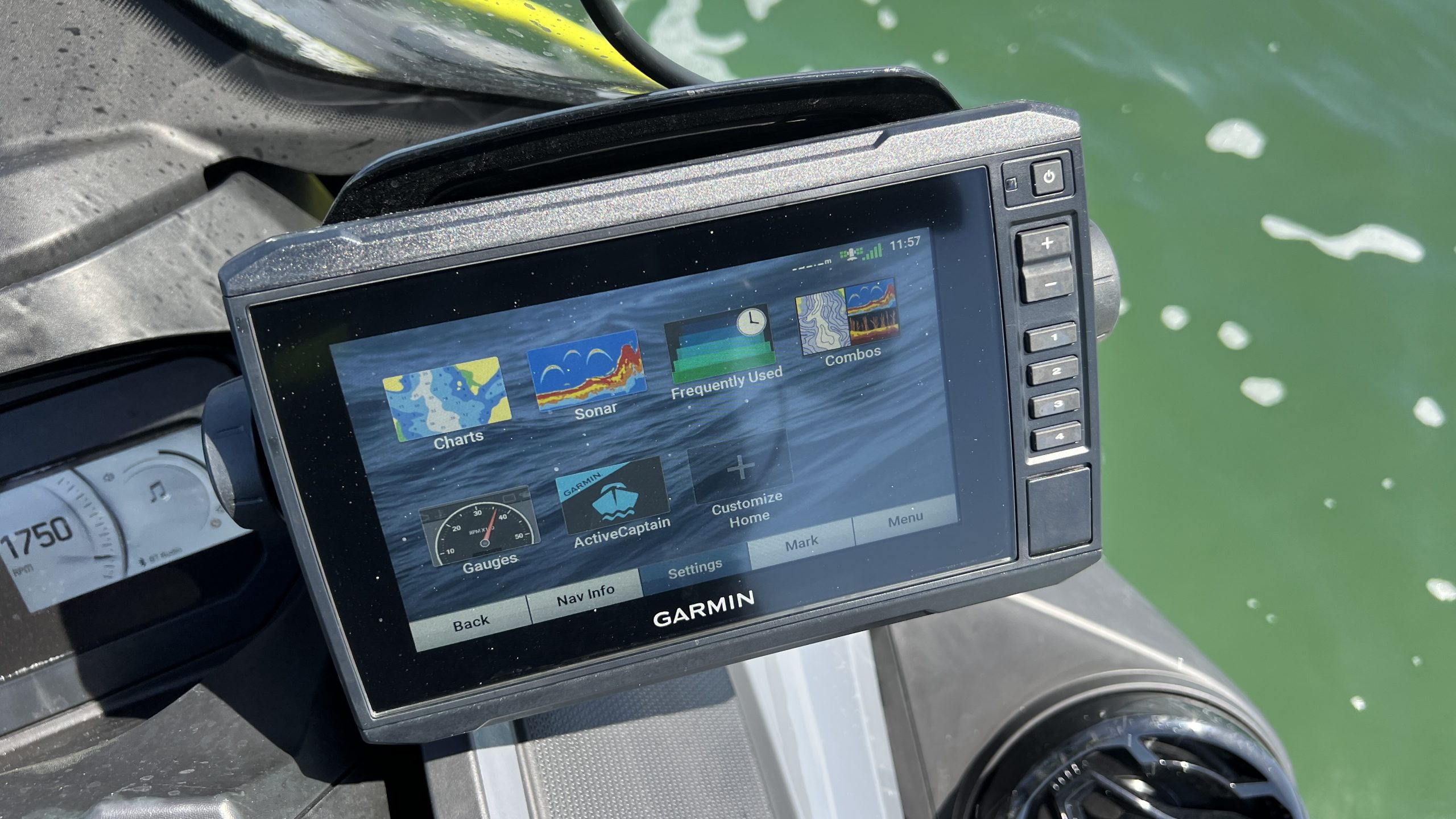 In addition to navigation, the display also shows vital signs such as trip information, water temperature, and other data from current and previous rides.
You can also load in GPX codes via the Active Captain Smartphone app, or enter route co-ordinates manually. 
The Garmin system comes with basic map coverage but you can add detailed maps via a micro SD card or by downloading them into the device once it's connected to your smartphone.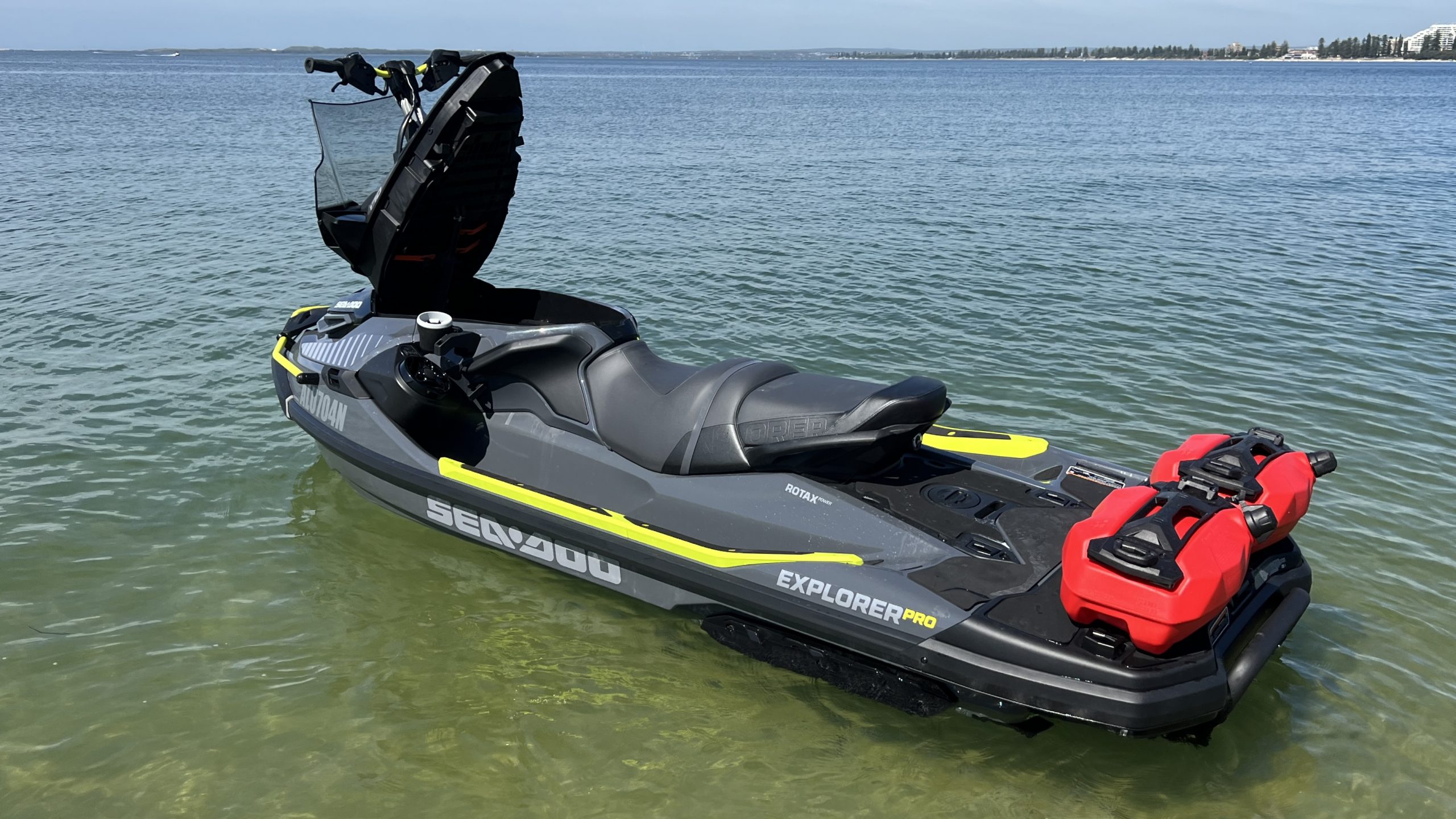 2023 Sea-Doo Explorer Pro 170 bow storage
One of the biggest advantages of the Sea-Doo Explorer Pro – and all other ST3-based models such as the Fish Pro Sport and Trophy and the supercharged GTX 230, GTX 300 and RXT-X300 models – is the easy access main storage compartment.
The handlebars and the entire console lifts up once two tabs are released.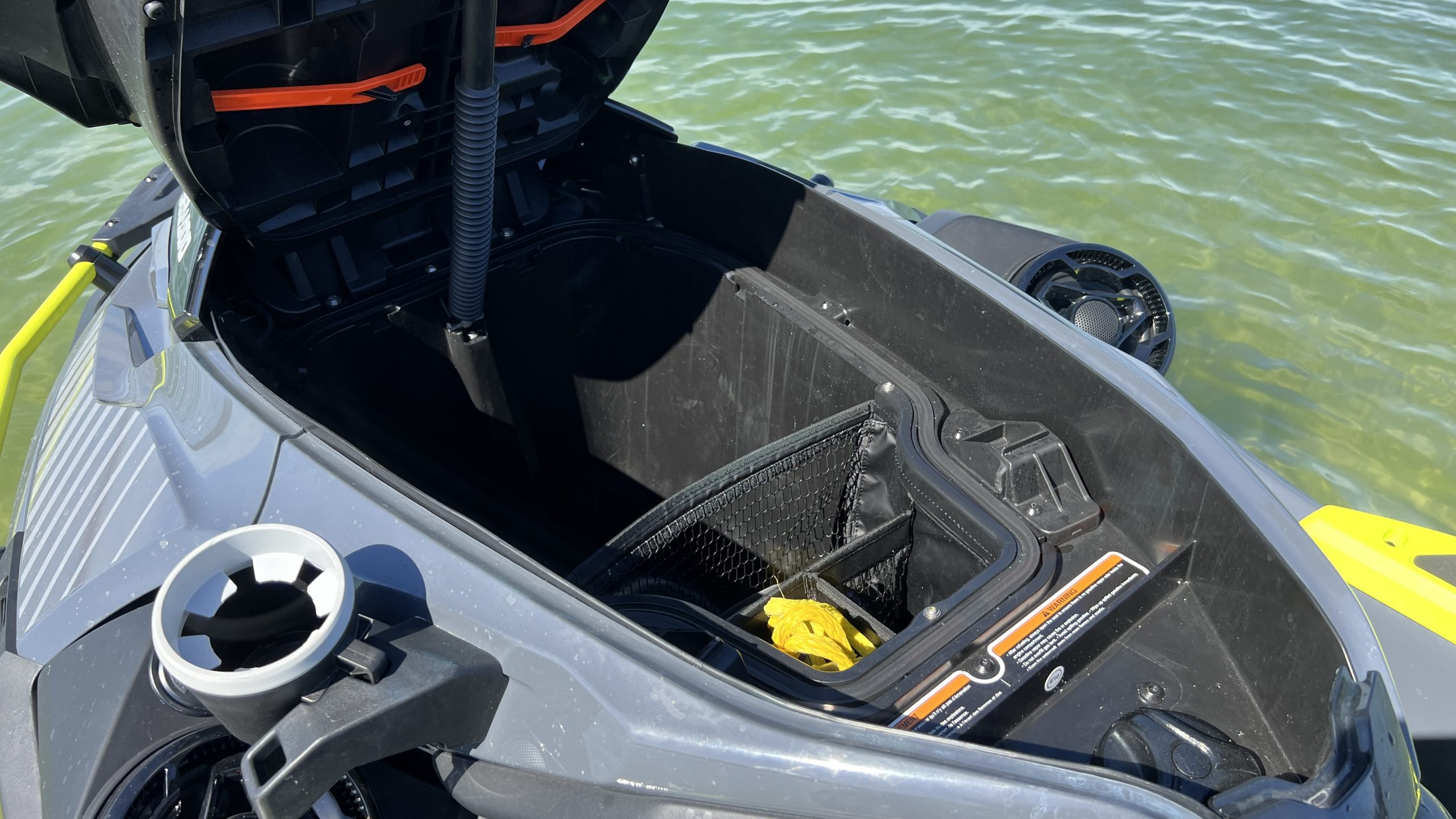 Although the Sea-Doo's bow storage is not as big as its rivals at 96 litres (25.3 US gallons) – versus 130 litres (34.3 US gallons) in the nose of the Yamaha FX, and 124 litres (32.7 US gallons) in the nose of the new Kawasaki Ultra series – it is more user-friendly than any other Jet Ski on the market.
A mesh pocket divider is an optional extra; check the cost of this accessory with your local dealer. It's super handy to store water bottles, or a spare set of goggles and gloves.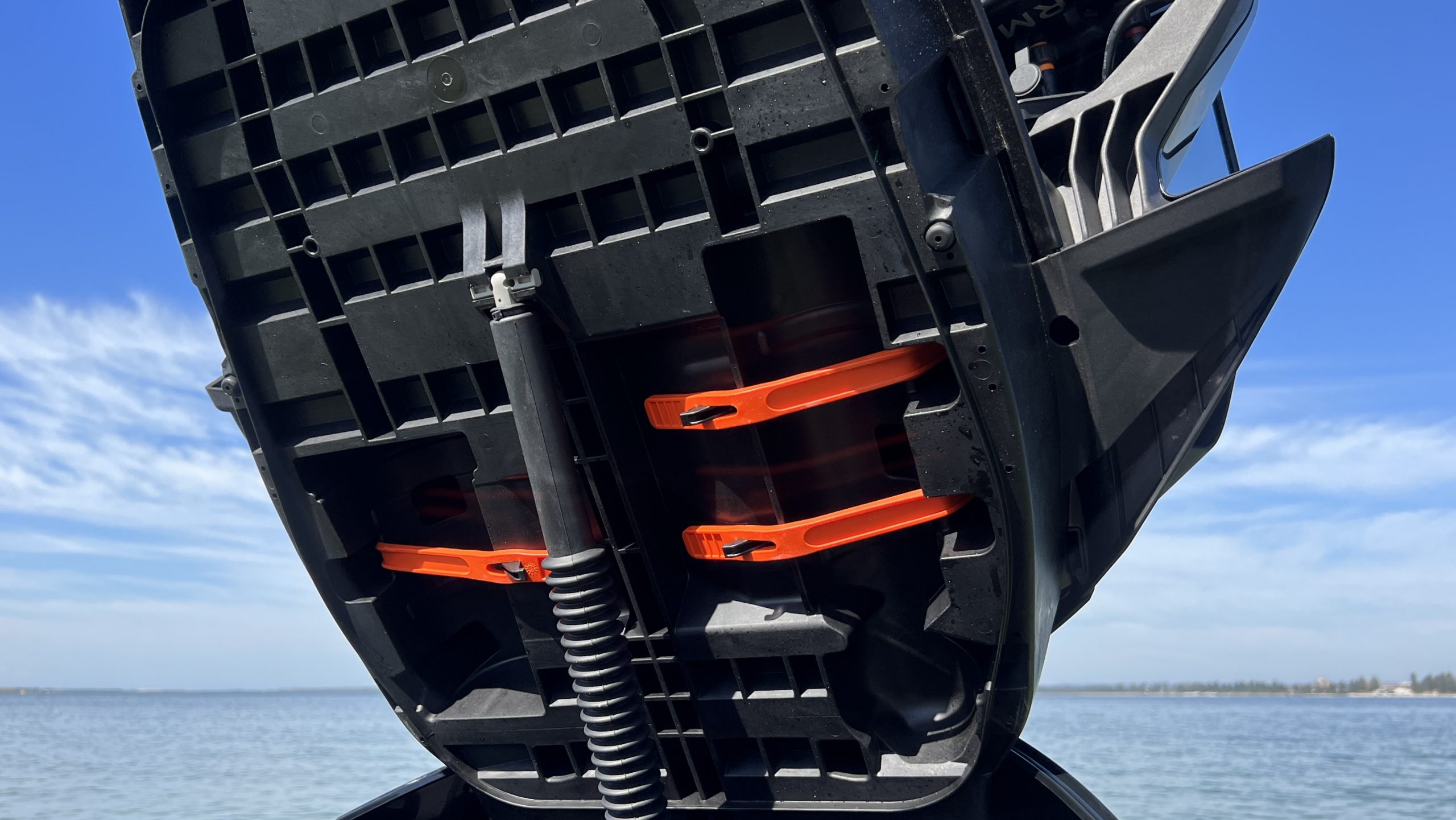 The underside of the console lid has plastic straps for an emergency beacon and a fire extinguisher, should you prefer to carry those safety items.
The bow storage area is limited to a load capacity of 13kg (or 20lb), enough for a small anchor and some tow rope, though we recommend putting these in padded carry bags to stop them banging around.
2023 Sea-Doo Explorer Pro 170 IDF debris removal tech explained
Other details worth highlighting: the IDF reverse thrust debris removal system is easier to use than we expected.
Just push the button on the left handlebar and follow the instructions on the dash.
The whole process takes less than a minute from start to finish.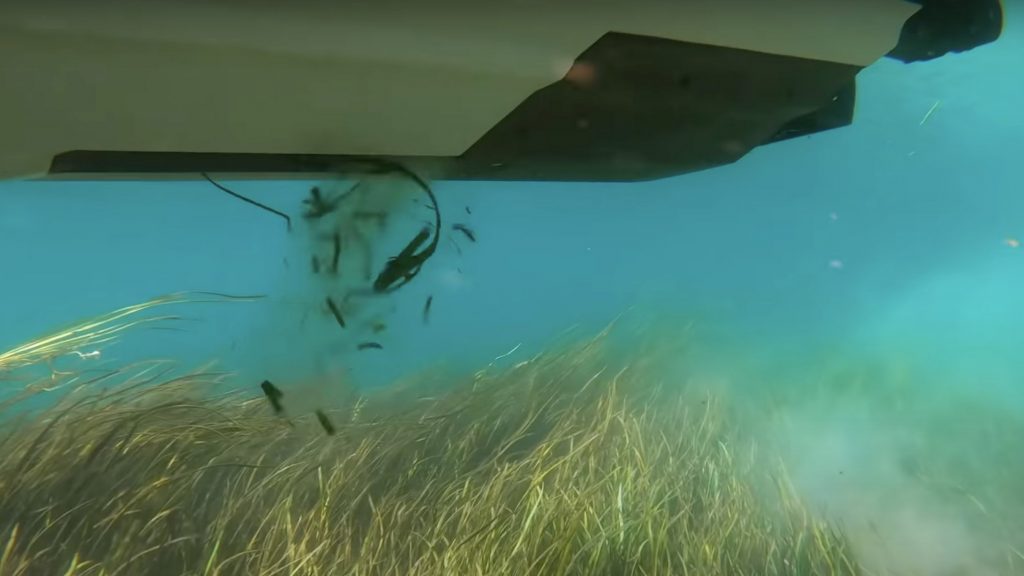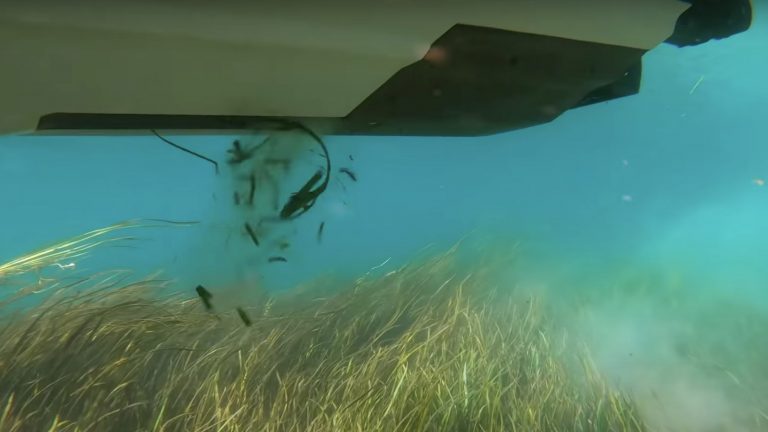 If possible, make sure you have some room behind the craft because it moves backwards slowly during the process.
Also make sure the craft is at least waist deep in water so you don't pick up more debris.
We used it to clear seaweed, reeds and sand grit in shallow water.
We've gone from being skeptical about this technology to a convert.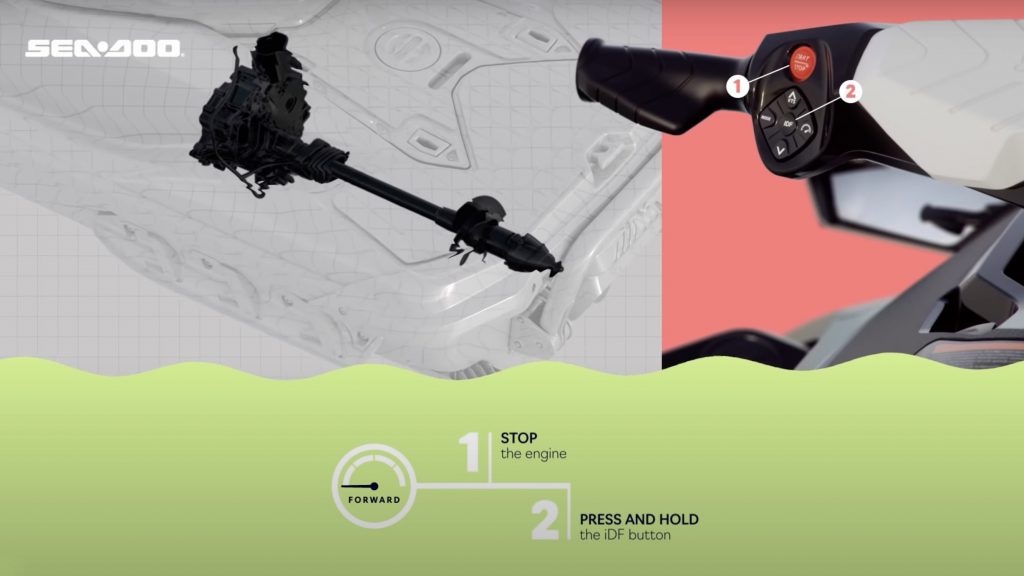 As for carbon seal issues, those problems were solved years ago after a supplier change. 
We've now clocked up more than 2000km and 60 hours in ST3-based Sea-Doo models and never had a carbon seal fault.
It's worth noting, the carbon seal and the wear ring are maintenance items and need to be checked for movement or wear by an expert during routine servicing.
2023 Sea-Doo Explorer Pro 170: Likes
The windscreen helps delivers a dryer ride than any other personal watercraft on sale today.
The unique height and tilt adjustment of the handlebars makes it easy to find the most comfortable riding position, whether you're sitting or standing.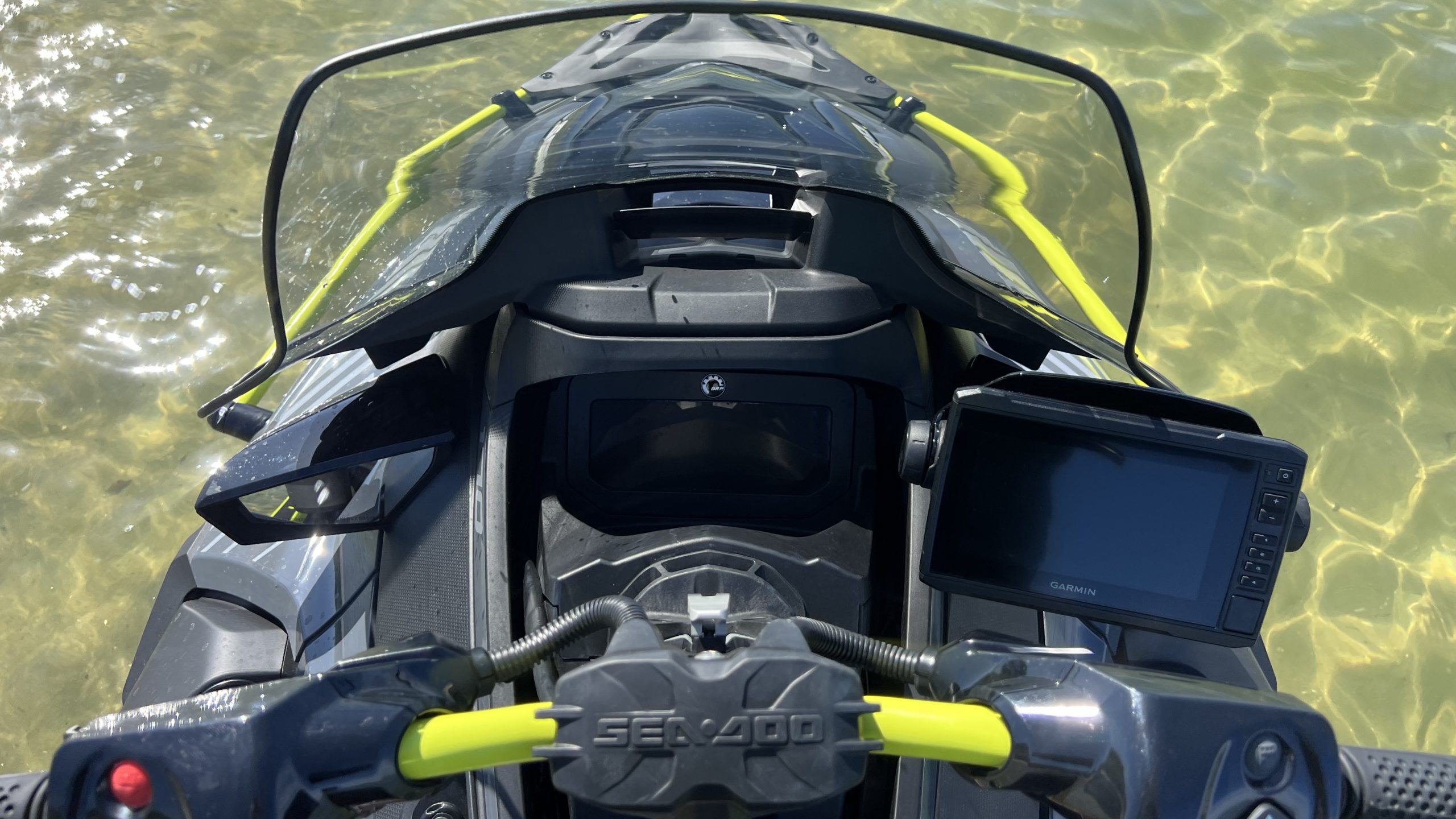 The yellow rails on the bow provide more options for dock-tie points – in addition to four other points elsewhere on the craft – and they are also handy to grab onto when your manoeuvring the ski on the trailer by hand.
Having more Linq accessory platform options means you can carry more cargo and fuel to take you further.
The IDF reverse thrust delivers peace of mind should the intake grate get clogged by seaweed, a plastic bag or other debris in the middle of nowhere.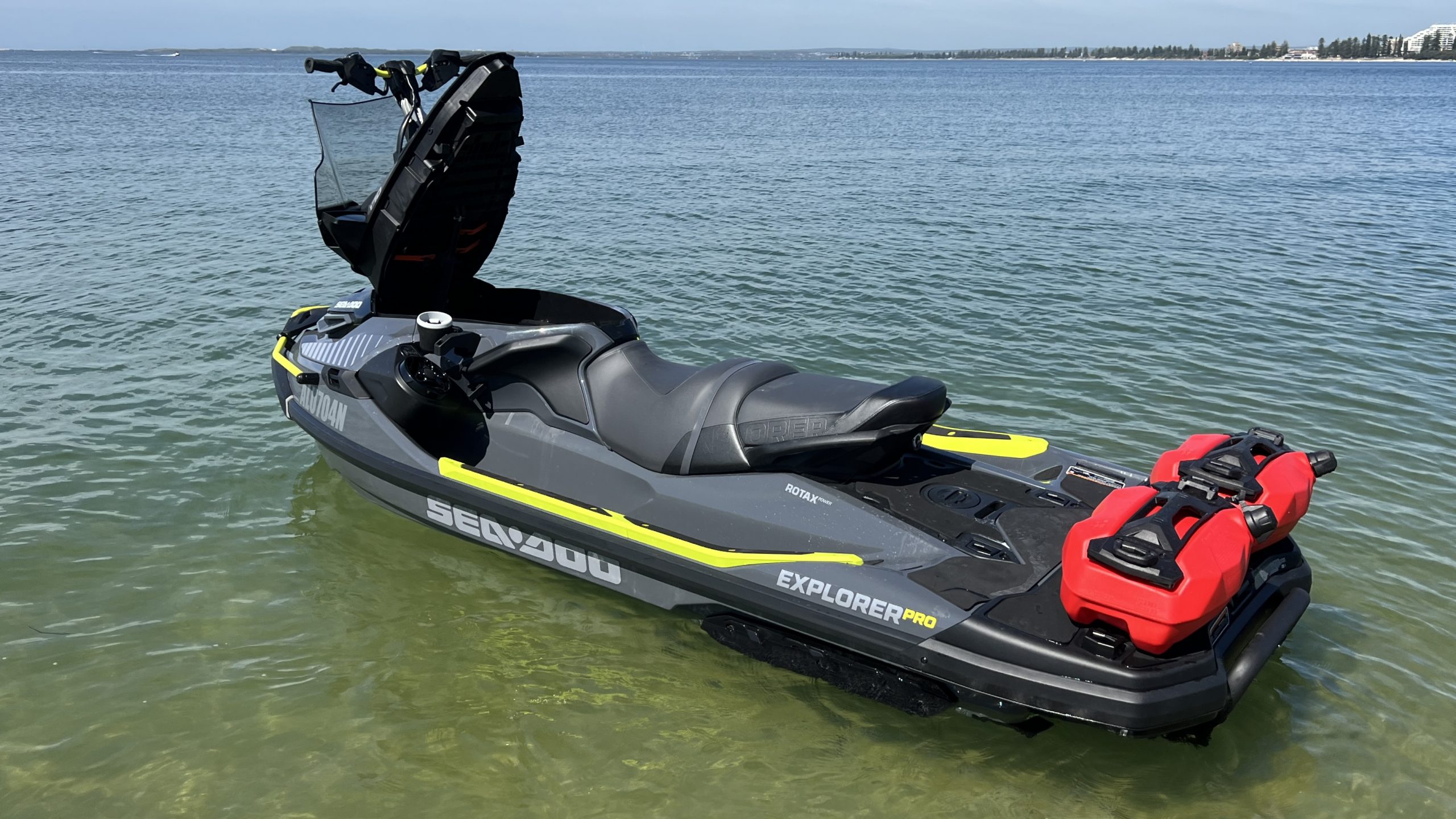 Fuel economy is good for a full-size, three-seat personal watercraft.
The easy access bow storage area – and the waterproof smartphone charging pocket in the console – are genius.
The sound system is awesome. The touchscreen Garmin navigation unit is much easier to use than the cheaper touchpad versions.
And the rear boarding step and large rear deck make it easy to reboard from the water.
2023 Sea-Doo Explorer Pro 170: Dislikes
As soon as the main fuel tank dips below two-thirds full, the bow starts to get pushed around in big swell and large cross chop – and this gets worse as the nose gets lighter, even when the adjustable trim is lowered.
In flat water, bow hunt is a non-issue – though you may notice the steering and manoeuvring are vague below 20km/h (or 12 mph), which is another trait of the ST3 hull.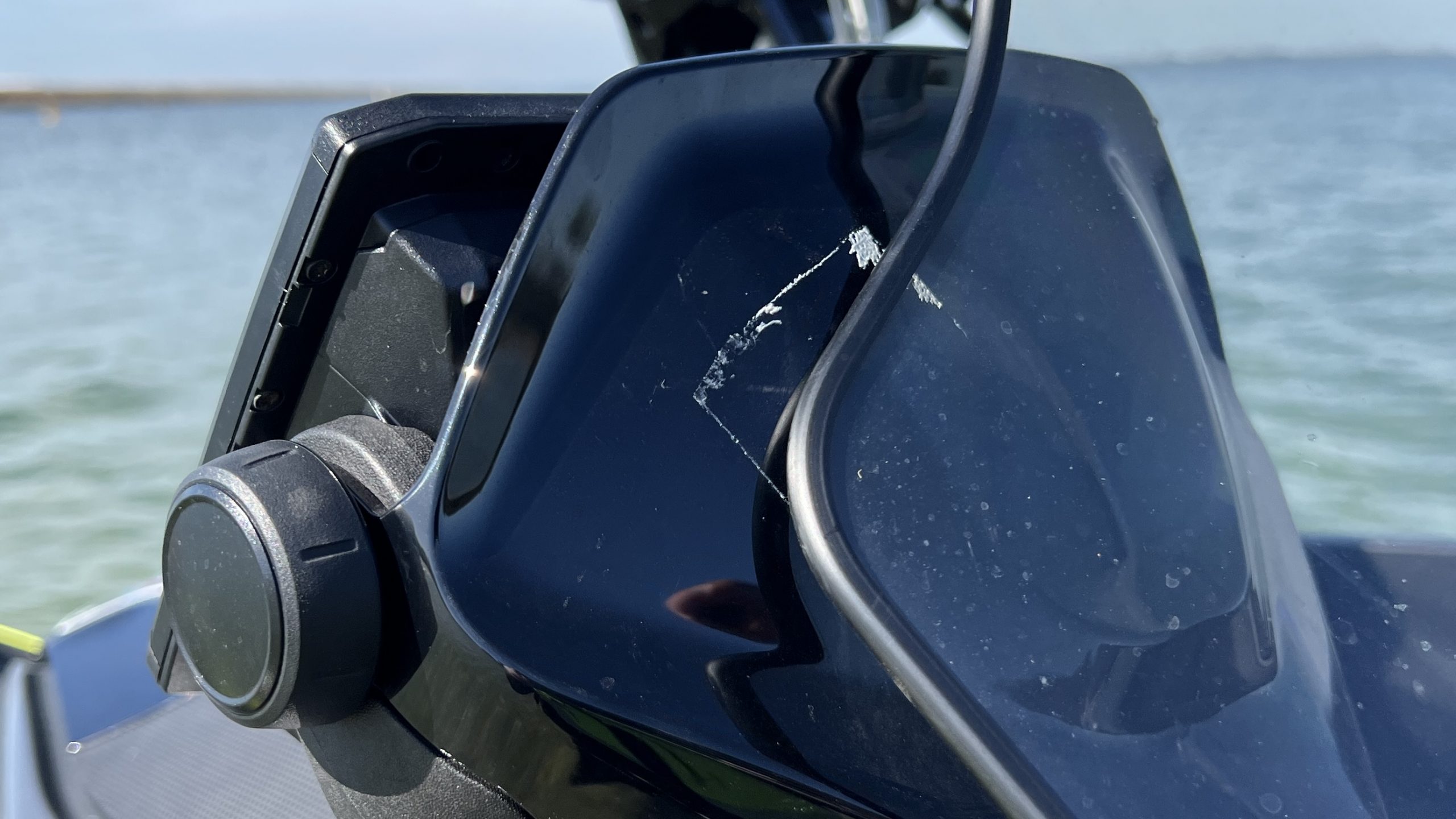 The plastic windscreen rubs slightly on the navigation shroud (we added some gaffe tape to protect it).
You need a wet vacuum – or a water extraction hose attachment – to empty the footwells once you've washed the ski after a ride.
And the refuelling nozzle on the optional fuel caddys can be finicky, so consider a small portable battery powered pump (although it could get damage if it's not properly protected and secured in the bow storage area), or carrying a jiggle hose or jiggle syphon.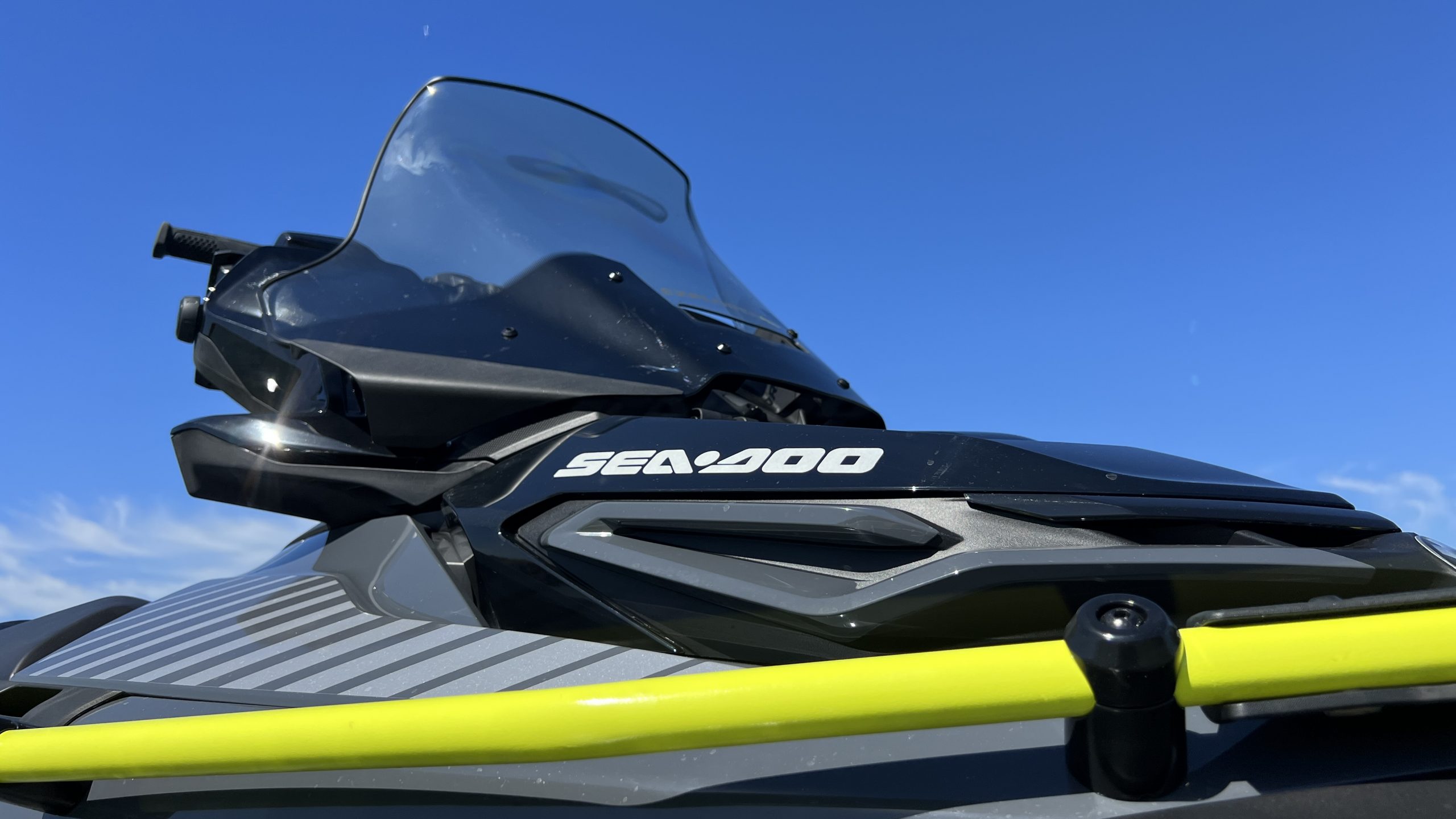 2023 Sea-Doo Explorer Pro 170: Conclusion
On balance, the 2023 Sea-Doo Explorer Pro 170 is a game-changer.
Not everyone will understand it – and some hardcore Jet Ski enthusiasts may not appreciate its innovations – but the Sea-Doo Explorer Pro has created a new niche and will no doubt bring new people to the sport.
MORE: All our Sea-Doo coverage in one click
MORE: All our Yamaha WaveRunner coverage in one click
MORE: All our Kawasaki Jet Ski coverage in one click
MORE: All our news coverage in one click
MORE: Follow us on Facebook
MORE: Follow us on YouTube
Disclosure: 2023 Sea-Doo Explorer Pro 170 supplied by Beaches Sea-Doo and Can-Am in Sydney, Australia for independent review over a fortnight in late February, early March 2023.