Meet the Belassi Burrasca, the hand-built, turbo-charged, carbon-fibre Jet Ski from Europe – with hints of Formula One technology.
The Belassi Burrasca may have an Italian name – Burrasca is Italian for 'storm' – but it is hand-made in Austria.
When it went on sale in Europe in mid 2021 it was priced from 50,000 Euros, the equivalent of about $56,000 US dollars or about $82,000 Australian dollars.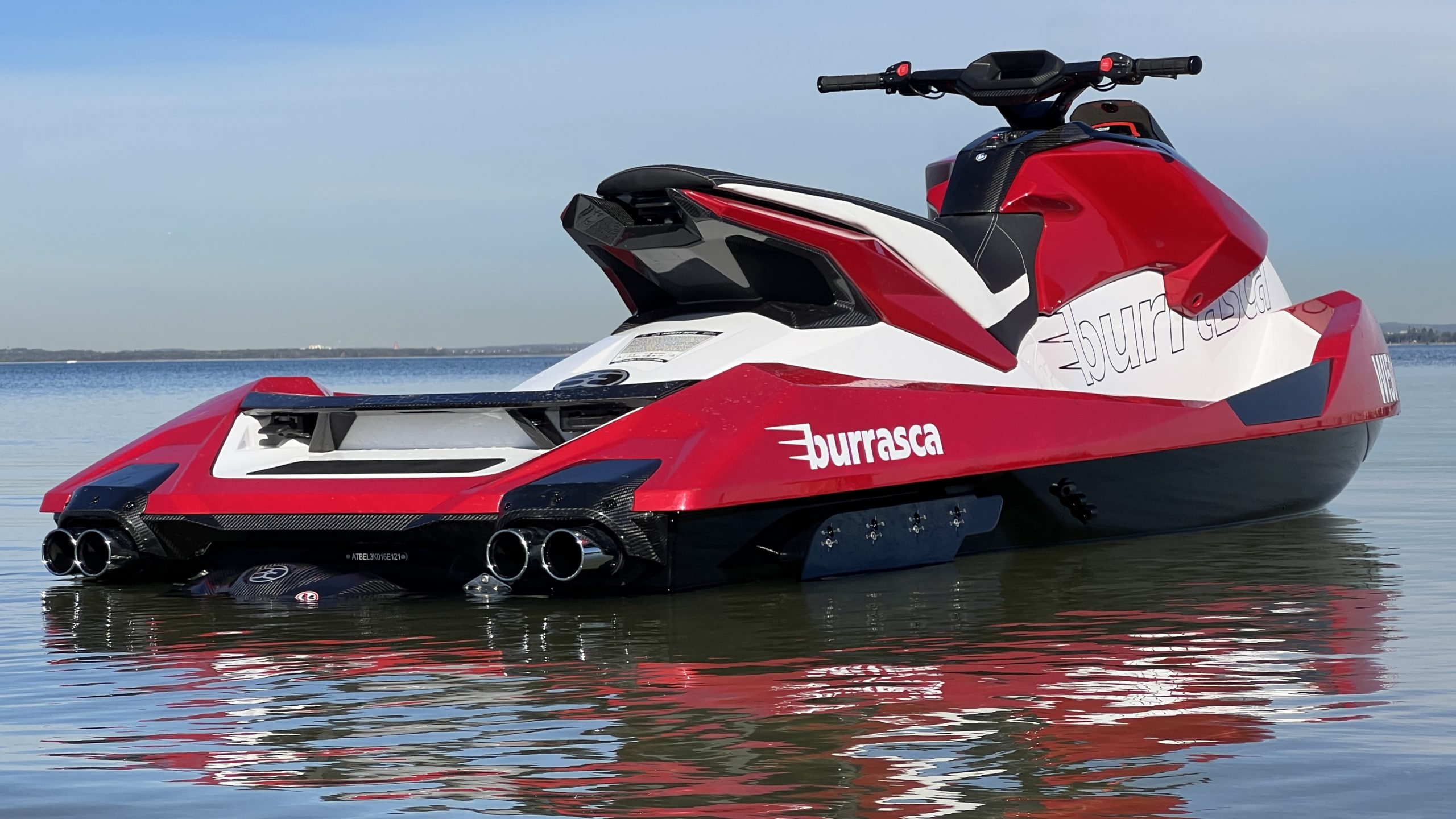 And while that is a power of money – and comfortably more than twice the price of the fastest Jet Skis from Sea-Doo, Yamaha and Kawasaki – it shares some technology and construction materials found in Formula One race cars.
Such as a dry-sump oil management system to help the turbocharged three-cylinder engine handle high G-forces created by its razor sharp handling.
And the widespread use of carbon-fibre to strengthen the structure, such as the cross brace in the engine compartment, as well as carbon-fibre handle bars, a carbon-fibre exhaust muffler housing, and a beautifully crafted carbon-fibre air intake.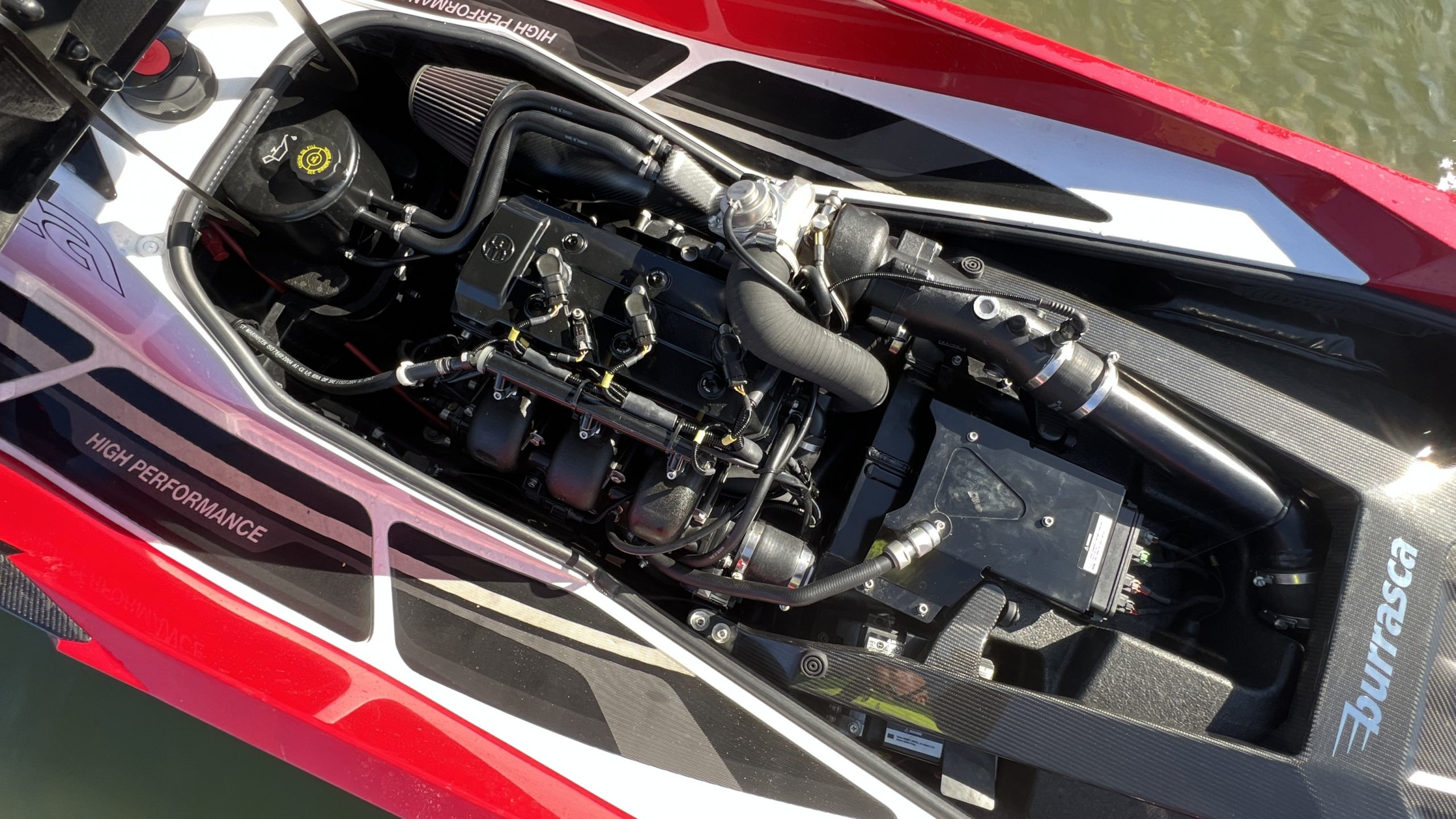 Plus there are carbon-fibre accents above the quad exhaust tips, and on each side of the top deck, as well as a genuine carbon-fibre seat base, and a genuine carbon-fibre reverse bucket that on its own is a work of art.
In this review we will go through prices and features – as well as the pros and cons – of the Belassi Burrasca.
We also ran VBox numbers to test top speed and acceleration times.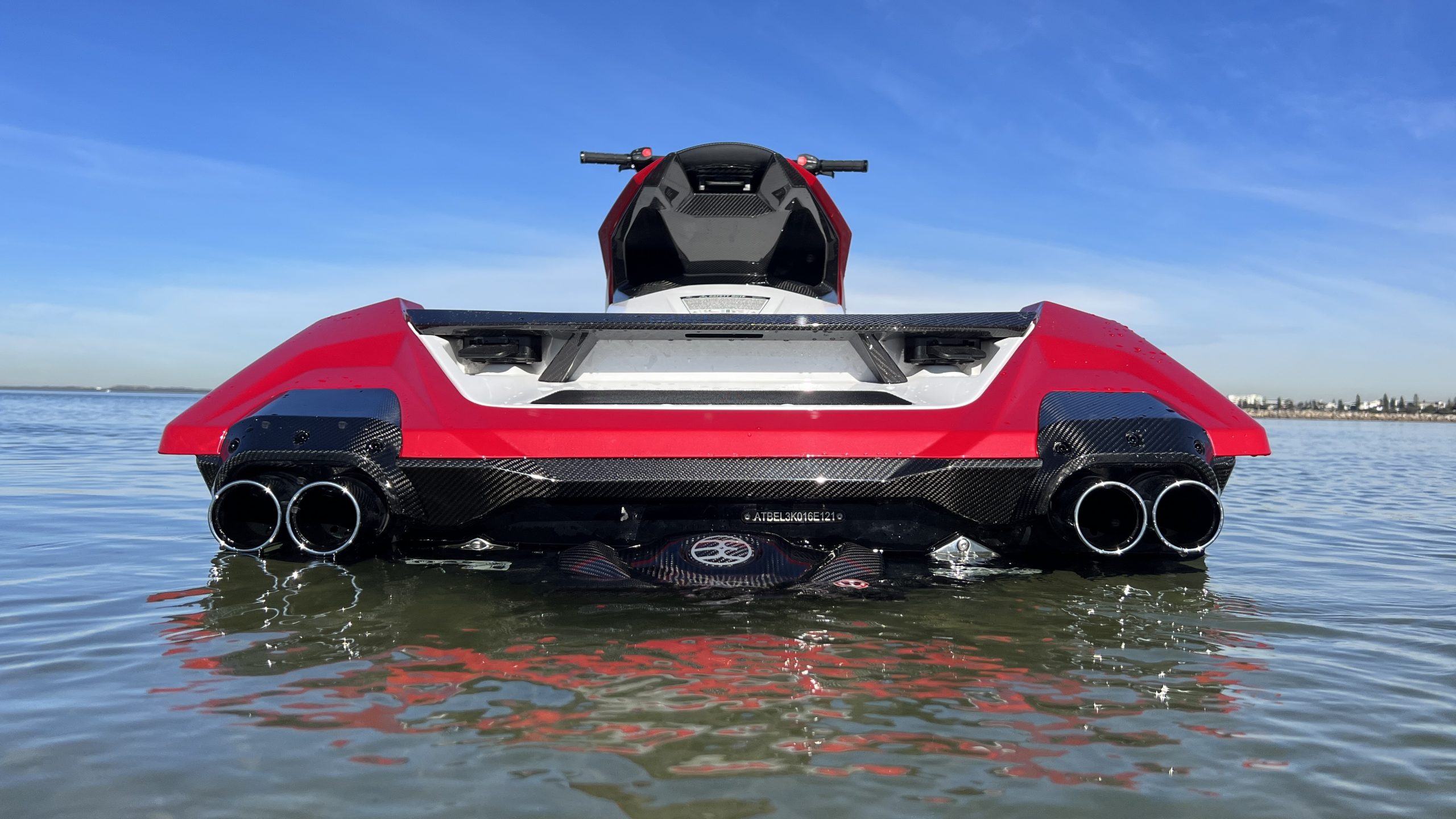 The Belassi Burrasca is a Jet Ski like no other.
It is hand-built with race-car style craftsmanship, but it is not just about performance.
The Belassi Burrasca went on sale in Australia in 2022 in the middle of the global pandemic, starting with an eye-watering price of $86,990 due to unfavourable exchange rates and the exorbitant cost of international shipping at the time.
But the local distributor relaunched the Belassi Burrasca in early 2023 after the world came out of lockdown.
The price in Australia is now $66,990 ski only, not including trailer and registration.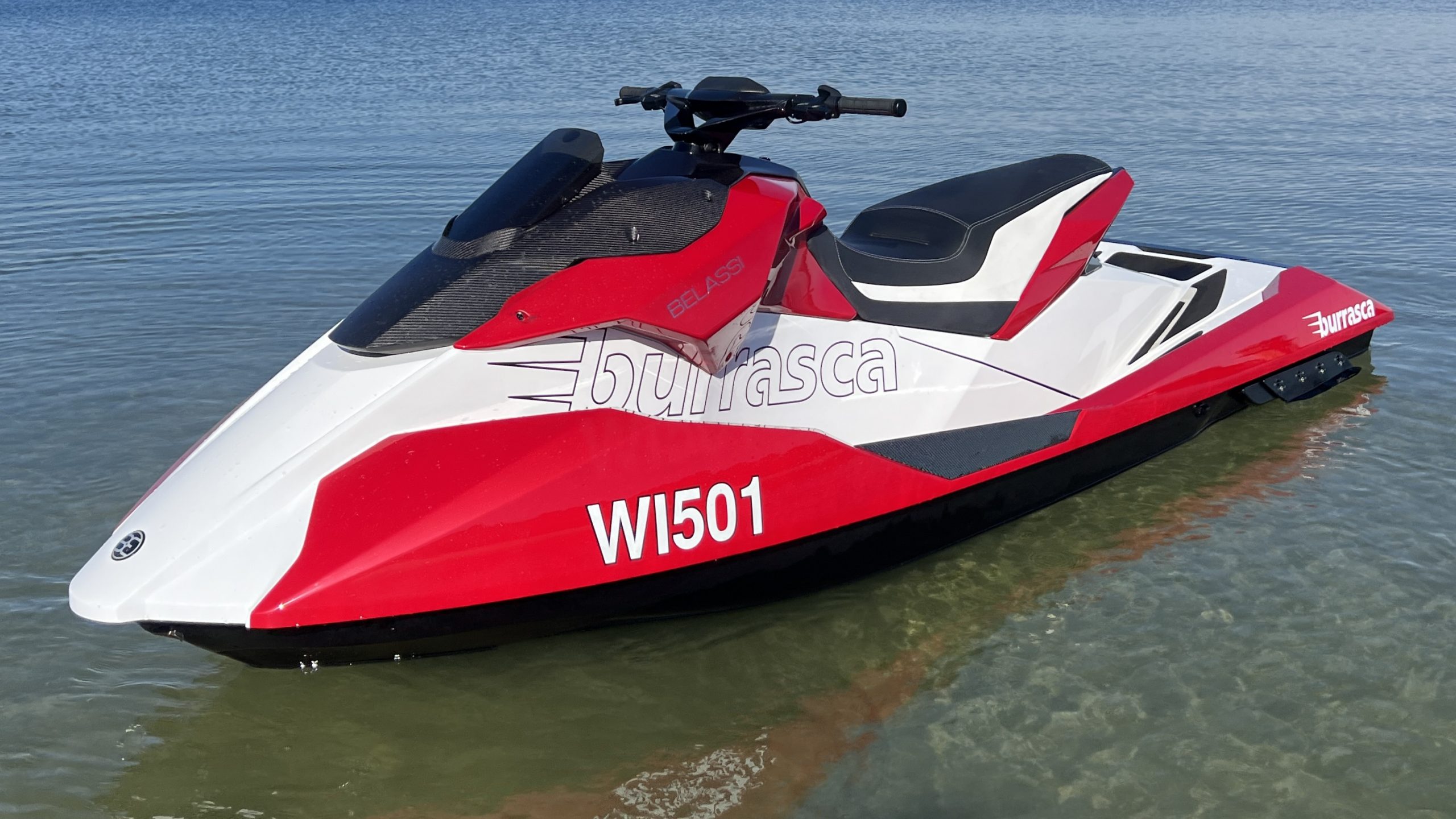 That is still more than twice the price of other high-performance Jet Skis such as the Sea-Doo RXP-X300, Yamaha GP1800R SVHO, and the new Kawasaki Ultra 310 series which have similar or even a touch better performance for a lot less money.
But in the same way there are affordable performance cars that are as fast as a Ferrari, the Belassi Burrasca is not only about outright top speed.
It also delights the senses in other ways.
Each Belassi Burrasca is built by hand over 108 hours using more than 2000 specially crafted parts.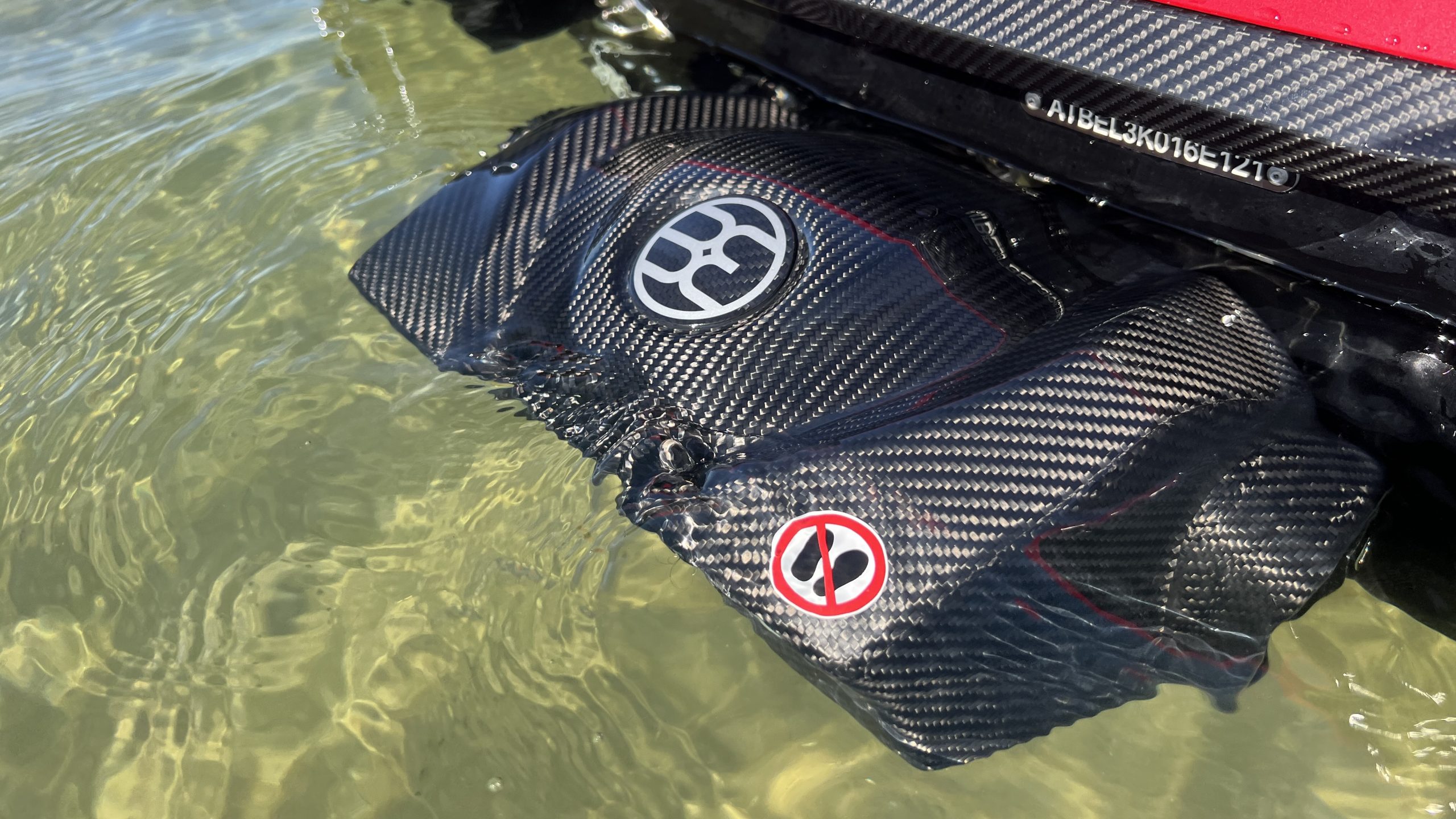 While there are lashings of carbon-fibre throughout, the top deck and hull are made out of an infused fibreglass composite material to better handle high speeds in choppy conditions.
The top deck, hull and hood cover are painted by hand, which means customers can customise their ski – for a price.
The engine compartment is easy to access once the seat is removed and the top deck covered is raised after releasing two tabs.
It's so gorgeous to look at, many owners probably use it as a display piece when it's not on the water. Here are the stats.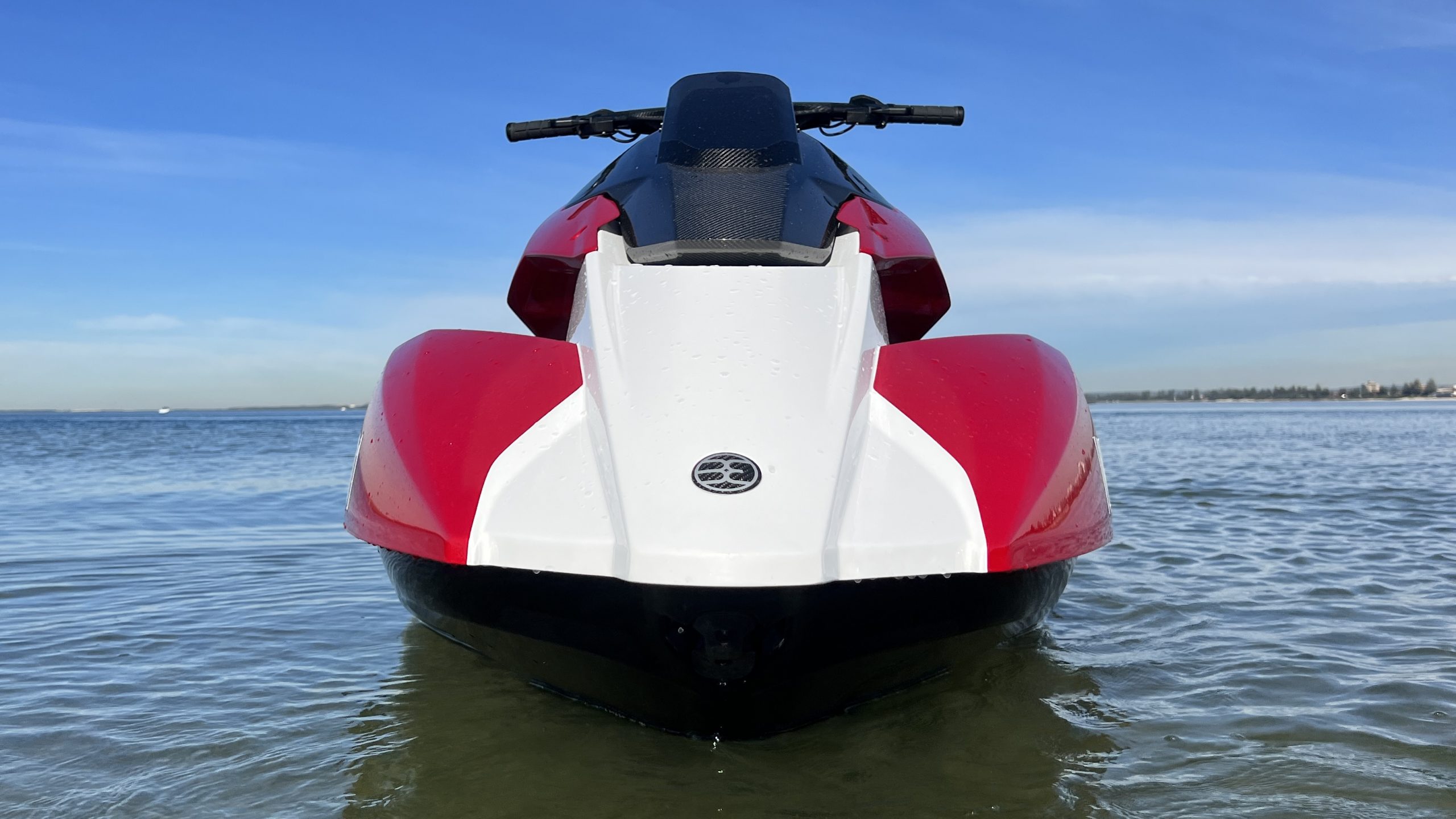 Belassi Burrasca Fast Facts
ENGINE: Turbocharged 1602cc three-cylinder
POWER: 320 horsepower
JET PUMP: 161mm diameter, 14 vanes
FUEL: 64 litres, 16.9 US gallons
SEATING: 2 people, 200kg
LENGTH: 3.66 metres, 144in
WIDTH: 1.19 metres, 47in
HEIGHT: 1.16 metres, 46in
DRY WEIGHT: 367kg, 809lb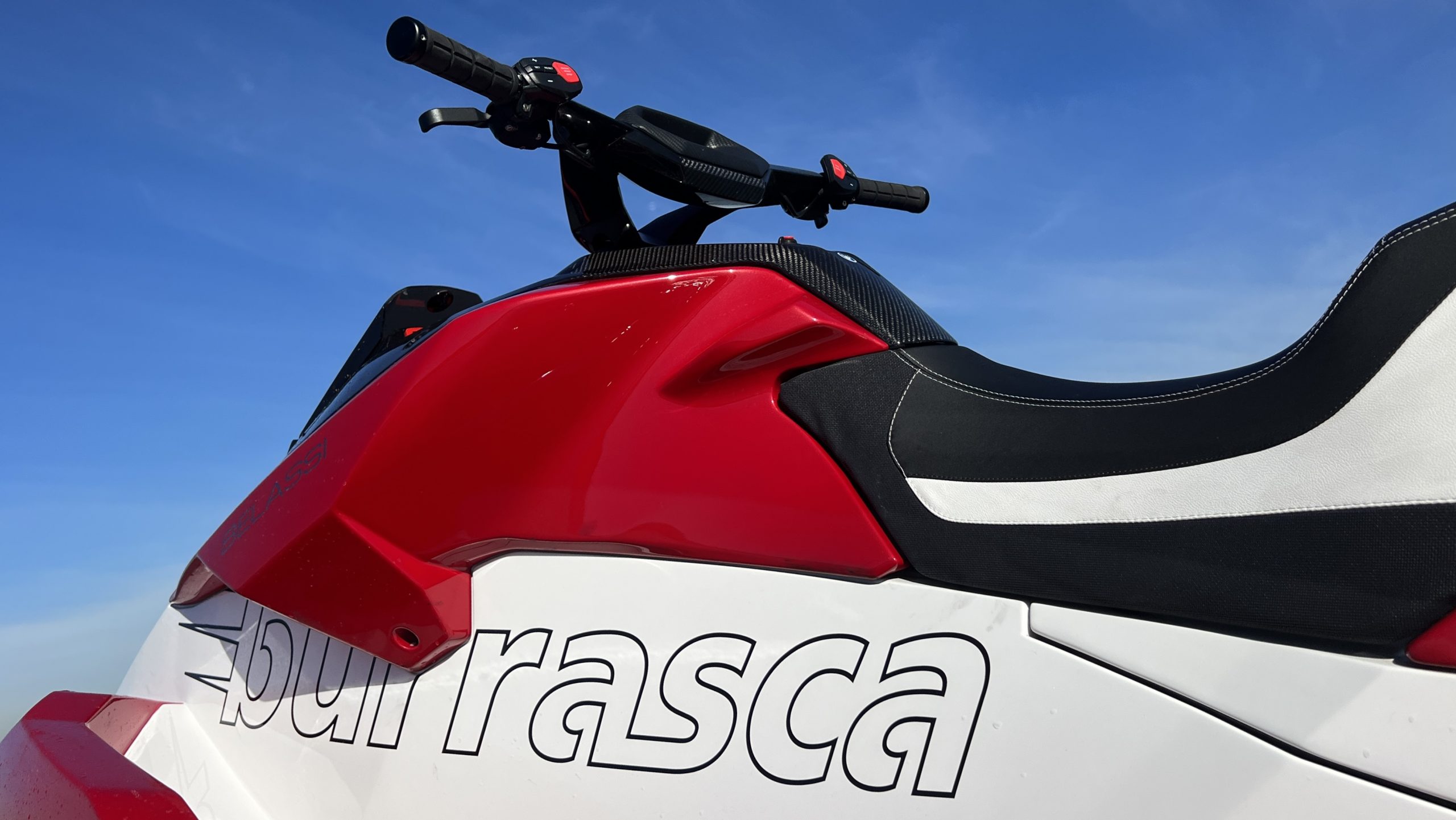 The Belassi Burrasca is powered by a turbocharged 1602c three-cylinder engine.
And although that's eerily similar to the 1630cc capacity of the Sea-Doo Rotax engine, Belassi says this is its own, unique design.
To that point, the intake manifold is made of metal rather than plastic as it is on the Sea-Doo, and is attached on the other side of the engine compared to the Sea-Doo.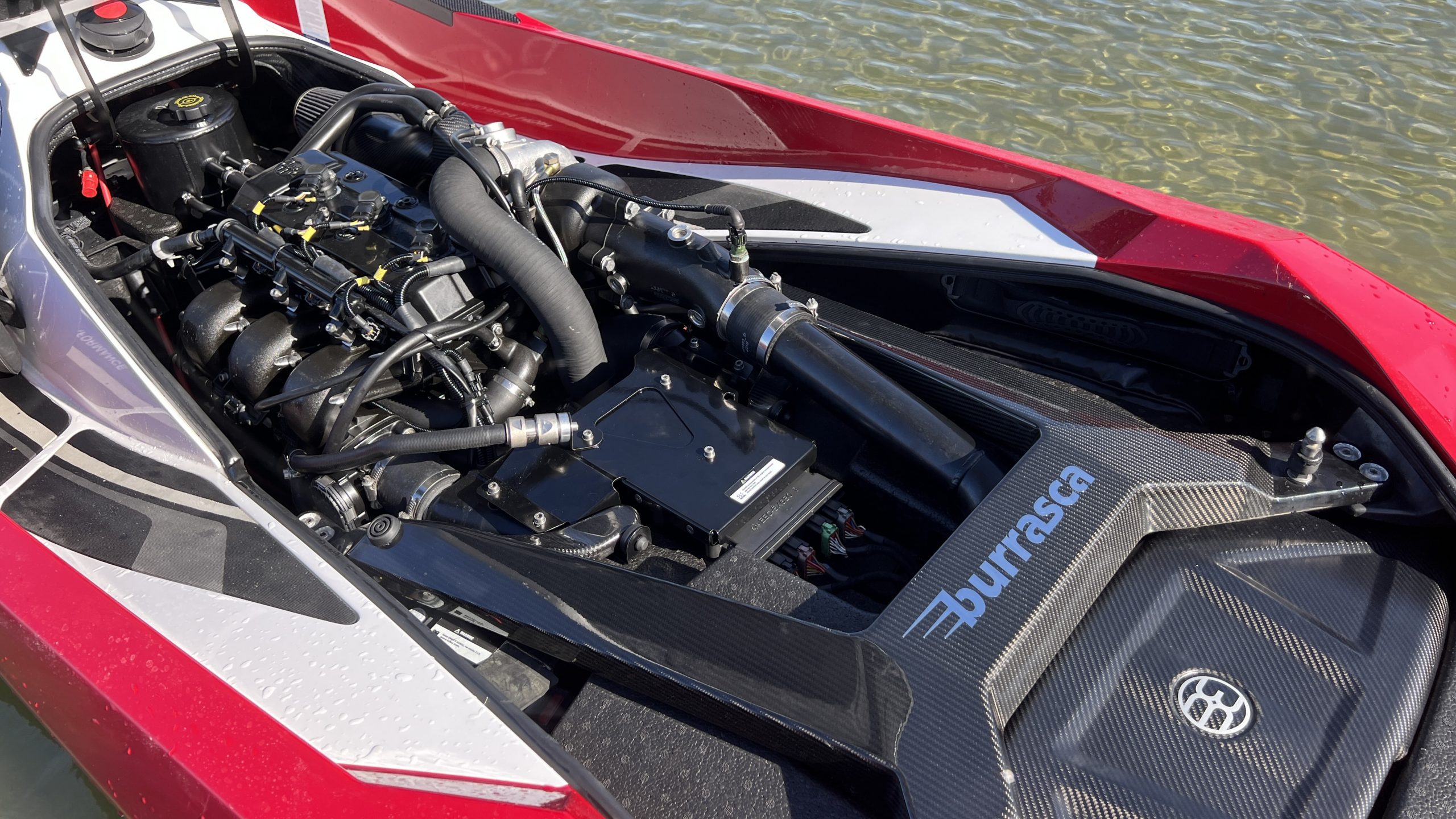 The jet pump has an internal diameter of 161mm and 14 vanes.
The turbocharger uses a Mitsubishi core but the unit is custom made for Belassi to deliver zero turbo lag and deliver instant responsiveness.
The hand-crafted carbon fibre parts are made in Germany by Saertex.
The fuel tank is 64 litres or 16.9 US gallons in capacity.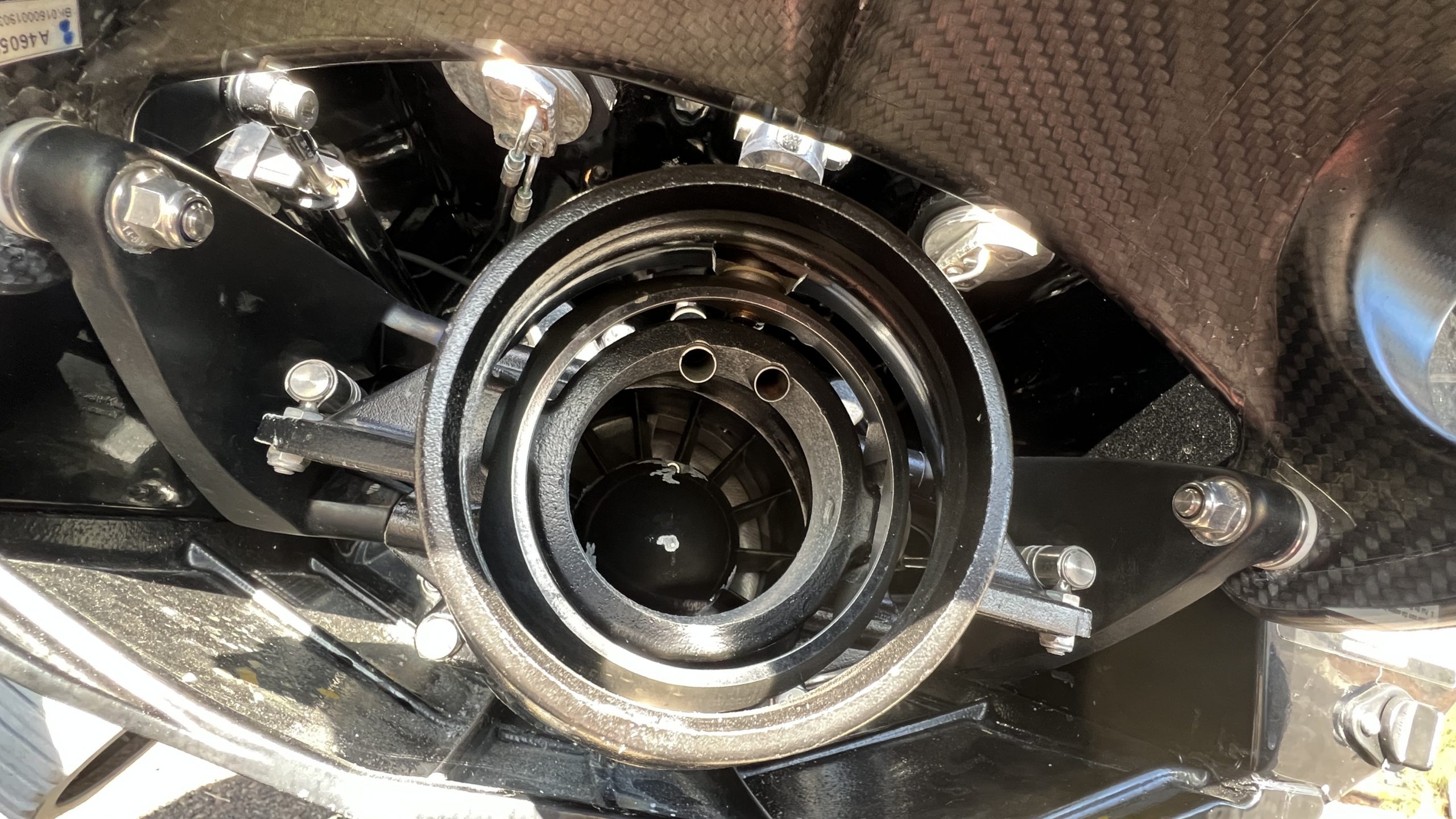 From bow to stern, the Belassi Burrasca is similar in size to the Sea-Doo RXP-X300 and Yamaha GP1800R SVHO high-performance skis, but despite all the carbon-fibre, it is in fact a touch heavier than these rivals.
The Belassi Burrasca tips the scales at 367kg or 809lb, whereas the Sea-Doo RXP-X 300 has a dry weight of 354kg or 780lb – and the Yamaha GP1800R SVHO has a dry weight of 342kg or 754lb.
Kawasaki lists the weight of the 2023 Ultra 310LX between 468kg and 494kg (or 1032 to 1090lb) but this is with fluids on board, versus the dry weight figures for the others.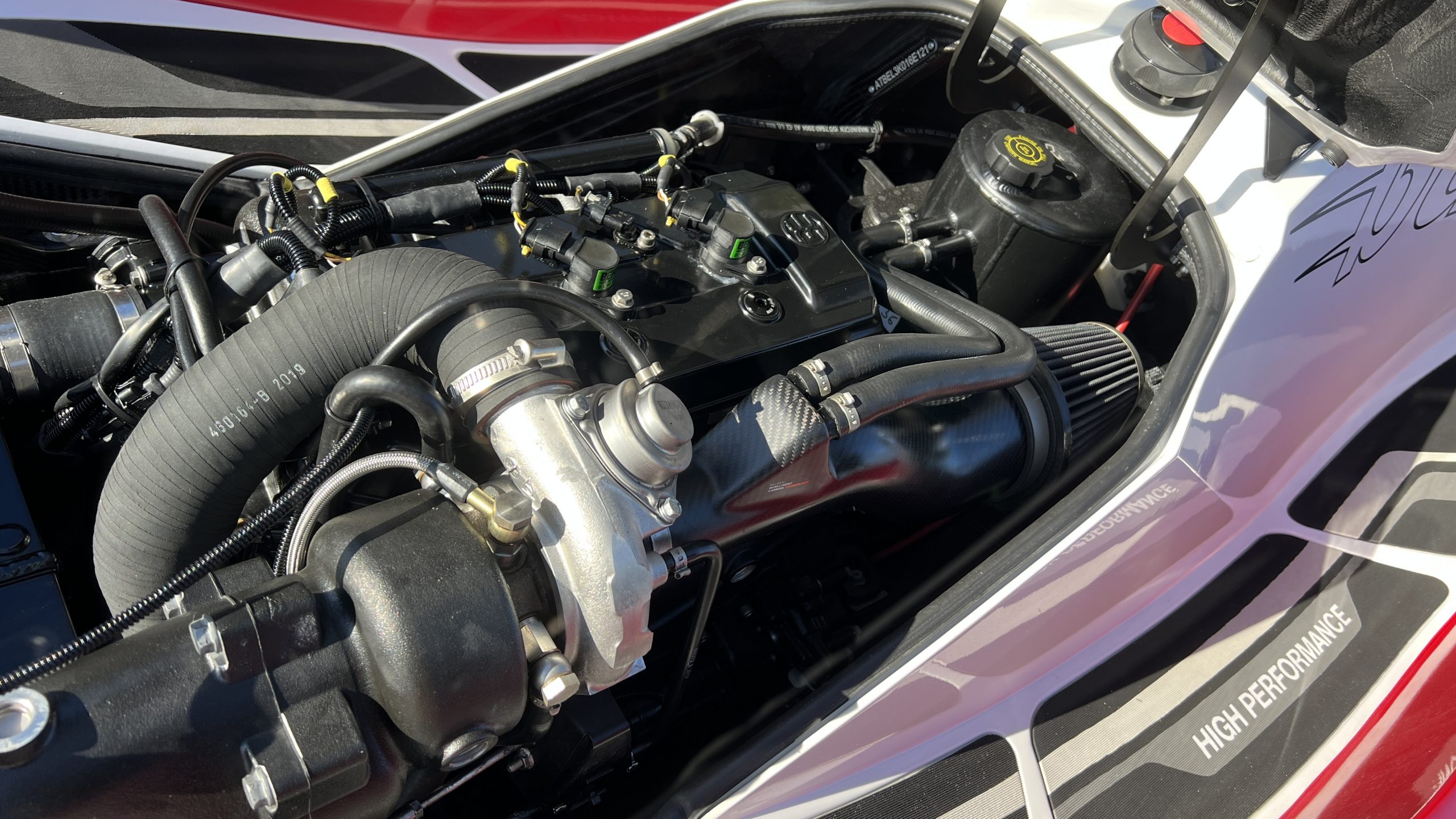 A K&N air filter is attached to a carbon-fibre air intake.
And the engine is fed oil via a gear-driven, six-stage, dry sump system, feeding into a carbon fibre reservoir and heat extractor.
The oil filter is located in a tight spot on the engine block, next to the dry sump, but is more easily accessible than the oil filter on most other Jet Skis. 
The water-injected exhaust system flows into a carbon-fibre muffler. The exhaust pipe then splits into two before exhaling via four exhaust tips – two per side.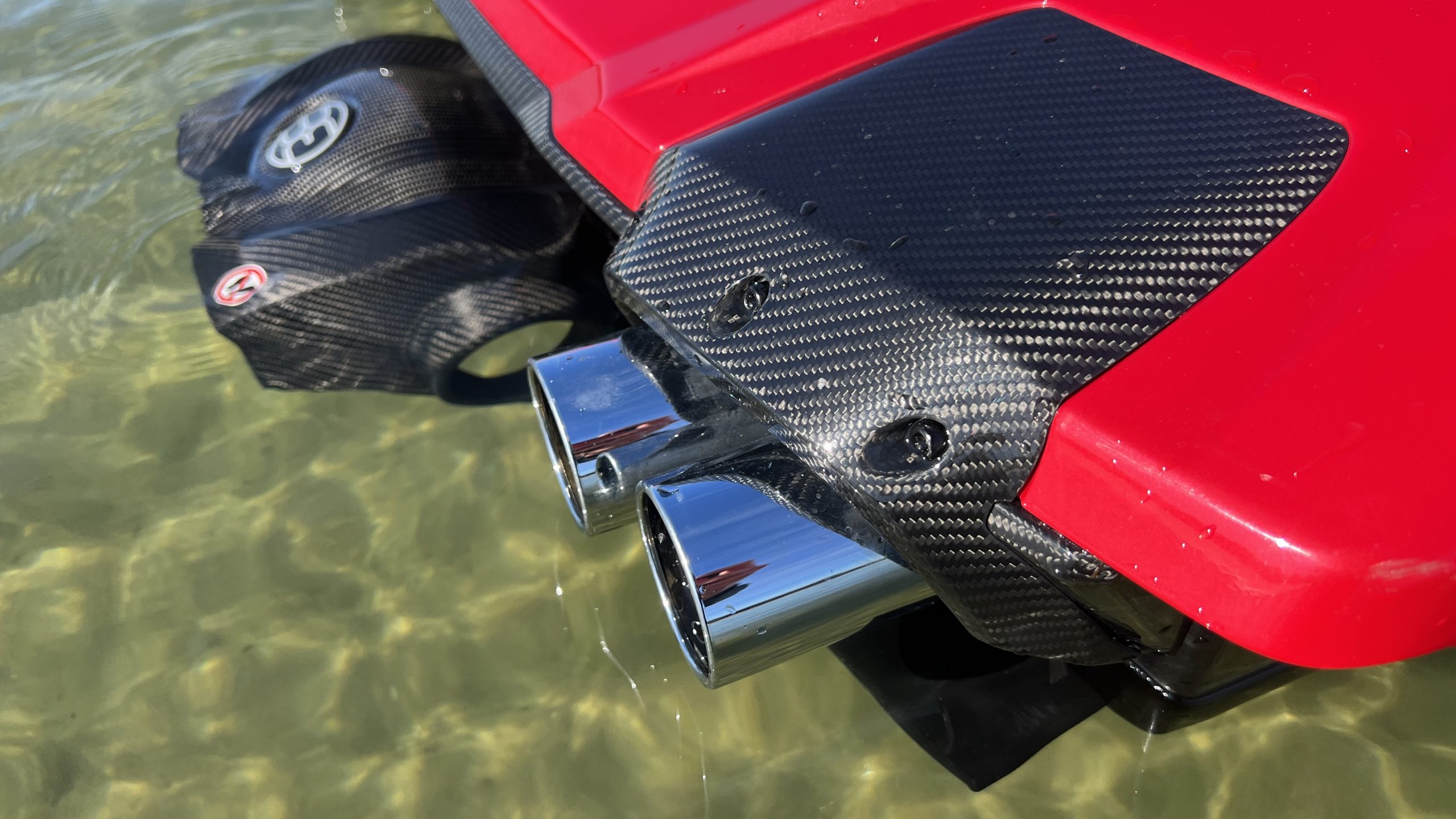 Although the three-cylinder engine capacity might be similar to a Sea-Doo, that's where the similarities end.
There is no carbon seal, instead the drive shaft operates in the same way as Yamaha and Kawasaki Jet Skis – via a bearing and two seals.
From the rider's point of view, there are two digital display screens. One embedded into the carbon-fibre handlebars, and another more conventional screen at the front of the centre console.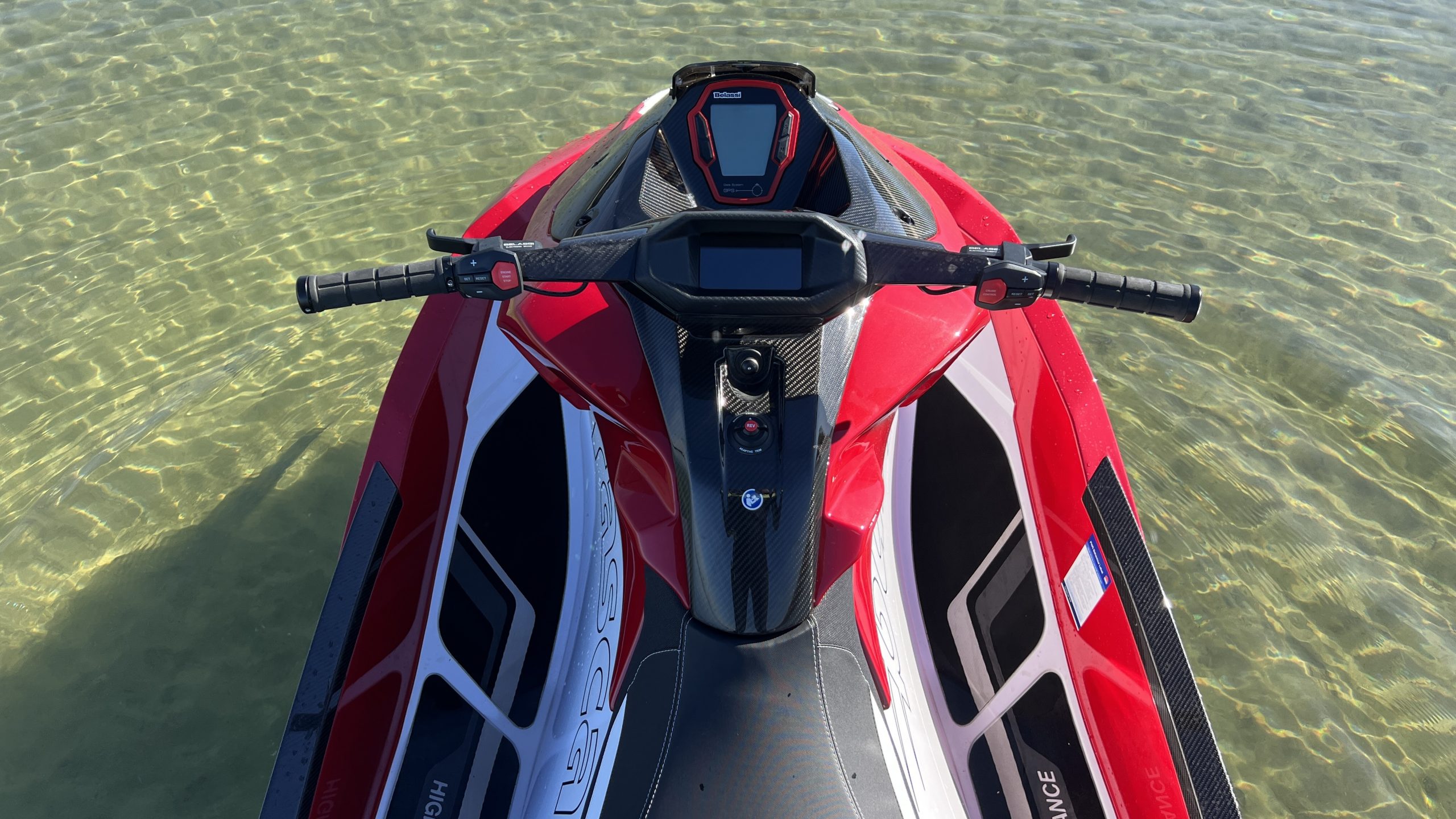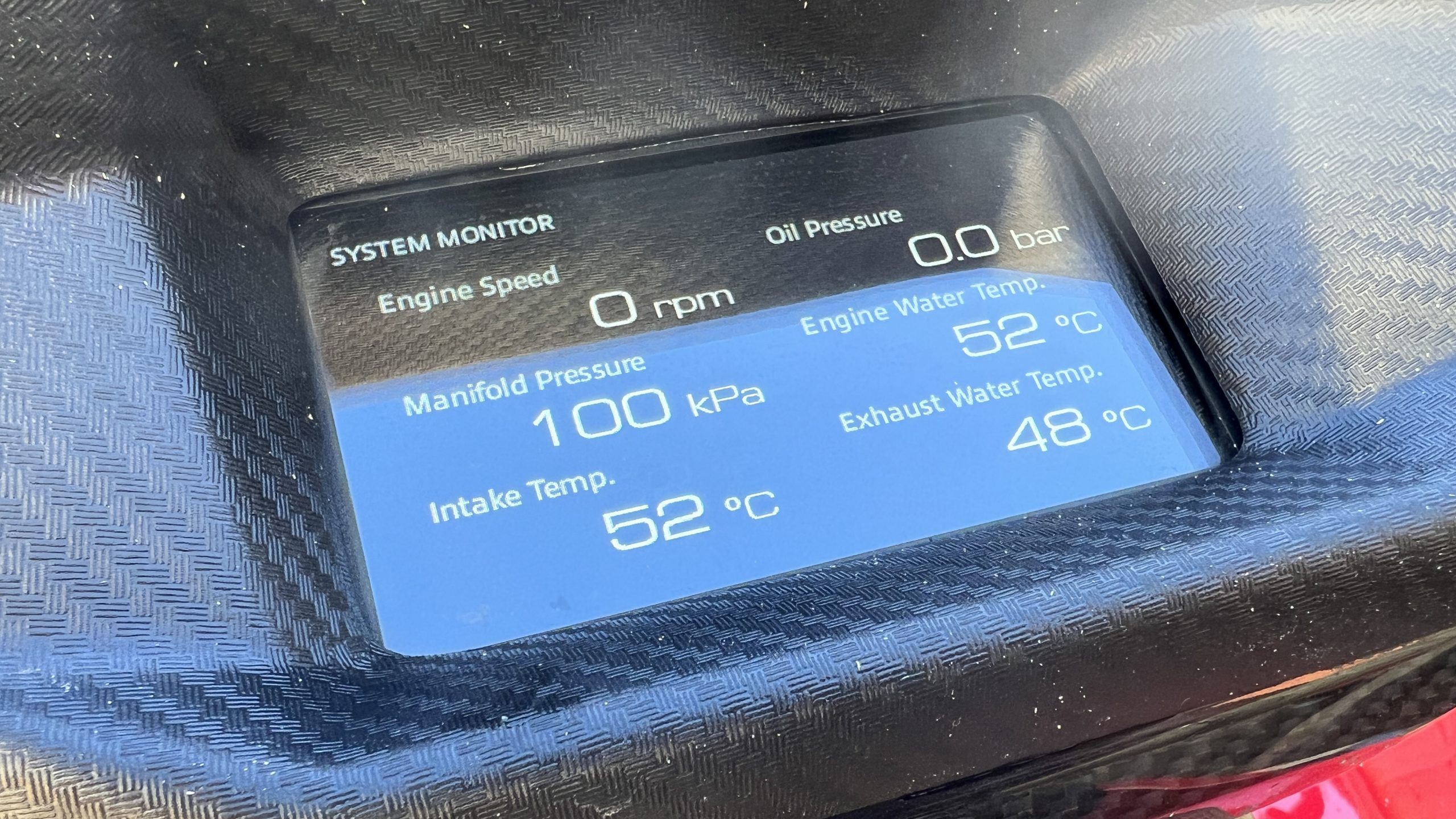 The Belassi uses a GPS sensor to determine speed, and the performance screen can display all sorts of critical data including oil pressure, manifold pressure, intake temperature, engine water temperature, and exhaust water temperature.
This is a great feature we hope Sea-Doo and Yamaha adopt for their future performance models. 
Some of the technology, however, is more fiddly than it needs to be.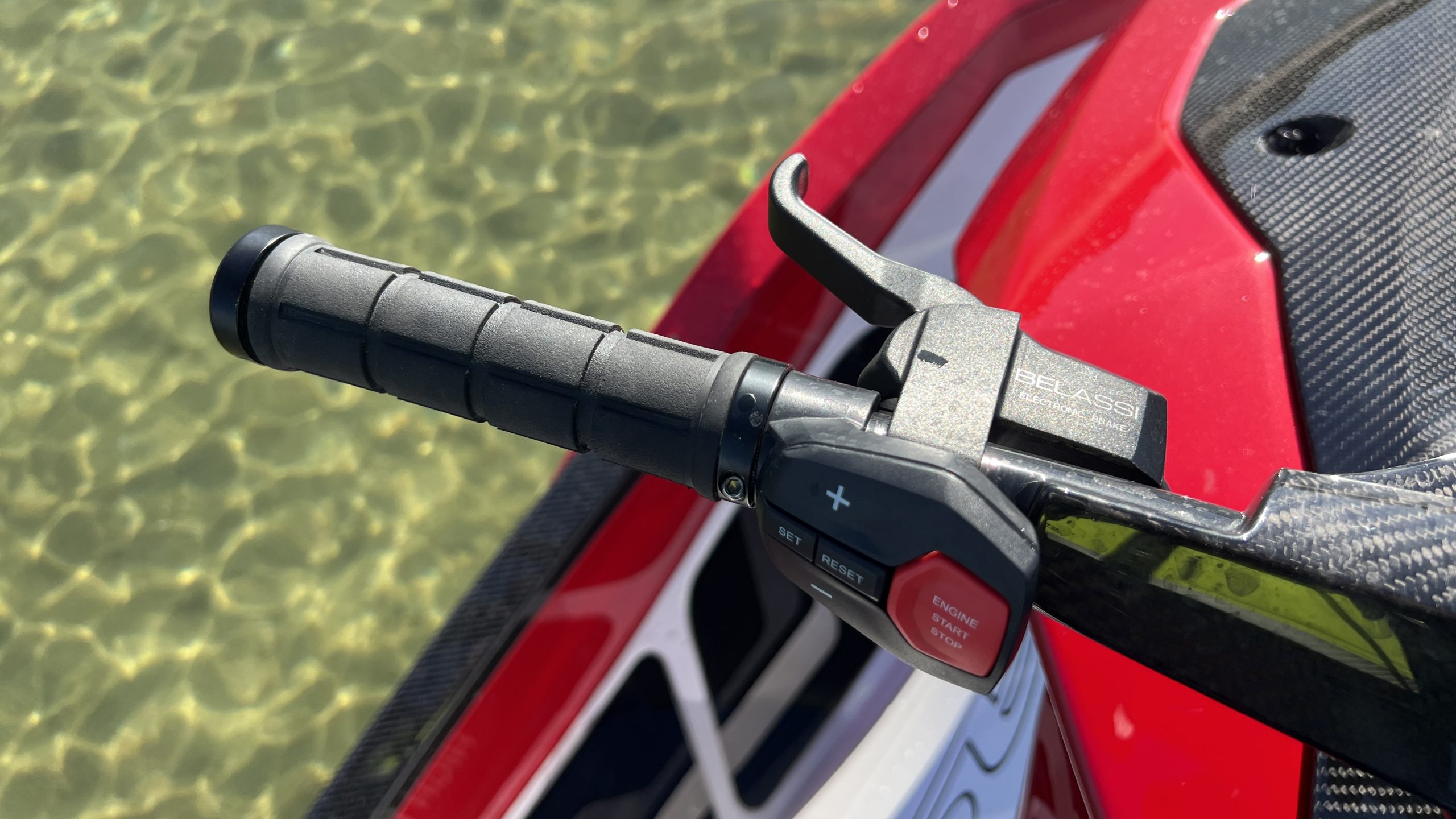 For example, while the trim can be adjusted at the press of a button on Sea-Doo, Yamaha and Kawasaki models, on the Belassi Burrasca you must press a button on the left handlebar, and then toggle up and down in the menu on the digital screen. It's unnecessarily complicated.
Other small annoyances: the handlebars are not height adjustable without resetting their position with tools (rivals can change the angle of their handlebars by lifting a tab).
And there is no storage, not even for a phone, wallet or car keys.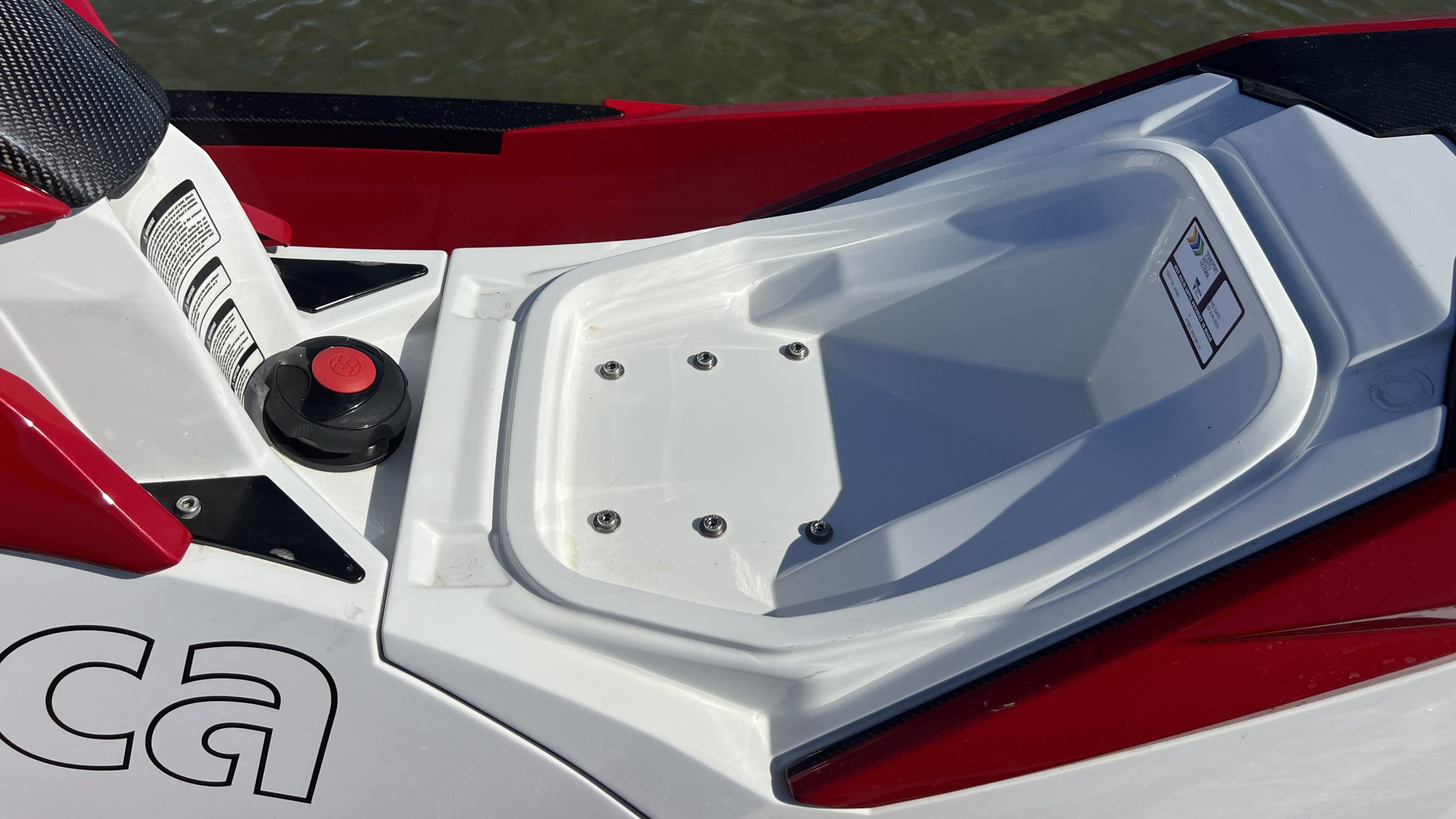 There is a small wet storage area under the rider's seat but it's not very secure. Best to buy a life jacket with pockets if you own one of these.
The riding position is not ideal at first. The front seat is too close to the centre console and handlebars, so you end up straddling the middle of the seat, between the upper and lower tiers.
Riders who prefer to ride while standing up may find the handlebars not quite high enough.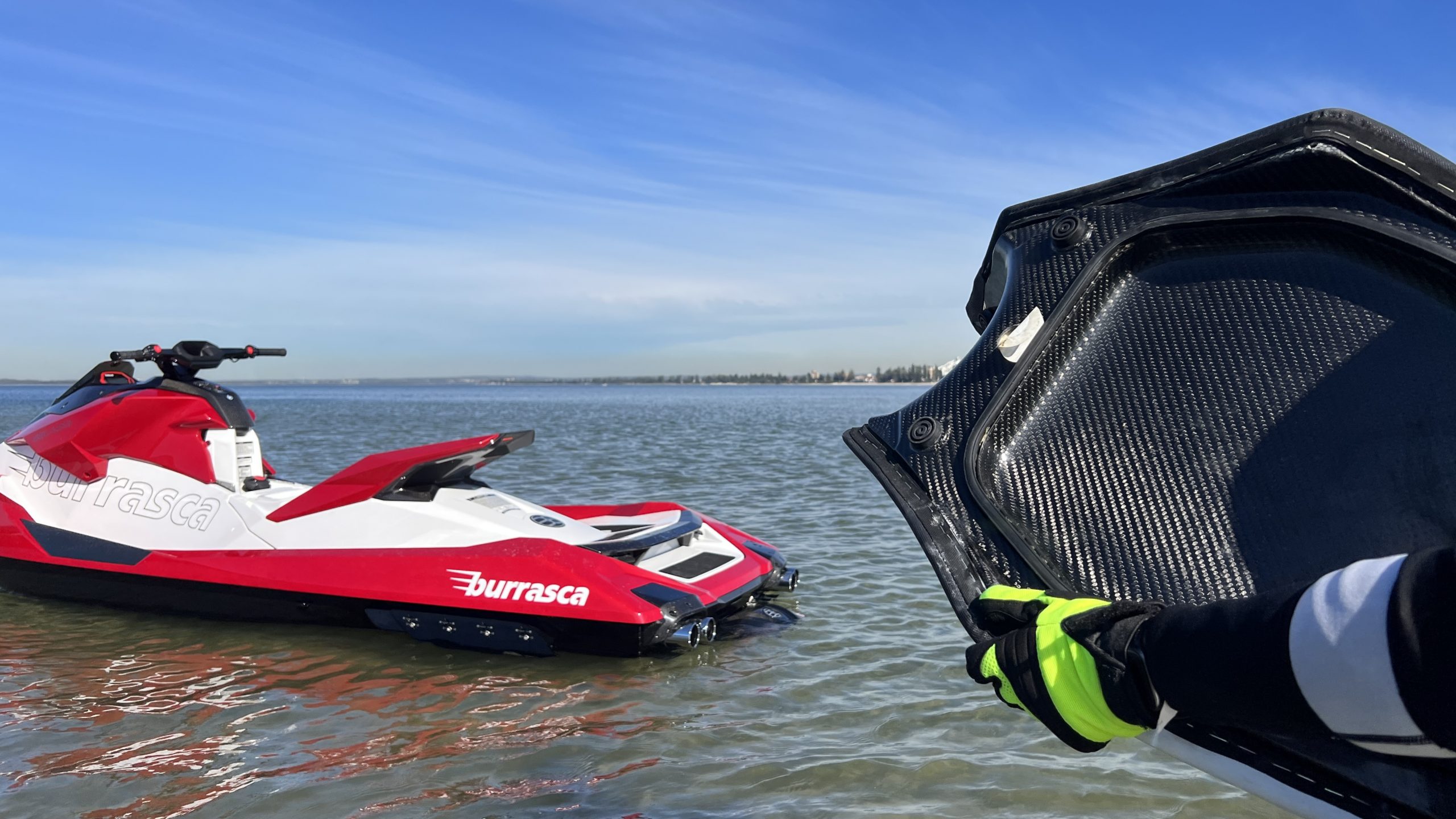 Reboarding the rear deck requires patience and flexibility. Firstly you need to make sure you don't step on the carbon fibre reverse bucket, and then you need to make sure you put your knees and hands on the strongest part of the rear deck, rather than grabbing onto one of the Belassi's design features.
We found the carbon-fibre key to be a bit stubborn to remove and refit – and of course you need it to let-go if you and your lanyard come off at speed – but the fitting will likely loosen up with more use.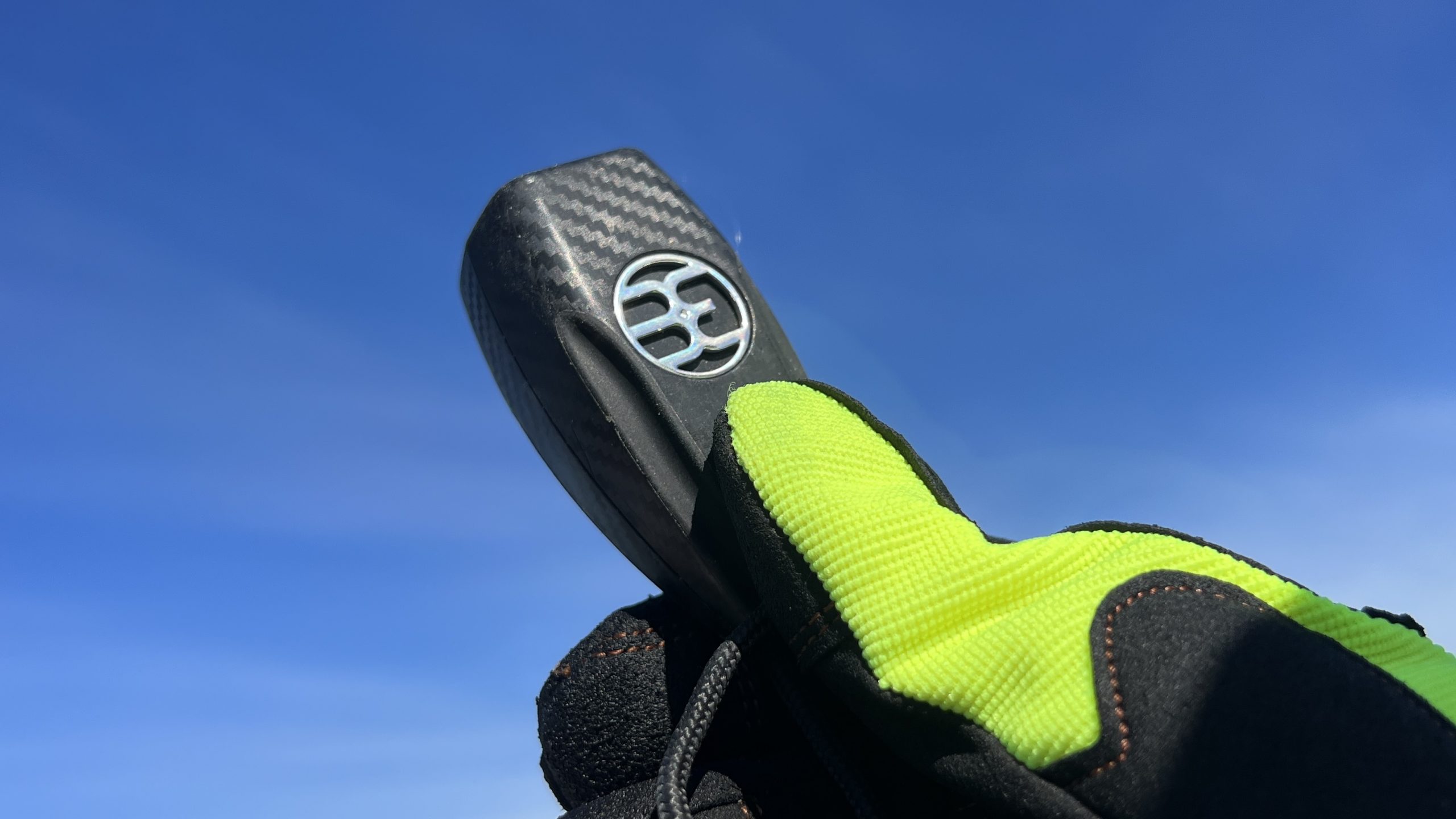 And the aluminium sponsons are very aggressive, straight out of the box. Fortunately they are adjustable and some riders may prefer to soften them off and reduce their bite in tight turns.
That said, all is forgiven once you squeeze the throttle and realise the potential of the turbocharged power.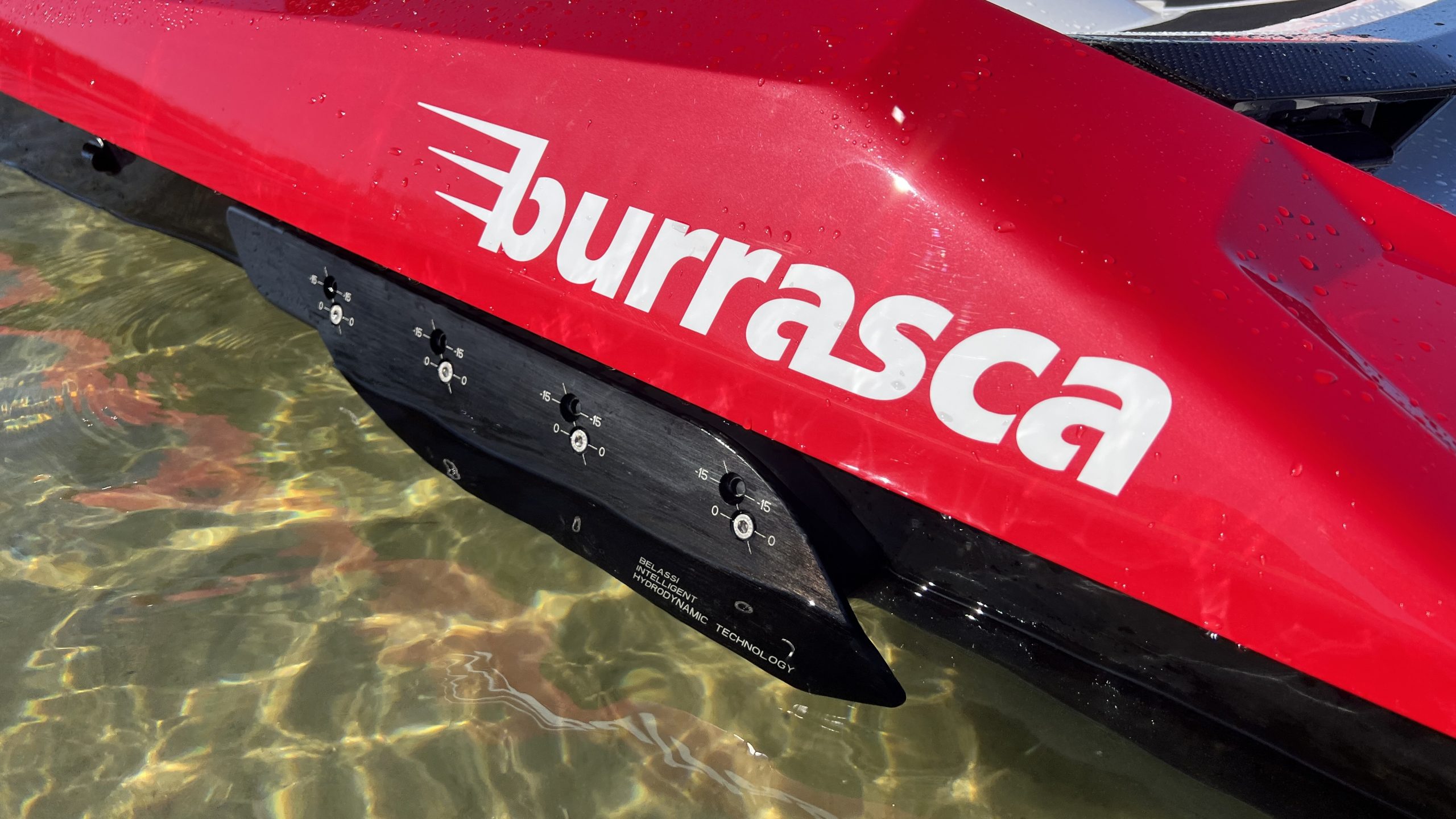 In fact, the Belassi Burrasca is quite literally fast from the get-go.
It's idle speed is about 8km/h or 5mph, so you find yourself grabbing neutral as soon as you need a break.
The heavy hull and the engine layout tend to push the weight to the rear of the craft, which naturally brings the nose up.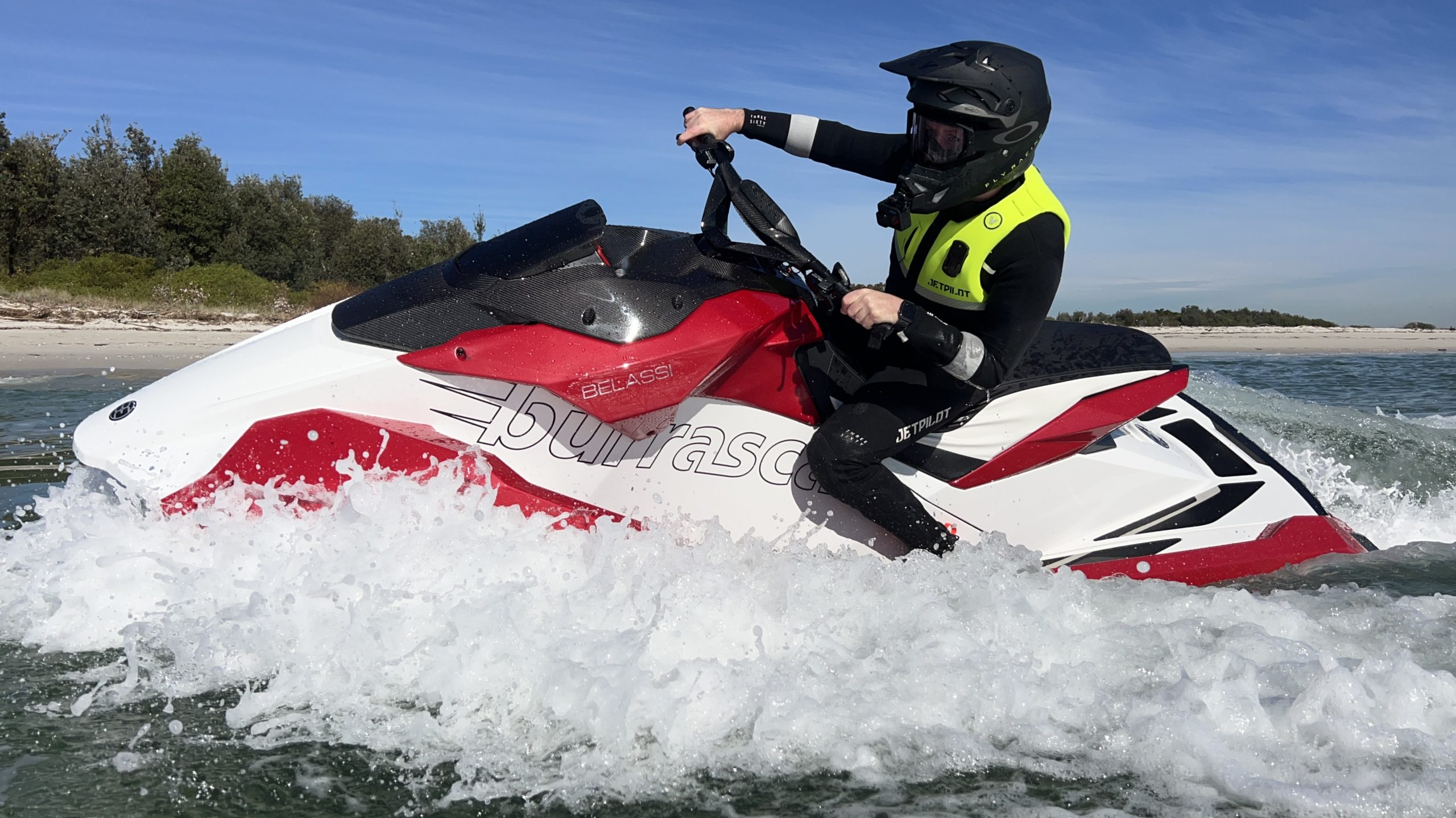 But the deep V design – while not as aggressive at Sea-Doo's deep V bow – does a good job of carving through choppy conditions.
The steering feels heavy at first, but this is because this is a heavy craft – and the sponsons instantly dig into the water as soon as you start to take a turn.
However, the Belassi is still incredibly manouvreable. And the more time we spent on it, the more we felt at home.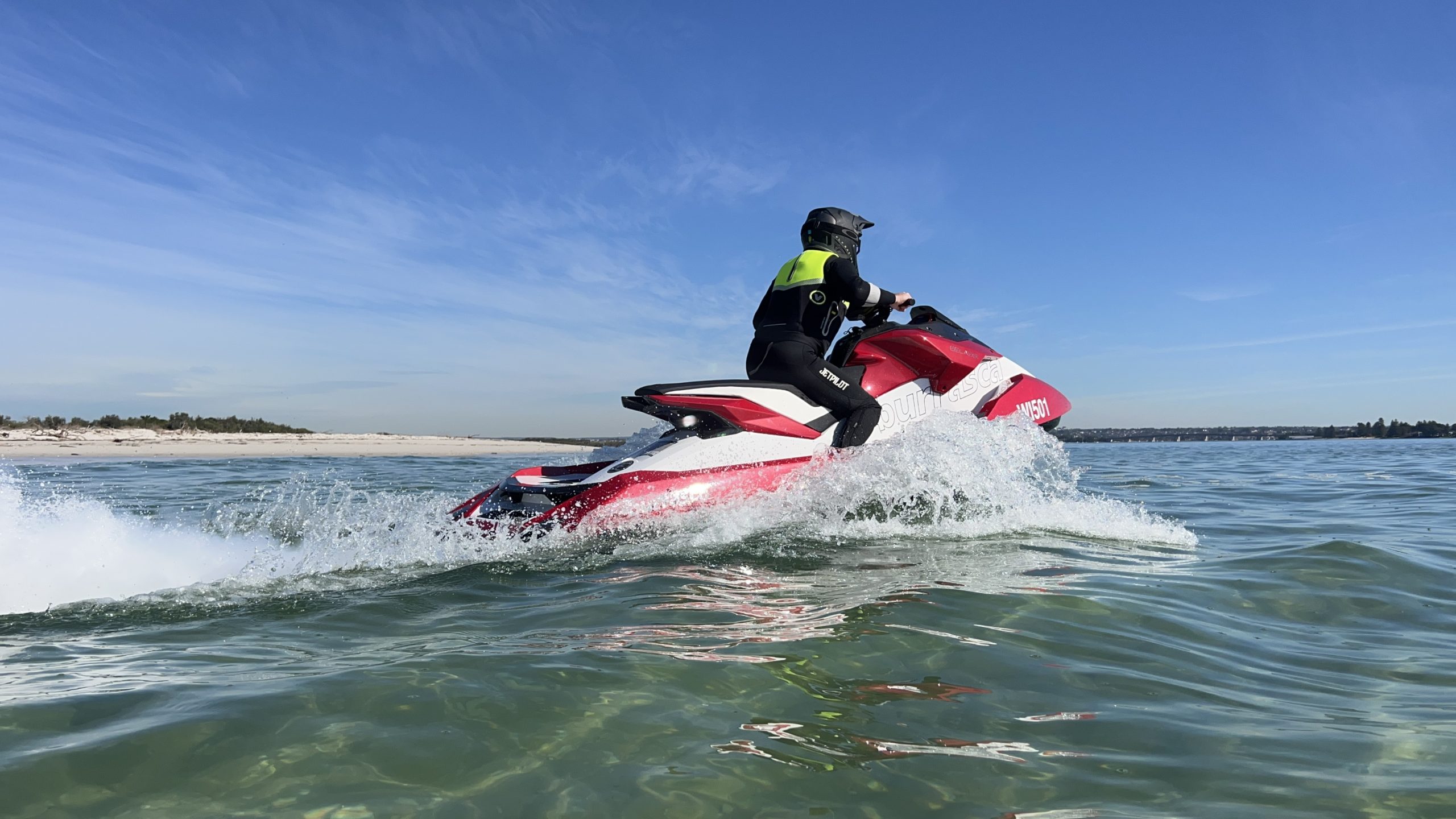 You could spend hours scrolling through all the performance displays, but we settled on the screen with all the critical technical information.
After getting up to speed, it was time to do our acceleration tests and top speed runs using a VBox GPS measuring device.
We had to set our start speed at 5km/h or 3mph because the VBox – which is primarily used to test performance cars – is triggered by even the slightest movement.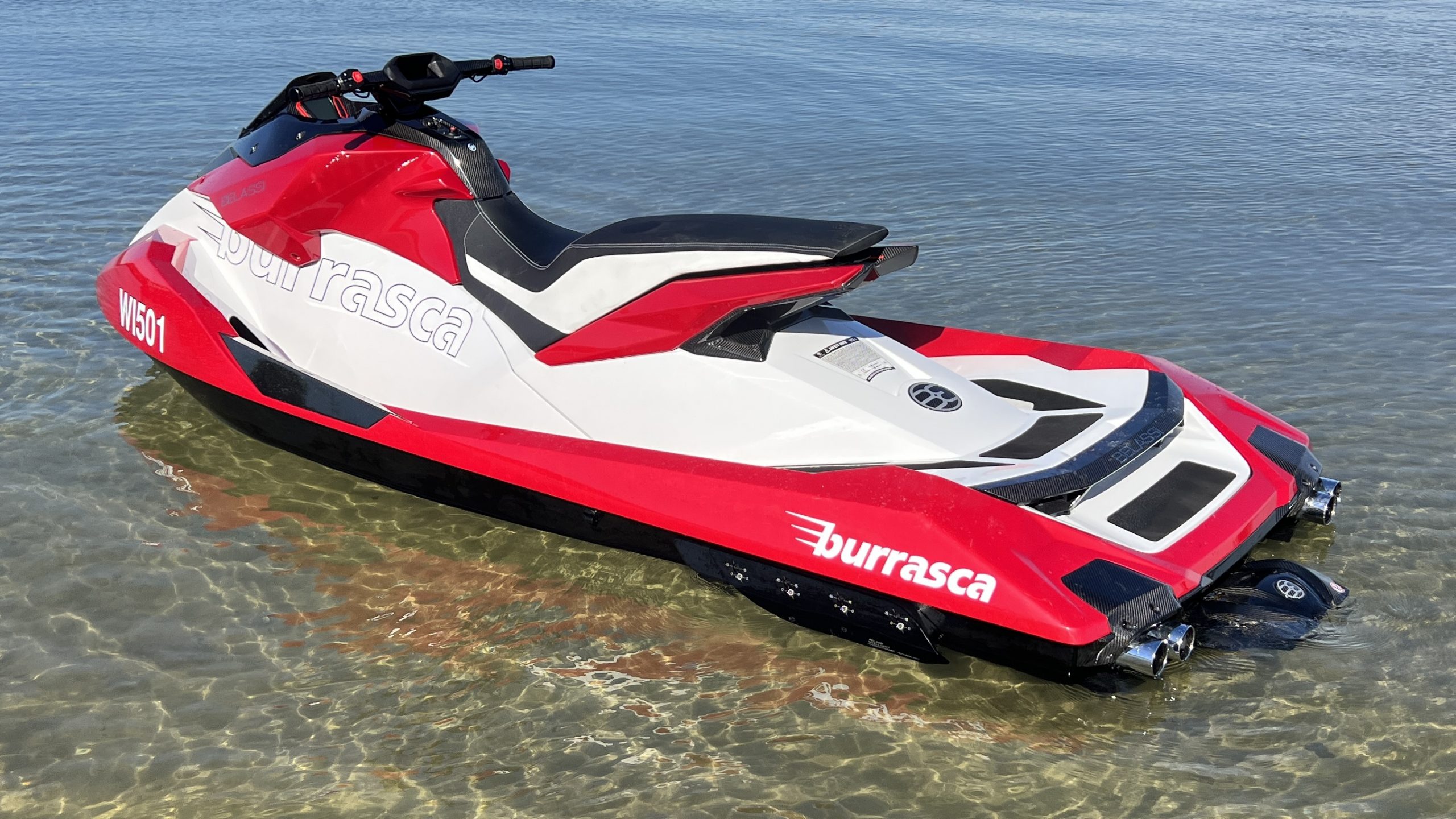 Because we are launching on water, the craft moves around no matter how steady you are. 
In the mode we selected, the timer started the moment the speed tripped over the 5km/h or 3mph mark.
Here are the results.
Belassi Burrasca Acceleration Tests
5 to 50km/h 2.5 seconds
5 to 60km/h 2.9 seconds
5 to 70km/h 3.4 seconds
5 to 80km/h 4.0 seconds
5 to 90km/h 4.7 seconds
5 to 100km/h 5.7 seconds
5 to 110km/h 7.8 seconds
Top speed: 118.9km/h (as tested)
Top speed: 125km/h (claimed)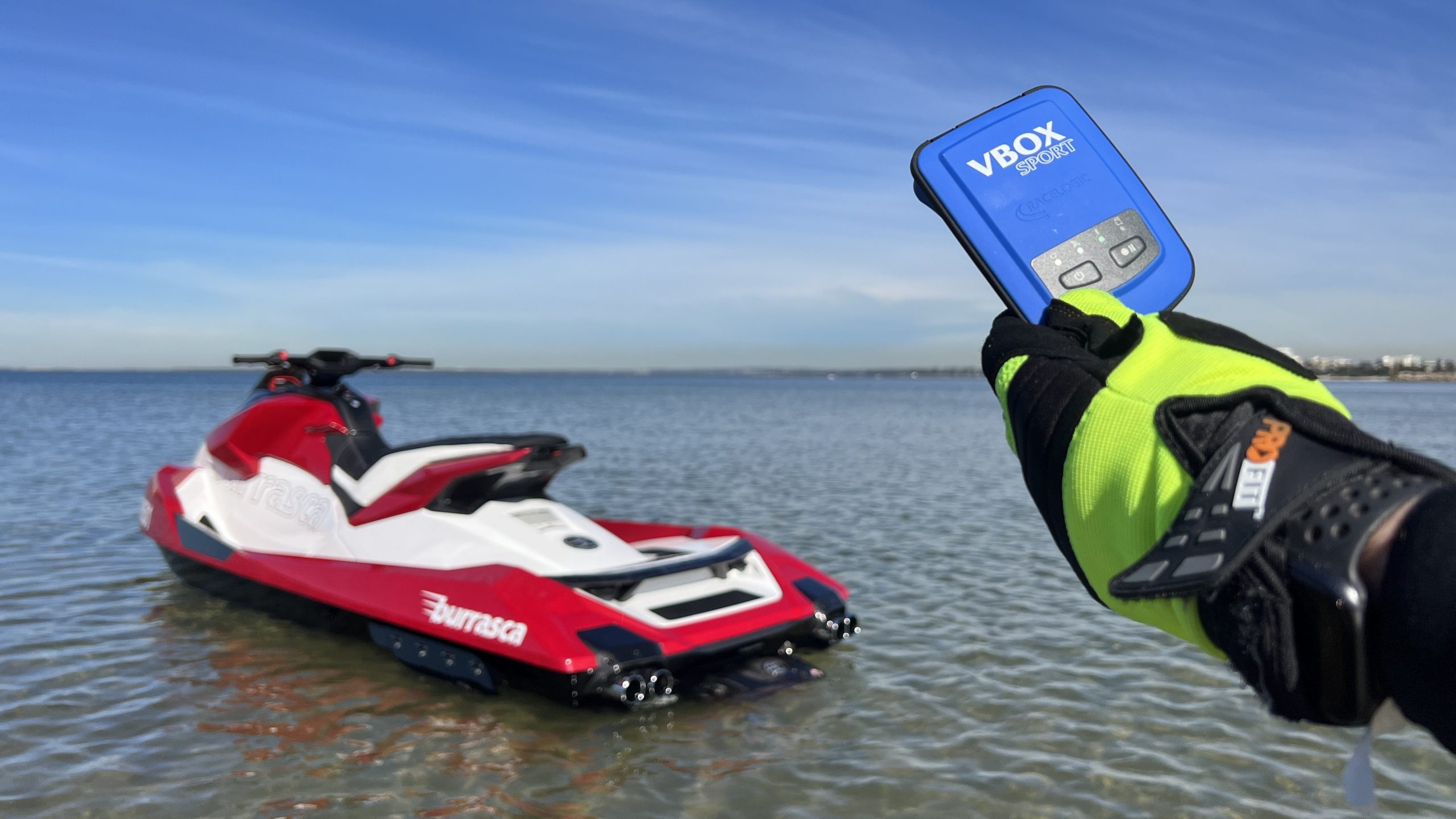 3 to 31mph 2.5 seconds
3 to 37mph 2.9 seconds
3 to 43mph 3.4 seconds
3 to 50mph 4.0 seconds
3 to 56mph 4.7 seconds
3 to 62mph 5.7 seconds
3 to 68mph 7.8 seconds
Top speed 73.9mph (as tested)
Top speed 78mph (claimed)
The above tests were an average of four runs (two in each direction) which is why in one part of the video you can briefly see 121km/h displayed but not shown here.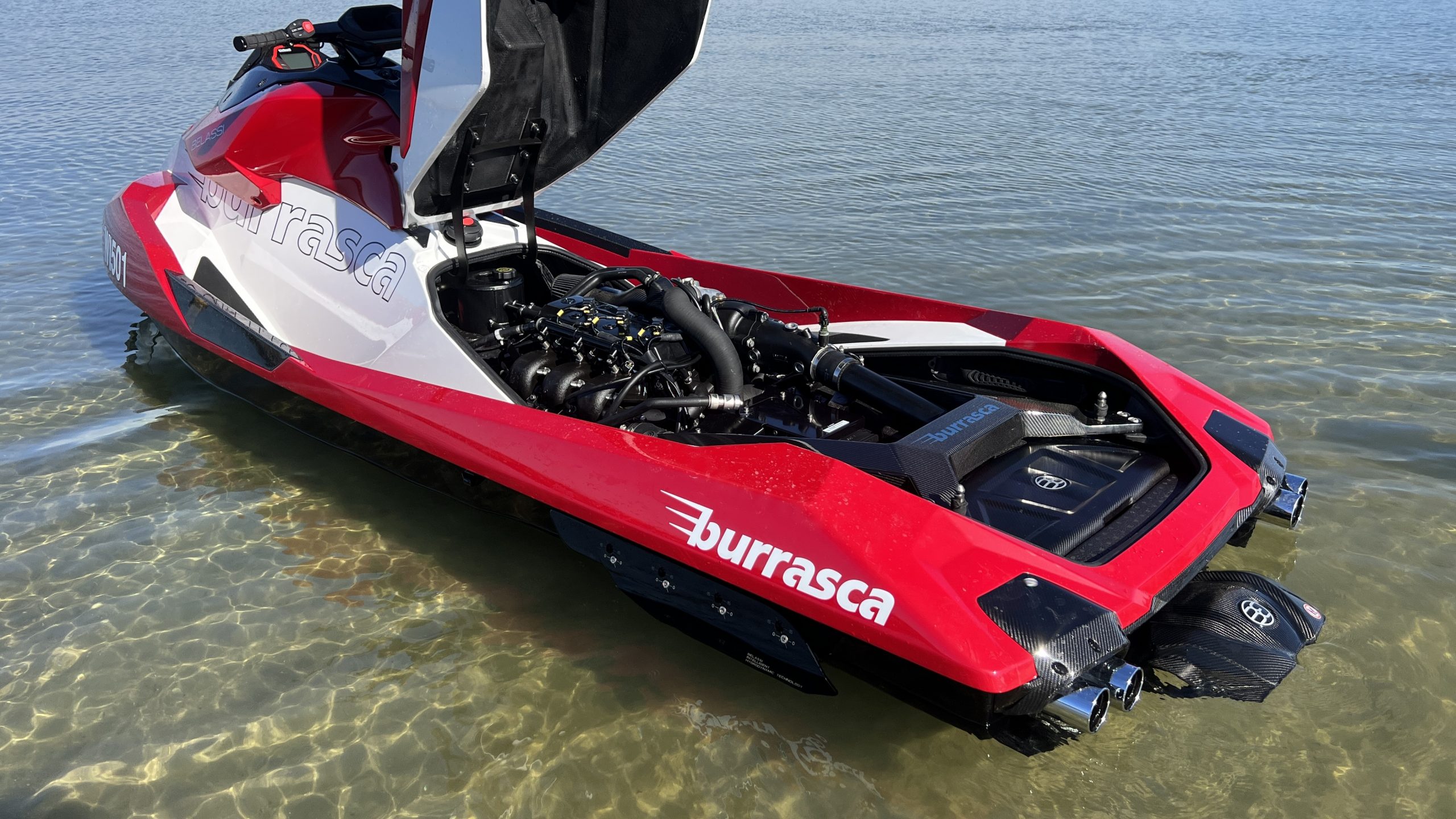 Our Belassi Burrasca VBox times compare to a 110km/h or 68mph top speed for the Yamaha GP1800R SVHO, and a peak velocity of 125km/h or 78mph on the Sea-Doo RXP-X300 RS. 
Belassi says the top speed of the Burrasca is in the range of 125 to 130kmh, or 78 to 80mph with half a tank of fuel and an 80kg rider.
For our test we had a full tank of fuel and our rider weighs 70kg.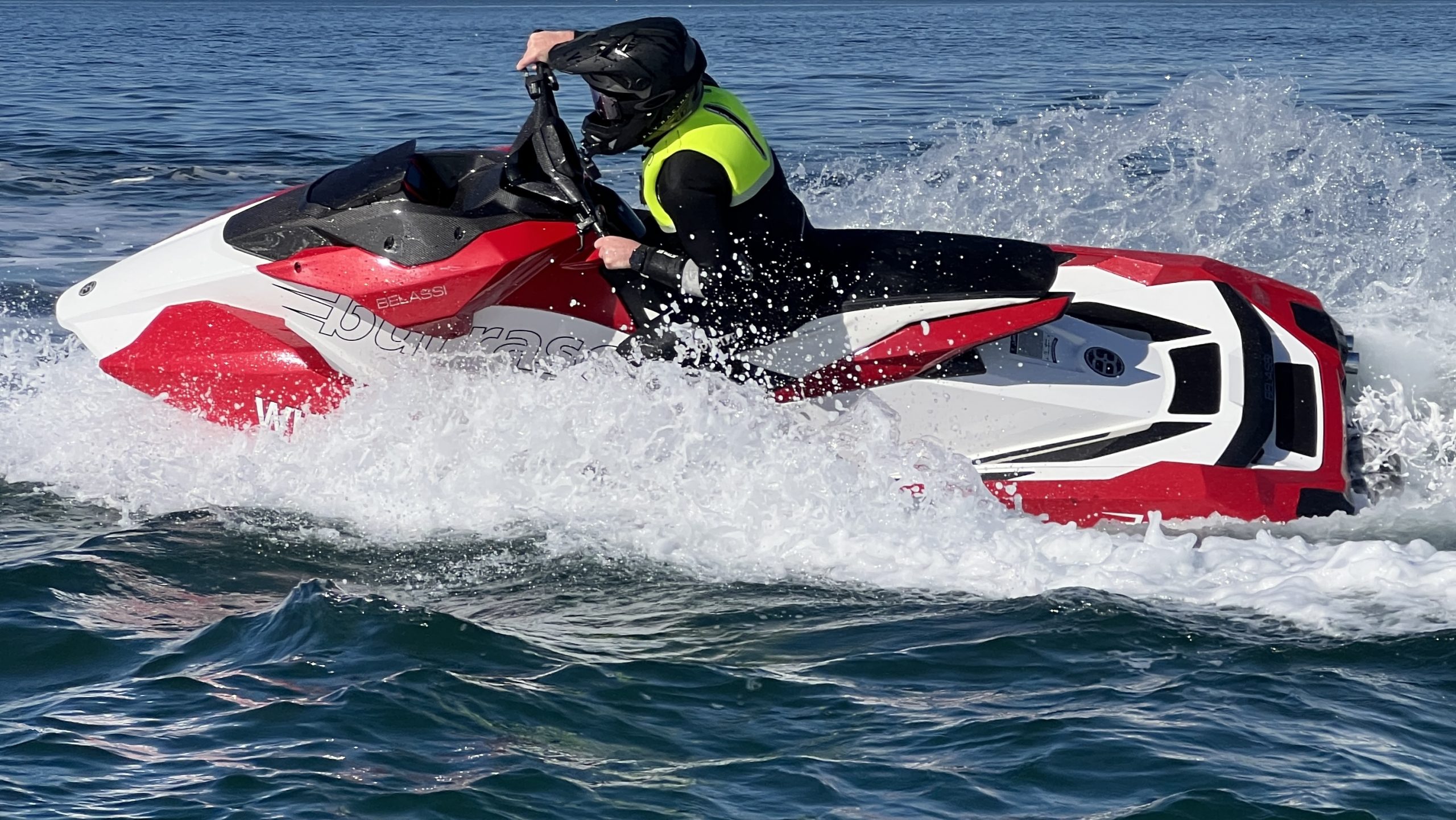 Although our test conditions were good, it wasn't glassed out like a river or a lake.
However, Belassi offers a 350 horsepower upgrade kit which includes camshaft, software and ride plate upgrades.
We're keen to revisit the Burrasca in its peak performance guise because there is clearly more potential to unearth here.
Nevertheless, while our original acceleration numbers demonstrate the Belassi Burrasca is among the fastest Jet Skis on sale today – rather than the outright fastest – it is worth noting that there is much more to this watercraft than top speed.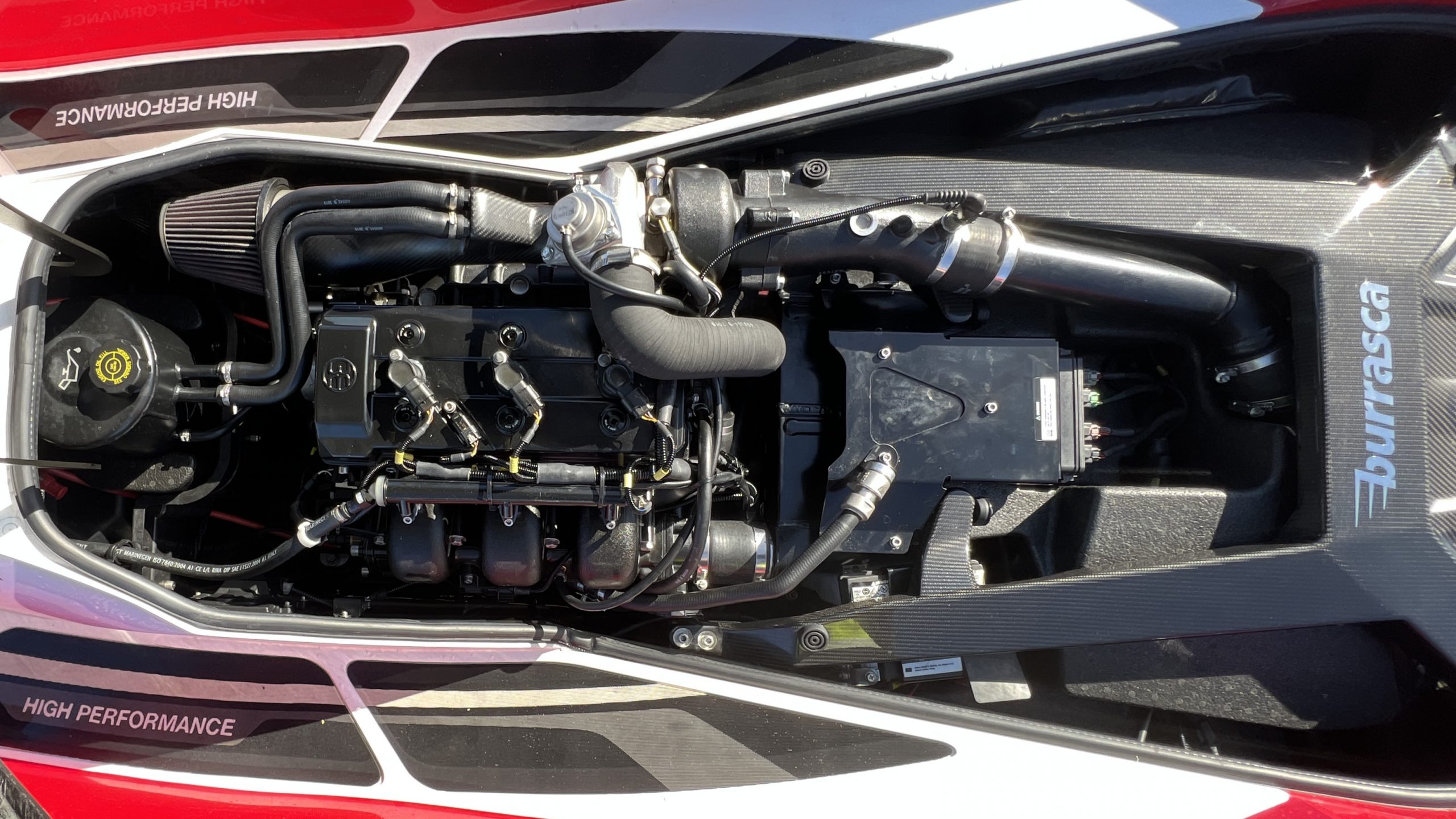 The craftsmanship is in another league, including the extensive use of real carbon fibre.
And with just 140 sold worldwide so far – including only about 10 examples in Australia to date – it comes with a level of exclusivity that is rare in the personal watercraft world.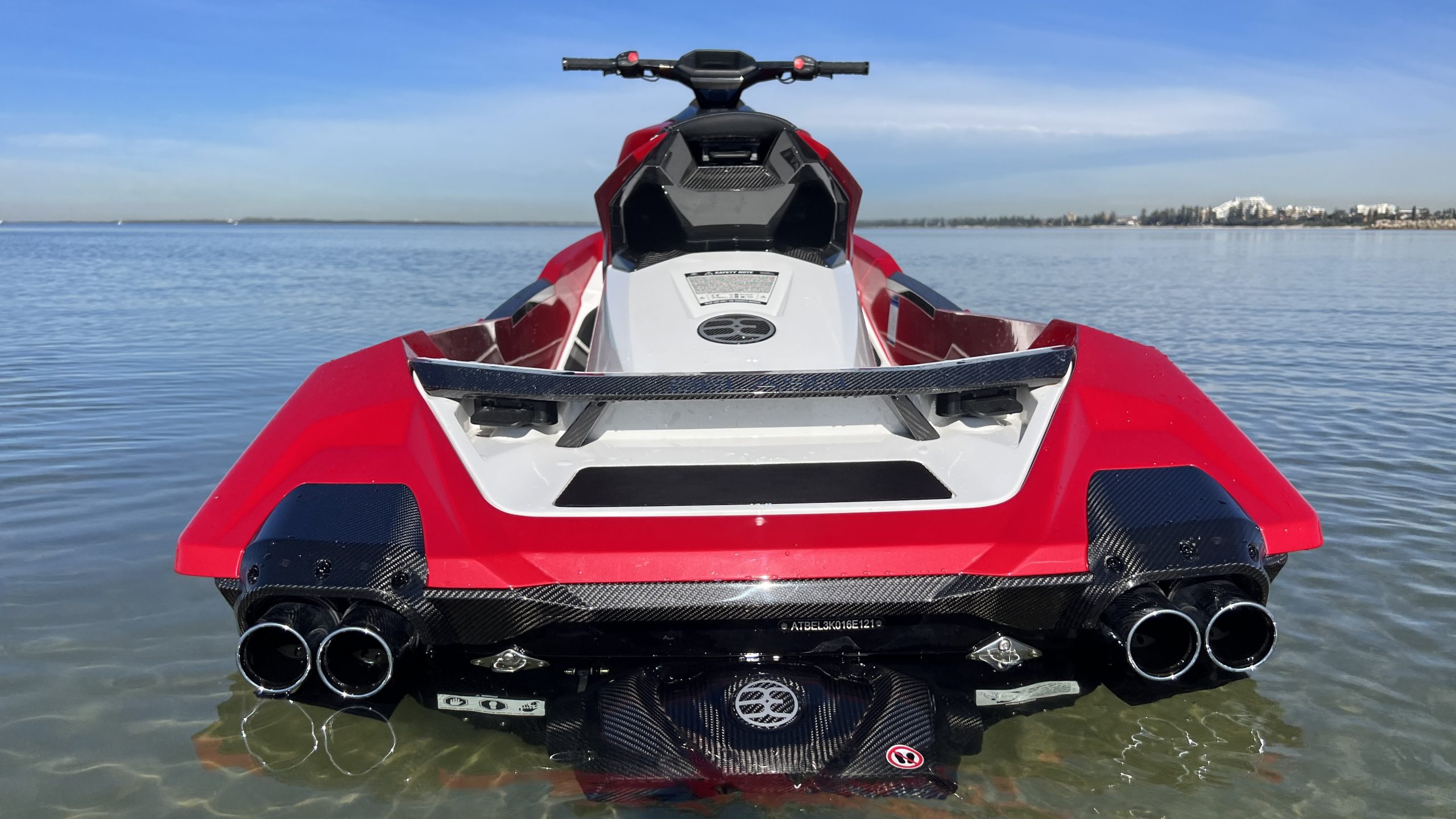 In the same way no-one really needs a Ferrari, there are cheaper and faster alternatives to the Belassi Burrasca.
But there truly is nothing else like it on the water, and that probably suits its buyers just fine.
Because for now, the Belassi's price point keeps this personal watercraft in the league of the mega rich as a toy to go with their mega yachts.
Footnote: This review is not sponsored content, so we can be honest about the pros and cons, and our likes and dislikes. This craft was a demonstrator model owned by the distributor of Belassi in Australia and New Zealand. We tested it over two days in July.