The 2022 Kawasaki Ultra Jet Ski could be the machine that puts the company back on the map – and guide it out of the wilderness where it has been for the past decade or so.
That's the forecast from one of the global authorities on Jet Skis and personal watercraft, Kevin Shaw, the editor-in-chief of The Watercraft Journal, the world's biggest PWC website.
In his latest weekly live video chat broadcast Monday 12 July 2021 Australian time, Kevin Shaw went into detail about the much rumoured – but as yet unsubstantiated – claims about the 2022 Kawasaki Ultra Jet Ski.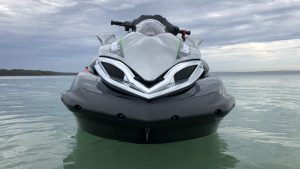 Based on what has been reported so far, Kevin Shaw indicated the new model will likely give Kawasaki its best chance yet at clawing back lost ground from industry leaders Sea-Doo and Yamaha.
Confidential figures obtained by Watercraft Zone show Kawasaki represented just 6.5 per cent of all Jet Skis and personal watercraft sold in Australia last year, behind market leader Sea-Doo (67.5 per cent market share) and Yamaha (26 per cent market share).
Part of the reason for Kawasaki's relatively small slice of the personal watercraft market – even though it coined the Jet Ski name that has since become a generic term – is the age of its line-up compared to newer models from Sea-Doo and Yamaha.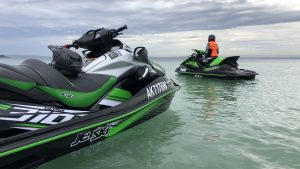 The Kawasaki STX160 Jet Ski was overhauled in 2019 as a 2020 model for the first time in 14 years with a new top deck while retaining the original hull.
Now it's time for the flagship Kawasaki Ultra Jet Ski model series to come in for a similar overhaul.
While the changes are yet to be confirmed by Kawasaki, there is widespread industry speculation the 2022 Kawasaki Ultra Jet Ski will gain a redesigned top deck, a digital dash display, and a reverse trigger, among other overdue packaging improvements.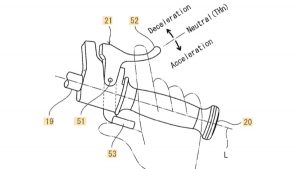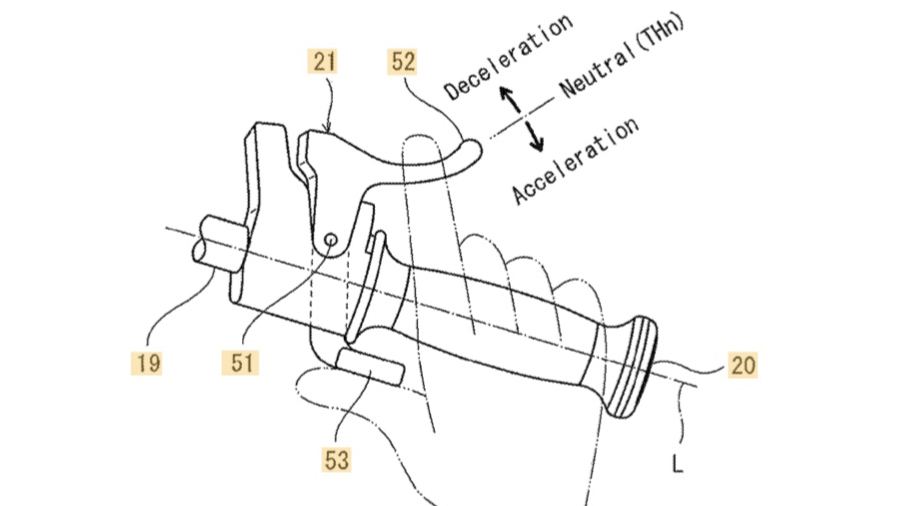 These upgrades – if they come to fruition – would likely close the gap between Kawasaki and the market leaders Sea-Doo and Yamaha, both of which have much newer and broader model line-ups.
Kevin Shaw, who has tested countless personal watercraft as editor-in-chief of The Watercraft Journal, and is in close contact with representatives for all three brands in the US, rolled off a long list of reasons 2022 could be Kawasaki's year to make a comeback.
While many in the Jet Ski and personal watercraft community are passionate about the brand of craft they own, Kevin Shaw has an appreciation for the strengths and weakness of all three brands.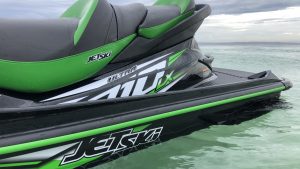 On this occasion he didn't hold back his enthusiasm for the expected changes coming Kawasaki's way – while at the same time highlighting some of the issues that have plagued Sea-Doo and Yamaha personal watercraft in recent years.
Kevin Shaw told the live audience on the latest instalment on The Watercraft Journal's YouTube channel: "I didn't want to be mean about this but here we go. Kawasaki doesn't delaminate hulls, Kawasaki hulls don't oil can (incur damage from flexing), Kawasaki hulls don't crack because of stress, they're still SMC fibreglass, they're still gel-coated, 100 per cent repairable."
The video continued: "(Kawasaki) transoms don't break, their pump tunnels don't crack, they do not have carbon seals that get misaligned from jumping and start sinking. They have four (engine) mounts so they don't get misaligned. Kawasakis aren't cracking cylinder heads, Kawasakis are not breaking valves, Kawasakis still have high-strength steel sleeves and are not powder-coated or electro plated (which could cause) losing compression out of the cylinders."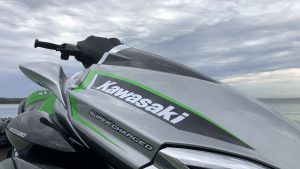 On a roll, he added: "Kawasakis are not burning up clutches in the superchargers, Kawasakis are not having recalls on their kill switches, Kawasakis are not having recalls on their dashes. There's a lot of things that are happening with Yamaha and Sea-Doo, that simply (on a) Kawasaki do not."
Earlier in the video, Kevin Shaw acknowledged Kawasaki's supercharged 1.5-litre four-cylinder engine had experienced problems in the previous 250 horsepower, 260 horsepower and 300 horsepower configurations.
However, since the upgrade to the 310 horsepower configuration in 2014, most of Kawasaki's woes are behind them, he said.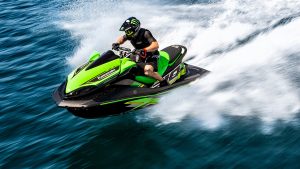 "When people talk about failures of Kawasaki they will talk about (supercharger) belt failures, piston failures, intercooler failures, and drowning the pistons in fuel," said Kevin Shaw, before adding those were predominantly prior to 2014.
He said it was also worth noting Kawasaki has had fewer mechanical failures or service campaigns on its current generation Jet Skis.
He said the latest Kawasaki Ultra Jet Ski supercharged models have "no piston failures, no injector failures, no fuel rail leaks, they're just not having the failures, I don't know what to tell you."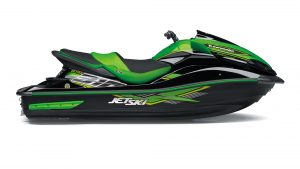 Anticipating feedback from fans of Sea-Doo and Yamaha, Kevin Shaw said: "I'm not trying to say Sea-Doo is junk, I'm not trying to say Yamaha is junk."
However, he said, it was only fair to point out many of the advantages Kawasaki has had – but has not been able to exploit in recent years due to the ageing design of the Ultra Jet Ski's top deck.
"Kawasaki is slow to the game (but) they're not going to make moves that put them on thin ice," said Kevin Shaw.
"Their hull materials are not super thin … or made out of polypropylene plastics. They're not made out of acrylic and require new repair processes. There's some pretty old-school stuff going on with these (Kawasaki) Jet Skis."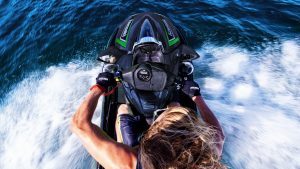 In summary, Kevin Shaw said: "If you tell me next year we're going to have a new Ultra that makes 310 horsepower, has the most horsepower of anyone on the dealer floor, has … more fuel capacity than anyone else on the water, more usable storage space than anyone else on the water, a full digital dash that's bluetooth capable, and an on-water brake system. Guys I'm telling you right now, that Kawi is going to look real good to a lot of people."
Before closing off his latest video instalment, Kevin Shaw said: "I'm telling you this is the biggest sales pitch I've ever made for Kawasaki in a video. I'm sorry, but the Kawi is going to be winning in my book."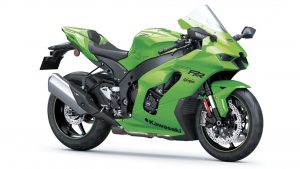 While little is known about the appearance of the 2022 Kawasaki Jet Ski Ultra series, industry insiders say it could have some design inspiration from the latest Kawasaki Ninja ZX-10RR motorcycle (pictured above).
In addition to the fresh take on Kawasaki green, the accenting of the front fairing around the ZX-10RR headlights could form part of the design theme for the front of the 2022 Kawasaki Ultra Jet Ski.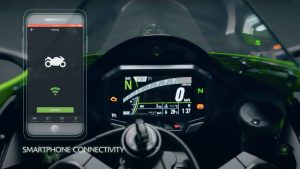 The ZX-10RR's digital dash could also make an appearance on the Ultra, though unlike the digital display on the Yamaha FX series (late 2019 onwards), the Kawasaki cluster is understood to not be a touchscreen and is controlled by buttons (as per the current Sea-Doo GTX 300 and Yamaha GP1800).
Watch the video below and see Kevin Shaw's comments for yourself, or skip to the 47-minute mark for the key reasons the 2022 Kawasaki Ultra Jet Ski could be worth the wait.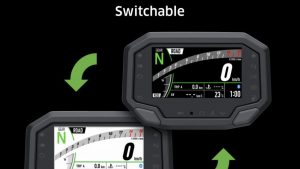 MORE: Follow us on Facebook so you don't miss any future updates
MORE: 2022 Kawasaki Ultra Jet Ski rumours so far
MORE: All our news coverage in one click
MORE: All our Kawasaki coverage in one click
MORE: All our Sea-Doo coverage in one click
MORE: All our Yamaha coverage in one click