What is it?
The Kawasaki STX 160 is the most affordable model in the Kawasaki Jet Ski range. It is a medium-sized, three-seater Jet Ski designed for leisure riders and those who are new to the sport.
Although the core structure and the hull design of the STX 160 have been manufactured unchanged since 2004, the top deck was completely redesigned in late 2019 as a 2020 model year.
In many regards, the Kawasaki STX 160 has put the manufacturer back on the map, by combining an accessible and user-friendly hull with a modern and practical top deck, which has more storage than most rivals in this price range.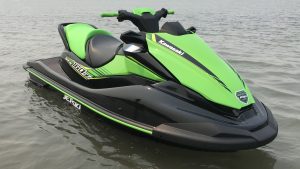 Engine 
The Kawasaki STX 160 is powered by a non-supercharged 1.5-litre four-cylinder engine with a claimed output of 160 horsepower. This engine is proven and reliable and has been used for more than a decade in this guise – in this hull and Kawasaki models.
How much does it cost?
There are two models in the Kawasaki STX 160 line-up, starting from $14,999 not including registration and trailer, and climbing to $16,799 for the STX 160LX with audio speakers, tiered seating, and a unique colour and trim combination.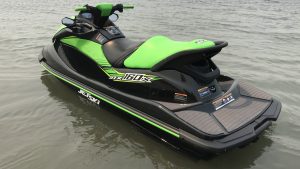 This watercraft would suit…
The Kawasaki STX 160 is a great Jet Ski for families and those who are new to the sport, although it is also popular with experienced riders who favour its fuel efficiency and long riding range.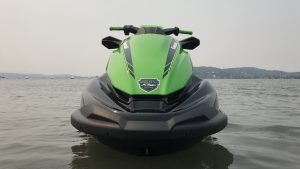 Pros
The Kawasaki STX 160 is one of the easiest Jet Skis and personal watercraft to ride in this price range and beyond. 
As a medium-size, three-seat, sit-down type Jet Ski, it has agile and nimble handling, but is also sturdy through medium chop.
The rider sits low in the craft, but this adds to its stability in turns and in rough conditions.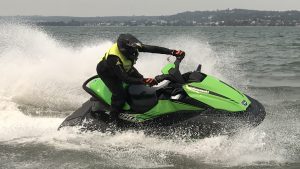 The 78-litre fuel tank (also shared with other Kawasaki models) is the largest in the personal watercraft category.
This generously-sized fuel tank combined with a comparatively fuel-efficient 1.5-litre engine delivers one the longest riding ranges in the business. The other other watercraft to come close would be the Sea-Doo Fish Pro.
The completely redesigned top deck provides among the most storage in the class, with ample room in the nose and centre console. A large flat rear deck makes it easy to climb aboard.
Kawasaki's industry-leading five-year warranty (introduced in Australia in June 2020) lasts longer than Yamaha's three-year warranty and Sea-Doo's standard two-year coverage.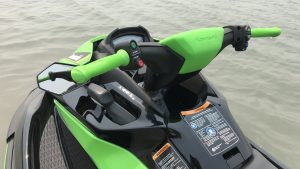 Cons
The Kawasaki STX 160 (and other Kawasaki models) have a reverse lever located on the centre console. The large lever is shaped similar to a handbrake, can be difficult to operate, and requires patience and practice.
On the Kawasaki, the rider engages reverse by grabbing this lever and steering the craft backwards to manouvre into position.
This system is not as easy to use as the reverse triggers on the left handlebar of modern Yamaha and Sea-Doo watercraft (intuitively, opposite the accelerator on the right handlebar). 
Sea-Doo introduced reverse triggers in 2010 and applied it to most models from 2011 onwards. Yamaha applied reverse triggers to most models from 2015.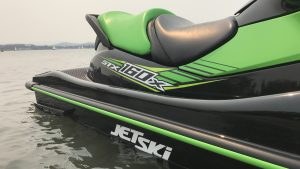 Fuel use
The Kawasaki STX 160 can run on regular unleaded but, as with most Jet Skis and personal watercraft, you will extract a little more riding range and a little more power with premium unleaded. It is also helpful to use premium unleaded if it's a long time between rides, as fuel degrades over time.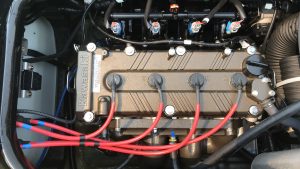 Servicing
After an initial check at the 10-hour mark, the Kawasaki STX 160 service intervals are 50 hours or 12 months, whichever comes first. Labour rates vary between dealerships but we have been quoted between $350 and $650 for routine maintenance, depending on what's required at each interval. Be sure to check with your local Kawasaki dealer.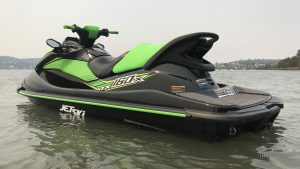 Warranty
Kawasaki has the longest factory warranty in the Jet Ski and personal watercraft industry. Kawasaki introduced five-year coverage in June 2020. By comparison, Yamaha offers a three-year warranty and Sea-Doo's standard warranty is two years.
Tips for flushing after each ride
It is recommended the Kawasaki STX 160 have a fresh water flush after each ride, especially after it has been in salt water. The fresh water flush should run for up to five minutes. To avoiding flooding, be sure the engine is running before you start the fresh water flush, and remove the hose before shutting down the engine. Consult your Kawasaki dealer for more details.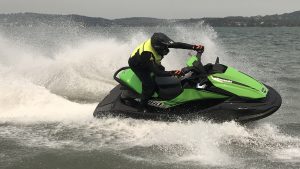 To sum up
The addition of a reverse trigger on the left handlebar would complete this watercraft and bring it bang up to date with most rivals. However, Kawasaki STX 160 owners say they quickly adapt to the operation of the large reverse lever on the console.
In summary, though, the Kawasaki STX 160 is a brand new top deck based on a proven hull, and powered by a proven engine. This is a really enjoyable and accessible Jet Ski to ride – regardless of experience – and will deliver hours on the water on a single tank.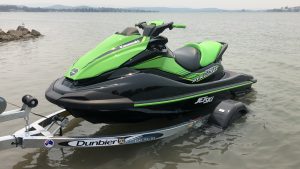 Compare with 
The Kawasaki STX 160 compares closest in size, performance and price to the Sea-Doo GTI series and Yamaha VX series. All three are ideal for those new to the sport, who want an easy-to-manouvre watercraft that's economical and easy to ride.
Review watercraft supplied by Newcastle Jet Ski Centre