What is it?
The Sea-Doo Fish Pro is the world's first dedicated fishing Jet Ski or personal watercraft. It was originally introduced in late 2018 as a 2019 model year but has been updated for 2020.
It is based on the largest three-seater model in the Sea-Doo range.
Unlike other personal watercraft, the Sea-Doo Fish Pro comes fully equipped ready to go, as a turn-key solution.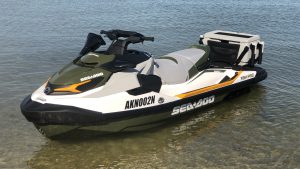 It comes standard with a fish finder and navigation unit, a larger cooler box with rod holders, a long range fuel tank, and the capacity for a spare fuel caddy and other accessories. Bluetooth audio speakers that are optional on other models are standard on Fish Pro models sold in Australia.
The Sea-Doo Fish Pro is based on the company's revolutionary ST3 hull, which has easy access to the front storage area because the handlebars lift up with the top of the centre console. On other watercraft, riders need to lean over the handlebars to access the front storage area when on the water.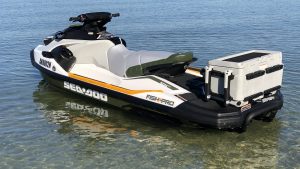 Engine 
The original Sea-Doo Fish Pro was powered by a non-supercharged 1503cc three-cylinder engine with an output of 155 horsepower. In late 2019, Sea-Doo released the 2020 model which came with a non-supercharged 1630cc three-cylinder with a claimed output of 170 horsepower. 
The larger capacity engine doesn't need to work as hard to produce its higher output. This is a relatively small engine for such a large watercraft, but it was chosen to provide maximum riding range for a day of fishing activities.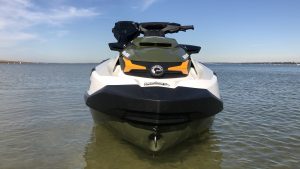 How much does it cost?
The 2020 Sea-Doo Fish Pro 170 costs $20,499 not including registration and trailer, which typically add $1500 to $2000 depending on fees in each state and the type of trailer selected.
Popular optional extras include a 15-litre fuel caddy ($200), a 20-litre removable storage box ($200), and an extra storage compartment that sits on top of the Fish Pro's 51-litre cooler box ($349).
New for 2021: cup and rod holders that can be mounted on the left or right side near the front console. They're $38 each and can be retro-fitted to earlier examples of the Sea-Doo Fish Pro.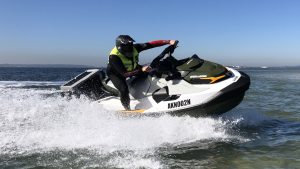 This watercraft would suit…
The Sea-Doo Fish Pro has been a huge hit with those new to the sport as well as experienced boaties who have not owned a Jet Ski or personal watercraft before.
The Sea-Doo Fish Pro is often used to navigate shallow waters and to troll in popular fishing spots at a more modest pace, with more precise speed control. However it is also popular with those who like to fish offshore in the open ocean.
This is a great watercraft for an entire family to enjoy, or to ride solo.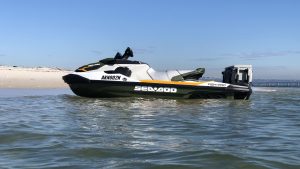 Pros
The Sea-Doo Fish Pro is a triumph of industrial design, and had direct input from fishing experts who were involved in the process from the very beginning.
The Sea-Doo Fish Pro was designed in part by an expert fisherman on behalf of fishing lovers around the world.
Andrew Hill from New Zealand had been fishing off Yamaha FX watercraft for years, making his own modifications.
When Sea-Doo heard about him – and the emerging culture of fishing off a Jet Ski or personal watercraft – the company invited him to consult on the design of the Fish Pro.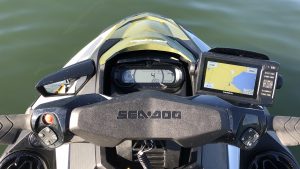 The flat seat makes it easy to swing from side to side while fishing, the grippy side steps prevent the top deck from being scratched and also provide balance when trying to reel in a catch, and the Garmin fish finder and nav unit come installed from the factory.
The 51-litre cooler box has a grip mat, etched markings for a ruler (to make sure under-size fish are let off the hook), and four rod holders.
There is also space on the deck between the rear seat and the cool box for accessories such as the optional 15-litre fuel caddy, or a choice of two removable bags.
Based on Sea-Doo's revolutionary ST3 hull, there is easy access to the large front storage area, because the handlebars lift up with the centre console.  
The audio speaker provides good sound but is best to use when the watercraft is stopped, as wind noise blows out the sound at speed.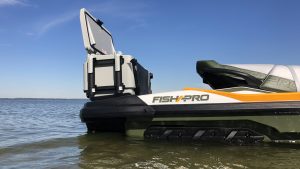 Cons
The large foot wells provide plenty of wriggle room – and your feet are less likely to get caught, unlike some other watercraft – but the Fish Pro can become cumbersome at low speeds or when idle if either or both foot wells fill with water.
In some cases the craft can become unstable, but this can be fixed with a quick blast of the throttle, which will easily spill the water out of the footwells.
When wet, the rubber foot mat material is more slippery than material used on other watercraft.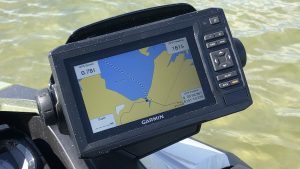 And while the Sea-Doo Fish Pro (and other Sea-Doo models based on the ST3 hull) are strong performers in medium chop and open water, the hull can list in certain conditions and get pushed around a little when running diagonally across waves – more so than other watercraft of this size.
The hull at times feels 'slippery' in choppy conditions and doesn't quite track or have the same bite as other watercraft of this size and in this price range.
However in calm conditions to medium chop, the Sea-Doo Fish Pro is a stable ride.
The wedged shape of the hand-grips can push your thumbs close to the plastic housing that fits around the handlebars. This can cause blisters in the web of your thumbs, even when wearing thick gloves.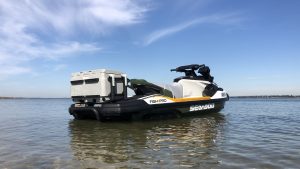 Fuel use
The Sea-Doo Fish Pro 170 can run on regular unleaded but premium unleaded will provide a little more range and power. The 70-litre fuel tank combined with the relatively efficient 1630cc non-supercharged three cylinder engine will be more than enough for a day on the water for most riders.
We have seen some riders get up to 170km out of a tank, however that was riding solo in calm conditions at moderates speeds. Repeated rapid acceleration, extends high speed runs, towing and carrying extra passengers and equipment will dramatically reduce fuel range.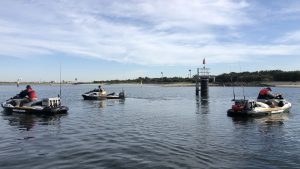 Servicing
The service intervals for the 2020 Sea-Doo Fish Pro 170 are 50 hours or 12 months, whichever comes first. Some dealerships also like to carry out an inspection of the watercraft at the 10-hour mark.
The cost of routine maintenance ranges from $350 to $450. Check with your Sea-Doo for a quote depending on what's required at the time.
Most Jet Skis and personal watercraft do an oil and filter change at every service and a spark plug change with every other visit. Service costs can rise as the age of and hours on the craft increase.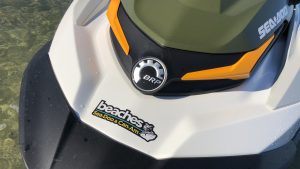 Warranty
The 2020 Sea-Doo Fish Pro 170 is covered by a two year factory warranty, versus three years coverage for Yamaha and five years for Kawasaki. However, Sea-Doo often runs monthly promotions offering a three-year warranty, so be sure to check.
Tips for flushing after each ride
The Sea-Doo Fish Pro 170 requires special attention when flushing the watercraft after a ride. To avoid damage to the carbon seal (which can overheat when the engine is run for too long while the craft is not submerged in water) it is important to only flush the Sea-Doo Fish Pro 170 for between 90 seconds and two minutes. 
To avoiding flooding, be sure the engine is running before you start the fresh water flush, and remove the hose before shutting down the engine. For more detailed instructions, check with your local Sea-Doo dealer.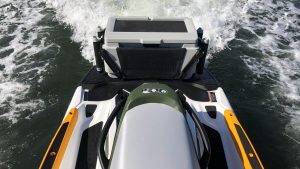 To sum up
The Sea-Doo Fish Pro 170 is an incredibly well thought out watercraft and one of the most innovative designs in more than a decade. Although it is aimed at fishing enthusiasts, it is also intended to appeal to recreational riders and families. This is a really easy-to-ride and accessible watercraft, popular with experienced riders and first timers.
Compare with 
The Sea-Doo Fish Pro 170 has no direct ready-to-go rival, however it compares closest in size and price to the Yamaha FX HO, which can be optioned with aftermarket fishing accessories.
Review watercraft supplied by Beaches Sea-Doo & CanAm