What is it?
The 2020 Yamaha EXR is the company's entry-level performance watercraft. It was introduced in late 2018 as a 2019 model year and has had colour and trim changes since then.
The EX series was introduced in late 2016 as a 2017 model year, but the EXR has a more powerful engine and a lighter hull (trimming overall weight from 272kg to 240kg). This makes it one of the lightest and most nimble watercraft on the market.
The Yamaha EXR is well known for its accessibility and easy manouvreability, and is light and agile to operate.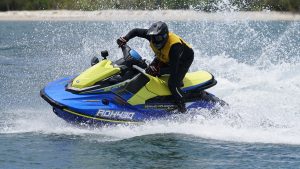 Engine
The Yamaha EXR is powered by a 1049cc three-cylinder engine. Although Yamaha does not customarily provide power numbers for its WaveRunners, the EXR is said to have 110ps / 81kW , which is up from 101ps / 71kW on the rest of the EX range.
How much does it cost?
The Yamaha EXR costs from $12,599 not including registration and trailer. There are few accessories, though a wet storage bag designed to attach to the rear of the craft is available. Trailer and registration usually add between $1500 and $2000, depending on fees and the type of trailer.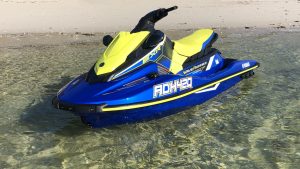 This watercraft would suit…
Although it is considered a performance watercraft, the Yamaha EXR is also ideal for those new to the sport.
It is intuitive to ride and would help young riders – and the young at heart – to quickly develop their watercraft skills.
The Yamaha EXR responds well to rider input and balance, and has very responsive controls, including a reverse trigger.
It is popular among novice and experienced riders alike.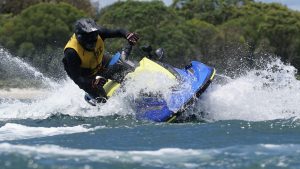 Pros
The Yamaha EXR is so nimble and easy to ride it feels like an extension of your body. We've said that about other watercraft, but this is also true of the Yamaha EXR.
While it is next to impossible to stay completely dry on any watercraft – especially when you're having fun – there's every chance you will get soaked on the Yamaha EXR.
It is so easy to lean over and turn on a tight axis, the Yamaha EXR will keep you amused for hours – or for as long as your arms can hold up.
The engine is fuel efficient – and perky – in this lighter hull.
The glovebox is large enough to be able to store a small towel, a tube of sunscreen and a large smartphone in a waterproof case. There is also slim underseat storage.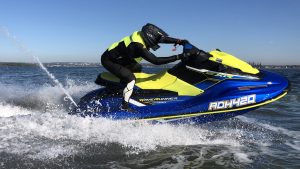 Cons
The storage area in the nose is small and not water tight, but still handy. 
There is no height adjustment in the handlebars, and no trim adjustment for the jet pump. 
The fuel cap located on the nose can make it difficult to refuel on the water – and to avoid water spilling into the fuel filler neck when the cap is off to refuel.
That said, few people refuel on water in this class of watercraft – and the Yamaha EXR is so efficient, you may run out of energy before you run out of juice.
There is no cruise control or "no wake" mode, so you have to moderate your speed with the accelerator trigger – and check your speed against the digital instrument display.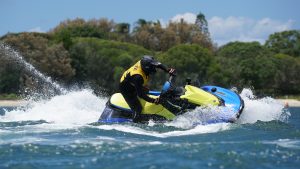 Fuel use
The Yamaha EXR can run on regular unleaded. With a 50-litre fuel tank in such a light watercraft, it has above average riding range. 
You will likely be exhausted before you're out of fuel. Premium unleaded is recommended if you want to extract a little more range and a little more performance.
Premium unleaded is also preferred if the watercraft is used infrequently and remaining fuel is left in the tank for months between rides.
As with all watercraft, carrying more than one person – or repeated acceleration and extended top speed runs – will consume fuel at a faster rate than when riding solo at moderate speeds.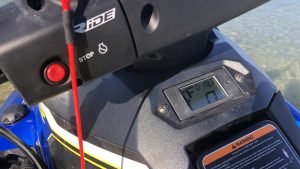 Servicing
Service intervals are 12 months or 100 hours, whichever comes first. Labour rates are average because the EXR engine bay is relatively accessible. 
A routine service should cost between $250 and $450, but be sure to check with your individual dealer.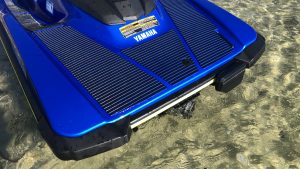 Warranty
All Yamaha WaveRunners have a three-year warranty versus two years for Sea-Doo and five years for Kawasaki.
Tips for flushing after each ride
Unlike other watercraft which can have a time limit on how long you should carry out a fresh water flush, the Yamaha EXR can be flushed for up to three minutes. This is recommended especially after riding in salt water. 
To avoiding flooding, be sure the engine is running before you start the fresh water flush, and remove the hose before shutting down the engine. Consult your Yamaha dealer for more details.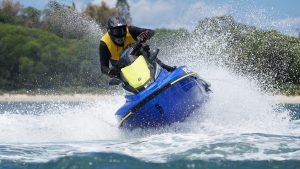 To sum up
The Yamaha EXR is an absolute blast. Its colour scheme and overall design may seem playful, but this is a capable, fun, and easy-to-ride watercraft.
Compare with 
The Yamaha EXR compares closest in size, performance and price to the Sea-Doo Spark Trixx. Due to their playful ability, both are enjoyed by experienced riders and those new to the sport, who want an easy-to-manouvre watercraft that's economical and easy to ride.
Review watercraft supplied by Yamaha Marine Australia