What is it?
The Sea-Doo Spark Trixx is based on the hugely popular Sea-Doo Spark which introduced a sub-$10,000 entry price to the modern Jet Ski and watercraft market when it went on sale in 2014. 
The Sea-Doo Spark Trixx was added to the line-up in 2018 and is unique in the watercraft industry because it can perform "wheel stands" like a motorcycle, pointing its nose almost vertically in the air. 
This is made possible by a deck extension, two foot wedges at the rear (for balance), and a clever extended trim system which changes the angle of the jet pump nozzle.
When the nozzle is pointed in its most upward position – and when the rider is balanced correctly on the rear foot wedges – the nose of the craft points upwards after a quick blast of the throttle.
Of course, when not in stunt mode, the Sea-Doo Spark Trixx is a fun-size watercraft that's enjoyed by highly experienced riders and first-timers alike.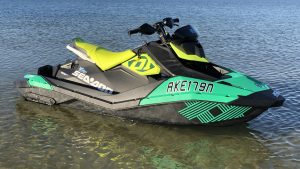 Engine
The Sea-Doo Spark and Trixx are powered by an 899cc three-cylinder Rotax engine, available with two power outputs: 60 or 90 horsepower. All Sea-Doo Spark Trixx models (both two- and three-seaters) are powered by the 90 horsepower version.
How much does it cost?
The regular Sea-Doo Spark range starts from $7999 not including registration and trailer but the cheapest ticket into a Spark Trixx is $11,499 for a two-seater and $12,399 for a three-seater.
Popular accessories include a front wet storage area (RRP $222), a detachable Bluetooth speaker system (RRP $700 plus $50 for the support base bracket) and there is a range of stickers and panels available in different colours for extra personalisation.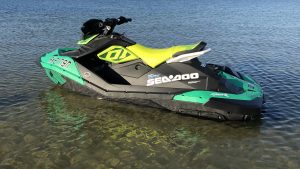 This watercraft would suit…
The Sea-Doo Spark and Spark Trixx might have an entry level price – and it is one of the most accessible watercraft for those new to the sport – but this model is also popular with highly experienced riders.
Novices will enjoy its easy manoeuvrability, and it is genuinely a great craft to develop your skills, as it responds well to rider input.
Experienced riders love it because they have total control over this light and agile craft and use it for stunts and wave jumping.  
This watercraft would suit riders withall levels of experience.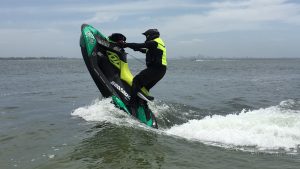 Pros
An affordable entry price means the Sea-Doo Spark Trixx won't cost the earth, especially if you're not going to use it every weekend.
It is simple to operate, easy to ride and is a cinch to use in novice hands. For experienced riders, the Sea-Doo Spark Trixx will feel like an extension of their body, so accurate is its handling at low to medium speeds. 
Its three-cylinder engine is hugely economical and riders will likely be exhausted before the tank runs dry.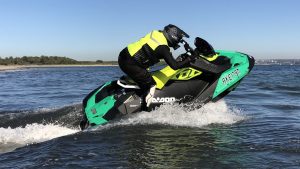 Cons
No modern Jet Skis or personal watercraft have a completely "dry ride", but you're definitely going to get drenched riding the Sea-Doo Spark Trixx. 
The open top deck design does little to deflect spray, but because you sit low, you're always close to the action – and the water.
Being so light, it's easy to lean the craft over, getting the rider soaked in the process.
There is limited storage in standard guise, and the glovebox is not large enough to store a large smartphone in a waterproof case. Note: the most basic Spark models do not come with a reverse trigger as standard, so be sure to check if it's an option on the particular version you're interested in.
However, there is an optional wet storage compartment which can be fitted to the nose of the craft, but it's not ideal to keep a towel, for example, because that section is also prone to getting wet.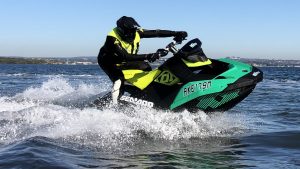 Fuel use
The Sea-Doo Spark and Trixx can run on regular unleaded. However, premium unleaded will deliver a little extra range. Premium unleaded is also preferred if the watercraft is used infrequently and any remaining fuel is left in the tank for months between rides.
The fuel tank capacity is modest at 30 litres, but this will be enough for most riders to enjoy a day on the water. Carrying more than one person – or repeated acceleration and top speed runs – will consume fuel at a faster rate than when riding solo at moderate speeds.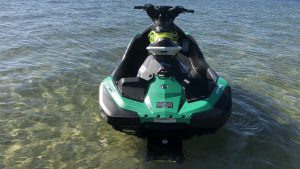 Servicing
Service intervals are 12 months or 100 hours, whichever comes first. Because the Sea-Doo Spark Trixx has a largely closed-in body, labour costs are a touch dearer than for other brands of watercraft because technicians need to remove panels to access the serviceable components. 
Check routine servicing costs with individual Sea-Doo dealers, but budget on around $250 to $450 per service, depending on what's required.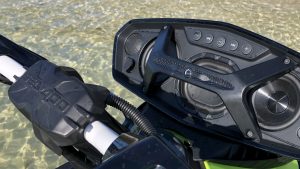 Warranty
Sea-Doo offers a two-year factory warranty versus three years for Yamaha and five years for Kawasaki. However, Sea-Doo regularly offers three-year warranty during monthly promotions, so be sure to check the website before you buy.
Tips for flushing after each ride
It is recommended to flush the Sea-Doo Spark and Trixx for between 90 seconds and two minutes after each ride. 
Although models made from 2014 to 2020 do not have a carbon seal, it is recommended not to flush for longer than two minutes, to reduce the risk of engine overheating.
To avoiding flooding, be sure the engine is running before you start the fresh water flush, and remove the hose before shutting down the engine. For more detailed instructions, check with your local Sea-Doo dealer.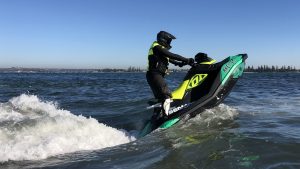 To sum up
The Sea-Doo Spark and Sea-Doo Spark Trixx are among the most fun for the money, delivering a range of watercraft options at an affordable price.
Compare with
The Sea-Doo Spark range compares closest in size and price to the Yamaha EX series. The Sea-Doo Spark Trixx compares closest to the Yamaha EXR performance model. Kawasaki does not currently have a Jet Ski in this size and price range, however its entry model is the Kawasaki STX 160.
Review watercraft supplied by Cronulla Sea-Doo & Can Am