What is it?
The Sea-Doo RXT-X RS 300 is one of the fastest Jet Skis and personal watercraft on sale in Australia with an estimated top speed of 125kmh in ideal conditions.
It is the first to be fitted with "launch control" for a super-quick start (although you must be in the right mode to activate this function). 
This generation of the RXT-X RS 300 went on sale in 2018 as a 2019 model year and is a completely new design from the ground up.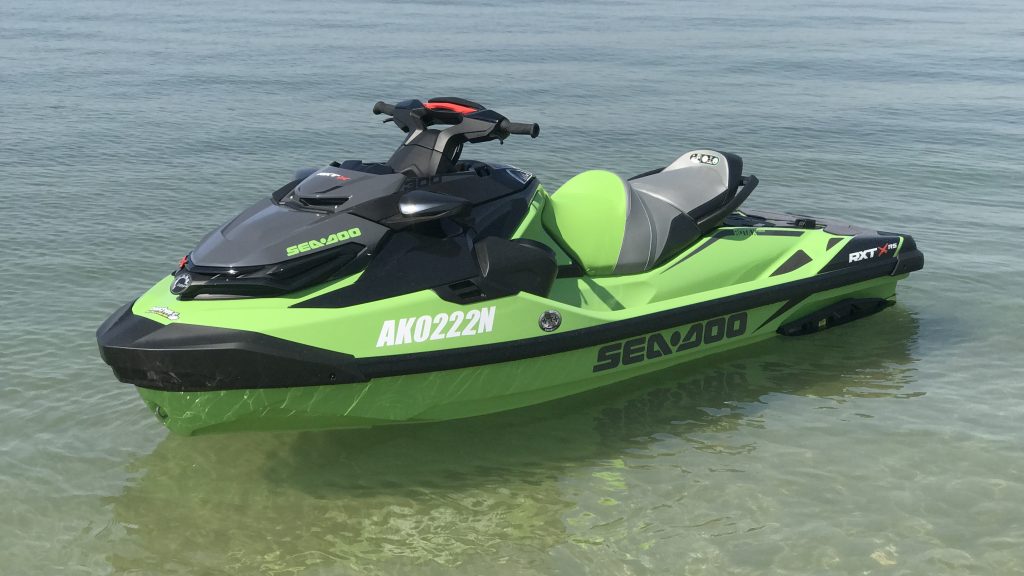 It is part of Sea-Doo's ST3 hull family, which is Sea-Doo's largest premium hull and deck combination. 
Changes for 2020 amounted to new colour and trim combinations and the standard fitment of a 70-litre fuel tank (rather than the 60-litre fuel bladder fitted to 2019 models).
When it arrived in late 2018, the Sea-Doo RXT-X RS 300's ST3 deck and hull revolutionised the watercraft industry with a new way to access the front storage area. 
Rather than the rider leaning over the handlebars to access the front hatch (as per Yamaha and Kawasaki), the handlebars lift up with the top console, providing easy access to a large storage area.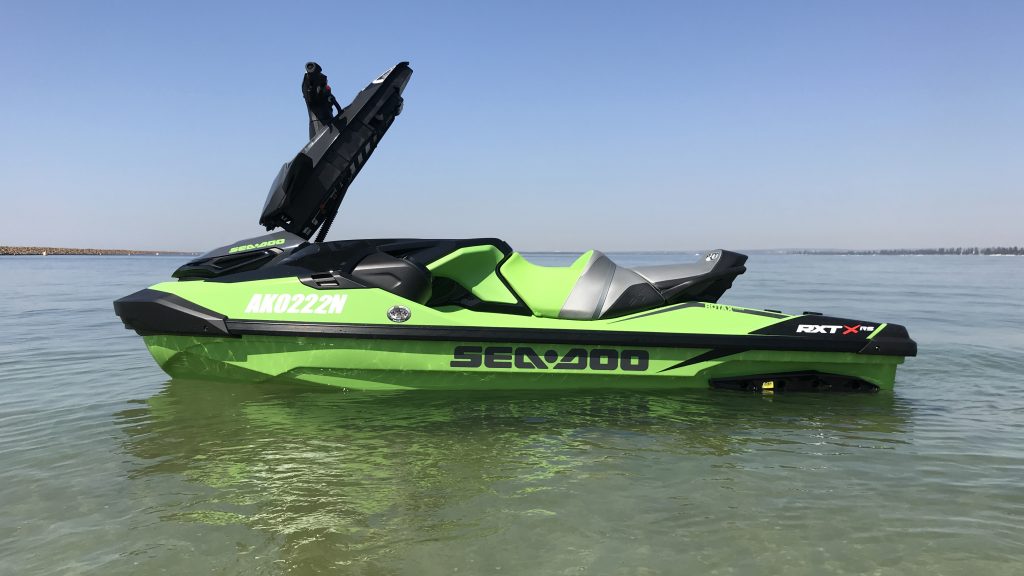 Engine 
The Sea-Doo RXT-X RS 300 is powered by a supercharged 1630cc three-cylinder Rotax engine. 
Sea-Doo claims it produces 300 horsepower, making it the second most powerful watercraft on sale after the Kawasaki Ultra 310 (which has a claimed 310 horsepower). Yamaha does not make a horsepower claim for its supercharged WaveRunners.
This is to date the most powerful variant of this Sea-Doo engine out of the factory.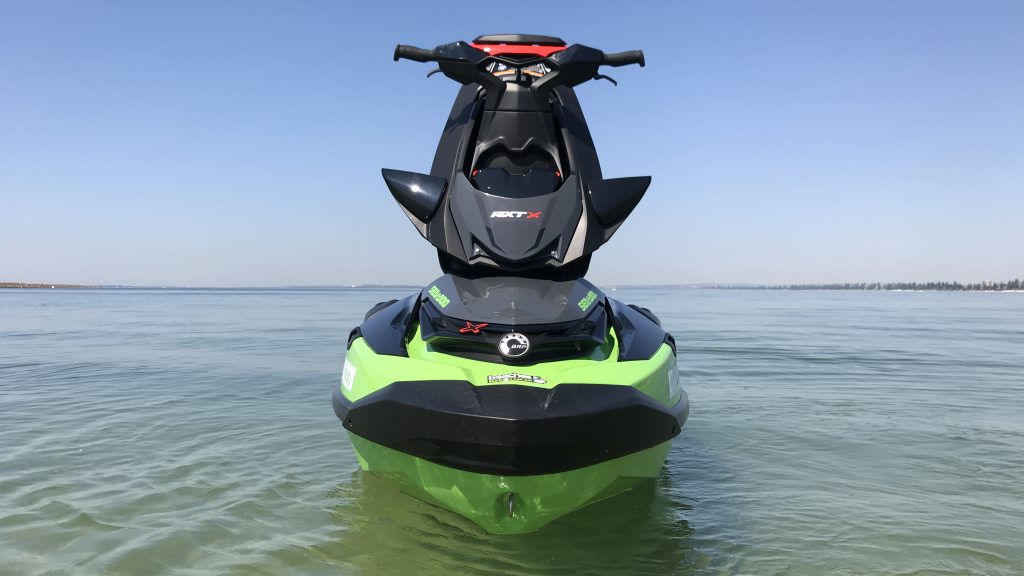 How much does it cost?
The 2020 Sea-Doo RXT-X RS 300 costs from $26,399 not including registration and trailer, which typically adds $1500 to $2000 depending on the quality and type of trailer and state registration fees.
This represents a price rise of $2300 on the previous model year, but Bluetooth audio speakers (previously an $800 option) are standard on the 2020 model, and there is no extra cost for the choice of colours (previously a $300 option). The 2020 model year also gained a larger, 70-litre fuel tank in place of the 60-litre fuel bladder.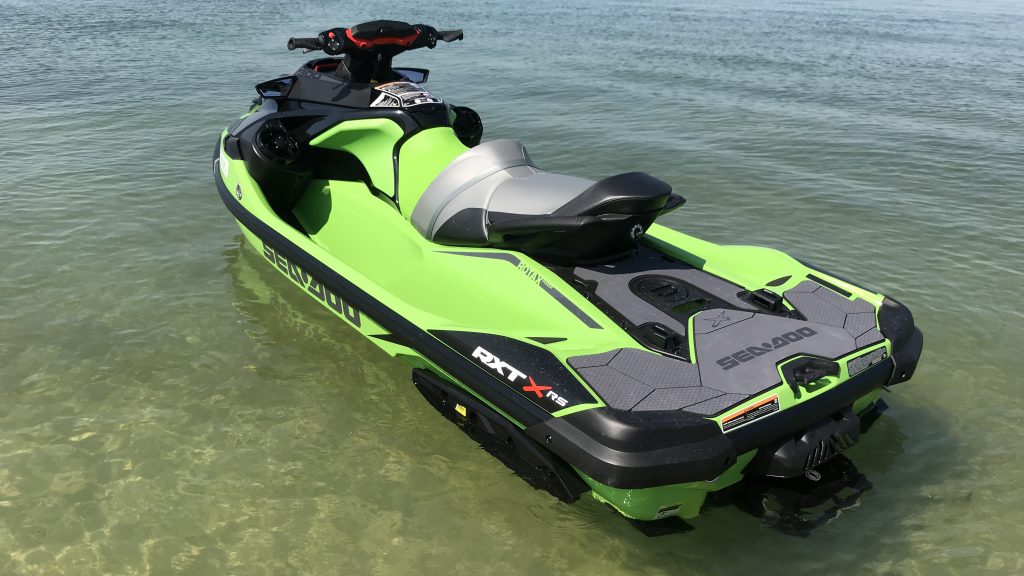 This watercraft would suit…
The Sea-Doo RXT-X RS 300 suits experienced riders and thrill seekers due to its sheer performance. 
However, it would also suit riders who are new to the sport; they can step up gradually with the "speed key" that comes with each watercraft, as their skills progress. 
You can start on the speed-limited key before building up to speed key that unlocks wide open throttle.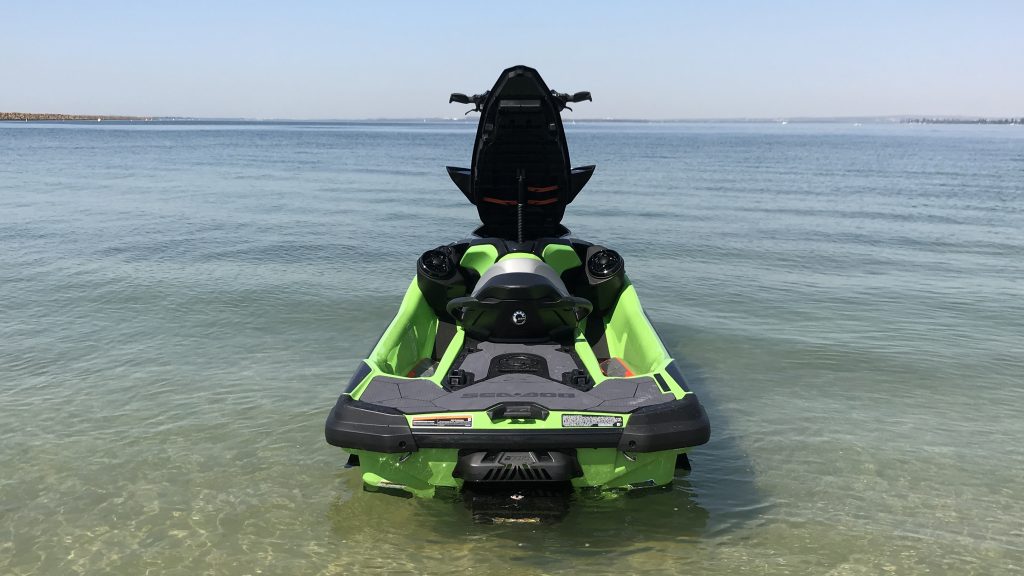 Pros
The Sea-Doo RXT-X RS 300 has one of the most user-friendly top-decks in the personal watercraft market.
There is easy access to a large storage area in the nose (available with optional mesh storage pockets), plus a waterproof glovebox to store a phone and other valuables.
The audio system has a premium sound, though is more useful at low speeds or when stopped.
The digital instrument display includes a distance-to-empty meter (a rarity in the watercraft class and, for now, exclusive to Sea-Doo), as well as a GPS-based speedometer and an accurate fuel gauge.
The RS badge signifies an unrestricted top speed (about 125kmh in ideal conditions); models sold in the US are limited to about 110kmh.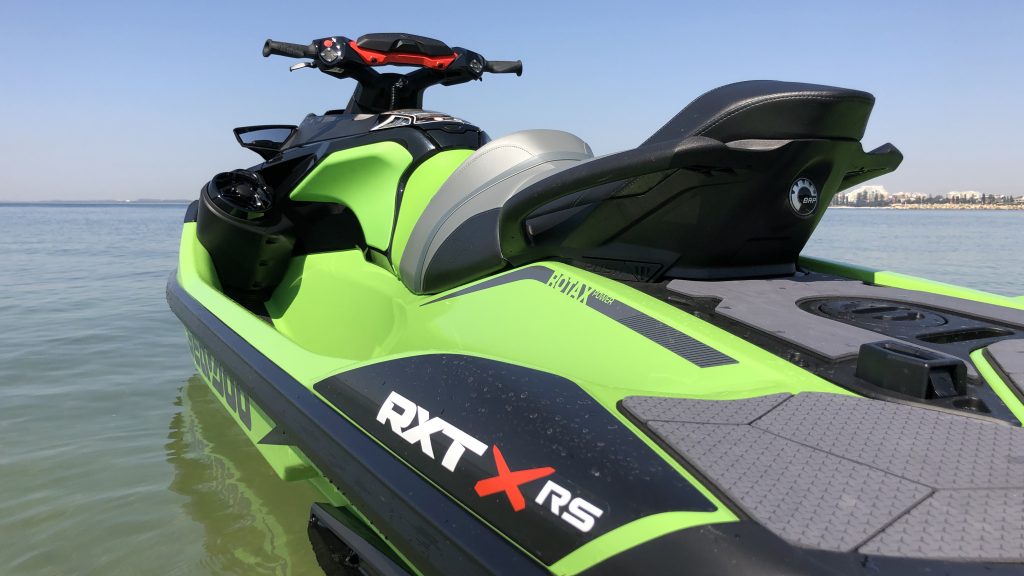 This is a large and sturdy craft and ideal for carrying one or two passengers. However, as with all sit-down watercraft it is more nimble when operated solo. 
A large 70-litre fuel tank provides a decent about a range for a day of riding.
The large rear deck can accomodate a range of Sea-Doo accessories including a cooler box and a 15-litre fuel bladder.
The seats are comfortable and narrow, so you're less likely to get leg abrasions after a long day on the water.
The digital instrument displays also pivots to the same angle as the handlebars, making it easy to see. On other watercraft, handlebars in their highest position can obscure the dash display.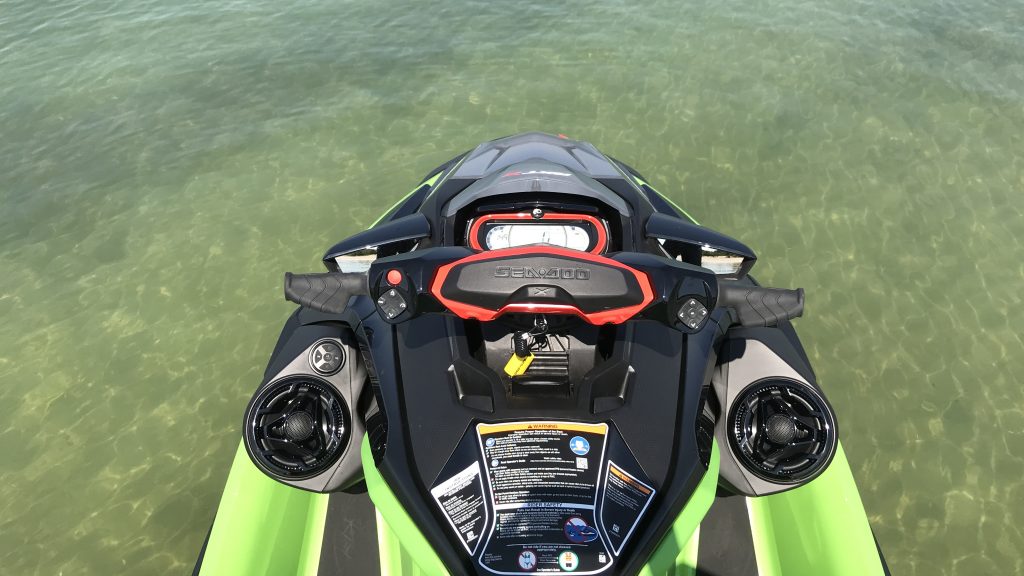 Cons
The large footwells can fill with water. This can be resolved with a quick blast of the throttle when you're on the water, however when you're cleaning the craft you may wish to invest in a wet vacuum. Even tilting a trailer is not enough to clear all the water out of the footwells.
The handlebar height adjustment has plastic notches, which can slip out of position after a decent bump.
The waterproof glovebox is excellent but a slightly larger cubbie would be welcome.
The grip mats in the foot well are slippery compared to those on the Yamaha and Kawasaki. A rear boarding step is optional.
The bulging hand grips can cause blisters, even when wearing decent gloves.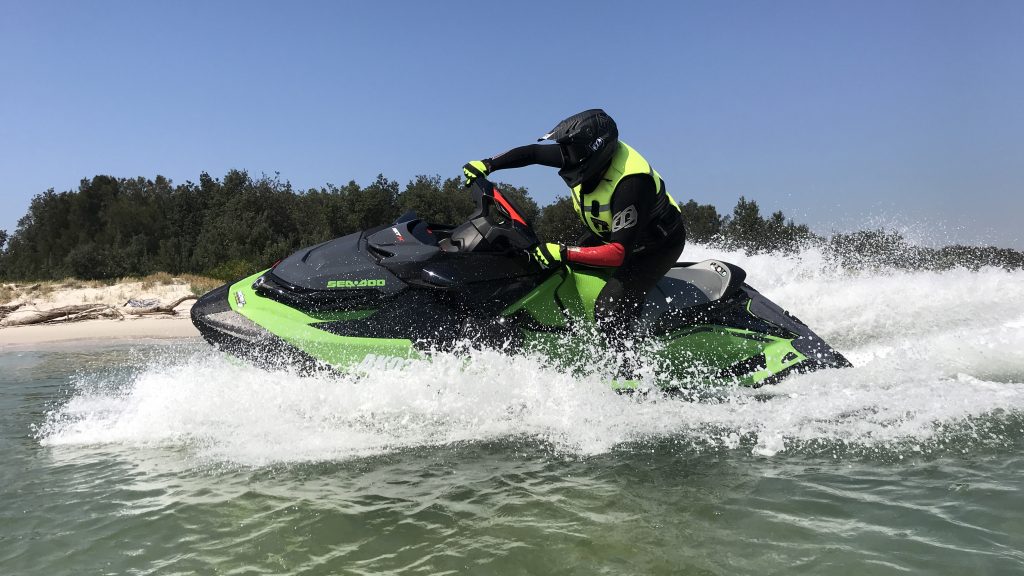 What's it like to ride?
The Sea-Doo RXT-X RS 300 is at home in small to medium chop and is stable at high speeds in flat water.
It launches cleanly and faster than most other supercharged watercraft (which can cavitate as the jet pump struggles for 'grip'), especially when the Sea-Doo RXT-X RS 300 is in launch control mode and in the correct trim setting.
Power delivery is smooth and instant, and top speed is a genuine 120kmh-plus in ideal conditions (depending on water temperature, current, chop, rider weight, and fuel load).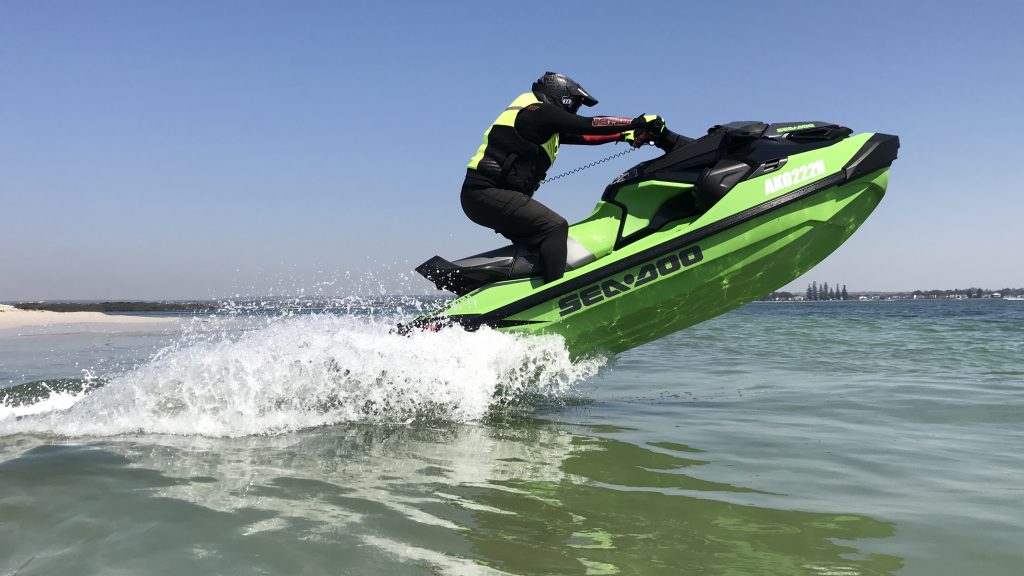 At low speeds it's not quite as manoeuvrable as similarly-sized rival watercraft. It needs about 30kmh-plus on board and a bit of a lean before the sponsons bite in tight turns.
In big swell the nose of the deep V hull can get pushed around a bit when cutting across waves at an angle.
In general, though, this is a highly capable watercraft with excellent performance. It is best suited to flat water and medium chop rather than ocean riding.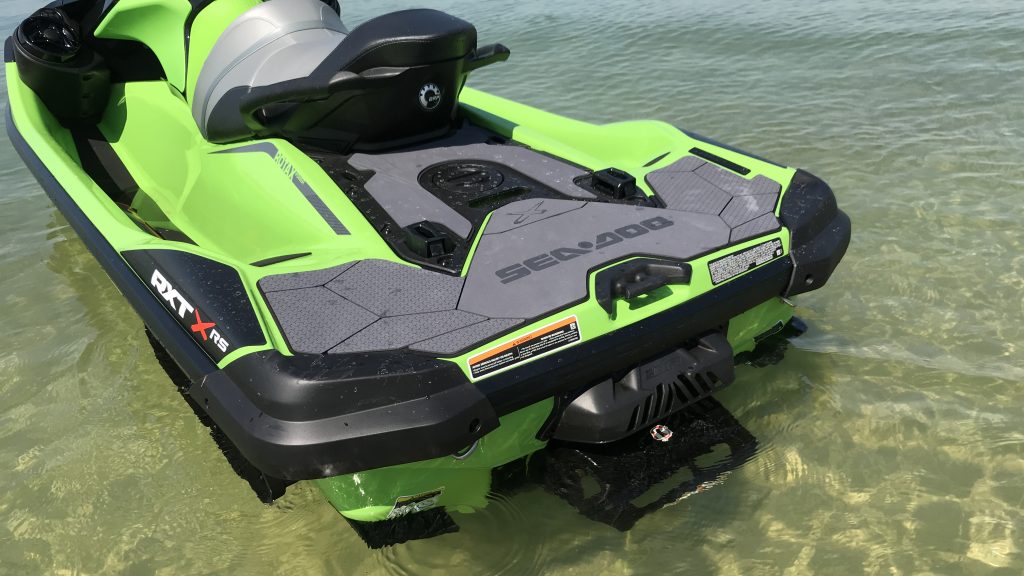 Fuel use
According to the brochure, the Sea-Doo RXT-X RS 300 can run on regular 91 octane unleaded, however 95 or 98 octane premium is recommended for slightly better fuel range and slightly more power.
It is also helpful to run better quality fuel on watercraft used infrequently, as fuel goes "stale" over time.
In our testing the Sea-Doo RXT-X RS 300 used about 55 litres per 100km at moderate throttle in open water.
Repeated hard acceleration, extended periods of wide open throttle, towing, and carry extra passengers will dramatically increase fuel use.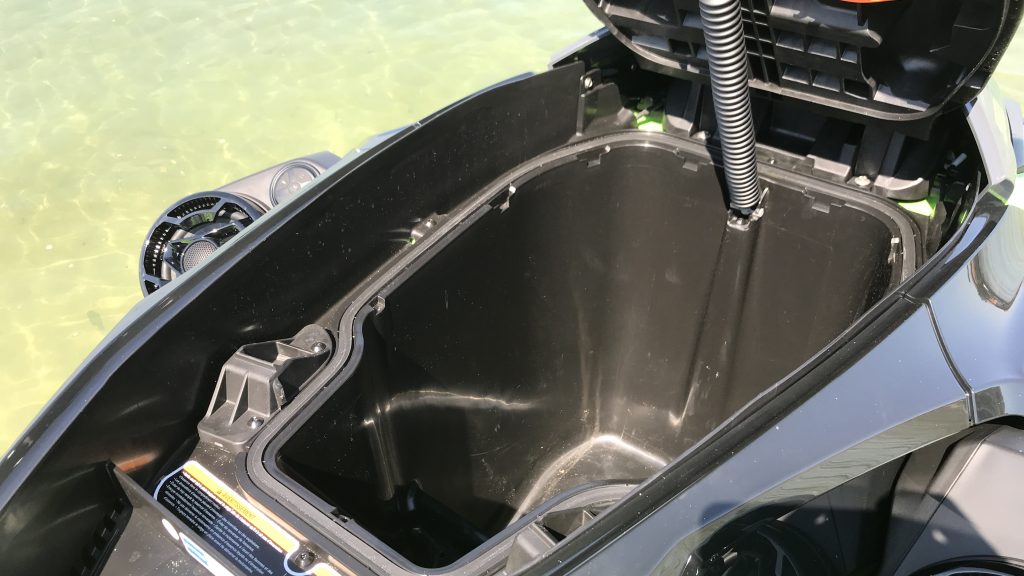 Servicing
Sea-Doo recommends a first service at 10 hours (unlike the free first service inspections for cars, there is a cost for this), in which the oil and oil filter are changed and the watercraft is given a detailed safety check.
From there, routine service intervals are 12 months or 50 hours, whichever comes first (versus 12 months / 100 hours for Yamaha and 12 months / 25 hours for supercharged Kawasaki models). 
However, as with all watercraft, it is advisable to service before and after each riding season (six month intervals), to avoid excessive corrosion around the oil filter, and to make sure it's ready to ride at a moment's notice.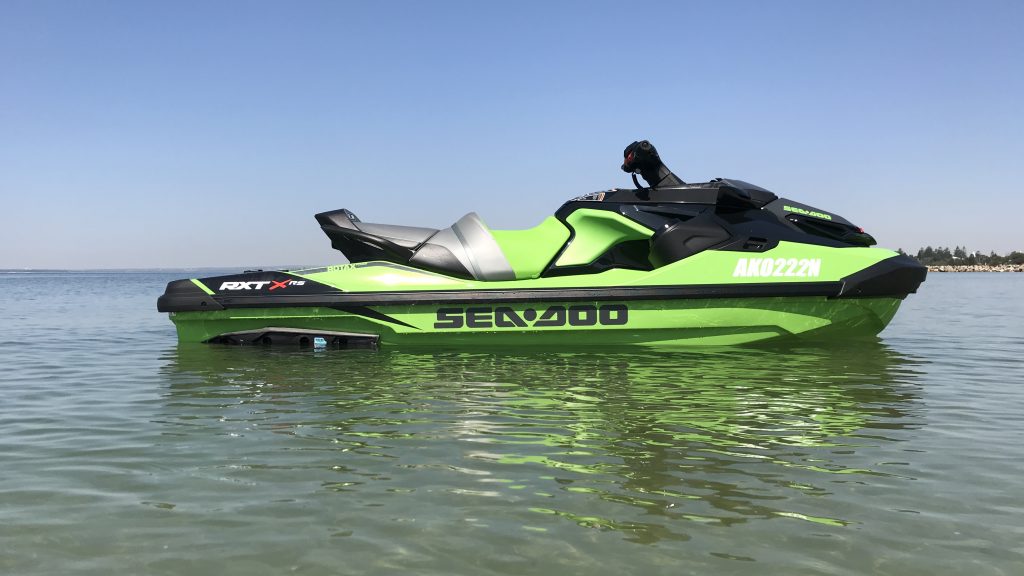 Warranty
The Sea-Doo RXT-X RS 300 is covered by a two year factory warranty (versus three years for Yamaha and five years for Kawasaki). However, it is worth noting Sea-Doo regularly runs promotions which offer longer warranty periods, so be sure to check.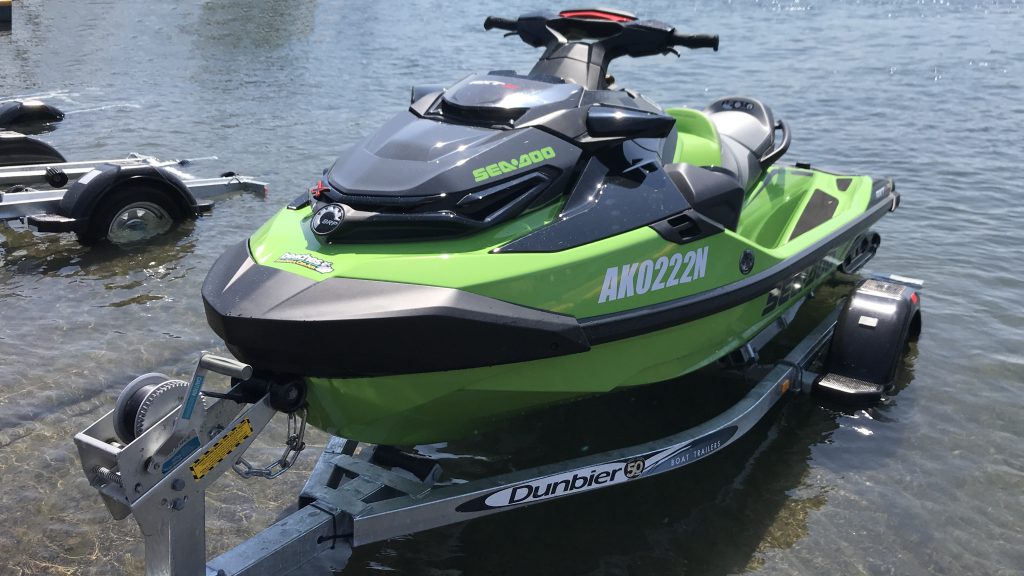 Tips for flushing after each ride
The Sea-Doo RXT-X RS 300 requires special attention when flushing the watercraft after a ride. To avoid damage to the carbon seal (which can overheat when the engine is run for too long while the craft is not submerged in water) it is important to only flush the Sea-Doo RXT-X RS 300 for between 90 seconds and two minutes. 
To avoiding flooding, be sure the engine is running before you start the fresh water flush, and remove the hose before shutting down the engine. For more detailed instructions, check with your local Sea-Doo dealer.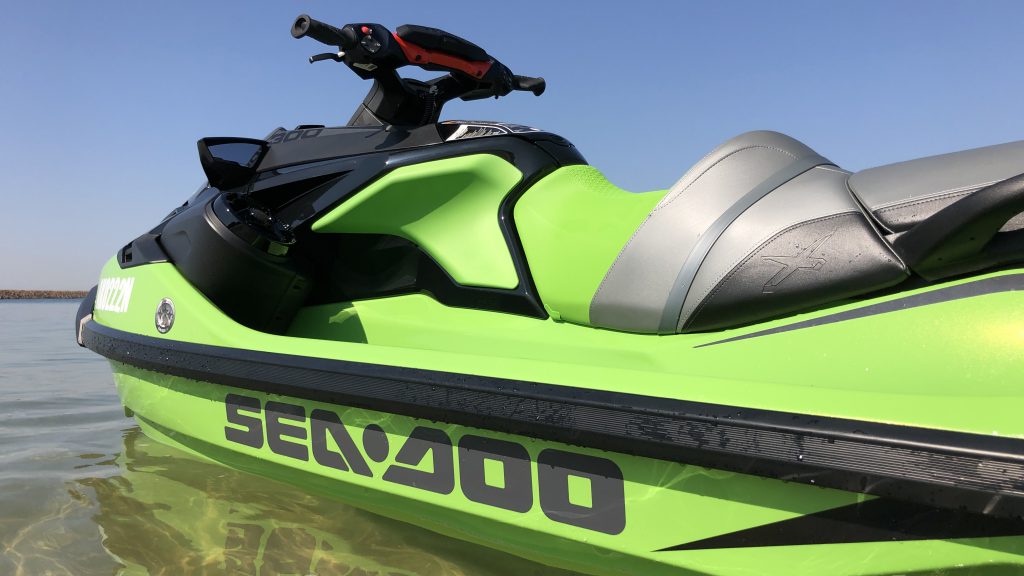 To sum up
The Sea-Doo RXT-X RS 300 is a flagship performance watercraft that blends comfort with speed. The practical layout of the top deck and controls make it one of the most user-friendly watercraft in the class.
Compare with
The Sea-Doo RXT-X RS 300 compares closest in size, performance, and price to the Yamaha FX SVHO and Kawasaki Ultra 310.
Review watercraft supplied by Beaches Sea-Doo And Can-Am