What is it?
The 2020 Yamaha GP1800R SVHO is the flagship high performance watercraft in the Yamaha WaveRunner range.
It is a mid-size, three-seater model which combines Yamaha's most powerful engine with its one of its most nimble hulls.
In production and modified classes, the Yamaha GP1800R SVHO has clocked up numerous championships in Australia and the US.
Yamaha revived the famous GP1800 nameplate after fitting its supercharged 1.8-litre four-cylinder marine engine into the mid-size VX deck and hull.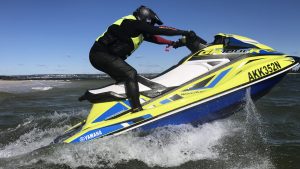 While this generation Yamaha VX series went on sale in 2014, the GP1800 wasn't introduced until 2017.
However, it has undergone changes each year since then. In late 2018 as a 2019 model year it received a slight name change to GP1800R, which coincided with the introduction of a new ride plate and a new top-loader intake grate.
Those changes were designed to improve overall handling, and make the GP1800R "grip" better in chop and on take-off.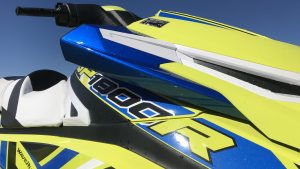 In late 2019 as a 2020 model year, Yamaha changed the name again. Called the Yamaha GP1800R SVHO, it gained a loud yellow and blue colour scheme, and switched to a single-piece impeller housing which, when combined with the changes from the prior model year, Yamaha says increases power by 20 per cent.
The addition of the SVHO acronym (Super Vortex High Output) brought the GP1800R into line with other Yamaha supercharged models that also wear the SVHO label.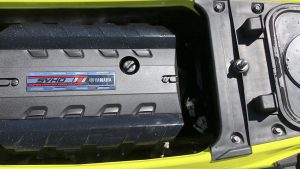 Engine 
The GP1800R SVHO is powered by Yamaha's supercharged 1.8-litre four-cylinder marine engine. While Yamaha makes no claim for its power output, it is the largest capacity engine in the personal watercraft class.
Its performance is similar to 300 horsepower supercharged Sea-Doo models and 310 horsepower supercharged Kawasaki models.
How much does it cost?
The 2020 Yamaha GP1800R SVHO costs $22,499 not including registration and trailer, which typically adds between $1500 and $2000 depending on registration fees in each state, and the quality of the trailer.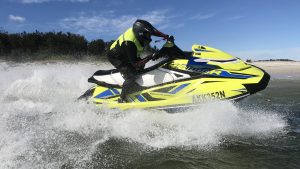 This watercraft would suit…
The 2020 Yamaha GP1800R SVHO is designed for experienced riders and thrill-seekers alike. It is better suited to flat water and medium chop, but experienced riders can successfully conquer rough conditions and open water. 
With a lot of power in a compact package, this is the hot hatch of the personal watercraft industry. 
The lightweight and nimble hull design give the 2020 Yamaha GP1800R SVHO an agility that's rare in a watercraft with this level of performance. You will need to hold on tight.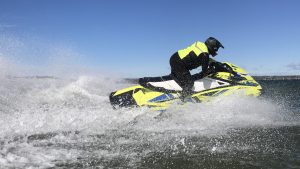 Pros
Championship-winning performance. This is a lot of power in a relatively small package. The hull design is nimble for super-tight turns and made from Yamaha's lightweight NanoXcel 2 bonded fibreglass material.
The redesigned ride plate and intake grate (introduced in 2018 as a 2019 model year) and the new single-piece impeller housing (introduced in 2019 as a 2020 model year) were designed to improve performance, particularly in choppy water and on take-off.
Although the jet pump diameter is still the same (160mm in and 155mm out), Yamaha says the new "hyper-flow" design and more efficient intake grate produces "20 per cent more power than its predecessor".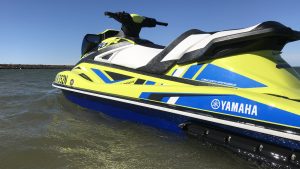 The single piece impeller housing (or duct) is also cheaper to replace if it gets damaged, cutting replacement cost by about half.
There is a generous storage area in the nose, and the glovebox is large enough to store two water bottles and a smartphone, though this is not a waterproof cubbie. There is, however, a water-tight storage box under the rider's seat.
The large flat rear deck and boarding rail make it easy to climb back aboard.
The fuel filler cap is located up high, under the cover for the front storage area.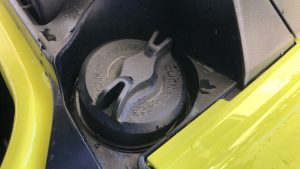 Cons
The handlebars are not height adjustable and there is no storage in the stern (as per the Yamaha FX series).
The front storage compartment nose cover is not damped (as per the Yamaha FX and Sea-Doo ST3 hull), which means you need to awkwardly hold it up while you load and unload gear.
Cruise control and 'no wake' mode are not available (but there is electronic trim adjustment).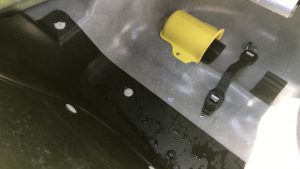 What's it like to ride?
With a lot of power in a mid-size package, the Yamaha GP1800R SVHO is best suited to experienced riders.
Equipped with Yamaha's most powerful supercharged engine in its mid-size craft, the Yamaha GP1800R SVHO has phenomenal acceleration.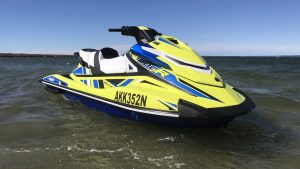 The sponsons and hull contour are designed to carve through tight turns, but you will need to hold on, otherwise you can easily get bucked off.
For a clean start and better acceleration from a standstill, it's best to lower the trim to avoid cavitation on take-off.
This is most certainly not a dry ride, but this watercraft is aimed at thrill seekers and experienced riders who don't mind a bit of spray.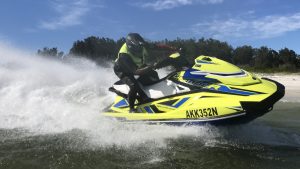 Fuel use
Yamaha's supercharged engine consumes about 55 litres per 100km with moderate throttle in open water.
Repeated hard acceleration, extended periods at wide open throttle, wave jumping, towing, or carrying extra passengers will dramatically increase fuel consumption.
A 70-litre fuel tank is standard; premium unleaded is advisable, for slightly better range and performance.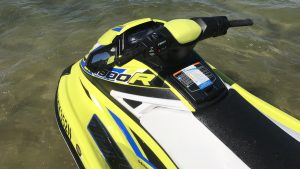 Servicing
The Yamaha log book recommends a first service at 10 hours (unlike the free first service inspections for cars, there is a cost to this), in which the oil and filter are changed and the watercraft is given a detailed safety check.
From there, service intervals are 12 months or 100 hours, whichever comes first. However, as with all watercraft, it is advisable to service before and after each riding season (six month intervals), to avoid excessive corrosion around the oil filter, and to make sure it's ready to ride at a moment's notice.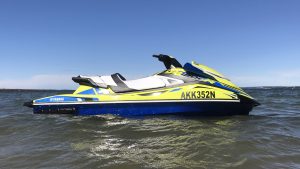 Warranty
The Yamaha GP1800R SVHO comes with a three year factory warranty, versus two years for Sea-Doo and five years for Kawasaki. 
Tips for flushing after each ride
Unlike other watercraft which can have a two-minute time limit on how long you should carry out a fresh water flush, the Yamaha GP1800R SVHO can be flushed for up to five minutes, especially after riding in salt water. 
To avoiding flooding, be sure the engine is running before you start the fresh water flush, and remove the hose before shutting down the engine. Consult your Yamaha dealer for more details.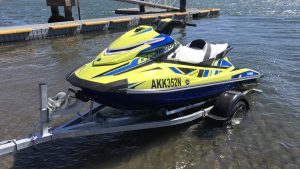 To sum up
The 2020 Yamaha GP1800R SVHO is not for the faint-hearted. This is a seriously quick machine that will have you signing up to a gym membership just so you can hang on tighter. With a lot of power and agility at your fingertips, this one is better suited to experienced riders.
 Compare with
The Yamaha GP1800R SVHO compares closest in size, performance, and price to the Sea-Doo RXP-X RS 300. 
Review watercraft supplied by Dan's Jet Power.
MORE: All our Yamaha coverage in one click
MORE: 2021 Yamaha WaveRunner prices