What is it?
The FX HO is the flagship, non-supercharged, three-seat, full-size watercraft in the Yamaha WaveRunner range. 
This generation was released in late 2018 as a 2019 year model with a completely new deck and hull, although the familiar 1.8-litre four-cylinder engine (the biggest capacity in the class) was carried over from the previous model. 
The 2019 model is white with blue accents and the 2020 model is white with green accents. We have included images of both year models in this review.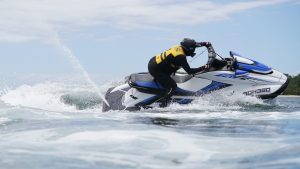 The Yamaha FX HO was the first personal watercraft with a digital touchscreen, which can also be used with wet fingertips or when wearing gloves.
There are two types of Yamaha FX HO, the standard model with a flat three-seat design, and a flagship Yamaha FX HO Cruiser which comes with tiered seating, and a pair of docking cleats (one in each side of the top deck, near the footwell). 
The two Yamaha FX HO models are otherwise identical, with the same engine, deck, hull, steering system, storage, and digital instrument cluster.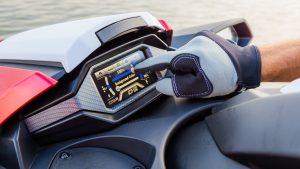 Engine 
The Yamaha FX HO is powered by a 1.8-litre four-cylinder engine designed exclusively for marine use. Unlike Sea-Doo and Kawasaki, Yamaha does not publish engine power output. 
However, the Yamaha 1.8-litre four-cylinder is the largest capacity engine in the personal watercraft class. It is believed to be one of the most powerful non-supercharged engines in a personal watercraft on sale today.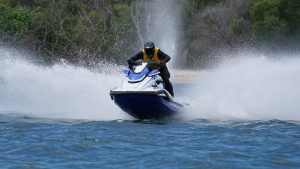 How much does it cost?
The 2020 Yamaha FX HO costs from $20,499 not including registration and trailer, which typically adds between $1500 and $2000 depending on the type and quality of the trailer and the cost of registration fees.
The 2020 Yamaha FX HO Cruiser costs from $21,499 not including registration and trailer. The $1000 price increase includes the tiered seating and factory-installed docking cleats (one each side on the top deck of the hull, near the foot wells).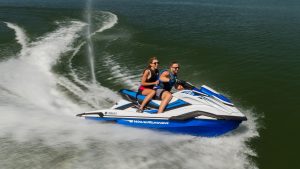 This watercraft would suit…
The Yamaha FX HO is hugely popular with experienced riders who prefer ocean riding and/or use the watercraft for fishing. 
However, the easy-to-ride hull (in any conditions), generous storage capacity, and large, flat rear deck make it ideal for those who are new to the sport or who want to use it as a family weekend machine.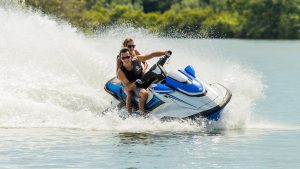 Pros
The Yamaha FX HO is a large and stable watercraft in almost any water conditions, especially in medium chop, and yet it is easy to manouvre at low speeds.
The previous generation FX HO had quite aggressive sponsons that were able to turn the craft too sharply; the new design strikes a better balance between agility and comfort. 
The large flat rear deck is great as a launching pad for the kids. A wide rear step makes it easy to climb back aboard.
The flat rear deck can also be used to attach aftermarket accessories. 
The Yamaha FX HO has a powerful yet relatively economical 1.8-litre engine that delivers good range thanks to a 70-litre fuel tank.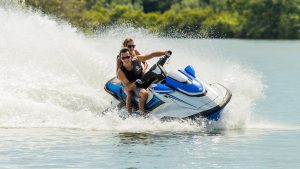 The digital touchscreen is bright enough to read easily, even in direct sunlight, and there is a choice of background colours.
Adjustable handlebars make it easy to find the perfect riding position. The adjustment points are metal which makes it stronger and more sturdy than plastic adjustment points used by some rivals, which can slip out of position after a decent bump in the chop.
The glovebox is among the largest in the personal watercraft market, and can accomodate a towel, a bottle of water, a tube of sunscreen, and an EPIRB.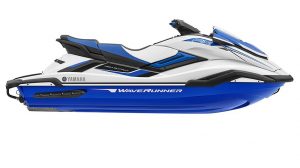 Now waterproof, this glovebox is also a good place to store car keys and a phone, although waterproof case for the phone is always recommended in case you drop it in the water when making a call or taking a photo.
The waterproof storage box under the rear seat is ideal for storing a spare lanyard, some basic tools and some flares. The front storage area is massive but not ideal for heavy items that can move around in the chop.
While the fuel gauge has mixed levels of accuracy, the "fuel used" meter is extremely accurate. As long you reset the meter when the tank is full, you will have good idea of how much fuel is remaining.
Cons
The speedo is based on rpms, not GPS (as per most Sea-Doos) or a speedo wheel in the ride plate (as per Kawasaki and earlier Yamahas). 
The fuel gauge is not as accurate as those found on other watercraft, with the "low fuel" warning beep activating too early. Revised fuel sender units were fitted as a running change, though some owners still experience accuracy issues.
In earlier models, the fuel filler was previously located high up and under the nose cover. On this generation Yamaha FX, the fuel filler is on the left nose of the hull, which can make it difficult to refuel on water.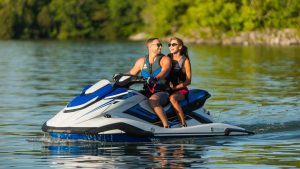 A plastic sleeve embedded in the fuel filler neck – designed to stop overflow or "burping" when refuelling – is more restrictive than originally intended. The bowser will click off constantly unless gentle pressure is applied to the fuel nozzle lever. 
Some owners remove this plastic sleeve, however extreme caution must be applied when releasing the fuel cap, to prevent fuel spilling out due to pressure.
The plastic "fire wall" between the front storage area and the engine bay can pop its plastic pins, so consider cable ties and be sure not to carry too much weight in the nose.
Raised stitching in the seats can cause abrasions on inner legs after a long day of riding. 
As with all watercraft, it is not ideal to "beach" the Yamaha FX HO because this can damage the NanoXcel hull. A small anchor is recommended.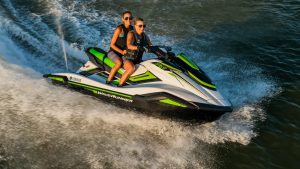 What's it like to ride?
The 2020 Yamaha FX HO is a dryer ride than the previous generation FX, but you're still going to get wet, particularly in chop.
It is intuitive and easy to manoeuvre at low and high speeds and stable in rough chop. Indeed it is one of the best hulls on the market for ocean riding conditions.
Although it is not supercharged, the Yamaha FX HO still has plenty of power whether riding solo, two-up, or with three on board.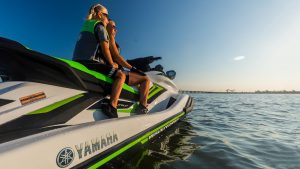 The Yamaha FX HO has fair fuel economy for a craft of this size, weight and power.
The contour of the hull and the design of the sponsons have made the Yamaha FX HO agile in corners without being too sharp.
The ride plate changed from the previous generation to this series of FX to bring the nose down slightly, to trim top speed. However, this makes it a touch thirstier – and slower at the top end.
Overall, the Yamaha FX HO is a stable and easy ride, which is why it is popular with experienced riders and those new to the sport.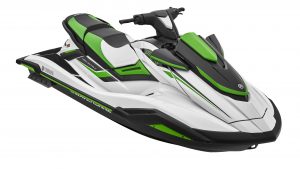 Fuel use
The Yamaha FX HO can run on regular 91 octane unleaded however 95 or 98 octane premium is recommended for slightly better fuel range and slightly more power.
It is also helpful to run better quality fuel on watercraft used infrequently, as fuel goes "stale" over time.
At medium to high throttle in open water (40kmh to 70kmh), the Yamaha FX HO will use about 50 litres per 100km. 
Wide open throttle on flat water, towing a tube, carrying extra passengers, or repeated hard acceleration will dramatically increase fuel use and shorten your ride time between refills.
However, at moderate speeds with one rider on board, you can get several hours of fun out of this watercraft.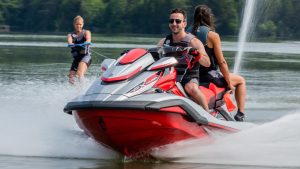 Servicing
The Yamaha log book recommends a first service at 10 hours (unlike the free first service inspections for cars, there is a cost to this), in which the oil and filter are changed and the watercraft is given a detailed safety check.
From there, service intervals are 12 months or 100 hours, whichever comes first. However, as with all watercraft, it is advisable to service before and after each riding season (six month intervals), to avoid excessive corrosion around the oil filter, and to make sure it's ready to ride at a moment's notice.
Warranty
The Yamaha FX HO comes with a three year factory warranty, versus two years for Sea-Doo and five years for Kawasaki.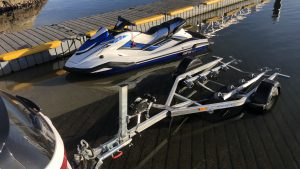 Tips for flushing after each ride
Unlike other watercraft which can have a time limit on how long you should carry out a fresh water flush, the Yamaha FX HO can be flushed for up to five minutes, especially after riding in salt water. 
To avoiding flooding, be sure the engine is running before you start the fresh water flush, and remove the hose before shutting down the engine. Consult your Yamaha dealer for more details.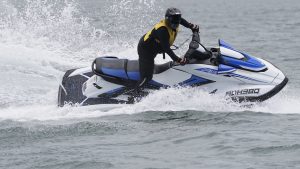 To sum up
The Yamaha FX HO is suited to experienced riders as well as those who are new to the sport because it is one of the easiest and most accurate to ride in choppy conditions, and yet it has impressive agility in flat water and at low speeds. It's a large, comfortable watercraft that is ideal as a family runabout or for serious ocean riders.
Compare with
The Yamaha FX HO lines up closest in size, power and price to other large non-supercharged personal watercraft, such as the Sea-Doo GTX 170 and Kawasaki Ultra.
Review watercraft supplied by Yamaha Marine Australia