Do you need to stay in contact on the water and on the road, but don't want to carry two handheld waterproof radios?
Portable and waterproof dual-purpose VHF and UHF marine radios enable riders of Jet Skis and personal watercraft to stay in contact with their support crew or riding buddies – on water or land – with just one device.
While there is a number of generic VHF and UHF radios available on online classified sites, Uniden remains the only mainstream supplier of a dual-purpose VHF and UHF handheld radio.
The Uniden MHS155UV portable radio is waterproof, floats, and has a peak output of 5.0 watts as a VHF radio (water) and 2.5 watts as a UHF radio (land).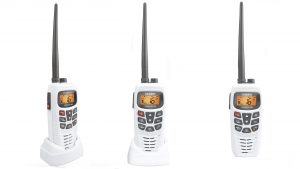 In fact, each mode has three output settings. In VHF mode there are outputs of 1 watt, 2.5 watts or 5.0 watts on marine frequencies (VHF), and outputs of 0.5 watt, 1.5 watts or 2.5 watts on land frequencies (UHF).
However, the transmitter has a boost button which automatically and instantly switches to the highest output, whether in VHF or UHF mode.
The Uniden MHS155UV VHF and UHF handheld radio was released in 2015. As this article was published, Uniden said there were no plans to update or replace this model.
Designed and engineered in Japan – and made in Vietnam – the Uniden MHS155UV VHF and UHF handheld radio is waterproof to JIS7/IPX7 standards. This means it is claimed to be able to be immersed in up to 1 metre of water for up to 30 minutes without water ingress.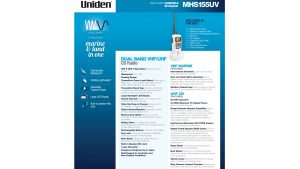 That said, in our experience with other marine radios, they don't necessarily handle water spray at high speeds, so it would be advisable to carry the device in a vest pocket, protective pouch, or plastic sleeve (such as an Aquapack, pictured below).
Some plastic sleeves are strong enough to protect the device against water spray, but thin enough to make calls and receive messages, without removing them from the pouch.  
There is also a vibrate mode for incoming signals (in case you can't hear a transmission over the wind blast on the water).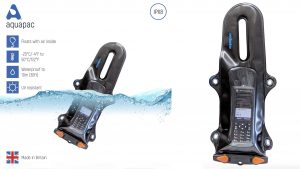 Uniden claims the MHS155UV VHF and UHF handheld radio is capable of 12 hours operating time, based on 5 per cent transmitting, 5 per cent receiving, and 90 per cent on stand-by.
The unit has a 1100 mAh lithium-ion rechargeable battery, and the unit comes with a table-top "drop-in" charging dock.
The Uniden MHS155UV VHF and UHF handheld radio comes with a three-year warranty from the date of purchase when new.
Prices vary among retailers, but the RRP as this article was published was listed at $249.
More details here.