The 2022 Yamaha JetBlaster – a new budget-priced "freestyle" Jet Ski and rival to the Sea-Doo Spark Trixx – has been unveiled in the US ahead of Australian showroom arrivals later this year.
The 2022 Yamaha JetBlaster has rear step wedges, sports handlebars, and adjustable trim for the jet pump nozzle.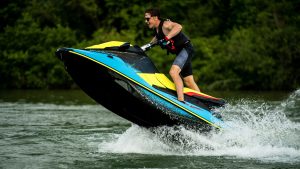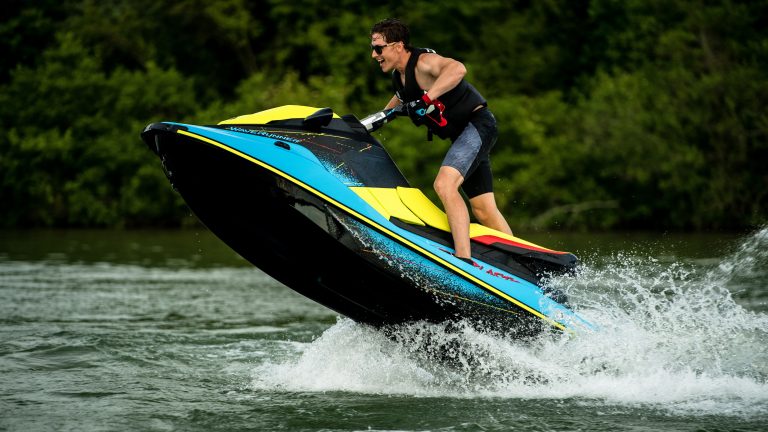 The tech changes are designed to enable the vessel to be ridden on its tail – after a quick blast of the throttle – to perform the watercraft equivalent of a "wheelie".
However, Yamaha says the JetBlaster is not designed to get quite as vertical as the Sea-Doo Spark Trixx. Either way, we can't wait to try it out.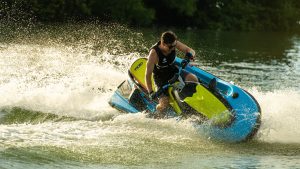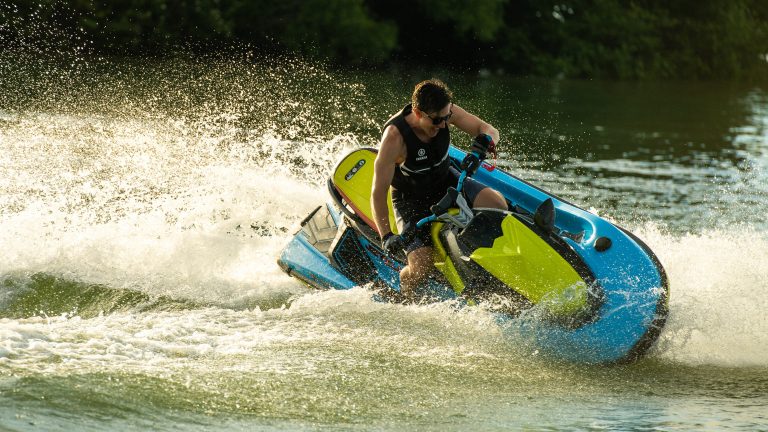 The 2022 Yamaha JetBlaster replaces the 2021 Yamaha EXR budget performance model.
The JetBlaster name is a tribute to the hugely popular pint-sized Yamaha WaveBlaster Jet Ski sold from 1993 to 1998 and which helped establish Yamaha's credentials in the watercraft world.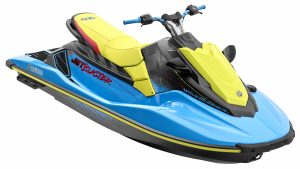 While the original Yamaha WaveBlaster was powered by a two-stroke, 90-horsepower 701cc engine, the 2022 Yamaha JetBlaster is powered by Yamaha's popular TR-1 1050cc three-cylinder engine with an estimated 108 horsepower.
This is a roughly 10 per cent bump in power compared to the 99hp output of the standard EX and EX Deluxe with a detuned version of the TR-1 1050cc engine.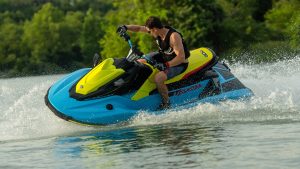 The power advantage means the 2022 Yamaha WaveBlaster will take over the Yamaha EXR's title as the industry's most powerful watercraft of this size.
The 2022 Yamaha WaveBlaster appears to be positioned alongside the Yamaha SuperJet stand-up watercraft, which was released as a new four-stroke model last year.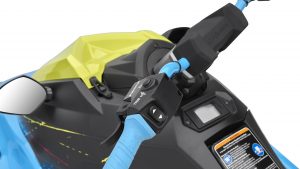 In Australia, the 2022 Yamaha JetBlaster will cost from $13,399 not including trailer and registration, an increase of $425 (from $12,974) for the EXR it replaces.
The Yamaha EXR joined the WaveRunner range in 2019 as the entry point into the Yamaha performance range, but has been discontinued after three years.
Yamaha says the JetBlaster has not been specifically designed to be operated on its tail – a capability pioneered by the Sea-Doo Spark Trixx in late 2017.
However, the company says the custom-tuned electric trim function – which directs the nozzle downwards – has been developed to give the WaveBlaster the ability to "pop out of the water, do spins, and other exciting manoeuvres."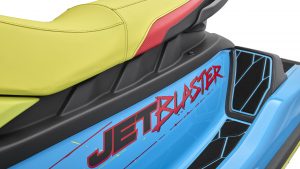 Yamaha designers also added built-in wedges towards the rear of the footwells, to allow the rider the ability to adjust their riding position for "freestyle riding".
The taller, wide-mounted handlebars "provide increased leverage over the craft, allowing the rider to quickly change direction and execute extreme moves with ease," says Yamaha Australia.
MORE: Follow us on Facebook so you don't miss any future updates
MORE: All our news coverage in one click
MORE: All our Yamaha coverage in one click