The 2023 Yamaha Variety Jet Trek charity ride has raised $341,898 to help sick and disadvantaged kids as the annual, week-long ocean adventure celebrates its 25th anniversary.
The latest fundraising effort brings the total donations to in excess of $2.7 million since the first Variety Jet Trek in 1998.
The event typically attracts about 100 Jet Ski riders each year – including regular participants and first-timers – and is primarily held on the east coast of Australia.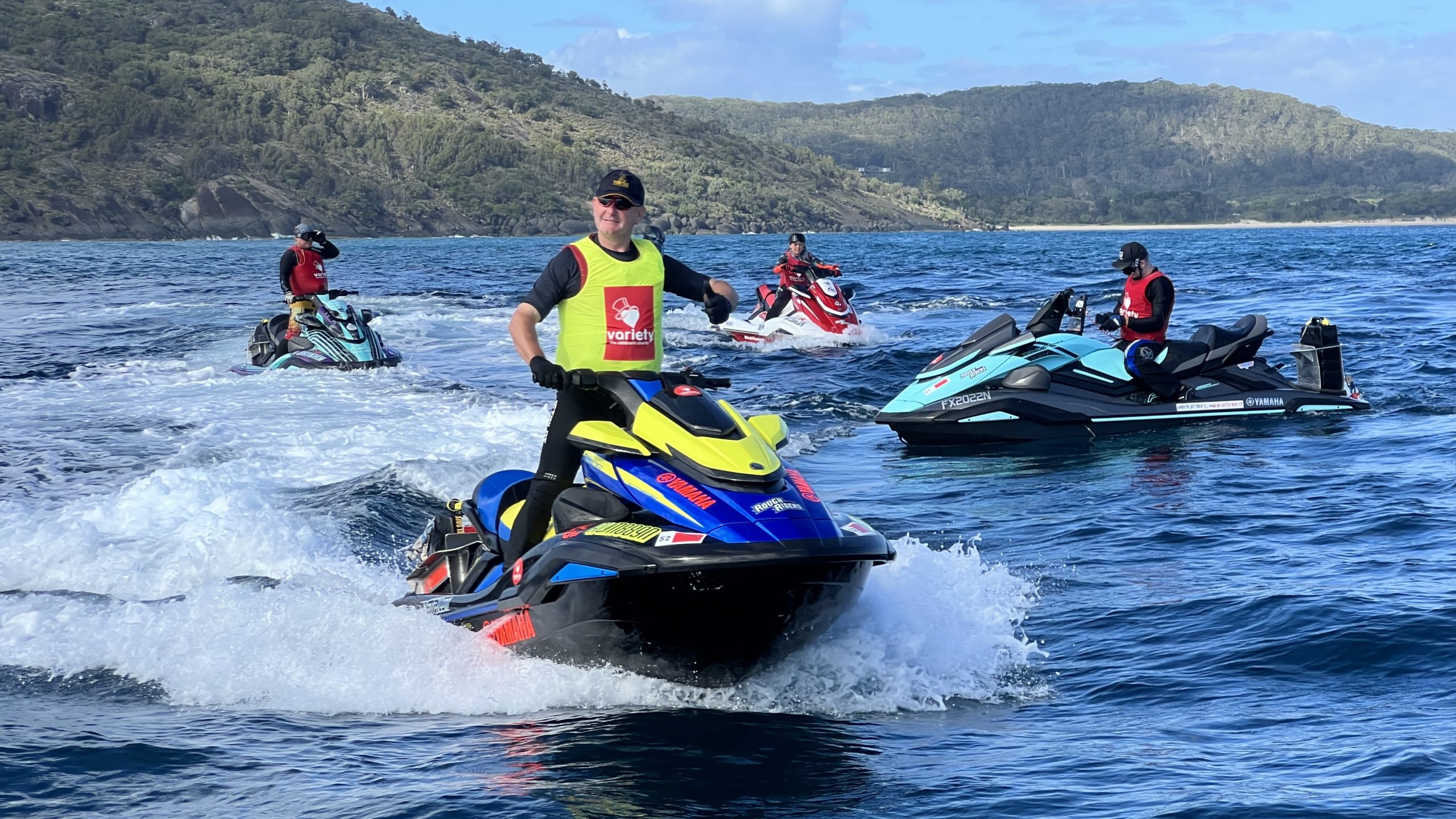 This year's 800km run headed north from Batemans Bay on the south coast of NSW to Coffs Harbour on the mid-north coast of NSW (28 February 2023 to 4 March 2023) with overnight stops in Wollongong, Ettalong, Shoal Bay and Port Macquarie.
Among the 91 Jet Ski riders in the 2023 event – including 7 first-time entrants – one participant, Peter Locock from Sydney NSW, has ridden in every Jet Trek since its inception.
Peter Locock (pictured below) is to date the first and only person to clock-up 25 years in a row as a Jet Ski rider in the history of Jet Trek.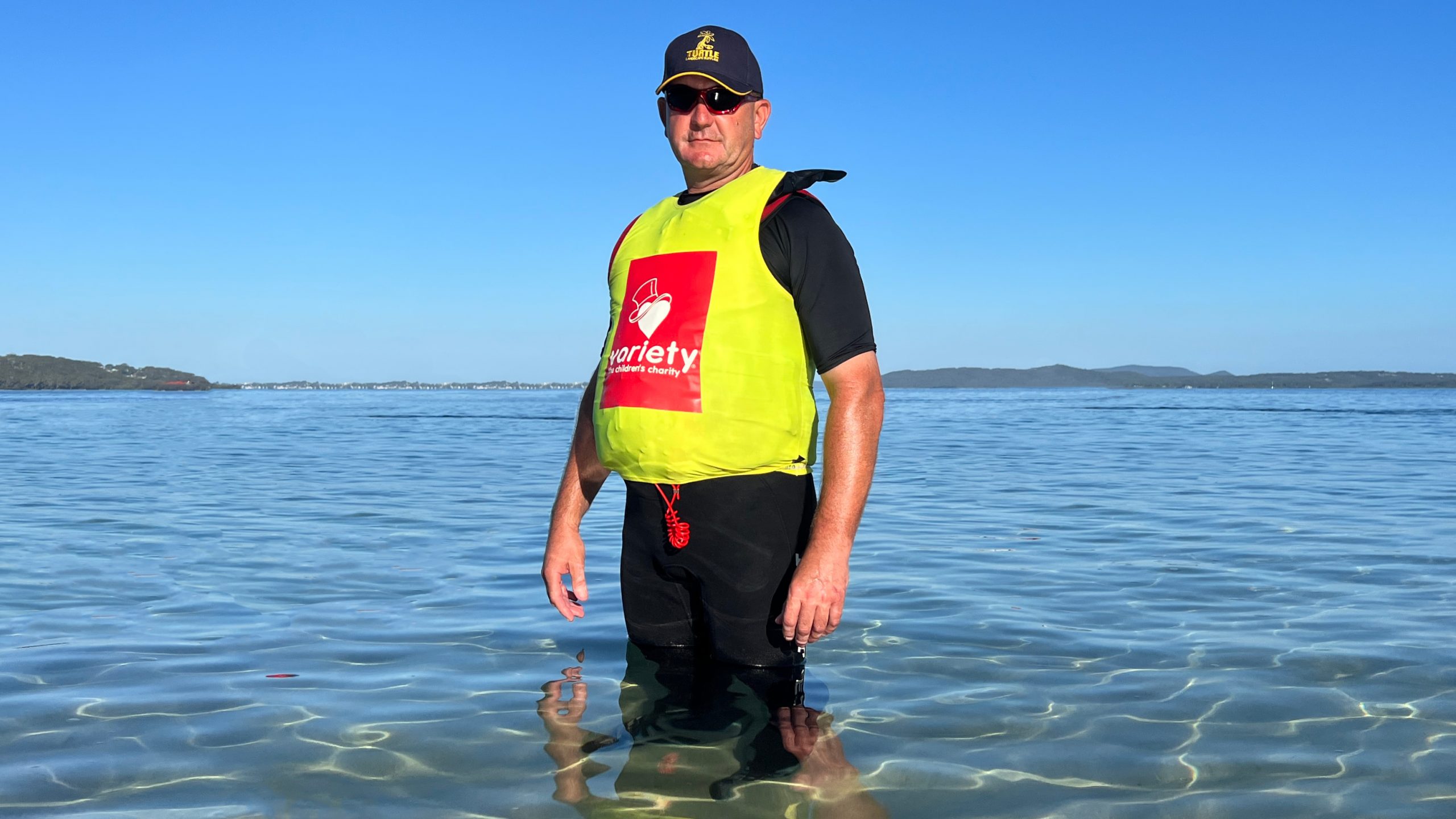 The former motocross rider and stand-up Jet Ski racer found out about the first ever Jet Trek after bumping into a mate at a Gold Coast boat ramp.
The friend – who worked at a local Jet Ski shop – had just completed the reconnaissance ride for the inaugural Jet Trek (from Yeppoon to the Gold Coast) and encouraged Peter Locock to give it a try.
"I thought, that sounds like a challenge," Peter Locock told Watercraft Zone. "So next thing you know I'm off to buy a sit-down, three-seat, runabout Jet Ski to do this new thing called Jet Trek."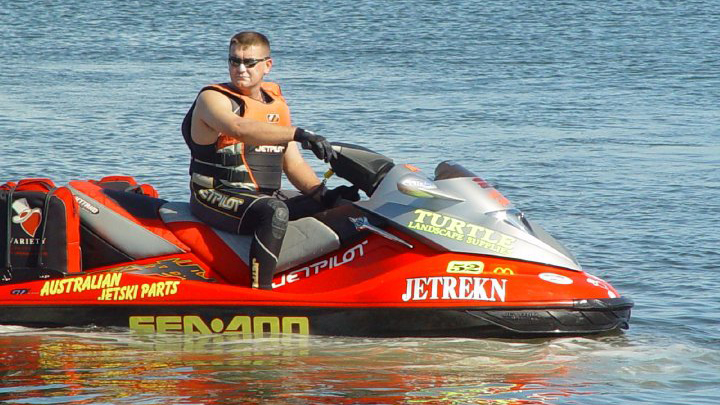 Although Yamaha has been the naming rights sponsor of the Variety Jet Trek for 18 years (since 2006), in the early days it was sponsored by Sea-Doo.
And although Peter Locock is synonymous with Yamaha today, he rode a Sea-Doo in the formative years of the event.
"I ran a Sea-Doo until Yamaha came on board and got behind the event," said Peter Locock.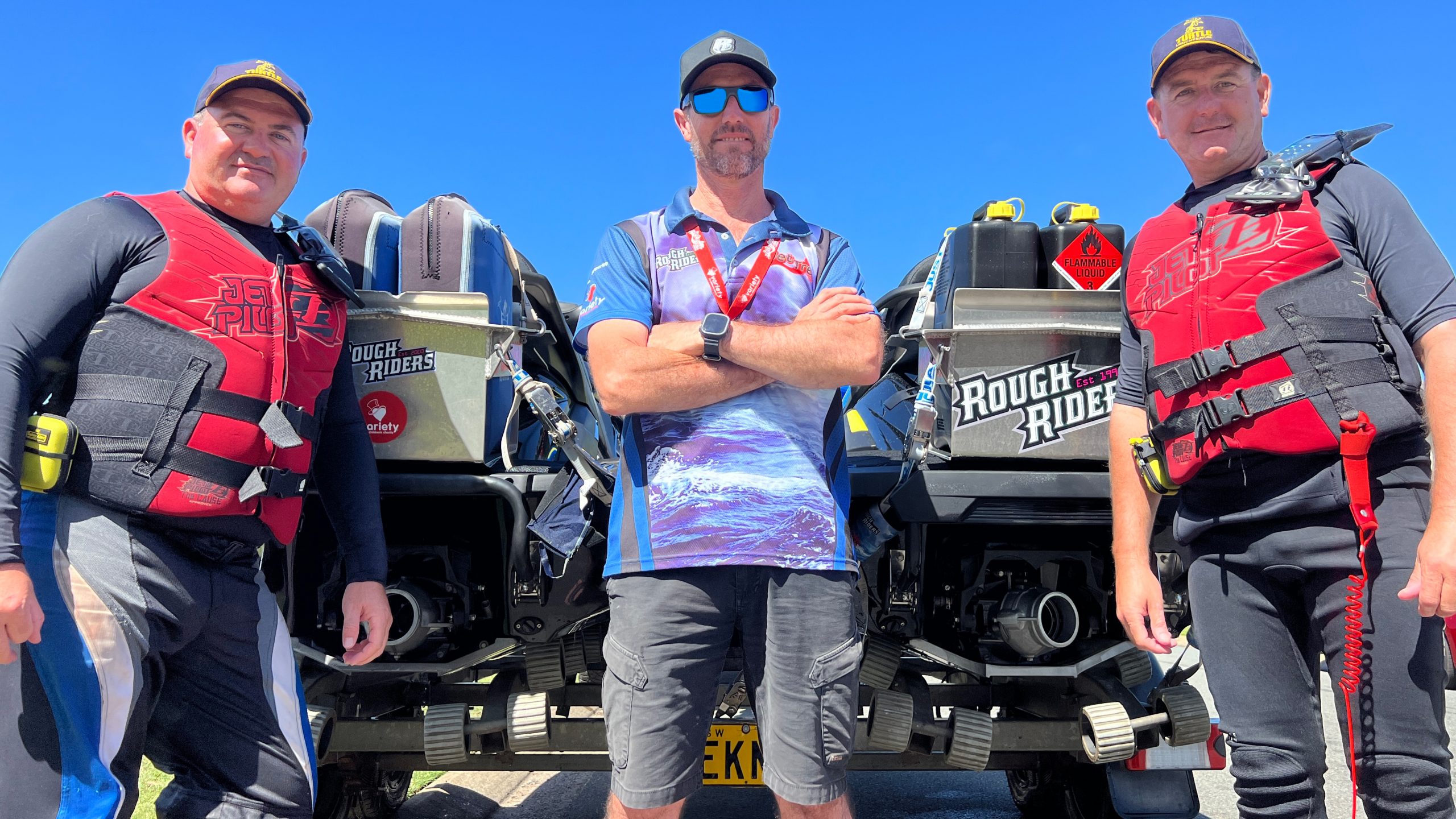 Above from left: Paul Locock, Gary Boon, and Peter Locock are the only three participants to cover all 25 Variety Jet Trek events to date.
Two other Jet Trek participants – Peter's brother Paul Locock, and their longtime friend Gary Boon – have also completed all 25 events, but initially split their time between riding a Jet Ski or driving as road crew.
Paul Locock has ridden in the past 21 Jet Trek events in a row, after spending the first four years as road crew.
In the formative years of the annual charity ride, Paul Locock and Gary Boon shared road crew duties while Peter Locock took to the water on a Jet Ski.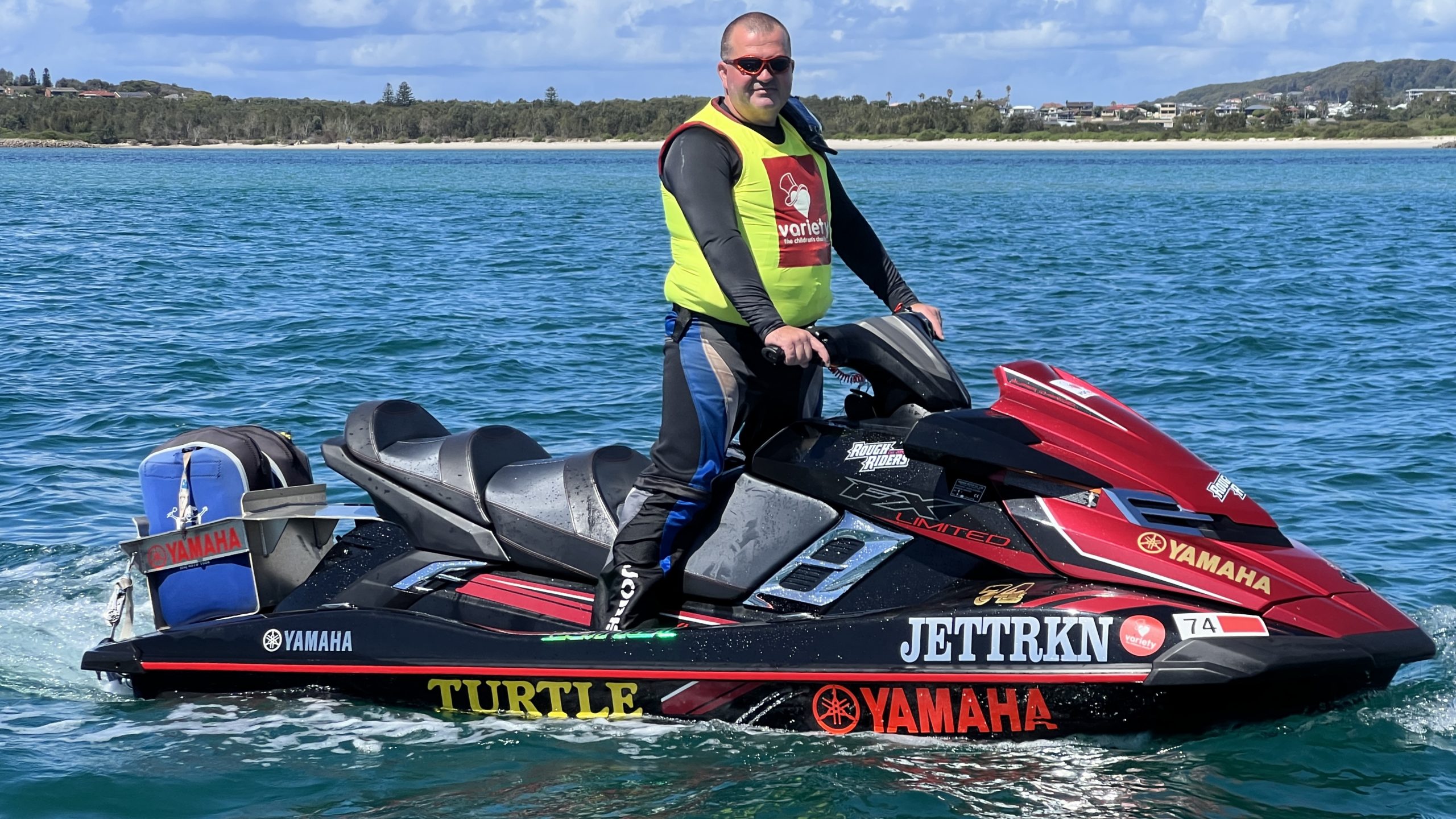 But once Paul Locock (pictured above) got a chance to hit the water, he never looked back.
"One year there was an opportunity to get on a Jet Ski and do the event after one of Pete's mates dropped out," Paul Locock told Watercraft Zone.
"I got into it straight away, and I've ridden every event since. I will keep doing it until I can't any more and, as of now, I have no plans to stop.
"It would be very hard to replicate an event of this scale, where road crews drop 100 Jet Skis in the water at one boat ramp and then meet them 200km up the highway at another boat ramp."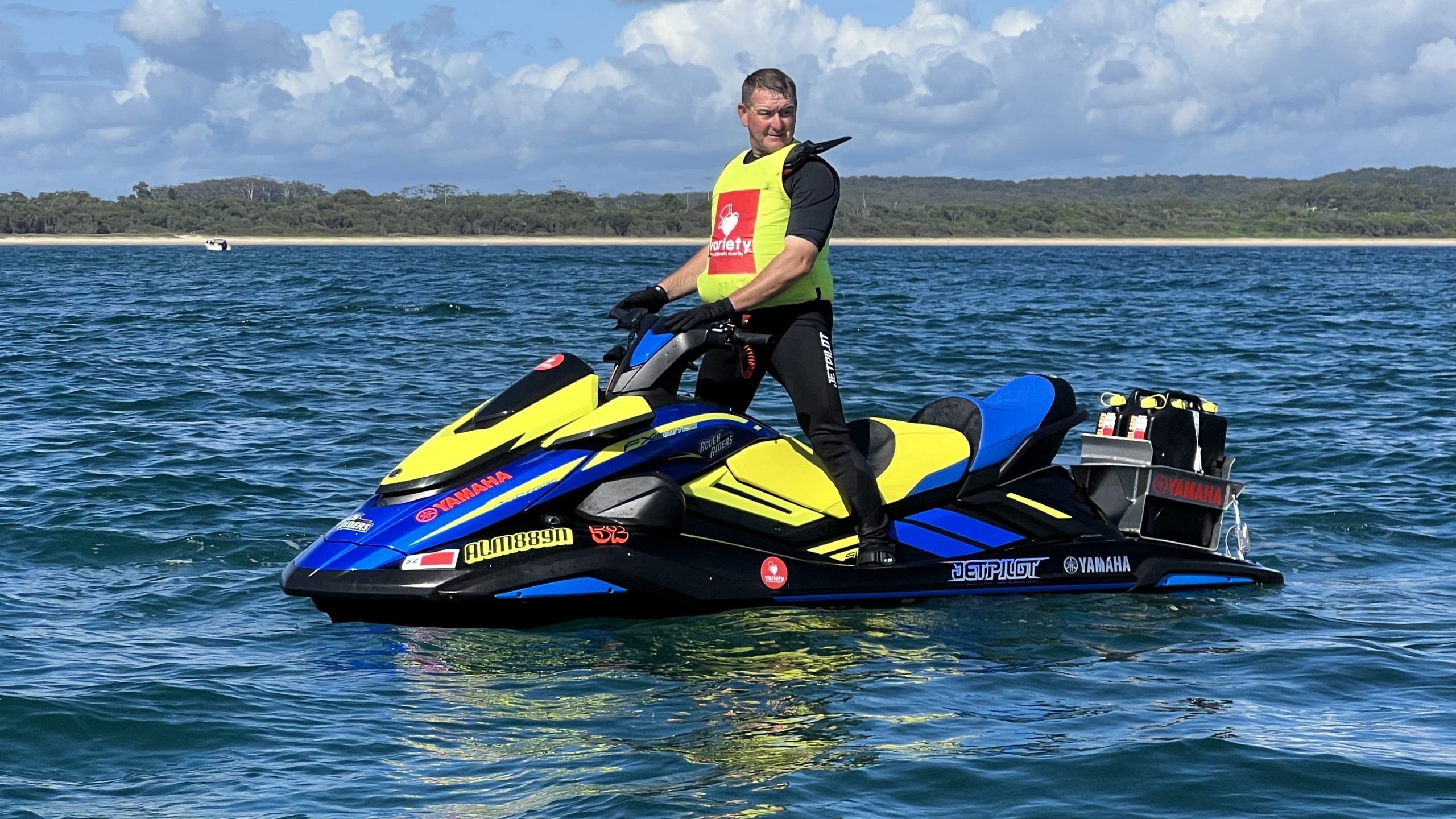 Peter Locock says each Jet Trek gets tougher as he gets older, but he also has no plans to stop riding in the event. 
"I will keep going for as long as I can," said Peter Locock, now 48-years-old after starting the event in his early 20s.
This year's Jet Trek was momentous for Peter Locock for two reasons: in addition to the 25th anniversary as a Jet Ski rider, it was his first event with 16-year-old son Max Locock, who is also a motocross racer.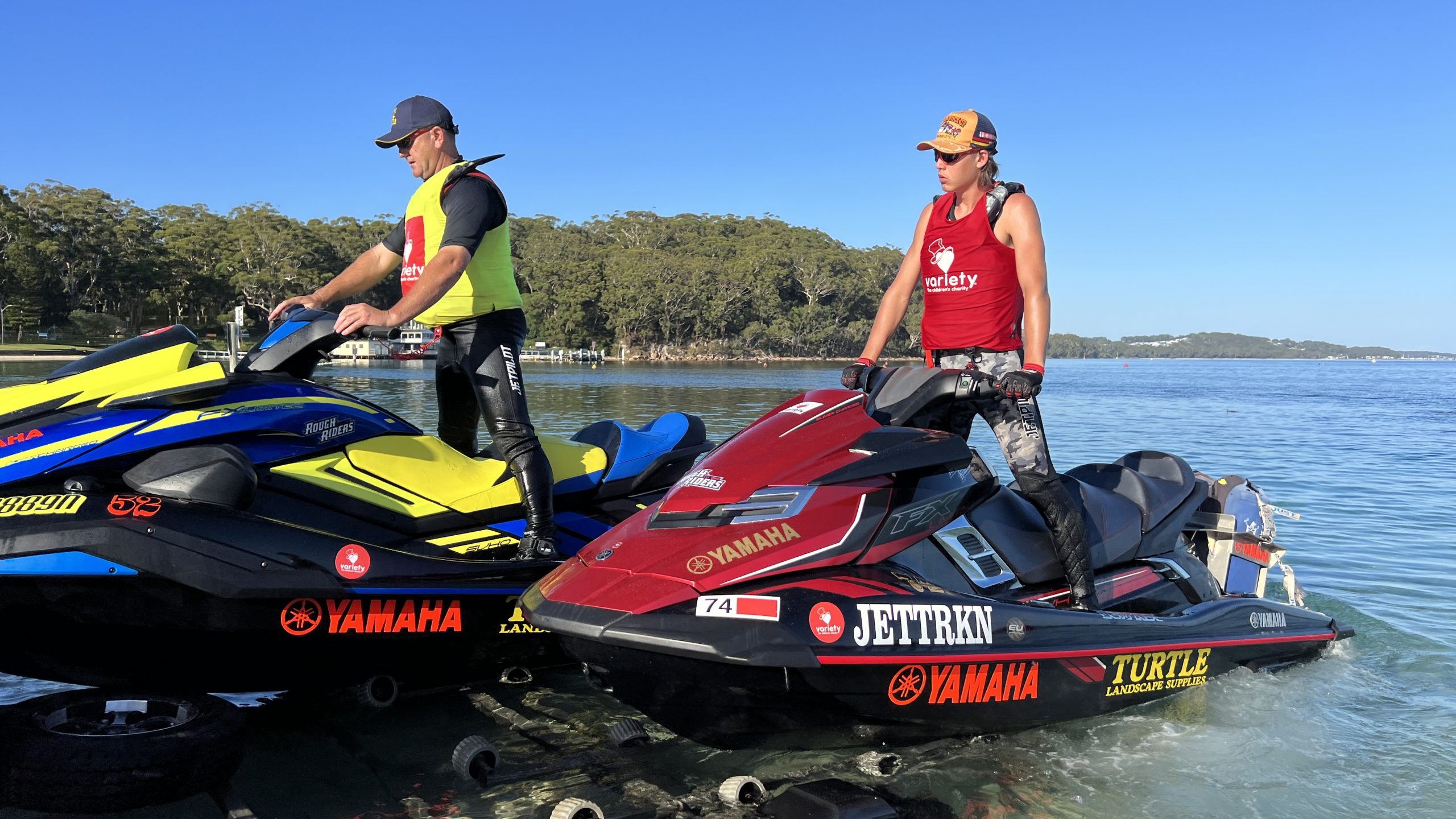 Above: Father-and-son Peter Locock (left) clocks up his 25th Jet Trek, as Max Locock (right) makes his event debut.
"He's keeping me on my toes," said Peter Locock. "He's fast in motocross and he's fast on the water."
Gary Boon is the most experienced road crew on Jet Trek, having driven support vehicles for 23 of the past 25 years.
He has also completed two entire Jet Trek events on a Jet Ski (in 2009 and 2013), as well as sharing a Jet Ski with Paul Locock in the early years.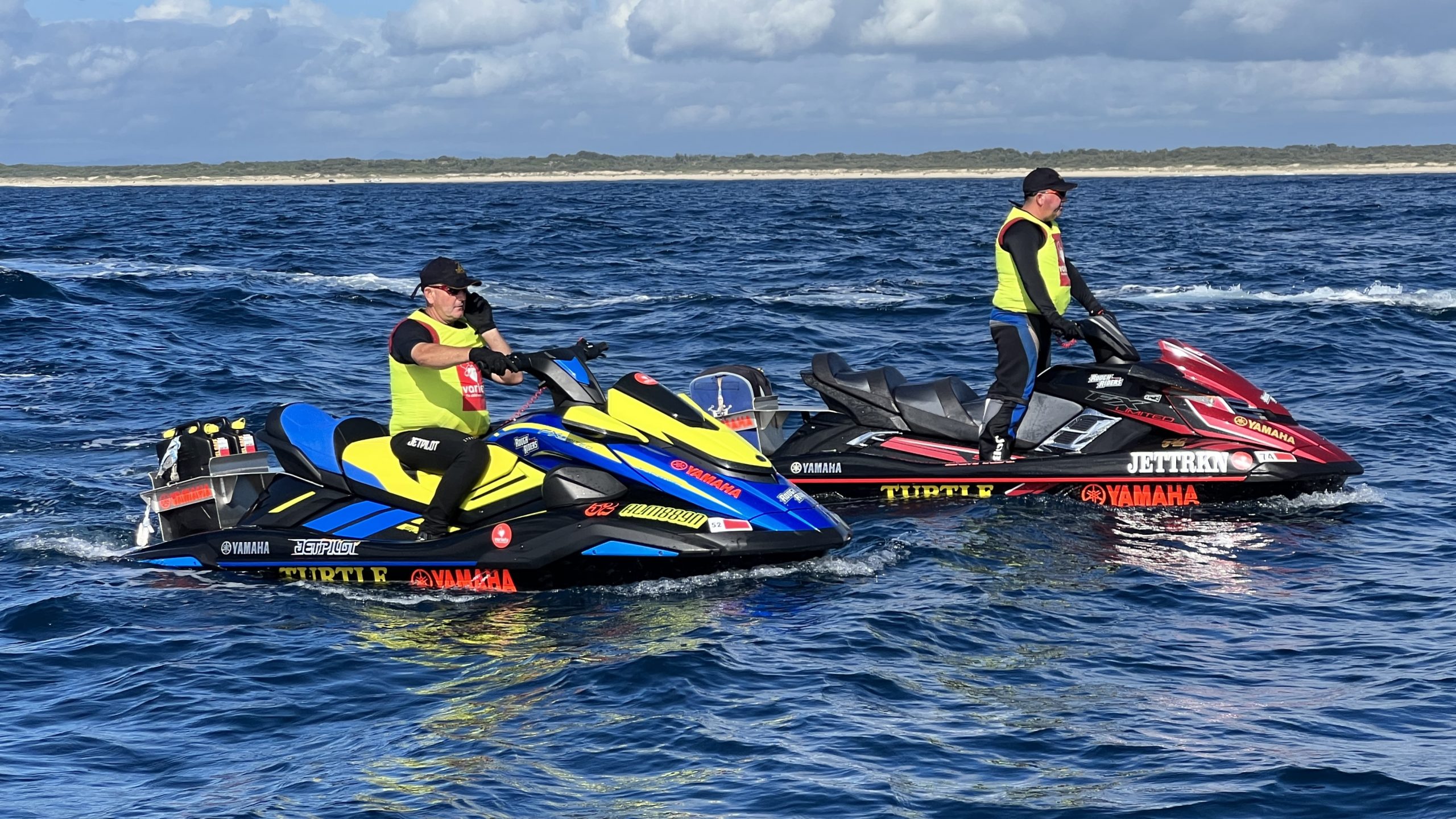 To date, only four Jet Trek participants have completed more than 20 events.
In addition to the three participants who have done all 25 years – Peter Locock, Paul Locock, and Gary Boon – Ryan Lacaze from Townsville in Queensland has just clocked up his 22nd year.
The legends of the sport say they keep coming back for the mateship, the experience – and to raise money to help sick and disadvantaged kids in regional Australia.
"You think you're having a bad day, and then you see the spirit of these young kids dealing with some serious health issues, and you quickly realise there are a lot of families doing it tough," said Gary Boon (pictured below).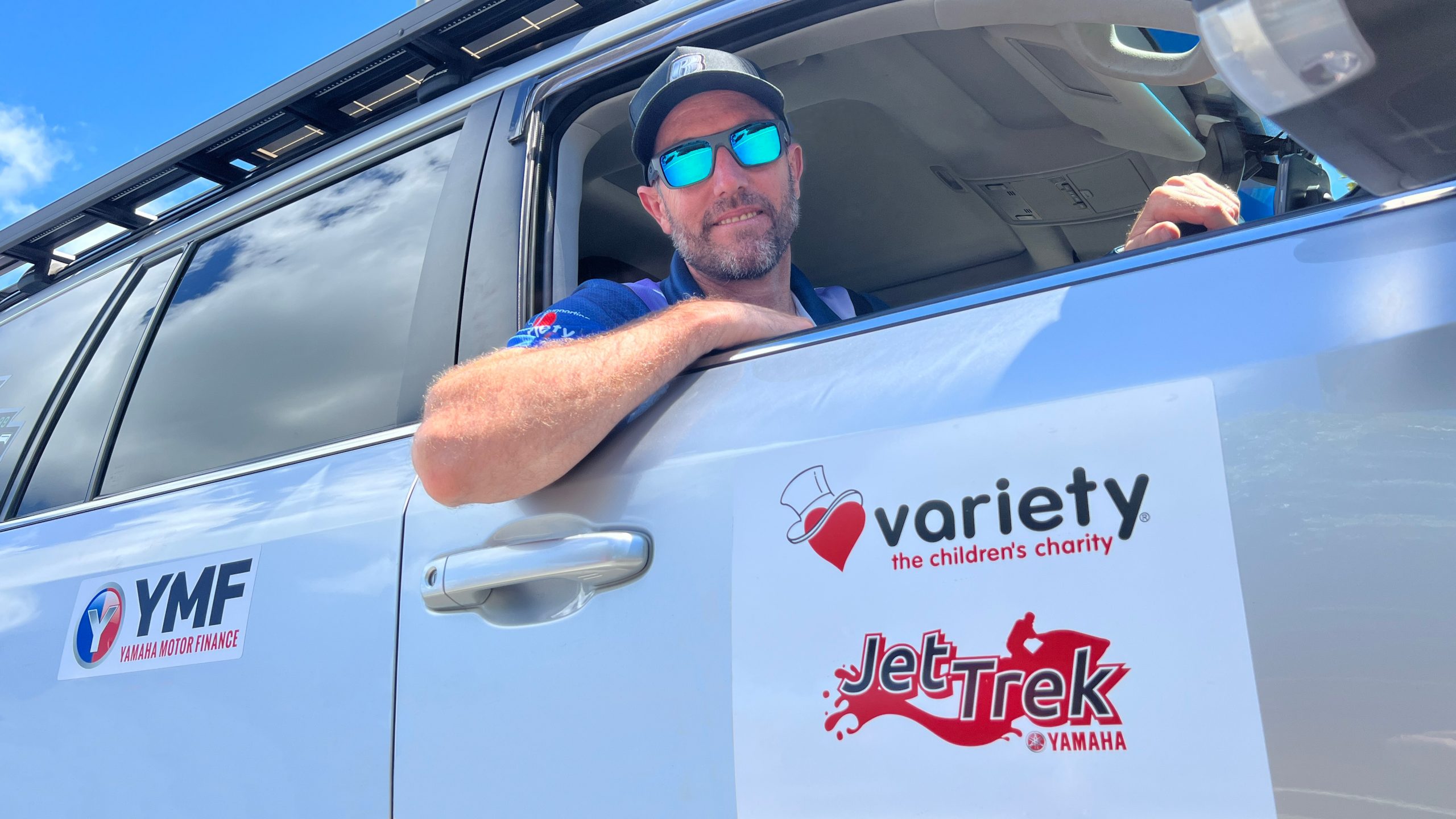 "It's a very grounding experience when you see kids in need, and how even a little help can mean the world to them and make a world of difference.
"If the boys (Peter and Paul Locock) decided one day they didn't want to do Jet Trek, I would still be a part of it. There is no other event like it."
Over the past 25 years, Peter Locock, Paul Locock and Gary Boon have covered more than 20,000km of Australian coastline (much of it more than once) and collectively fund-raised more than $100,000 to help sick and disadvantaged kids.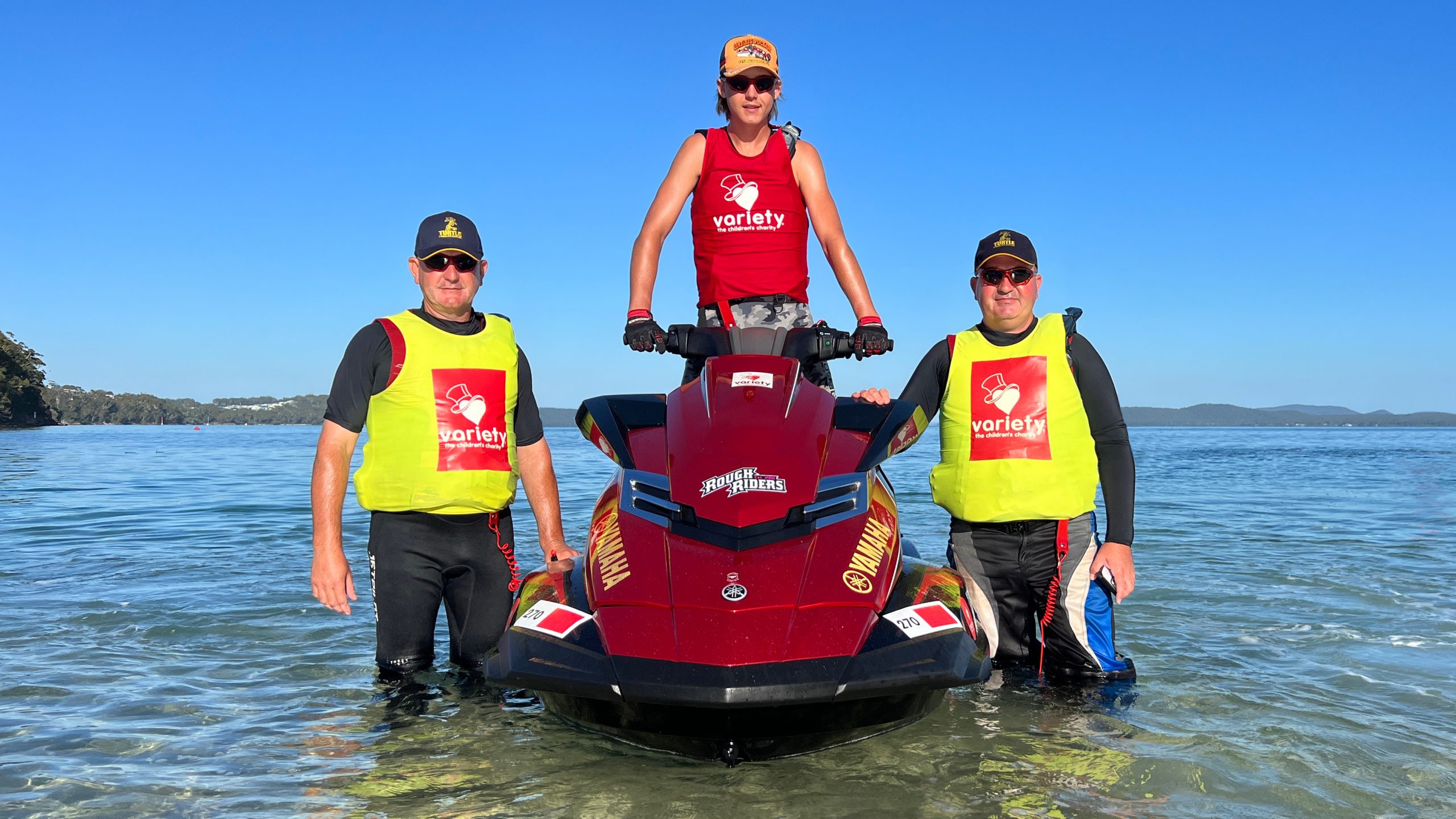 Above from left: Peter Locock, Max Locock, and Paul Locock in Shoal Bay during the 2023 Yamaha Variety Jet Trek.
The annual children's charity ride – primarily held on the east coast of Australia – typically covers about 800km over a week and attracts about 100 regular participants as well as a mix of first-timers.
The event requires logistical support from a road crew that follows the convoy of Jet Skis along the coast, and drives ahead to meet the riders at refuelling points and overnight stop-overs.
The 2024 Yamaha Variety Jet Trek will be held from Kingscliff in the far north of NSW to Yepoon in Queensland (3 to 9 March 2024).
And the 2025 event will be held in the island state of Tasmania for the first time – though exact dates and start and finish points are yet to be announced.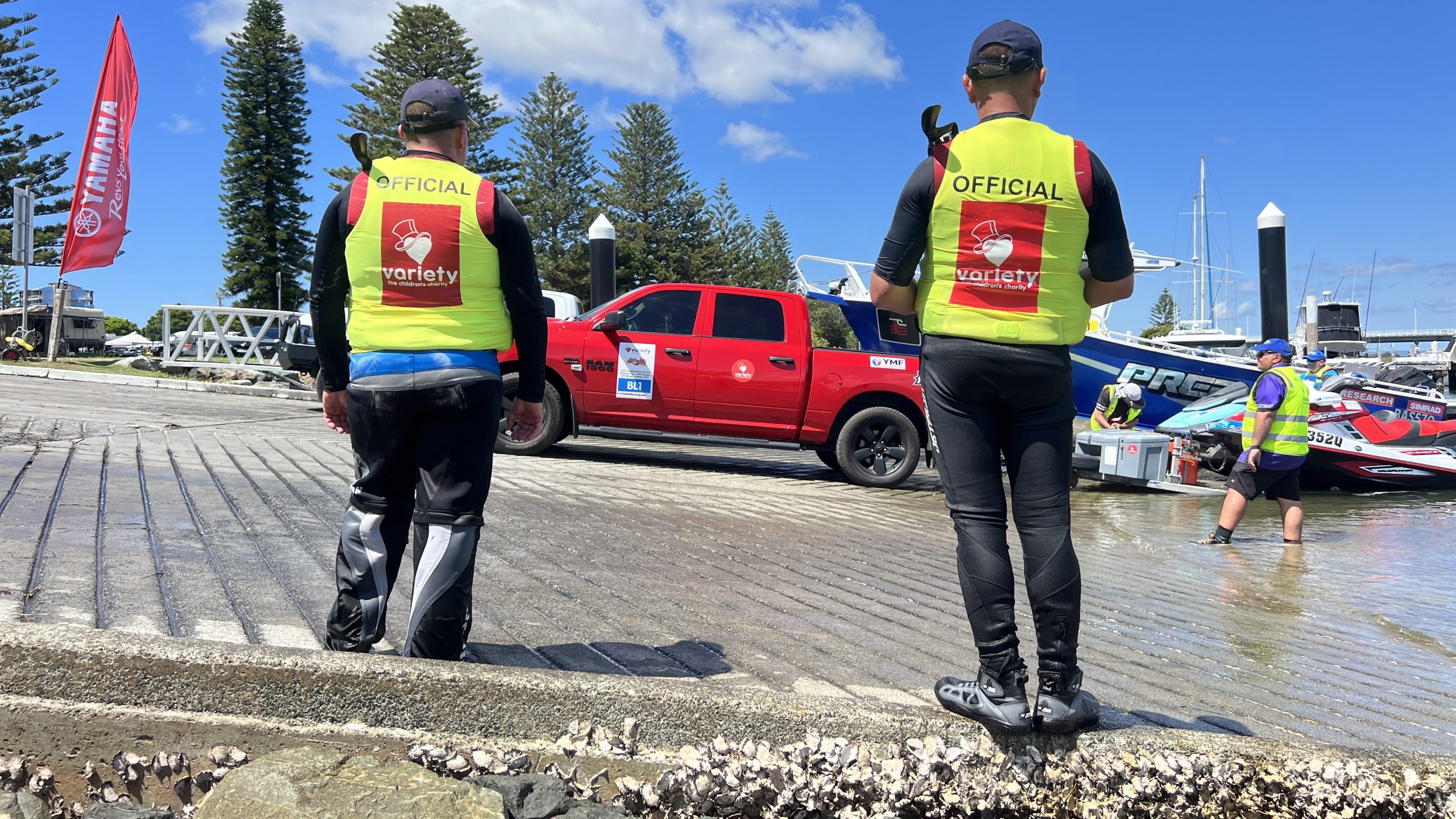 So, as the most experienced rider on Jet Trek, does Peter Locock have any advice for anyone considering taking part in the event?
"Make sure you get plenty of experience riding in the ocean on a Jet Ski before you come on Jet Trek," says Peter Locock.
"It might look easy but it isn't. It requires a high level of fitness and preparation is key. Learning your limits, learning your Jet Ski's limits, and learning to ride standing up is the best way to prepare for an event like this."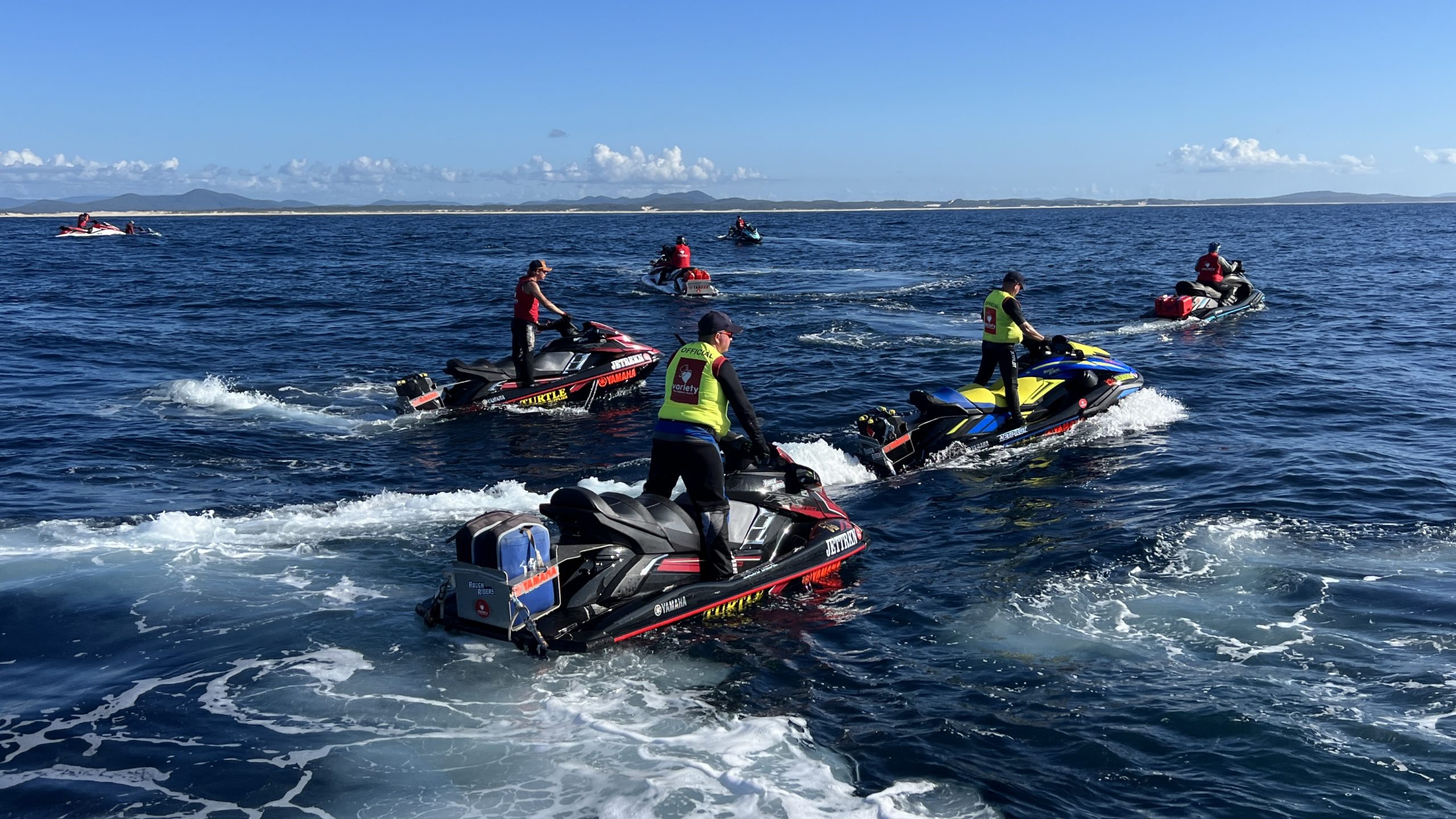 This year there were 63 Yamaha WaveRunners (69 per cent of the field), 27 Sea-Doo watercraft (30 per cent of the field), and 1 Kawasaki Jet Ski.
In 2022, there were 68 Yamaha WaverRunners (61 per cent of the field), 43 Sea-Doo watercraft (39 per cent of the field), and no Kawasaki Jet Skis.
To learn more about the Yamaha Variety Jet Trek, click here for the official website.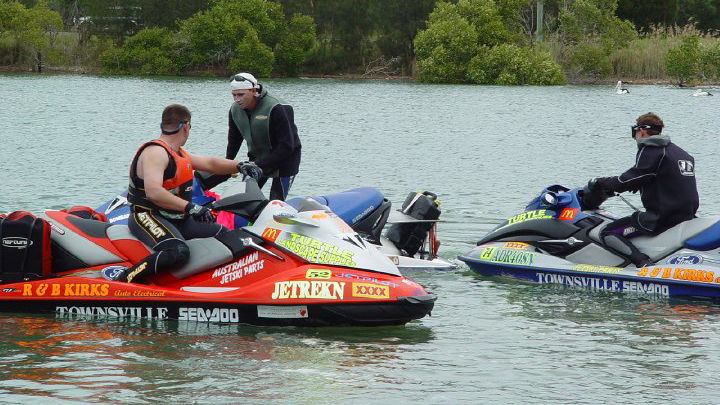 Variety Jet Trek history:
2023 – Batemans Bay to Coffs Harbour
2022 – Mackay to Port Douglas
2021 – Caloundra to Gladstone
2020 – Coffs Harbour to Sunshine Coast
2019 – Bundaberg to Airlie Beach
2018 – Airlie Beach to Mission Beach (second, shortened event)
2018 – Sydney to Yamba
2017 – Mission Beach to Airlie Beach
2016 – Great Ocean Road Portland to Phillip Island
2015 – Yeppoon to Sanctuary Cove
2014 – Port Macquarie to Mooloolaba
2013 – Cooktown to Townsville
2012 – Grafton to Tin Can Bay
2011 – Townsville to Halliday Bay
2010 – Bundaberg to Kingscliff
2009 – Mission Beach to Airlie Beach
2008 – Capricorn Resort to the Gold Coast
2007 – Grafton to Noosa
2006 – Rainbow Beach to Ballina
2005 – Yeppoon to Caloundra
2004 – No event
2003 – Raby Bay to Hervey Bay
2002 – Townsville to Mackay
2001 – Townsville to Port Douglas
2000 – Coffs Harbour to Hervey Bay
1999 – Yeppoon to the Gold Coast
1998 – Yeppoon to the Gold Coast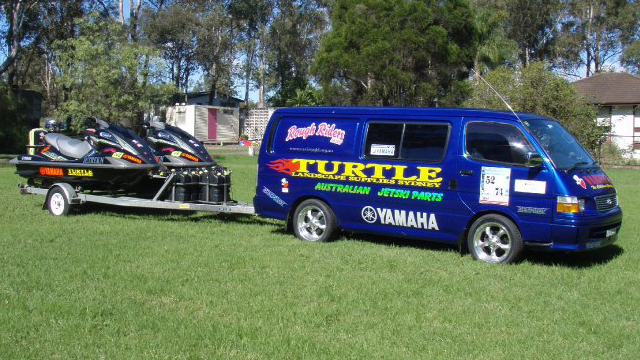 MORE: First solo Jet Ski lap of New Zealand completed by Aussie adventurer
MORE: First solo Jet Ski ride around Australia crosses the finish line
MORE: All our Yamaha WaveRunner coverage in one click
MORE: All our Sea-Doo coverage in one click
MORE: All our Kawasaki Jet Ski coverage in one click
MORE: All our news coverage in one click
MORE: Follow us on Facebook
MORE: Follow us on YouTube