The first ever solo Jet Ski ride around mainland Australia has crossed the finish line, covering an estimated 15,000km of ocean riding in 18 months.
Adelaide man Lindsay Warner, 63, arrived in Exmouth on the remote mid-north coast of West Australia on 31 August 2021, where his epic journey began on 1 March 2020.
The journey started and finished from the same boat ramp after lapping mainland Australia counter-clockwise.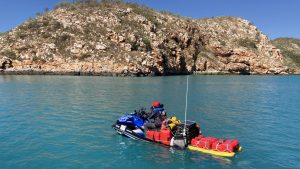 Although the solo lap of Australia was interrupted twice by border closures during coronavirus lockdowns, Lindsay Warner – who is also a pilot and has done endurance races on dirt bikes – is believed to have established a number of Jet Ski records.
As well as the first solo circumnavigation around mainland Australia by Jet Ski – in addition to his lap of the island state of Tasmania in January 2019 – Lindsay Warner is likely to have set a new world record for the longest ocean journey by Jet Ski.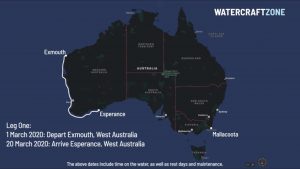 While the records are yet to be ratified, the lap of mainland Australia was traced by satellite tracking technology, and a travel log was signed by independent witnesses along the way.
Lindsay Warner battled bitterly cold southern waters in the lead-up to winter, navigated crocodile-infested waters in tropical Queensland and the Northern Territory, and some nights had to wake every hour to avoid his Jet Ski being stranded high and dry by one of the world's fastest-moving tides on the far north coast of West Australia.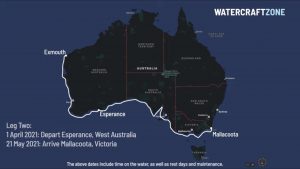 The tide moved so quickly – about half a metre a minute – Lindsay Warner got caught out one day and had to wait for the tide to come back in.
To keep to his schedule, for part of the final week Lindsay Warner had to be on the Jet Ski in the dark hours of the morning before the tide went out – and then waited hours until sunrise before he could start that day's journey.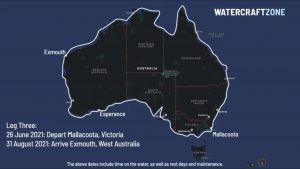 Covering Australia's most remote coastal areas with little or no phone signal, Lindsay Warner had only satellite emergency beacons and a marine radio to raise an alarm, although there were rarely other vessels in his vicinity.
As he navigated the shortest route point-to-point, Lindsay Warner was at times up to 75km offshore – and several hours away from medical rescue aircraft support should he need it.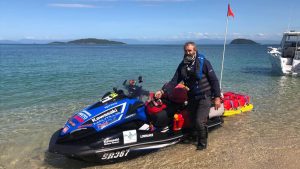 In the end, Lindsay Warner arrived in Exmouth, West Australia without suffering any injuries, though he did lose a lot of weight after relying on food rations crossing remote regions.
His 2017 Kawasaki Jet Ski Ultra LX required sporadic maintenance – and the generosity and skills of regional mechanics in far flung places – as it clocked up the equivalent of several lifetimes for the average Jet Ski.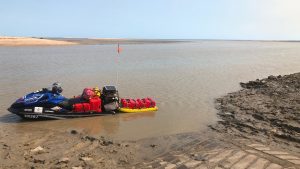 Lindsay Warner completed the final run from Darwin to Exmouth in 15 days, including a couple of days off the water for Jet Ski maintenance.
His solo lap of Australia was largely self-funded, with support from friends and family – and complete strangers, many of whom donated their time with repairs or fuel logistics, provided meals, or offered a place to sleep for the night.
Some nights, Lindsay Warner camped rough on remote beaches, finding high ground to avoid crocodiles. Other times he had the luxury of a local coastguard facility.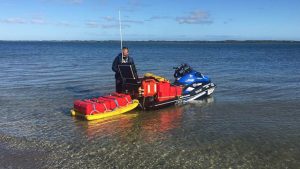 The fuel bill was astronomical, paying between $2.00 and $2.40 per litre much of the way, and up to $6 per litre in the most remote regions of Australia. At that price, one 140-litre top-up cost more than $800.
The fully-loaded 2017 Kawasaki Ultra LX Jet Ski – powered by a non-supercharged 1.5-litre four-cylinder engine – consumed fuel at an average rate of about 1.7km per litre, or 58 to 60 litres per 100km – about six times thirstier than a small car.
Travelling an average of 250km each day he was on the water, Lindsay Warner estimates his fuel bill totalled in excess of $30,000.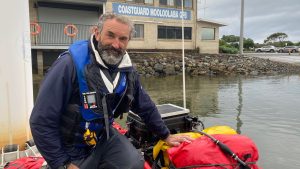 Lindsay Warner embarked on his epic feat to raise awareness for men's mental health.
"If people feel inspired to make a donation to their preferred charity, that's great," Lindsay Warner told Watercraft Zone over the phone from Exmouth.
"What's most important, though, is that men understand it's ok not to be ok – and to ask for help, because that could save their life," he said.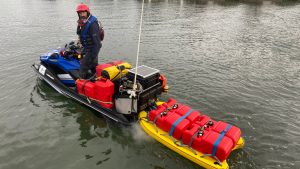 Lindsay Warner said he had been approached along the way by people in remote regions who had heard about his journey – but one local man in particular stood out from the whole trip, just days away from the finish.
"I pulled up onto 80 Mile Beach and a guy aged in his 40s walked up to me and said, 'I've heard about what you've been doing, and I just want to shake your hand and give you a hug," said Lindsay Warner.
"He said he'd been suffering PTSD (Post Traumatic Stress Disorder) for 18 years. I'm not sure if he was in the army, the police, or other emergency services, but it just shows there are people among us who are dealing with some very heavy issues. And they're not alone."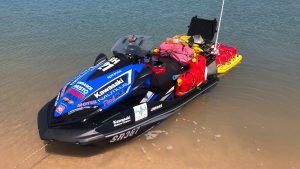 With his mission complete, Lindsay Warner says he is looking forward to a long rest after months on the water – and doesn't plan to get back on the Jet Ski for a while.
The 2017 Kawasaki Ultra LX Jet Ski was purchased by Lindsay Warner secondhand. 
The specially-prepared watercraft – one of three identical Kawasaki Jet Skis to complete a 720km return crossing of Bass Strait between Victoria and Tasmania with its previous owner, in May 2017 – was equipped with rescue beacons, food and water provisions, and long-range fuel bladders on the deck and tow sled.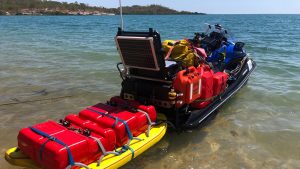 With limited access to refuelling points throughout much of the journey, the 2017 Kawasaki Ultra LX Jet Ski had a total fuel capacity of 298 litres. 
In addition to the standard Kawasaki Jet Ski 78-litre fuel tank, there was a 60-litre bladder on the rear deck, four 20-litre jerry cans in the footwells, plus four 20-litre jerry cans on a sled towed behind the craft.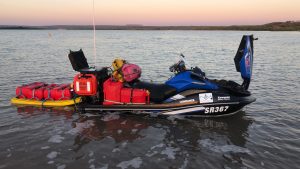 The fuel cans on the sled were only full during the most remote legs. They were left empty most of the time, to save weight and reduce wear and tear on the whole set-up for the majority of the trip.
Lindsay Warner started his epic journey in the remote town of Exmouth, West Australia, on 1 March 2020.
After travelling down the west coast and around the southern tip of West Australia to the Great Australian Bight, he arrived in Esperance 20 days later.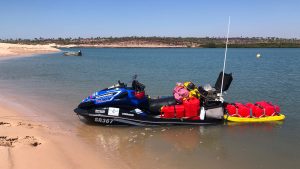 However, the journey had to be postponed on 20 March 2020 due to border closures prompted by the coronavirus.
He returned to Esperance a year later, restarting his journey on 1 April 2021.
After covering The Great Australian Bight and Victoria's coastline over seven weeks, his campaign was again interrupted due to border closures amid coronavirus lockdowns.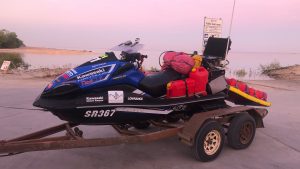 He was forced to pause his journey for the second time, on 21 May 2021, after arriving at Mallacoota in Victoria, near the border of New South Wales. 
Lindsay Warner restarted his around-Australia journey from Mallacoota, Victoria, on 26 June 2021 where he continued all the way to the finish in Exmouth, West Australia, in a little over nine weeks (67 days).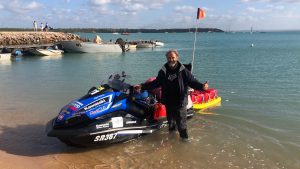 He avoided coronavirus lockdowns in Sydney and Brisbane by bypassing those cities and stopping in towns further along the coast – which were outside lockdown zones.
Lindsay Warner travelled the entire length of the NSW coastline from Mallacoota (near the border of Victoria and NSW) to Tweed Heads (near the border of NSW and Queensland) in seven days (26 June to 2 July 2021).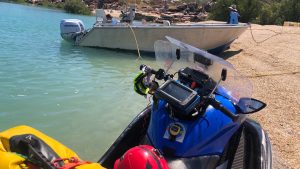 The epic journey north from the NSW border to Cairns in far north Queensland took two weeks (3 July to 17 July 2021).
After departing Cairns, Lindsay Warner made an impromptu visit to Restoration Island, north of Cooktown and home of the 'Millionaire Castaway,' David Glasheen (pictured below, right, with Lindsay Warner, left).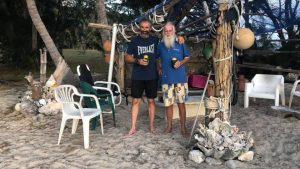 After a two-night stopover on Restoration Island, Lindsay Warner continued to Horn Island in the Torres Strait after passing the northern most tip of mainland Australia.
He departed Horn Island on 26 July 2021 and completed the Gulf of Carpentaria – one of the most dangerous and remote sections of coastline in Australia – after riding for seven days in a row.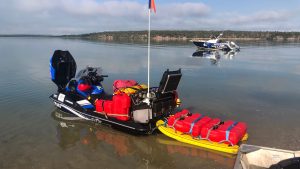 The ride from Gove Peninsula to Darwin took another five days (2 August to 6 August 2021).
After departing Darwin on 17 August 2021, Lindsay Warner arrived in Broome in nine days, on 25 August 2021, where the Kawasaki Jet Ski underwent further maintenance, replacing an auxiliary fuel pump corroded by salt spray.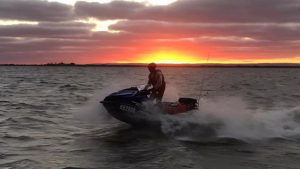 With the finish line just days away, Lindsay Warner departed Broome for 80 Mile Beach on 27 August 2021, arrived in Port Hedland on 28 August 2021, and stopped in Karratha on 29 August 2021.
From there, just two days remained, stopping in Onslow on 30 August 2021 before the final run across about 100km of open water – rather than following the coastline south and then north again – to finish in Exmouth on 31 August 2021, 18 months after the epic adventure began.
"I'm relieved it's over," Lindsay Warner told Watercraft Zone. "There is a lot of planning that goes into something like this, few people would have an appreciation for it, especially without a support crew to follow you all the way. Everything I needed to survive was on that Jet Ski."
The journey was made possible after plotting detailed navigational waypoints every night – and then crosschecking them for accuracy – calling days and weeks ahead to secure fuel in remote regions, and applying for permits to be allowed in certain protected areas.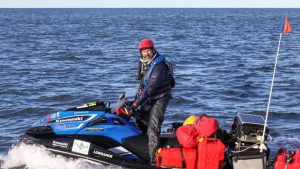 Then there was the search for accommodation each night – either a safe place on a beach, away from crocodiles in the country's far north, or a bed offered by a stranger wanting to do their bit for a good cause.
"I've genuinely been staggered by the generosity of all the people I've met along the way," said Lindsay Warner. "Considering what's going on in the world, it's actually a relief to see there are still a lot of kind-hearted people."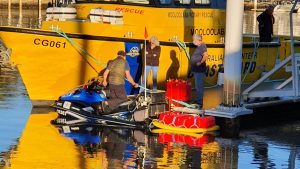 Meantime, Lindsay Warner plans to put his Kawasaki Jet Ski in storage and fly home back to Adelaide.
Lindsay Warner's next mission? To take his grandchildren out on the Jet Ski, in calmer waters a little closer to home.
Solo Jet Ski ride around Australia: Timeline

Leg One: 20 days
1 March 2020: Depart Exmouth, West Australia
20 March 2020: Arrive Esperance, West Australia
Journey interrupted by coronavirus border lockdowns
Leg Two: 51 days
1 April 2021: Depart Esperance, West Australia
21 May 2021: Arrive Mallacoota, Victoria
Journey interrupted by coronavirus border lockdowns
Leg Three: 67 days
26 June 2021: Depart Mallacoota, Victoria
31 August 2021: Arrive Exmouth, West Australia
Journey completed after 18 months
The above dates include time on the water, as well as rest days and maintenance.
MORE: Jet Ski around Australia passes half way mark
MORE: Jet Ski around Australia arrives in Darwin, finish just weeks away
MORE: Everything Kawasaki
MORE: All our news coverage in one click
MORE: Follow us on Facebook so you don't miss any future updates

Photo credit: All images courtesy of Lindsay Warner and are used here with permission.