Jet Skis and personal watercraft have been banned on Sydney Harbour since October 2001 after the state government introduced restrictions in response to noise complaints and dangerous riding. 
However, authorities are growing concerned about the number of Jet Skis and personal watercraft that have been intercepted on Sydney Harbour in the past six months.
This is despite the fact all Jet Ski riders are advised of the Sydney Harbour ban when they obtain their NSW personal watercraft licence – and there is a warning about "exclusion zones" on the behaviour label that is compulsory for all personal watercraft registered in NSW to display.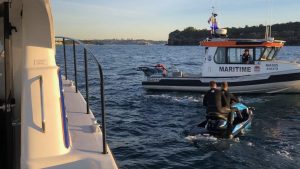 Above and at the top of this story: A pair of riders on a Jet Ski in Sydney Harbour are spoken to by NSW Police and NSW Maritime authorities in June 2021. Source: NSW Police Marine Area Command Instagram page.
On 5 June 2021, NSW Maritime intercepted a Jet Ski on Sydney Harbour with two people on board. NSW Police police also attended. Authorities said the rider was issued with a $500 fine.
According to the NSW Police Marine Area Command Instagram page (below), the riders launched at Tunks Park (near Northbridge on Sydney's north shore) and were warned by locals on the boat ramp that Jet Skis were banned on Sydney Harbour.
However the pair launched their Jet Ski despite the warnings and were intercepted near Sydney Heads.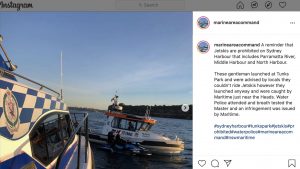 Figures from NSW Police and NSW Transport – supplied to Watercraft Zone – show 14 Jet Ski riders have been caught on Sydney Harbour since the ban was introduced in October 2001.
However, two of those 14 fines were issued in the past six months.
Prior to the 5 June 2021 incident, the last time someone was fined for using a Jet Ski illegally on Sydney Harbour was on 27 December 2020, say authorities.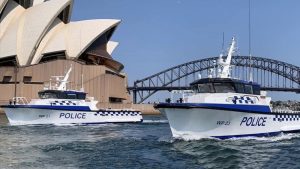 "Since 2001, there has been a blanket ban on the use of Jet Skis and personal watercraft on Sydney Harbour and tributaries of Lane Cove and the Parramatta River after a number of safety incidents and issues with anti-social behaviour," said a statement from NSW Transport.
"Personal watercraft are not permitted to be driven in the exclusion zone at any time, unless exempt," the statement continued.
"Those who are found to be operating a Jet Ski or personal watercraft in an exclusion zone can be fined $500 for a first offence and $750 for a second offence."
Since 2016, NSW Police and NSW Maritime officers have authority to seize watercraft for dangerous riding or for repeat offences.
However, there are some exceptions for Jet Skis or personal watercraft to be allowed on Sydney Harbour.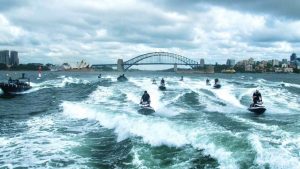 NSW Police and NSW Maritime officers can operate personal watercraft on Sydney Harbour for operational reasons.
And professional stunt riders who perform shows in Darling Harbour can be escorted there from the nearest boat ramp, although the shows have not been run for some years. 
In 2018, a group of about a dozen riders from the Yamaha Variety Jet Trek – a charity ride that raises money for sick and disadvantaged kids – were allowed to travel under the Harbour Bridge before heading out to the ocean, bound for Yamba on the NSW north coast. 
The 2018 Yamaha Variety Jet Trek group (pictured above) was escorted by NSW Police and NSW Maritime officers, so other waterway users could see it was an organised event.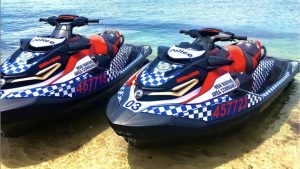 Most recently, however, on Sunday 20 June 2021, the riders of two Jet Skis were allowed to enter Sydney Harbour from the ocean after notifying authorities they were running out of fuel.
With fading light and limited fuel range, the two Jet Skis were escorted by the NSW Police Marine Area Command through part of Sydney Harbour to Rose Bay. 
Watercraft Zone has been told in that instance the riders were not fined.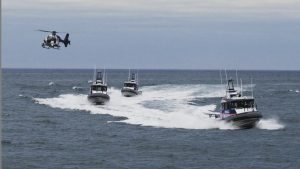 Authorities said they received a call for help from two Jet Ski riders who were "at risk of operating a personal watercraft after sunset (and had) limited fuel".
The pair were travelling from Botany Bay which is south of Sydney Harbour, to Pittwater which is north of Sydney Harbour.
"They were not fined as they had advised authorities in advance of their potential safety predicament, seeking permission to enter the port limits of Sydney Harbour safely," said a statement from NSW Transport.
After the pair made it to Rose Bay, they arranged for their cars and trailers to be driven from Pittwater to Rose Bay to retrieve their vessels.
Be sure to check back with Watercraft Zone and follow us on Facebook so you don't miss any future Jet Ski and personal watercraft news, reviews and advice.
MORE: UNSW studies the impact of COVID on Jet Ski safety
MORE: All our news coverage in one click
MORE: All our Yamaha coverage in one click
MORE: All our Sea-Doo coverage in one click
MORE: All our Kawasaki coverage in one click