Authorities in NSW have confirmed old "behaviour label" stickers are still valid on personal watercraft and Jet Skis in NSW – however it is a $250 on-the-spot fine to not display a label at all.
The NSW Roads and Maritime authority issued an updated behaviour label sticker in November 2020, which superseded the previous version issued in June 2016 and which included illustrations.
The older label is pictured on the left in the photo below, alongside the newer version on the right.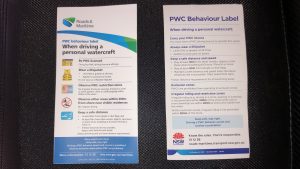 The new label was applied to all new registered vessels from November 2020 onwards and are available for free to PWC users who want the updated version.
However, during recent law enforcement and safety campaigns targeting Jet Skis and personal watercraft in early 2021, there was some confusion around the legality of old versus new stickers.
Official RMS education officers handing out new stickers at boat ramps told PWC users they risked a $250 fine if they did not replace the older sticker with the new behaviour label.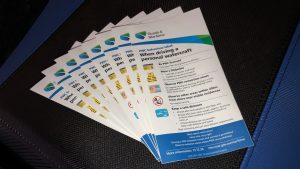 However, police and maritime officers who were conducting licence and safety checks – as well as drug tests – on the water told PWC users older labels were allowed and they were not at risk of receiving a fine.
To get clarification, Watercraft Zone contacted the Roads and Maritime authority who issued the following statement in March 2021:
"Personal watercraft (PWC) riders are reminded to apply a Transport for NSW PWC Behaviour Label to their vessel. 
"An updated label was issued in November 2020 and riders can obtain a free label from NSW Maritime Boating Safety Officers, Boating Education Officers, as well as Service NSW.
"Both the updated and previous version of the label are currently accepted."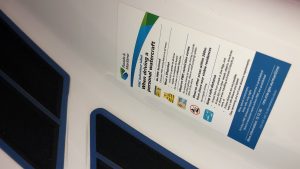 It is unclear if the word "currently" means the older labels will expire at some point. However, the older labels do not display an expiry date.
The labels must be within view of the rider when applied to the watercraft. They are often applied on the glovebox lid, or inside the front of either footwell (pictured above), a location also used by maritime and police watercraft.
Further, while the information on both labels is largely the same, the new version lacks some information such as: "Do not wear an inflatable life jacket".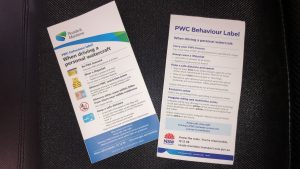 The new label instead says: "Know the rules, you're responsible".
However, the new label is more specific about PWC licence use. The old label said PWC riders must carry their licence at all times; the new label adds "you must have a PWC licence to operate this vessel".
The new labels also go into more detail about "exclusion zones" and the definitions of "irregular riding".
The new labels are available at Service NSW branches and Maritime head office in Rozelle. Or you can click this link to download a copy.
In the meantime, be sure to check back with Watercraft Zone and follow us on Facebook so you don't miss any future updates.
MORE: All our news coverage in one click
MORE: All our Sea-Doo coverage in one click
MORE: All our Yamaha coverage in one click
MORE: All our Kawasaki coverage in one click