Sea-Doo has announced plans to introduce an electric personal watercraft by the end of 2026.
The electric Sea-Doo is expected to be based on the popular, mid-size GTI series – the same range that also forms the basis of the GTR 230 and RXP-X RS 300 performance models.
A computer-generated image released by Sea-Doo in late March 2021 depicts an electric craft with an E GTI logo on the rear deck, just above the bond line (pictured below).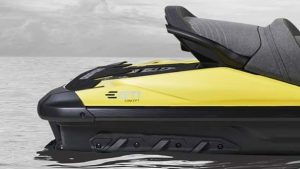 The electric Sea-Doo could arrive sooner than 2026, however the company has given this broader timeline to cover its entire range of vehicles.
This week's announcement to investors was part of a broader plan by Sea-Doo's parent company BRP to introduce electric power to each vehicle line-up – three-wheeler bikes, off-road buggies, and personal watercraft.
However, BRP has been working on an electric PWC for some time.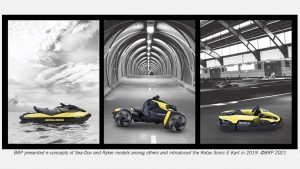 Dealers were shown an early prototype of an electric Sea-Doo at their annual convention in Las Vegas in late 2019.
That model, a concept and design study, had pure electric power. BRP also showed other electric vehicles at the same event.
In early 2019 the Canadian-based BRP acquired Alta Motors, a California-based start-up that specialised in electric motocross bikes, but which had struck financial difficulties in late 2018.
The acquisition gave BRP instant access to Alta Motors' intellectual property and will be part of the company's expansion into electric power.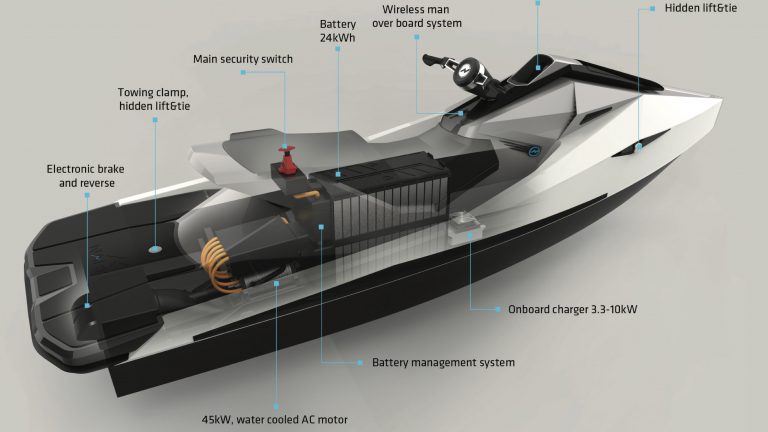 Above: An X-Ray view of an electric personal watercraft design by Narke in Europe.
In its statement to investors – in which it outlined a plan to spend $300 million over the next five years on electrification – BRP said it had already been experimenting with "battery-electric, hybrid-electric and even fuel cell electric over the years".
BRP already produces the electric-powered Rotax Sonic E-Kart in Austria, where the Rotax facility manufactures all engines for current Sea-Doo models before final assembly of each watercraft is completed in Mexico.
Sea-Doo insiders insist pure electric or hybrid electric watercraft will be sold alongside non-supercharged and supercharged models, and there are no plans to step away from petrol power.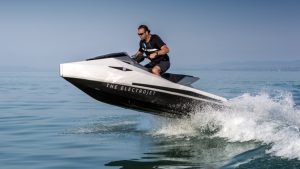 Above: Europe's Narke has already unveiled an electric personal watercraft, but the company is yet to disclose how many have been manufactured or sold.
As for the safety of electric power and water, Sea-Doo insiders are adamant battery technology and waterproofing capabilities have come a long way.
A number of questions remain, however, such as riding range, the weight of an electric craft, battery capacity, and whether or not the battery packs can be swapped out while on the water, to extend range.
An electric motor may be lighter than a petrol engine but the battery pack will likely negate any weight savings.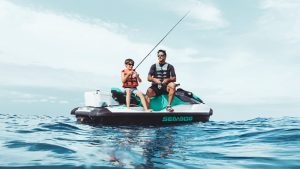 Above: a 2021 Sea-Doo GTI with an optional cooler box. Could this model soon be available with electric or hybrid power?
It is also unclear if Sea-Doo can find a way to recover any energy when the watercraft slows or is on the move.
Hybrid and electric cars recover a small amount of battery power when braking or driving downhill on light or no throttle.
A hybrid set-up – if Sea-Doo is working on such an option – could also be used to deliver an electric boost on take-off before the petrol engine takes over (similar to how Toyota's hybrid technology works), or as a type of launch control .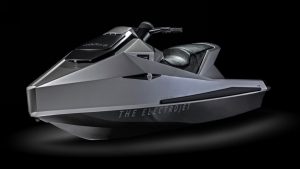 The electric Sea-Doo will likely have a more conventional design than the futuristic Narke from Europe (above).
Electric motors deliver peak power almost instantly and then taper off – the opposite of how internal combustion engines work, which reach peak power as rpms rise.
Although Sea-Doo might be working on its first electric and/or hybrid watercraft, it is not the world's first electric PWC.
As reported earlier, Europe's fully electric Narke personal watercraft (pictured above and below), starts from €39,000 or about $80,000. However, the company is yet to clarify how many examples it has sold.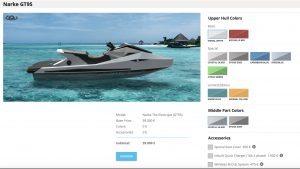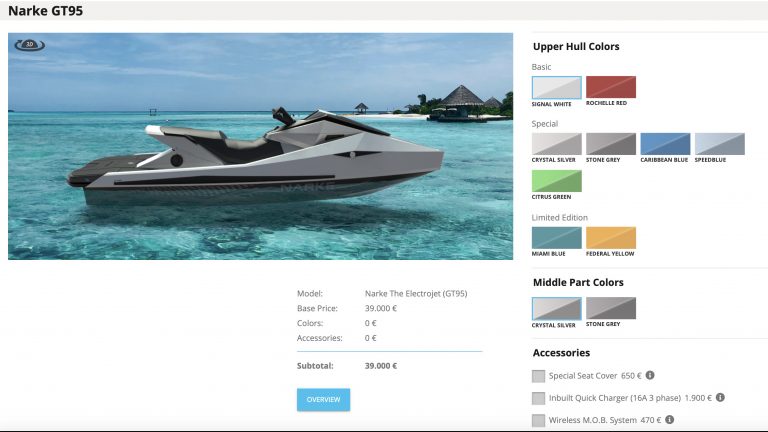 Above: The Narke electric personal watercraft costs roughly four times more than most Jet Skis.
And a little known Australian boating store in Kiama on the south coast of NSW is experimenting with Jet Ski engine swaps, replacing expired petrol engines with pure electric power for an estimated "drive-in, drive-out" cost of $10,000 to $12,000.
That company, EClassboats, already has a modest range of electric outboard motors, after refurbishing about half a dozen two strokes with expired engines over the past six months.
However, the Kawasaki Ultra converted in Australia to electric power by a local boating store was yet to hit the water as this article was published in late March 2021. Although the test craft is a 2008 model, it shares the same design as the current Kawasaki Ultra.
Above: A 2019 Kawasaki Ultra 310R Jet Ski.
Meantime, in a statement to investors, global BRP boss José Boisjoli said: "We have always said electrification was not a question of 'if' but a question of 'when'." 
The statement continued: "After developing and evaluating several concepts, BRP has made the bold decision to develop its Rotax modular electric powerpack technology which will be (used) across all product lines … by offering new electric options. To achieve this, BRP is expanding its Rotax electric power unit development infrastructure in Gunskirchen, Austria, and is also creating the BRP Electric Vehicle Development Centre, located in its hometown of Valcourt, Quebec, Canada."
No doubt there will be plenty of speculation on what might become of an electric or hybrid Sea-Doo – and plenty of naysayers –  but if you're a fan of petrol power you can rest easy. It's not going away anytime soon.
In the meantime, be sure to check back with Watercraft Zone and follow us on Facebook so you don't miss any future updates.
MORE: All our news coverage in one click
MORE: All our Sea-Doo coverage in one click
MORE: All our Yamaha coverage in one click
MORE: All our Kawasaki coverage in one click