Few Jet Ski riders would risk losing $10,000 worth of camera gear in rough surf, but that's exactly what Gold Coast enthusiast and photographer Jeff Lakeford does every time he hits the waves to capture these epic shots.
Lakeford, who has been riding Jet Skis and personal watercraft for more than 10 years, has taken more than 40,000 images of aerial stunts and racing over the past six years or so – and he's been kind enough to select his 10 best images from 2020 for us.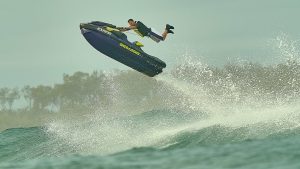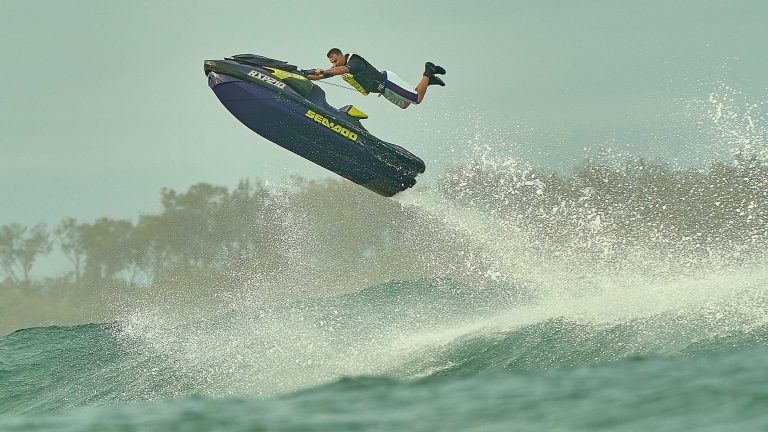 We've also included a handful of recent images taken in February 2021 of the Sea-Doo RXP-X RS 300 in the capable hands of Jordi O'Keefe from Shoreline Sea-Doo (above) – because we couldn't wait a year to share these amazing photos.
You may not know Jeff Lakeford, but if you follow many of the Queensland-based Facebook Jet Ski pages, chances are you've seen his work.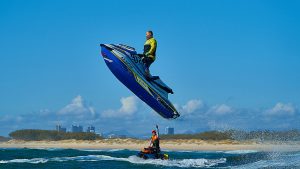 Few people in the Jet Ski and personal watercraft community, however, understand or appreciate the effort it takes for Lakeford to capture these images.
While Lakeford is a truck driver during the day, his true passion is photography and Jet Skis.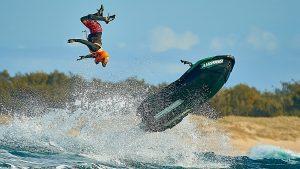 He publishes thousands of images on social media every year and most of the time doesn't get paid a cent for them – despite the cost of the equipment and the time involving in shooting and editing the photos.
For the shutterbugs among us, Lakeford uses a professional grade Sony A9 DSLR camera body and a pair of Sony G Master lenses (70 to 200mm and a 100 to 400mm). All up, the kit cost about $10,000.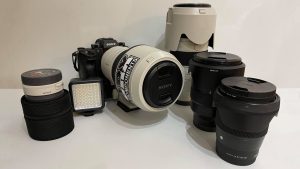 On sunny days, Lakeford says he shoots with 100 ISO light sensitivity and hits shutter speeds as fast as 1/1000th of a second. On overcast days or cloudy mornings he bumps the camera up to between 600 and 800 ISO to hit 1/1000th of a second.
Lakeford says he prefers the fast shutter speed because it freezes the water droplets mid air and gives him more shots from each burst of frames.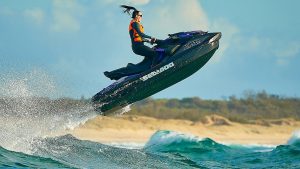 For Jet Ski enthusiasts who might be wondering what Lakeford rides, he has a 2016 Sea-Doo GTX 260 IS, the now-discontinued model with electronically-adjustable suspension under the top deck (other GTX models at the time had manually adjustable suspension for their top decks).
It is Lakeford's second example of the same type of craft. When he heard it was coming to an end (Sea-Doo dropped the idea due to cost and the extra time involved during routine maintenance), he went and bought one of the last Sea-Doo GTX 260 IS craft available in Australia. He says he doesn't want to part with it and it will take something truly special to get him off this ski.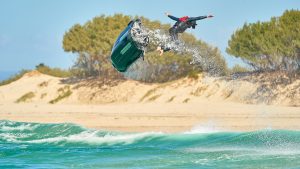 As with many enthusiasts, Lakeford says he started out taking freeze frames from GoPro cameras but quickly realised the wide angle lens made it too difficult to get close to the action.
So he bit the bullet and bought a pro kit and put it in a waterproof back pack. But, incredibly, he has no waterproof covering for the camera equipment when he is taking photos.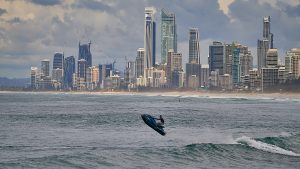 "The groups I go out with know to keep their distance from me, so they don't spray the camera gear," says Lakeford.
The bigger challenge, he says, is not getting swallowed by the surf when taking photos. Although Lakeford uses long lenses, he needs to be near the wave breaks to get the best shots.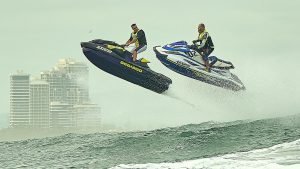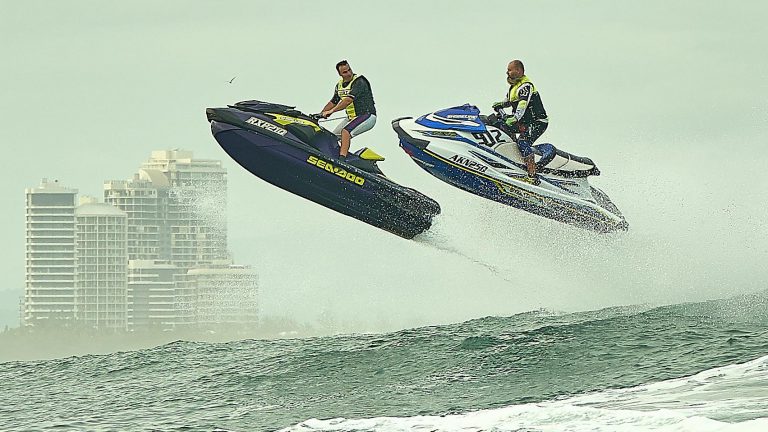 "A couple of the guys will let me know if there is a big wave coming up behind me, because I've got my back to the surf and my eyes are looking through the lens," says Lakeford.
We don't want to jinx him, but he's yet to lose grip of his camera gear. The only thing saving the expensive equipment from numerous close calls is a neck strap and a firm left-hand grip.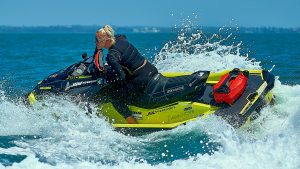 "I've had a couple of close calls and heard a wave breaking behind me," says Lakeford. "I keep the ski in sports mode so it's ready to punch away. So I've got the throttle trigger in one hand, and the camera in the other."
Lakeford says he has considered taking photos as a back seat passenger, but he prefers to be in control.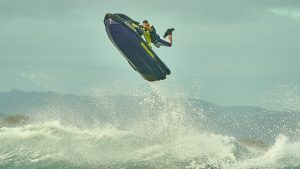 "It's more comfortable for me to face forward and stand up on the ski, bouncing around in the swell, rather than facing backwards on the back of the craft," says Lakeford.
"Sometimes, because I'm using the long lens, I have to stand up to shoot over the waves because there will be a swell between me and the wave the ski is actually jumping."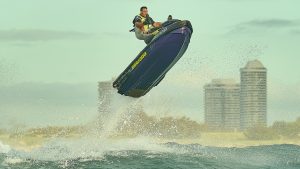 So what happens when he gets caught in the wash?
"I gun it forward to stay in front of the wave, riding one handed, until it flattens out," says Lakeford. 
"Then I will pick my spot to head back out, or put the camera gear back in the waterproof back pack. It's never easy, but I get a buzz out of it and it's great for other riders to see the amazing things they do."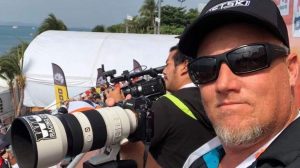 Lakeford also photographs Jet Ski and personal watercraft racing, but that's done from the safety of dry land (above). In 2018 and 2019 Lakeford flew to Thailand twice and China once to cover races there, too.
So does he make any money from this? "Some people offer to pay a bit of money for the high resolution versions of the photos, but mainly I do it because I'm passionate about the sport. I enjoy the fact these riders get to see themselves and how awesome it looks when they're getting massive air."
Copyright for these photos is owned by Jeff Lakeford (Nautical Image) and have been used with permission.
MORE: Follow Jeff Lakeford on his Nautical Image Facebook page.
MORE: All our Sea-Doo coverage in one click
MORE: All our Yamaha coverage in one click
MORE: All our Kawasaki coverage in one click