Australia's first electric Jet Ski available to the public might not be far way – and it could come at a fraction of the cost of Europe's fully electric Narke personal watercraft (pictured above and below), which starts from €39,000 or about $80,000.
A little known Australian boating store in Kiama on the south coast of NSW is experimenting with Jet Ski engine swaps, replacing expired petrol motors with pure electric power for an estimated "drive-in, drive-out" cost of $10,000 to $12,000.
The company, EClassboats, already has a modest range of electric outboard motors, after refurbishing about half a dozen two strokes with expired engines over the past six months.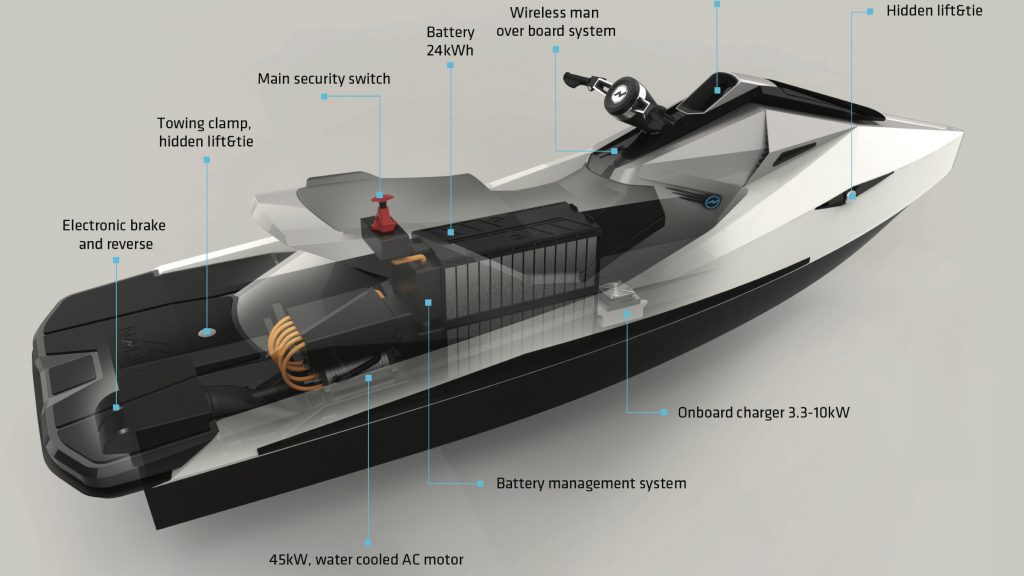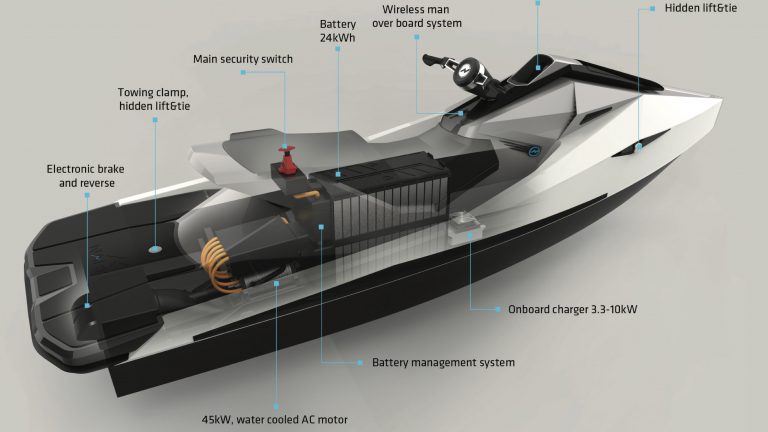 Above: An X-Ray view of the Narke electric personal watercraft from Europe.
EClassboats has now turned its attention to bringing electric power to Jet Skis and personal watercraft, by replacing engines deemed too costly to repair.
A secondhand 2008 Kawasaki Ultra with a conked-out non-supercharged 1.5-litre four-cylinder engine is the test bed for the new project.
In early February 2021, EClassboats began removing the engine and 78-litre fuel tank, to make way for a 10kWh battery pack and a 50kW electric motor. The company hopes to water-test its first electric Jet Ski by the end of March 2021.
The lithium-ion battery pack weighs 70kg, about the same as a full tank of petrol. And the electric motor weighs 38kg, about half the weight of the Kawasaki Ultra's 1.5-litre four-cylinder engine which tips the scales at 75kg, minus ancillaries.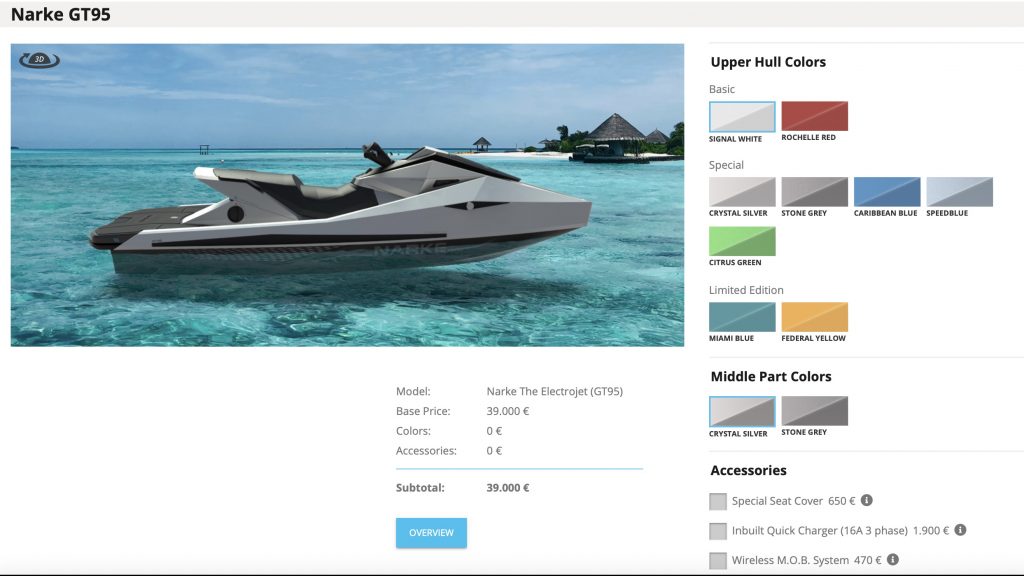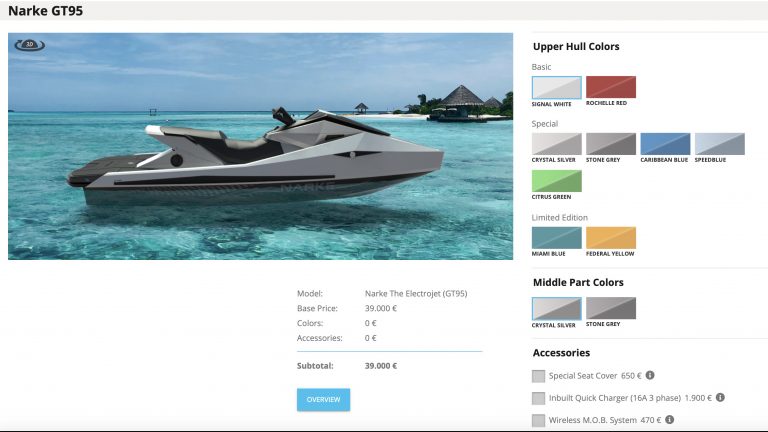 Above: The Narke online price configurator for an electric Jet Ski … €39,000, about $80,000.
Entrepreneur Lynelle Johnson has teamed up with veteran boating expert Ron Kelly, the wily 77-year-old having spent more than 50 years in the marine industry and clocking up time as a boat builder and marathon yachtsman, competing in two Sydney to Hobart races (in 1983 and 1984).
Kelly had been experimenting with electric outboard motors for about 10 years but says the technology coming out of China these days has made it relatively affordable to deliver electric power and decent riding range in a Jet Ski or personal watercraft.
The start-up claims the chances of electrocution while riding an electric Jet Ski are minimal – despite the proximity to water and likelihood of water ingress in the engine compartment – because the battery pack and electric motor are sealed, waterproof units.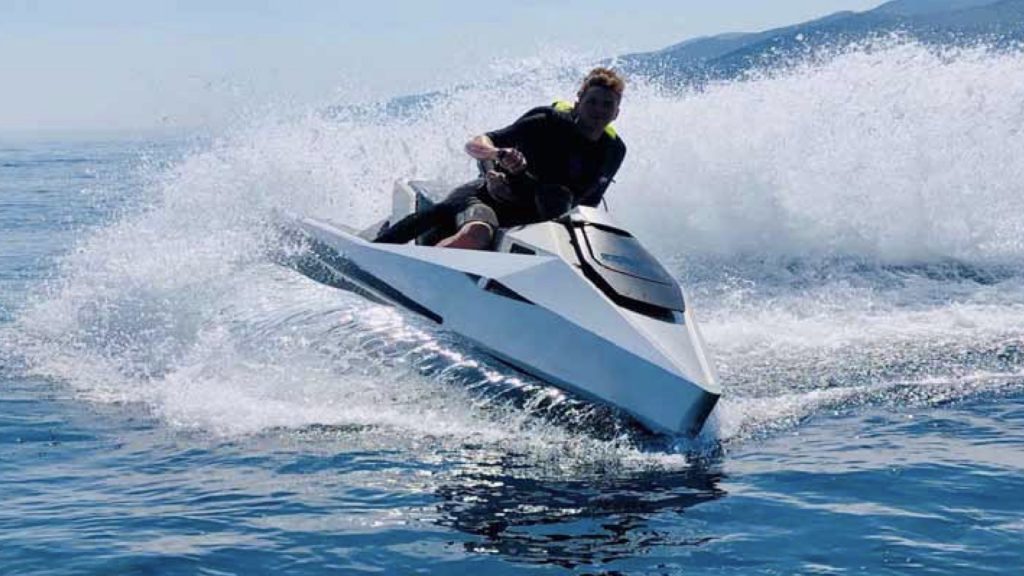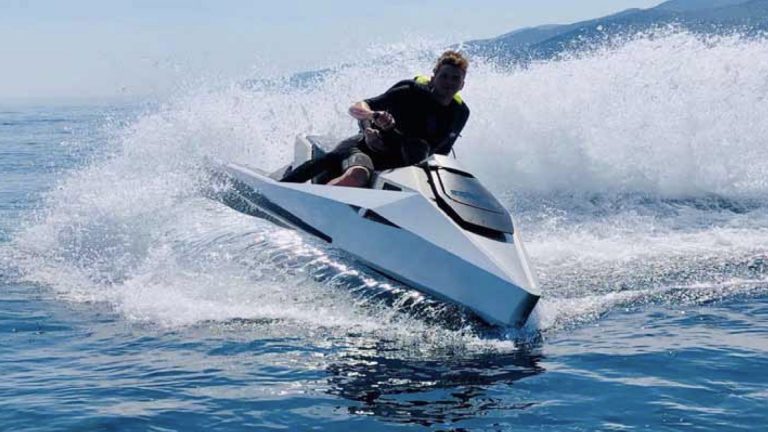 Unlike Australian plans to refurbish existing Jet Skis, the Narke electric personal watercraft (above) has a unique deck and hull.
Initially, the 10kWh lithium-ion battery set-up in the prototype Kawasaki Ultra will be installed for durability testing, proof of concept, and to find out how much riding time this will provide in various water conditions. The goal is to provide two to three hours of riding time, typical of most petrol-powered Jet Skis.
When asked how the components will handle rough water, Johnson said that was yet to be assessed.
"Jet Skis are brutal at full speed," said Johnson. "Most riders don't go flat-out for extended periods in rough conditions."
The potential for the technology, said Johnson, is among enthusiasts who prefer to fish off a Jet Ski or personal watercraft.
While EClassboats has started with a Kawasaki Jet Ski, it says it plans to offer electric conversion kits for Sea-Doo and Yamaha.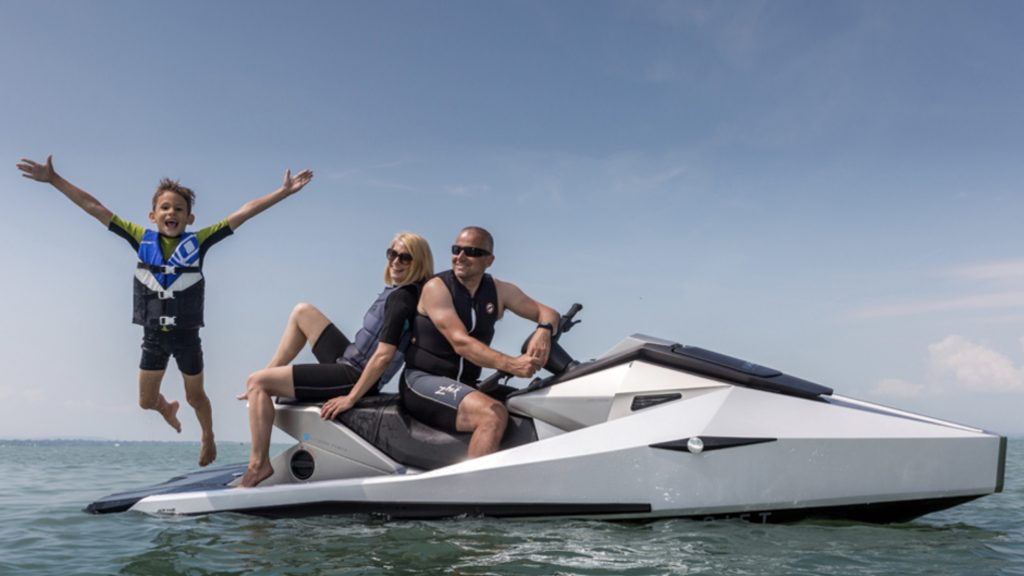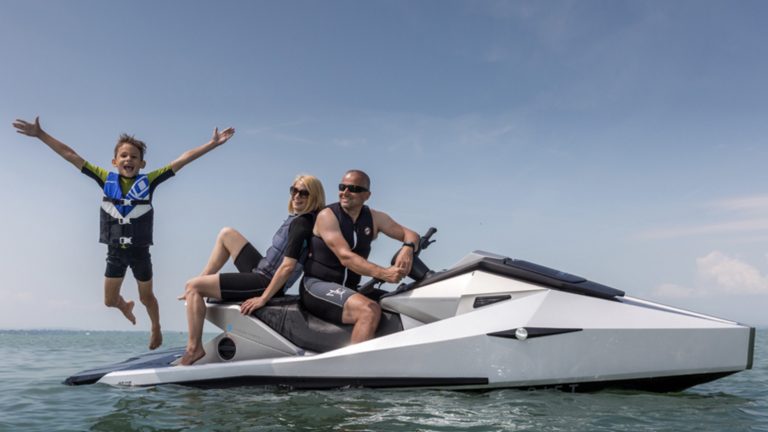 Above: Narke's luxury electric-powered personal watercraft from Europe.
"Electric motors have instant torque, they aren't limited by revs, and they have phenomenal acceleration," said Johnson, adding that peak revs for an electric motor is about 12,000rpm versus about 7000rpm for most petrol-powered Jet Skis and personal watercraft.
Johnson said the plan is to use the Kawasaki's original jet pump and impeller, though they are considering adding a "power boost" button (much like "Ludicrous Mode" in a Tesla electric car).
"Most of the time the electric motor can be running at 20kW but at the press of a button you might unleash 50kW for short bursts," said Johnson.
The entrepreneurs were yet to come up with an energy recovery solution for their electric Jet Ski (electric and hybrid cars can recover battery power when coasting, braking, or being driven downhill).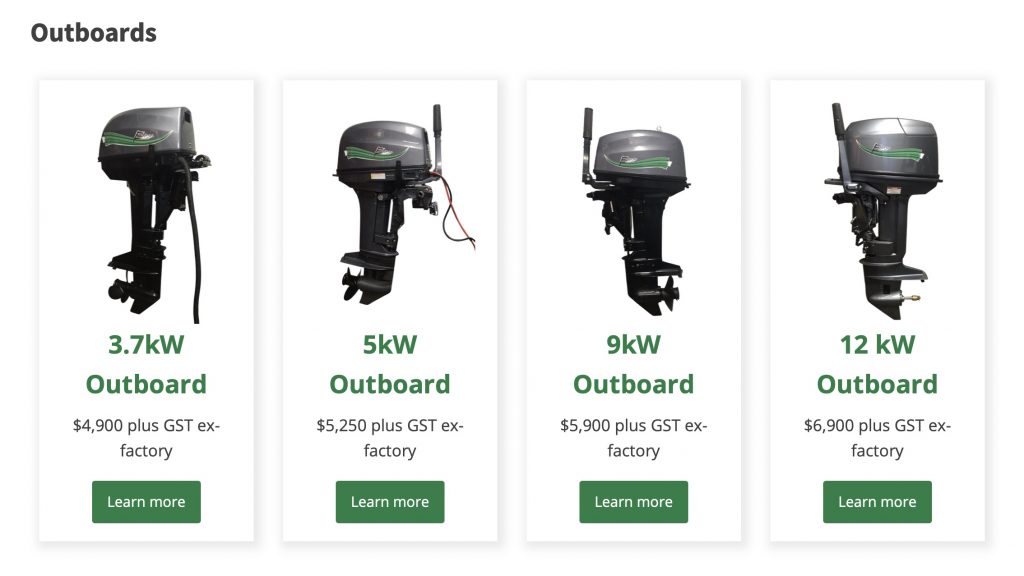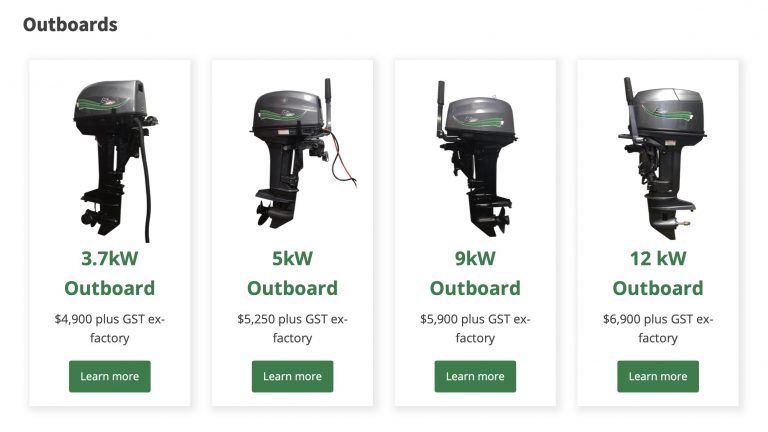 Above: EClassboats started by offering electric conversions for outboard motors and now wants to enter the Jet Ski and personal watercraft market. 
Once the electric-powered Kawasaki Ultra has been built and testing is completed, Johnson says "we are going to test the market by putting this one on the market", adding that the buyer will have the option of adding a larger battery pack.
To date, electric Jet Skis remain niche products, such as the €39,000 (about $80,000) models shown online by Hungarian outfit Narke, which constructs a bespoke deck and hull rather than fitting an electric motor to an existing watercraft.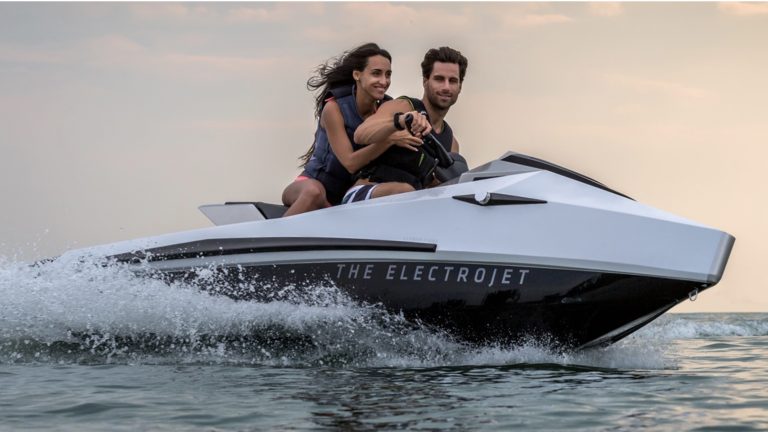 Above: The luxury Narke Electrojet from Europe. 
WatercraftZone.com.au has reached out to Narke to find out how many electric personal watercraft it has sold globally and if any have made their way to Australia. We will update this story with their response.
As reported by Boatsales.com.au, EClassboats is not the first Australian outfit to develop or experiment with an electric Jet Ski or personal watercraft.
In 2015, the University of Western Australia's Renewable Energy Vehicle Project built a prototype of an electric Jet Ski, however it only ran for about 20 minutes before the battery needed to be recharged.
In the meantime, mainstream manufacturers such as Sea-Doo, Yamaha and Kawasaki are said to be studying electric motor technology and how it might be applied to personal watercraft. But to date, none of the Big Three have announced any plans.
MORE: History of the Jet Ski