More than 150 Jet Skis and personal watercraft turned out on the Gold Coast on the last weekend in November 2020 for an inaugural charity ride to raise money for foster kids.
Although the participants were greeted with perfect conditions and warm weather, it was a hot day's work for many who decked themselves out in Santa costumes – and covered their Jet Skis and personal watercraft with Christmas decorations.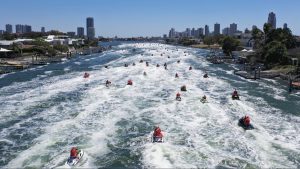 The event was organised by the Gold Coast and Brisbane Jet Ski Riders Facebook group, after being approached by the Kids In Care Charity, which helps children from foster care who are due to be placed with families.
Jane Padden, from the Kids In Care Charity, pitched the idea of a Jet Ski event in which riders would wear Santa suits. A previous World Record was set in Dubai with 129 personal watercraft ridden by people in Santa suits.
Participants needed to make a minimum donation of $35 to take part. Organisers said the tickets were sold out in a fortnight.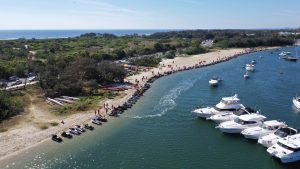 Most riders fund-raised more than double that amount. By the end of the ride – which took in the Nerang River on the Gold Coast – more than $10,000 was raised for the children's charity.
Organisers said this was enough to buy Christmas presents for 426 foster kids.
The fleet of 156 Jet Skis and personal watercraft was led by local marine rescue authorities.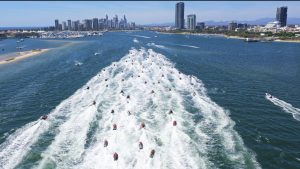 One of the event's organisers, Jeff Lakeford, said he was hopeful of eclipsing 200 Jet Skis and personal watercraft for the Christmas 2021 ride.
"People came from Brisbane, the Sunshine Coast, the Gold Coast, and northern NSW to take part," said Mr Lakeford.
"With the rapid growth of the sport, Jet Ski riders can easily get a bad name due to the minority who do the wrong thing. This is a way of showing the community we are not all hoons and the majority of us do ride responsibly."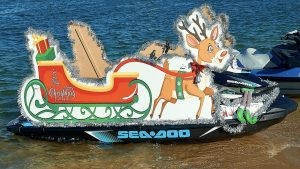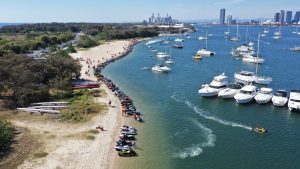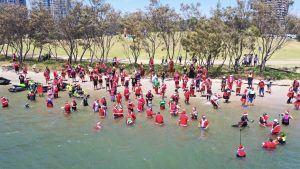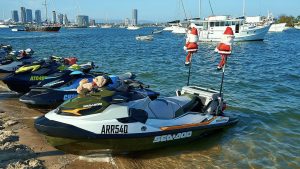 All photos by Jeff Lakeford/Nautical Image and are republished with permission.
---