The prices of Jet Skis and personal watercraft have crept up over the past decade. 
Top-of-the-range models from Sea-Doo, Yamaha and Kawasaki cost close to $25,000 and beyond – not far off the price for a brand-new Toyota Corolla.
However, as the Jet Ski and personal watercraft market has grown, new models have appeared in the more affordable end of Sea-Doo and Yamaha ranges.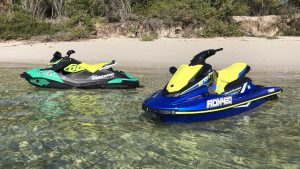 The Sea-Doo Spark limboed to a new sub-$8000 low when it went on sale in 2014 and Yamaha responded with the EX series in 2016, which initially started from $8499.
Meanwhile, Kawasaki's most affordable model starts from about $15,000, and is the next size up, so it does not yet have a Jet Ski in this segment – or price bracket.
Both the Sea-Doo Spark and Yamaha EX series are small in size, but have seating for up to two or three riders, depending on the model.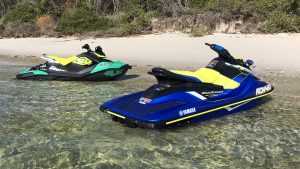 Both have small three-cylinder engines, so they're not powerful by industry standards, however they have plenty of zip and plenty of fuel range for a fun day on the water.
Both the Sea-Doo and Yamaha are are light and nimble, which makes them easy to manoeuvre. They appeal to people who are new to the sport – as well as experienced riders who can really toss them around.
However, after the initial success, Sea-Doo and Yamaha quickly recognised there was another market for these small watercraft – with a bit more power and riding ability to provide a lot more fun.
Sea-Doo created the Spark Trixx and Yamaha built a performance version of its EX series dubbed the EXR. We got them together for a back-to-back test.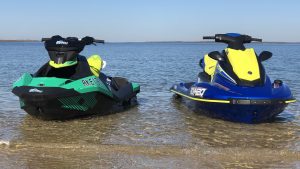 What do we have here?
In the same way Sea-Doo revolutionised the market with the Spark – the most affordable Jet Ski or personal watercraft in decades – it also worked its magic on a special edition of the Spark which it dubbed the Trixx.
Sea-Doo engineers who were toying with the Spark figured out that if the jet pump nozzle pointed upwards, and the rider shifted their weight to the rear of the craft and balanced on "step wedges", the Spark could fling its nose in the air at low speeds for extended periods.
Best of all, the stunt mode is intuitive once the rider follows some basic steps. Even non-expert Sea-Doo executives could perform the stunt during the watercraft's development.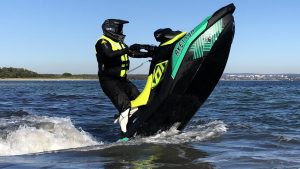 And so in 2018 Sea-Doo went into production with the Spark Trixx, available as a two-seater or three-seater. In Australia, it now outsells the regular Spark model.
The Yamaha EXR doesn't have a stunt mode like the Sea-Doo Spark Trixx (it doesn't even have trim adjustment), however Yamaha did bring its lightweight NanoXcel hull technology to its most affordable model to reduce the craft's overall weight (from 272kg to 245kg), and then gave its TR-1 three-cylinder engine a little more pep.
Engines
The Sea-Doo Spark is available with a choice of 60hp or 90hp versions of the 899cc three-cylinder engine. However all Sea-Doo Spark Trixx models are equipped with the 90hp engine.
Yamaha doesn't normally quote power figures for its watercraft, but as a guide the company estimates the EXR has close to 110hp (81kW), which is up from 101hp (71kW) on the standard EX's 1049cc three-cylinder engine.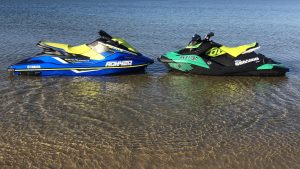 Prices
The 2020 Sea-Spark Trixx range starts from $11,499 for a two-seater, while the three-seater costs from $12,399. Both prices exclude the cost of a trailer and registration, which typically add between $1500 and $2000 depending on the quality of the trailer and registration fees in each state.
The 2020 Yamaha EXR costs $12,599, not including trailer and registration.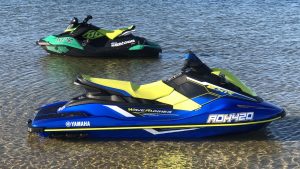 These watercraft would suit…
As we mentioned in our introduction, part of the broad appeal of both the Sea-Doo Spark Trixx and Yamaha EXR is that they suit those who are new to sport as well as experienced riders.
Both the Sea-Doo Spark Trixx and Yamaha EXR are intuitive to ride, agile and easy to manouvre. They're heaps of fun but not too powerful, so they're a great way for kids to get started in the sport (once they're licenced). 
That said, we know of plenty of grown ups who own these personal watercraft. The appeal, they say, is that these models have the comfort of a sit down personal watercraft and yet almost have the agility of a stand-up Jet Ski.
The affordable price and relatively low running costs are also part of the appeal.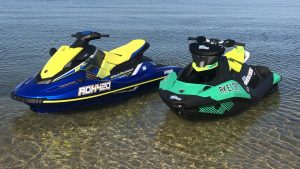 Pros and cons
The Sea-Doo Spark Trixx aces in the industry with its ability to stick its nose in the air when in the right mode. With practice, you can do this for up to a minute at a time. Or longer, if you're really get the knack. 
It's worth noting, however, this "wheelie" stunt is regarded as "irregular riding" by some Australian authorities, so the same rules apply as weaving, jumping or figure eights, and this mode can only be used away from other riders and residential areas. 
The Sea-Doo Spark Trixx top deck and hull are made of what Sea-Doo calls Polytec, a hard-wearing and durable plastic. The bodywork is quite hard to scratch and is easy to maintain. Some critics of the material say Polytec is susceptible to damage. And there are numerous examples of this on social media.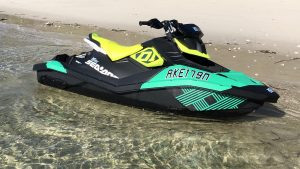 However, providing the watercraft is not abused (excessive and extreme wave jumping or beaching the craft on rocky or shell-covered sand), it should hold up fine.
Room for improvement? There is next to no storage on the Sea-Doo Spark and Spark Trixx, aside from a small pocket in the centre console. But even that is barely enough to store a phone, wallet, keys or a tube of sunscreen.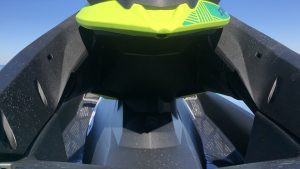 Sea-Doo offers optional storage bags/compartments (especially for the nose) at extra cost, however it's worth noting they are not waterproof.
The Sea-Soo Spark Trixx has a Bluetooth audio system that fits in front of the handlebars. The speakers have decent sound quality. Best of all, the Sea-Doo Spark Trixx audio system is removable and runs on its own rechargeable batteries (like a boom box) so it can be used away from the craft, once you're on the beach.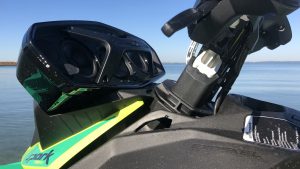 The Yamaha EXR does not have an optional audio system, but its centre console is larger than on the Sea-Doo Spark Trixx and can easily fit enough essentials for a day on the water (such as a phone, wallet, sunscreen, maybe even a small towel). 
And although the storage area under the nose of the Yamaha EXR is slim, it's better than nothing – and can fit a medium-size towel.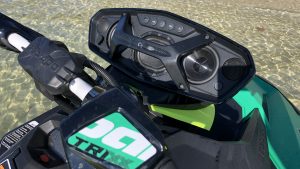 If you need even more space, Yamaha sells an optional expandable sleeve to replace the shallow cubbie under the nose cover.
The Yamaha EXR comes with side mirrors and a rear boarding step; these are extra-cost options on the Sea-Doo Spark Trixx.
The Yamaha EXR upper deck is made from fibreglass and the hull is made from NanoXcel material (a lightweight fibreglass). It has a shiny painted finish, which is more prone to scratching, so you need to take a little more care.
The Yamaha EXR also has the advantage of a large, flat rear deck, which makes it easier to clamber back on board from the water versus the same task with the Sea-Doo Spark Trixx. 
The rubber matting on the Yamaha EXR provides good foot grip; the patterned plastic in the Sea-Doo Spark Trixx foot wells can be slippery.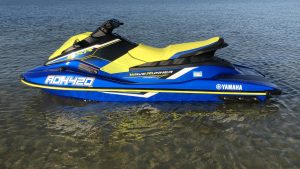 What are they like to ride?
Both of these watercraft respond well to rider input, especially if you lean your body into it.
They have a level of agility that larger Jet Skis and personal watercraft can't match. If you're looking for a dry ride, look elsewhere. You will get soaked riding the Sea-Doo Spark Trixx or Yamaha EXR – and you'll love it.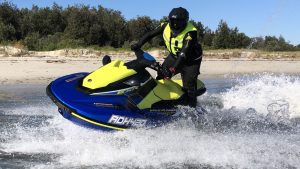 It's quite easy to lean over too far during a tight turn, and end up in the drink. As mentioned earlier, from the water it's easier to reboard the Yamaha EXR than the Sea-Doo Spark Trixx, but you'll get the hang of either eventually.
The Sea-Doo Spark Trixx feels a touch lighter (because it is) and although it has enough power to have some fun, you can feel the Yamaha EXR has a touch more power and acceleration – and a more stable hull that tracks better in medium chop.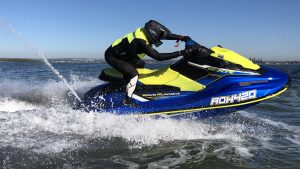 Both models have similar forward and reverse triggers (right hand is forward and the left hand is reverse), though the Yamaha is more responsive at lower speeds, such as when trying to get close to a trailer or wharf.
The Sea-Doo Spark Trixx has a height-adjustable handlebar; the Yamaha EXR handlebar is in a fixed position.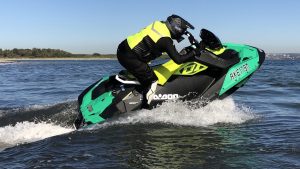 Neither model has cruise control or low wake mode, you need to control the throttle yourself, no matter what the speed.
The rubber matting in the footwells and rear deck of the Yamaha EXR delivers more grip versus the plastic finish on the Sea-Doo Spark Trixx. However the footwells on the Sea-Doo are larger, making it easier to find the optimum riding position.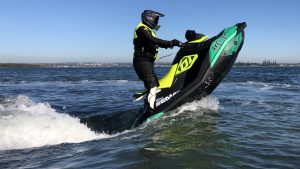 Getting the Sea-Doo to perform its "wheelie" stunt is relatively easy and you'll master it in a couple of attempts. The trick is keeping the thing in the air for as long as possible. It requires balance and plenty of thottle control.
It's fun, and a great way to impress friends, but the novelty soon wears off and you're back to enjoying just how light and nimble this craft really is.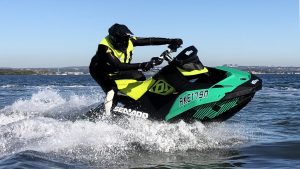 Fuel use
We did not directly compare fuel figures on the day because we rode both the Sea-Doo and the Yamaha for different lengths of time and did different types of riding.
However, we can attest that both of these craft are among the most fuel-efficient Jet Skis or personal watercraft on the market today.
The Sea-Doo has only a 30-litre tank but its three-cylinder engine is smaller in capacity (899cc versus 1049cc on the Yamaha) and owners tell us they run out of energy before they run out of fuel.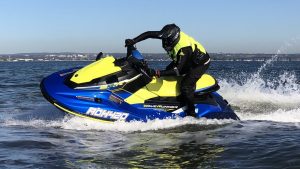 That said, the Yamaha EXR is able to travel further on a single tank, as it has a 50-litre fuel bladder, which is 66 per cent larger in capacity than the Sea-Doo Spark Trixx tank.
Both models can run on regular unleaded, but you will eke out longer range if you run on premium unleaded.
Premium unleaded is also preferred if the watercraft is used infrequently and remaining fuel is left in the tank for months between rides.
As with all watercraft, carrying more than one person – or repeated acceleration and extended top speed runs – will consume fuel at a faster rate than when riding solo at moderate speeds.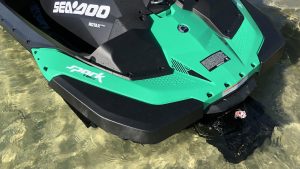 Servicing
Service intervals are 12 months or 100 hours, whichever comes first, both both the Yamaha EXR and Sea-Doo Spark Trixx. 
A routine service should cost between $250 and $450, but be sure to check with your Sea-Doo or Yamaha dealer.
The Yamaha EXR engine compartment is relatively accessible; the Sea-Doo Spark Trixx requires some panels to be removed, so servicing it at home would be more difficult.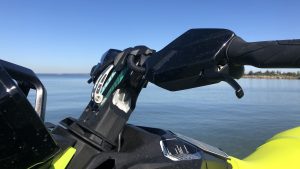 Warranty
As this article was published all new Yamaha WaveRunners sold in Australia have a three-year warranty versus two years for Sea-Doo and five years for Kawasaki. Sea-Doo occasionally has three-year warranty offers, so be sure to check.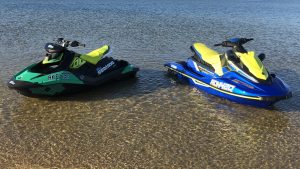 Tips for flushing after each ride
According to the owner's manual, the Yamaha EXR can be flushed for up to three minutes, though a little longer than this shouldn't hurt it. A fresh-water flush is recommended especially after riding in salt water. 
To avoiding flooding, be sure the engine is running before you start the fresh water flush, and remove the hose before shutting down the engine. Consult your Yamaha dealer for more details.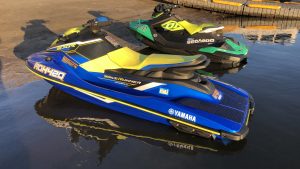 It is recommended to flush the Sea-Doo Spark and Trixx for between 90 seconds and two minutes after each ride. 
Although models made from 2014 to 2020 do not have a carbon seal, it is recommended not to flush for too long, to reduce the risk of engine overheating.
As with the Yamaha EXR, to avoiding flooding, be sure the engine is running before you start the fresh water flush, and remove the hose before shutting down the engine. For more detailed instructions, check with your local Sea-Doo dealer.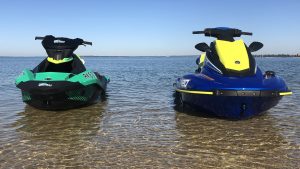 To sum up
The Yamaha EXR feels more capable and more precise over a broader variety of water conditions. It's a touch more expensive than the Sea-Doo but comes with more standard storage space, more standard equipment and a longer riding range than the Sea-Doo Spark Trixx.
However, if the stunt mode on the Sea-Doo Spark Trixx is the priority, you'll have plenty of fun with this watercraft – even when it's not performing "wheelies". The Sea-Doo Spark Trixx is great value, cheap to run, easy to ride, and its body is less susceptible to scratches.
Specifications: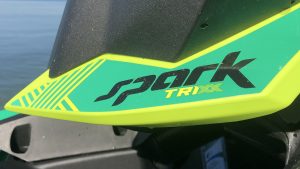 Model: Sea-Doo Spark Trixx
Length: 2.79m or 3.05m (2-seater or 3-seater)
Width: 1.18m
Dry weight: 194kg or 199kg (2-seater or 3-seater)
Engine: 90hp 899cc 3-cyl Rotax, non-supercharged
Top speed: 80km/h (estimated)
Fuel: 30L
Seating: 2 or 3
Warranty: Two years
Service intervals: 12 months or 100 hours, whichever comes first
Priced from: $11,499 (2-seater) or $12,399 (3-seater), (not including trailer and rego)
Options: Bluetooth audio speakers ($800, plus $50 for the support base bracket)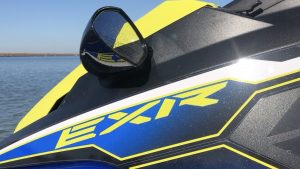 Model: 2020 Yamaha EXR
Length: 3.14m
Width: 1.13m
Dry weight: 245kg
Power: 1049cc three-cylinder, non-supercharged
Top speed: 80km/h (estimated)
Fuel tank: 50L
Seating capacity: 3
Warranty: Three years
Service intervals: 12 months or 100 hours, whichever comes first
Priced from: $12,599 (not including trailer and rego)
Options: None fitted.
Review watercraft supplied by Yamaha Marine Australia and Cronulla Sea-Doo & Can Am.
MORE: All our Sea-Doo coverage in one click
MORE: 2021 Sea-Doo prices
MORE: All our Yamaha coverage in one click
MORE: 2021 Yamaha WaveRunner prices