One of the first examples in the world of the 2022 Sea-Doo Fish Pro Trophy edition has been delivered to New Zealand Jet Ski fishing expert Andrew Hill.
While the 2022 Sea-Doo Fish Pro Trophy edition is months away from being available in local showrooms, Andrew Hill has already got to work on the new model leading expeditions – and landing some decent sized catches.
Andrew Hill was instrumental in developing the Sea-Doo Fish Pro as the world's first dedicated fishing Jet Ski.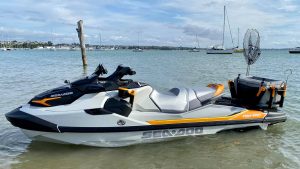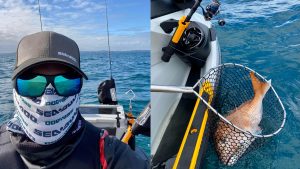 After 10 years of running Jet Ski expeditions in New Zealand on Yamaha Waverunners, Andrew Hill made the switch to Sea-Doo – initially running a Sea-Doo GTX 155 customised for fishing with a cooler box, 7-inch GPS Sounder, navigation lights and a dual battery system.
At some point, Sea-Doo heard about the New Zealander's exploits all the way from its head office in Canada – and reached out to him to see if he'd like to be involved in developing a dedicated fishing Jet Ski.
Andrew Hill and Sea-Doo worked in collaboration to develop the first Fish Pro which went on sale in 2018.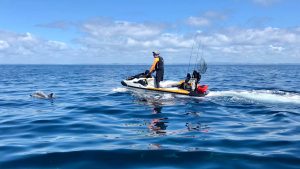 It's one of the reasons the Sea-Doo Fish Pro is so cleverly thought out for fishing enthusiasts: many of the ideas came from Andrew Hill as well as Sea-Doo designers and engineers.
Among the list of clever features: protectors or "side steps" on the edge of the top deck, the 51-litre cooler box with a built-in chopping board and measurements etched into the lid to check the legal length of the catch, fishing rod holders, and a built-in navigation unit.
New for 2022 is the option of a raised swivel seat, a holster for a claw anchor that fits near the front of the footwell, a hose to transform the cooler into a live bait well, and a twin battery system so you're not left stranded by running all the ancillaries from one standard battery.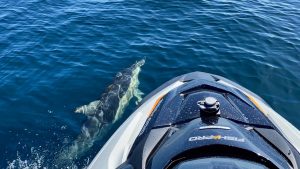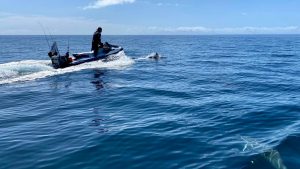 While Andrew Hill's example of the 2022 Sea-Doo Fish Pro Trophy doesn't have the swivel seat or anchor holster, it does come with the Trophy colour scheme and the new larger navigation screen.
Andrew Hill has been a Sea-Doo ambassador the Fish Pro since before the model went on sale in 2018 – and has continued to help Sea-Doo develop the model further.
As the Sea-Doo ambassador, Andrew Hill has owned – or been loaned – every generation of the Fish Pro.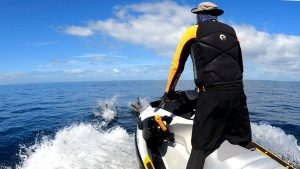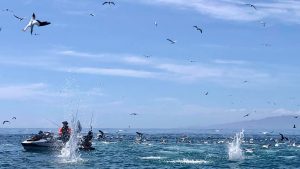 He clocks up about 100 hours on each one before turning them over, to keep them looking fresh – but some people who join his expeditions have clocked up more than 500 hours.
Although New Zealand waters are freezing in winter and chilly in summer, Andrew Hill says he rides all year round.
"Some days are zero (degrees Celsius) or less, very icey," Hill told Watercraft Zone, adding he wears a layer of thermal clothing and a layer of wet weather clothing to stay dry and warm – as well as a balaclava.
His biggest catch? A 30 pound (13.6kg) Snapper on a 2019 Fish Pro, and a 58 pound (26.3kg) Yellowtail Kingfish on the 2021 Fish Pro.
MORE: Follow Andrew Hill Adventure Fishing
MORE: Follow us on Facebook
MORE: 2022 Sea-Doo Fish Pro range unveiled
MORE: 2022 Sea-Doo prices and model changes
MORE: 2022 Kawasaki Ultra 310 unveiled: first photos and details
MORE: 2022 Yamaha WaveRunner prices and model changes
MORE: 2021 Kawasaki prices and model changes