Getting your Jet Ski or personal watercraft serviced annually is regarded as the bare minimum when it comes to routine maintenance. 
Over time, batteries and fuel can deteriorate, especially if the watercraft is used infrequently.
Of course, nobody wants a day on the water cut short due to mechanical issues. 
If you're an ocean rider, having a reliable watercraft can mean the difference between peace of mind and emergency services scrambling a helicopter or a boat to come to your rescue.
If you're riding in a river or a dam, a reliable watercraft means you won't be left floating in the water out of phone range.
Whether you plan on riding every weekend, or only a few times a year, here are some handy tips you may like to consider.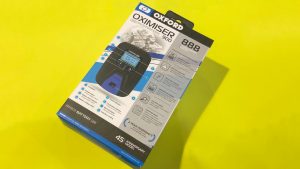 Trickle charger
Plugging your Jet Ski or personal watercraft battery pack into the mains power in your garage via a trickle charger is a worthwhile investment, especially if you only ride a few times a year.
This ensures the battery stays fully charged for whenever you're ready to hit the water.
Most Jet Ski shops and personal watercraft specialists sell trickle chargers, so have them connect the wiring to your battery before you take delivery of the craft, because they can be fiddly to set up.
Keep in mind it can take a couple of days for the trickle charger to cycle up to its optimum state, so don't panic if it takes time.
It's also worth knowing the battery will still degrade over time. Typically, most Jet Ski or personal watercraft batteries need to be replaced every two to three years.
It's worth changing the battery in this time frame – even if it hasn't gone completely flat – because you don't want to be left stranded on the water.
Light spray of fresh water
After a day of riding – especially in salt water – it is worthwhile removing the seats and giving the engine bay a very light spray of fresh water. 
Turn the hose nozzle onto the finest mist setting and be sure to give everything a quick once-over, especially seals and clamps.
Be sure not to flood electrical connections (they can handle mist but not high water pressure).
Before you do anything, it's worth letting the engine cool for at least an hour after your ride. Cold water on hot engine components could cause cracking in extreme cases.
Of course, you then have to get rid of the water in the bottom of hull. Undo the drain plugs (or "bungs"), and tilt the nose of the craft as high as possible to get the bulk of the water out, letting gravity do most of the work. However, this won't get every drop out of your hull.
Most effective is an air pressure hose with a narrow nozzle, if you're lucky enough to have a generator in your garage. 
Otherwise, consider a wet vacuum or a wet blower. Be sure not to jam the vacuum nozzle and hose between any connectors, or bend any brackets or clamps. Be patient as you thread the vacuum nozzle to the bottom of the hull. This will get the bulk of the water out, though not every drop. 
If you're able, you may want to consider leaving the seats off the craft after you've cleaned it, dried it, and applied anti-corrosion spray, and let evaporation do the rest.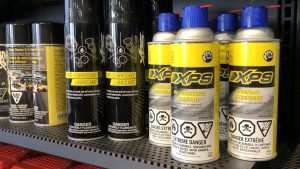 Anti-corrosion spray
Sea-Doo, Yamaha and Kawasaki strongly recommend owners apply a thin mist of anti-corrosion/water repellent spray in the engine bay after the craft has been cleaned and dried after each ride.
Be sure to spray hose clamps, exhaust clamps, electric connectors (including battery terminals) and around the fuel injectors and fuel lines.  
The Sea-Doo brand of spray is called XPS, Yamaha sells YamaLube, and Kawasaki recommends WD-40 silicon spray, though some Kawasaki shops prefer Torco.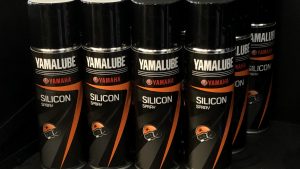 There are countless other popular aftermarket brands of "silicon spray", many of which leave a thick gooey shine over the engine bay.
However, most manufacturers recommend using only their own endorsed anti-corrosion "silicon spray" – because they know those chemicals have been tested on the rubbers, plastics and seals on their particular brand of watercraft.
There are many riders in the Jet Ski and personal watercraft community who prefer non-genuine, aftermarket silicon sprays – and there are many who stick with what the manufacturer recommends.
If you plan to own your personal watercraft for a long time – and beyond the warranty period – it would be prudent to stick with the manufacturer's recommended anti-corrosion spray, for the longevity of the craft.
Drain plugs
Once your Jet Ski or personal watercraft is clean and dry, be sure to put the drain plugs back in place – even if it is months before you're likely to be back on the water again.
It is common to forget to put the "bungs" or drain plugs back in after cleaning – and to forget to check at the ramp.
Your craft will fill with water pretty quickly if you launch without the drain plugs fitted. It won't necessarily sink (the nose will likely stay above the waterline) but it will likely end your ride for that day on the spot, and leave you with a big repair bill.
Another word of warning: most insurance policies don't full cover damage caused by drain plugs not being put in place. The insurance excess is $5000 (rather than $500 to $1000 for accident damage or theft) because it is deemed negligence. 
To learn more about Jet Ski and personal watercraft insurance terms and conditions, read our story here. 
MORE: All our Sea-Doo coverage in one click
MORE: 2021 Sea-Doo prices
MORE: All our Yamaha coverage in one click
MORE: 2021 Yamaha WaveRunner prices
MORE: All our Kawasaki coverage in one click
MORE: 2021 Kawasaki Jet Ski prices