You don't necessarily need to trade-in the family car or hatchback to be able to tow a Jet Ski or personal watercraft.
Because a Jet Ski and a single trailer weigh about 600kg all told (up to 400kg for the watercraft and up to 200kg for the trailer), many hatchbacks and small SUVs are up to the task.
We have published a list of current model vehicles and their towing capacity as a reference, to see how they compare. However there are some basic rules of thumb.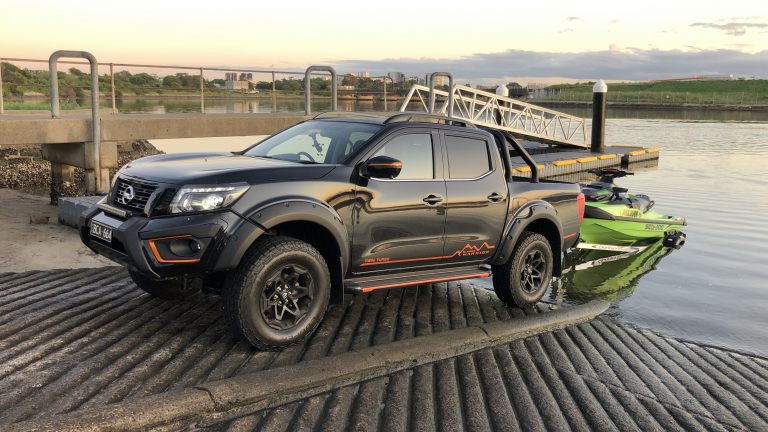 Each car varies in how well they can handle the weight they're towing. As a general rule, the heavier the tow vehicle, the easier and more stable it will be as a going concern.
Having towed countless single jet ski trailers behind SUVs, double cab utes, and hatchbacks, we can vouch that there is merit in having a bigger and heavier tow vehicle.
However, provided you take some precautions – and have some patience – a small hatchback or SUV will get the job done, providing the spec sheet says it is up to the task. As this list shows, some vehicles are borderline, so it pays to do your sums.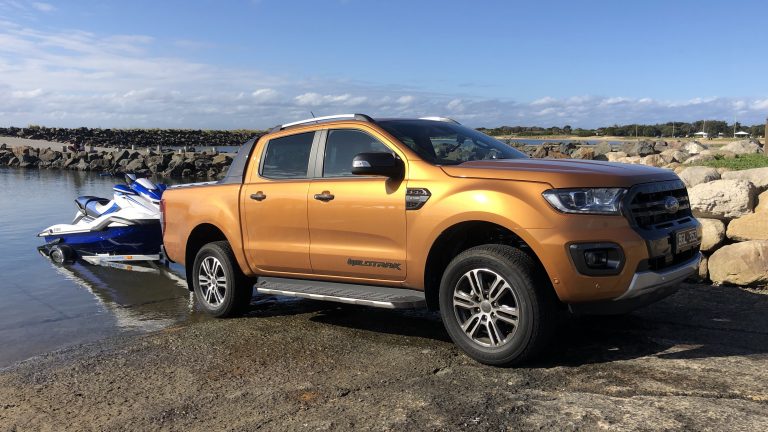 The biggest difference when towing a jet ski on a single trailer behind a hatchback is that you can feel the weight of the trailer more so than if you were towing with a bigger and heavier vehicle. 
You can feel the ski and trailer shuffle gently (particularly in cross-winds at high speeds) and quickly discover the extra braking distance required when there is an extra 600kg or so behind you.
Most hatchbacks weigh about 1300kg to 1400kg; by the time a Jet Ski and trailer are hooked up and you're in the driver's seat, the whole combination can get close to or even eclipse two tonnes.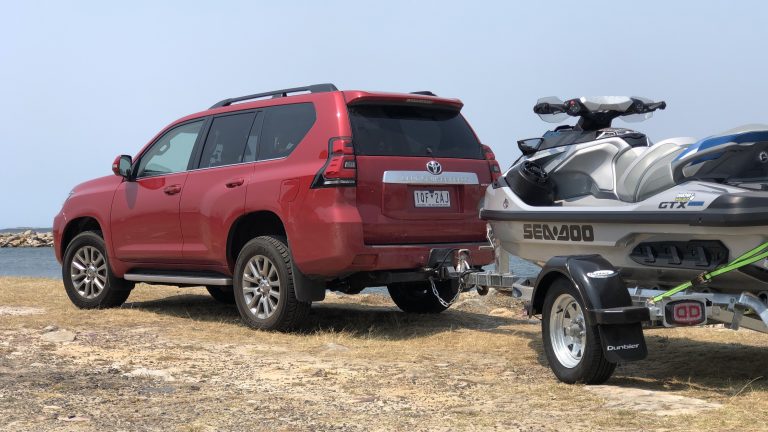 So allow plenty of room for braking and take it easy on long winding downhill runs so you don't cook the brakes. For that matter, allowing extra braking distance and taking it easy on long downhill runs also applies to four-wheel-drives and double-cab utes. Every extra kilogram has an impact on braking.
The biggest potential challenge when towing with a hatchback or small SUV (or any front-drive car) is that the front tyres may struggle for traction after you've loaded the ski on the trailer. Because the weight is shifting to the rear of the car (due to the weight on the tow bar), the front suspension is prone to lifting up slightly, putting less downward pressure on the front tyres as they attempt to find grip.
It is possible to retrieve a jet ski towing with a front-drive car, as long as the ramp is not too steep and the surface is not too slippery. Even some rear-wheel-drive utes can struggle for grip on some ramps.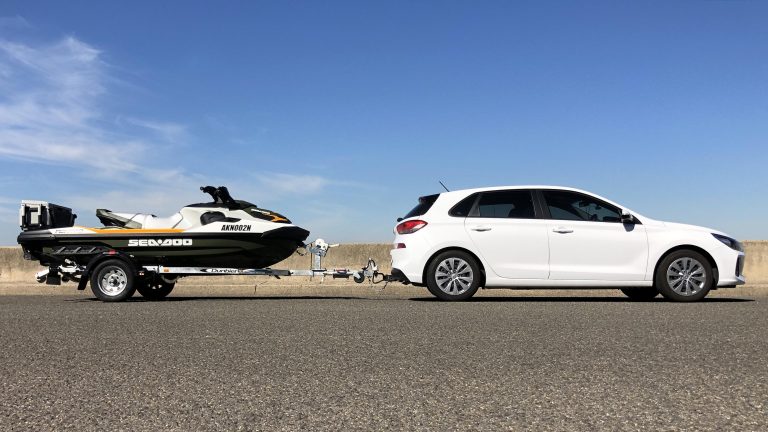 If possible, try to start off with a well-made boat ramp before attempting to tackle some of the trickier or bumpier ones.
Meantime, here is a list of some popular current-model new vehicles and their tow ratings. As a general rule you want a vehicle with an unbraked towing capacity of at least 600kg to be able to tow a jet ski on a single trailer. Anything less than this could run into legal or insurance problems.
The examples listed below are a guide only and are subject to change. Please check the towing capacity with the vehicle manufacturer. 
As a guide, you need a vehicle rated to tow at least 600kg unbraked. For comparison purposes, we have included some cars that don't make the cut.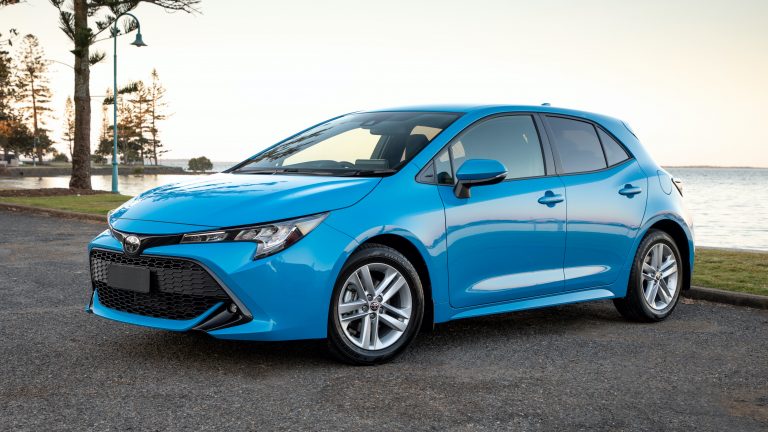 Hatchbacks (2020 models)
Toyota Corolla petrol hatch and sedan: 1300kg braked, 450kg unbraked
Toyota Corolla hybrid hatch and sedan: Not rated for towing
Toyota Yaris petrol or hybrid: Not rated for towing
Mazda2: 900kg braked, 500kg unbraked
Mazda3: hatch and sedan: 1200kg braked, 600kg unbraked
Hyundai i30 petrol or diesel: 1300kg braked, 600kg unbraked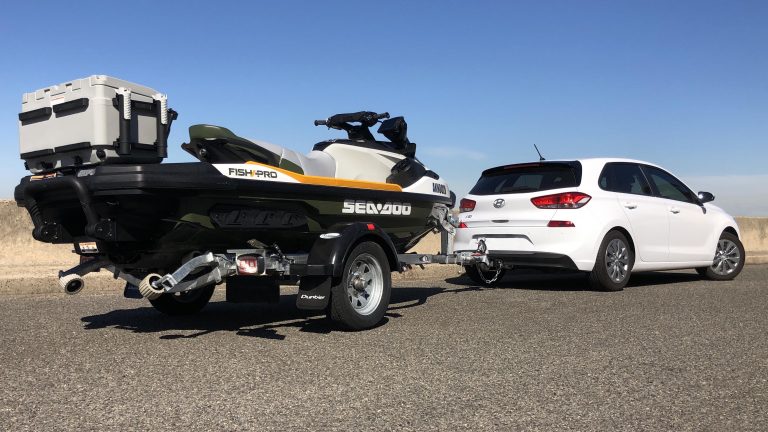 Honda Jazz: Not rated for towing
Honda Civic: 800kg braked, 500kg unbraked
Honda Civic RS: Not rated for towing
Suzuki Swift: Not rated for towing
Suzuki Ignis: Not rated for towing
Suzuki Baleno 1000kg braked, 400kg unbraked
Subaru Impreza AWD hatch: 1200kg braked, 750kg unbraked
Volkswagen Polo: Not rated for towing
Volkswagen Polo GTI: Not rated for towing
Volkswagen Golf 110TSI: 1500kg braked, 640kg unbraked
Volkswagen Golf GTI 7DSG: 1600kg braked, 690kg unbraked
Volkswagen Golf R 7DSG: Not rated for towing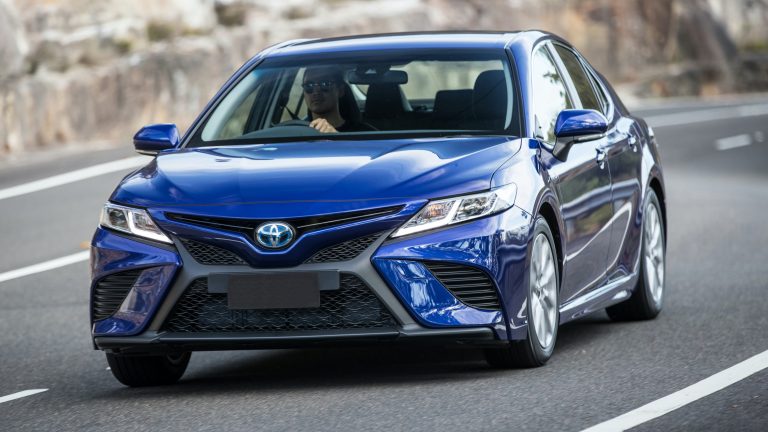 Sedans and wagons (2020 models)
Toyota Camry 4-cylinder petrol: 1200kg braked, 500kg unbraked
Toyota Camry V6: 1600kg braked, 500kg unbraked
Toyota Camry Hybrid: 400kg braked or unbraked
Hyundai Elantra: 1200kg braked, 600kg unbraked
Honda Civic: 800kg braked, 500kg unbraked
Subaru Impreza AWD sedan: Not rated for towing
Subaru WRX sedan: Not rated for towing
Subaru Liberty AWD 2.5 sedan: 1500kg braked, 750kg unbraked
Subaru Liberty AWD 3.6 sedan: 1800kg braked, 750kg unbraked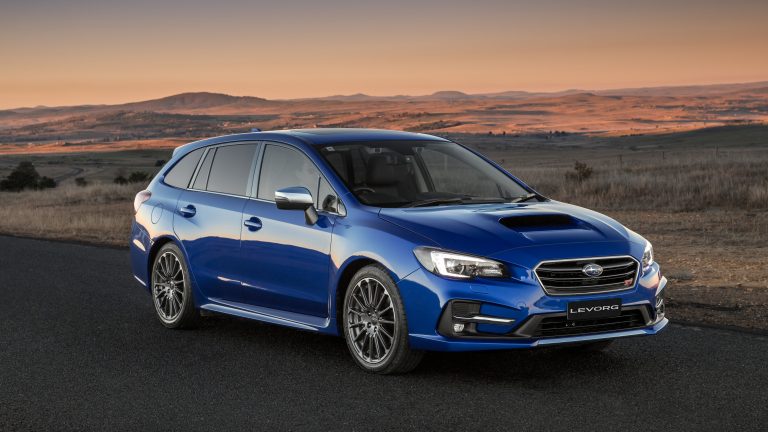 Subaru Levorg 1.6 AWD wagon: 800kg braked, 750kg unbraked
Subaru Levorg 2.0 AWD wagon: 1500kg braked, 750kg unbraked
Mazda6 2.5: 1500kg braked, 550kg unbraked
Mazda6 2.5 turbo: 1600kg braked, 750kg unbraked
Chrysler 300C V6: 1724kg braked, 450kg unbraked
Chrysler 300 SRT V8: 450kg braked or unbraked
Holden Commodore VF V6: 1200kg to 2100kg braked (depends on tow kit), 750kg unbraked
Holden Commodore VF V8: 1200kg to 2100kg braked (depends on tow kit), 750kg unbraked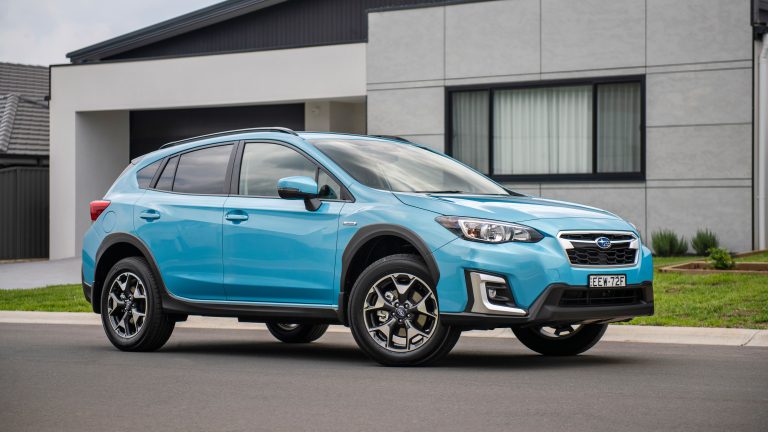 Small SUVs (2020 models)
Toyota C-HR petrol: 600kg braked, 0k unbraked
Toyota C-HR Hybrid: Not rated for towing
Hyundai Venue automatic: 800kg braked, 500kg unbraked
Hyundai Venue manual: 1100kg braked, 500kg unbraked
Hyundai Kona 2.0 2WD auto: 1300kg braked, 600kg unbraked
Hyundai Kona 1.6T AWD DCT auto: 1250kg braked, 600kg unbraked
Mazda CX-3: 1200kg braked, 640kg unbraked
Mazda CX-30: 1200kg braked, 600kg unbraked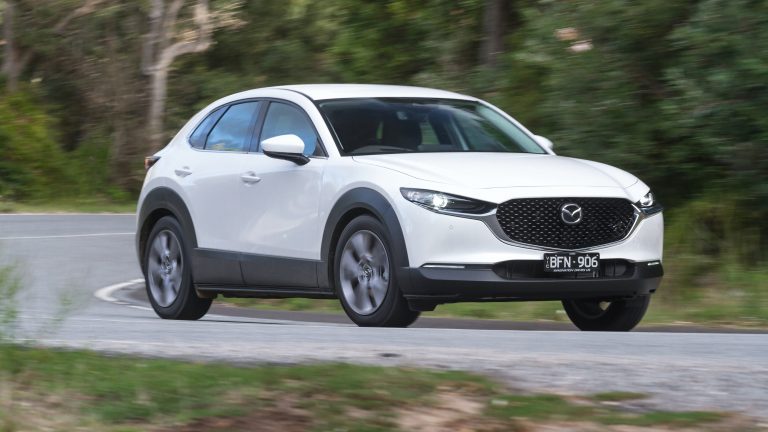 Mitsubishi ASX: 1300kg braked, 750kg unbraked
Mitsubishi Eclipse Cross: 1600kg braked, 750kg unbraked
Nissan Juke 1.0 three-cylinder auto: 1250kg braked, 648kg unbraked
Nissan Qashqai: 1200kg braked, 729kg unbraked
Honda HR-V: 800kg braked, 500kg unbraked
Subaru XV AWD 2.0: 1400kg braked, 650kg unbraked
Subaru XV AWD 2.0 Hybrid: 1270kg braked, 650kg unbraked
Suzuki S-Cross: 1200kg braked, 400kg unbraked
Suzuki Vitara: 1200kg braked, 400kg unbraked
Volkswagen T-Cross: 1100kg braked, 630kg unbraked
Volkswagen T-Roc: Braked 1700kg, unbraked 740kg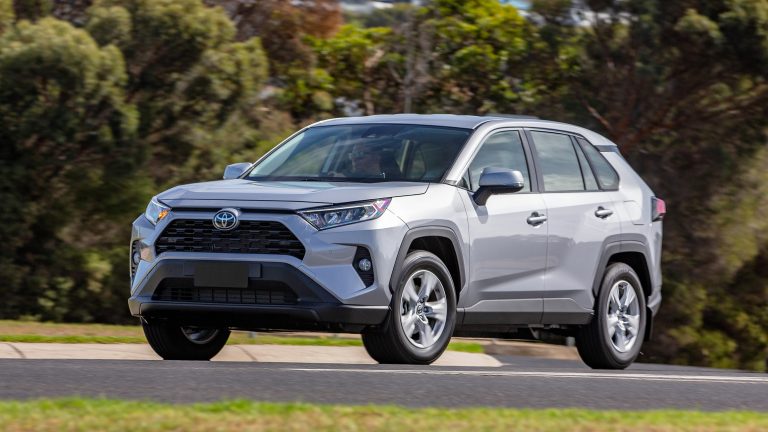 Family SUVs (2020 models)
Toyota RAV4 2.0 petrol 2WD: 800kg with trailer brakes, 750kg unbraked
Toyota RAV4 2.5 petrol AWD: 1500kg braked, 750kg unbraked
Toyota RAV4 2.5 petrol Hybrid AWD: 1500kg braked, 750kg unbraked
Toyota Kluger V6 2WD or AWD: 2000kg braked, 750kg unbraked
Mazda CX-5 2.0 petrol 2WD and 2.5 petrol AWD: 1800kg braked, 750kg unbraked
Mazda CX-5 turbo petrol AWD: 2000kg braked, 750kg unbraked
Mazda CX-5 turbo diesel AWD: 2000kg braked, 750kg unbraked
Mazda CX-8 petrol or diesel: 2000kg braked, 750kg unbraked
Mazda CX-9 petrol 2WD or AWD: 2000kg braked, 750kg unbraked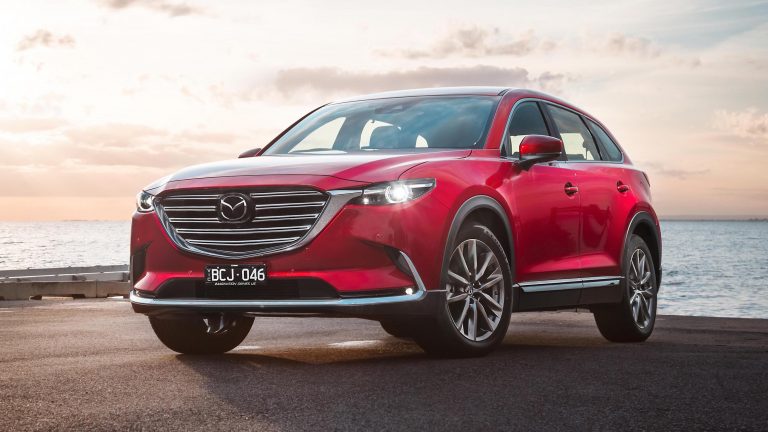 Honda CR-V: 1500kg braked, 600kg unbraked
Honda CR-V seven-seater: 1000kg braked, 600kg unbraked
Hyundai Tucson petrol or diesel: 1600kg braked, 750kg unbraked
Hyundai SantaFe petrol 2WD or diesel AWD: 2000kg braked, 750kg unbraked
Mitsubishi Outlander petrol: 1600kg braked, 750kg unbraked
Mitsubishi Outlander diesel: 2000kg braked, 750kg unbraked
Mitsubishi Outlander Plug-in Hybrid electric vehicle: 1500kg braked, 750kg unbraked
Nissan X-Trail petrol: 1500kg braked, 750kg unbraked
Nissan X-Trail diesel: 1650kg braked, 750kg unbraked
Nissan Pathfinder V6: 2700kg braked, 750kg unbraked
Nissan Pathfinder Hybrid: 1650kg braked, 750kg unbraked
Subaru Forester AWD 2.5: 1500kg braked, 750kg unbraked
Subaru Forester AWD 2.0 Hybrid: 1200kg braked, 750kg unbraked
Subaru Outback AWD 2.5: 1500kg braked, 750kg unbraked
Subaru Outback AWD 2.0TD: 1700kg braked, 750kg unbraked
Subaru Outback AWD 3.6: 1800kg braked, 750kg unbraked
Volkswagen Tiguan 110TSI: 1800kg, 750kg
Volkswagen Tiguan 132TSI and 162TSI: 2500kg, 750kg
Volkswagen Touareg: 3500kg braked, 750kg unbraked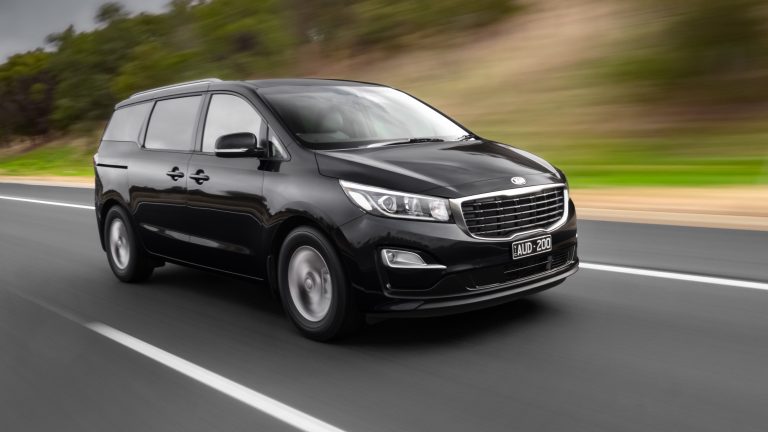 People movers: (2020 models)
Kia Carnival: 2000kg braked, 750kg unbraked
Toyota Granvia: 2.8TD auto: 1500kg braked, 400kg unbraked
Honda Odyssey VTi: Not rated for towing
Honda Odyssey VTi-L: 1000kg braked, 400kg unbraked
Hyundai iMax: 2.5TD auto: 1500kg braked, 750kg unbraked
Volkswagen Multivan 6.1: 2500kg braked, 750kg unbraked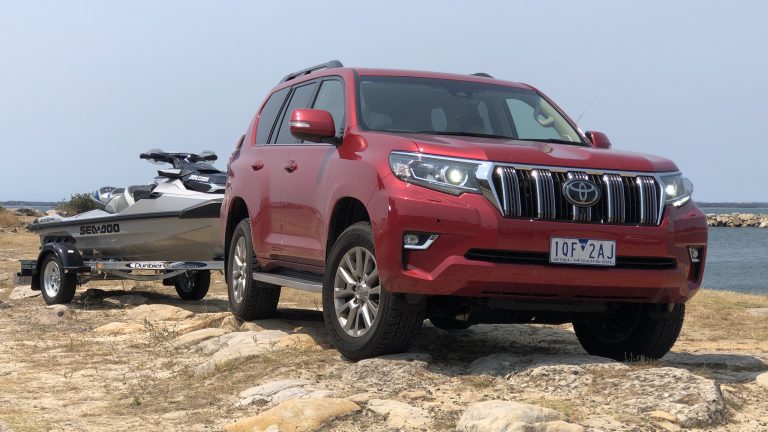 Four-wheel-drives (2020 models)
Suzuki Jimny: 1300kg braked, 350kg unbraked
Toyota Fortuner 2.8TD 4WD: 3100kg braked, 750kg unbraked
Toyota Prado 2.8TD 4WD auto: 3000kg, manual 2500kg, 750kg unbraked
Toyota LandCruiser 200 Series: 3500kg braked, 750kg unbraked
Toyota LandCruiser 70 Series: 3500kg braked, 750kg unbraked
Nissan Patrol V8: 3500kg braked, 750kg unbraked
Mitsubishi Pajero: 3000kg braked, 750kg unbraked
Mitsubishi Pajero Sport: 3100kg braked, 750kg unbraked
Ford Everest 3.2TD: 3000kg braked, 750kg unbraked
Ford Everest 2.0TTD: 3100kg braked, 750kg unbraked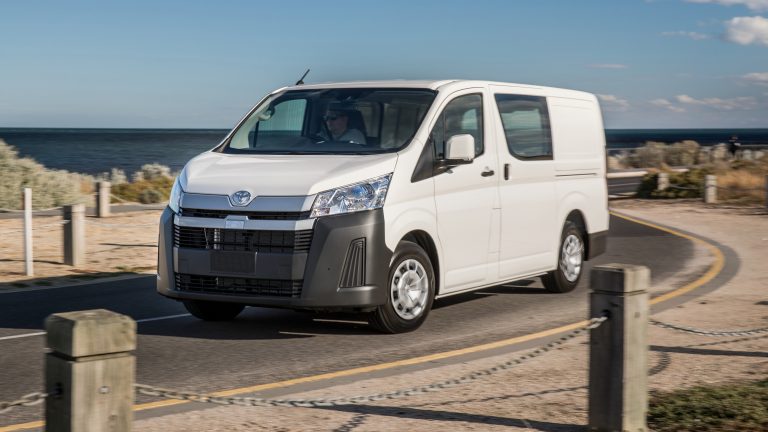 Vans (2020 models)
Toyota Hiace van 2.8TD manual LWB: 1900kg braked, 400kg unbraked
Toyota Hiace van 2.8TD auto LWB: 1500kg braked, 400kg unbraked
Toyota Hiace van 3.5 V6 petrol manual LWB: 1400kg braked, 400kg unbraked
Toyota Hiace van 3.5 V6 petrol auto LWB: 1500kg braked, 400kg unbraked
Ford Transit Custom 340S SWB manual: 2500kg braked, 750kg unbraked
Ford Transit Custom 340S SWB auto: 2000kg braked, 750kg unbraked
Ford Transit Custom 340L LWB manual: 2800kg braked, 750kg unbraked
Ford Transit Custom 340L LWB auto: 2000kg braked, 750kg unbraked
Ford Transit Custom Sport: 1800kg braked, 750kg unbraked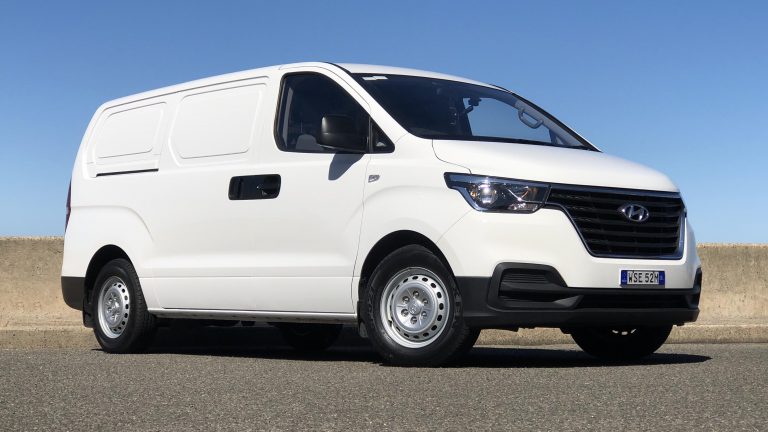 Hyundai iLoad 2.5TD auto: 1500kg: braked, 750kg unbraked
Hyundai iLoad 2.5TD manual: 2000kg braked, 750kg unbraked
Mitsubishi Express SWB and LWB manual: 2000kg braked, 750kg unbraked
Mitsubishi Express SWB auto: 1715kg braked, 750kg unbraked
Mitsubishi Express LWB auto: 1630kg braked, 750kg unbraked
Renault Trafic SWB and LWB manual: 2000kg braked, 750kg unbraked
Renault Trafic SWB auto: 1715kg braked, 750kg unbraked
Renault Trafic LWB auto: 1630kg braked, 750kg unbraked
Volkswagen Caddy TSI220: 1300kg braked, 630kg unbraked
Volkswagen Transporter: 2000kg braked, 750kg unbraked
Volkswagen Crafter: 2500kg braked, 750kg unbraked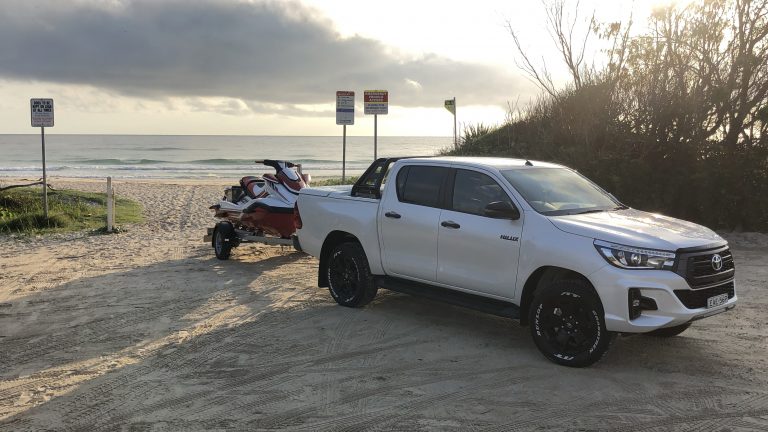 Double cab utes (2021 models)
2021 Toyota HiLux 2.8TD manual and auto: 3500kg braked, 750kg unbraked
2021 Ford Ranger XL, XLT, FX4 and Wildtrak 2.0TT and 3.2TD: 3500kg braked, 750kg unbraked
2021 Ford Ranger Raptor 2.0TT: 2500kg braked, 750kg unbraked

2021 Isuzu D-Max 3.0TD manual and auto: 3500kg braked, 750kg unbraked
2021 Mitsubishi Triton GLX, GLX+ GLS, GLS Premium, GSR: 3100kg braked, 750kg unbraked
2021 Mazda BT-50 3.0TD manual and auto: 3500kg braked, 750kg unbraked
2021 Nissan Navara 2.3TD manual and auto: 3500kg braked, 750kg unbraked
2021 Volkswagen Amarok TDV6 automatic: 3500kg braked, 750kg unbraked
2021 Volkswagen Amarok TDV6 manual: 3000kg braked, 750kg unbraked
2021 Volkswagen Amarok 2.0TT: 3000kg braked, 750kg unbraked
2021 Ssangyong Musso: 3500kg braked, 750kg unbraked
2021 LDV T60 3000kg braked, 750kg unbraked
2021 Chevrolet Silverado V8 1500 on a 50mm tow ball: 3500kg braked, 750kg unbraked, on a 70mm tow ball 4500kg
2021 Ram 1500 V8 on a 50mm tow ball: 3500kg braked, 750kg unbraked, on a 70mm tow ball 4500kg.
2021 Ram 1500 diesel: 3000kg braked, 750kg unbraked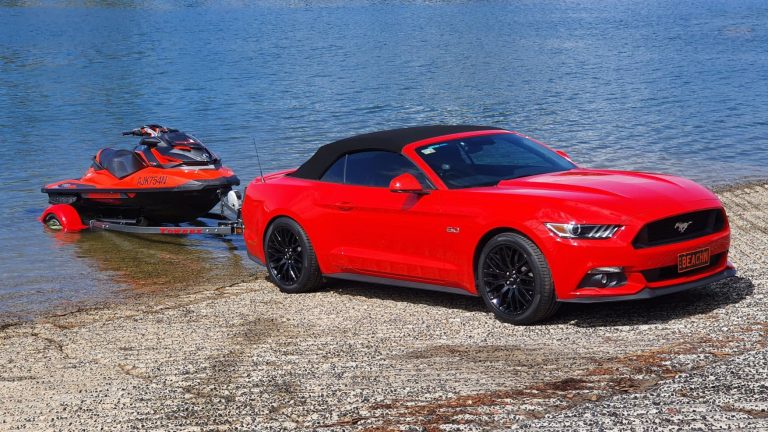 Sportscars (sorry to be the bearer of bad news)
Toyota Supra not rated for towing
Toyota 86/Subaru BRZ not rated for towing
Ford Mustang not rated for towing (although that hasn't stopped one keen rider)
MORE: All our Sea-Doo coverage in one click
MORE: 2021 Sea-Doo prices
MORE: All our Yamaha coverage in one click
MORE: 2021 Yamaha WaveRunner prices
MORE: All our Kawasaki coverage in one click
MORE: 2021 Kawasaki Jet Ski prices