With nothing but blue sky and water spray underneath him – and the Gold Coast metropolis as a backdrop – Warrick Brant cuts a mean figure.
He's one of the regular Jet Ski riders who wow beachgoers and onlookers on early morning rides, by demonstrating their daring and skill with mega air on big waves.
As one of the bravest souls to send his Jet Ski skywards, Watercraft Zone was keen to find out more about the tough-looking guy with the long beard who handles a Jet Ski like a kite.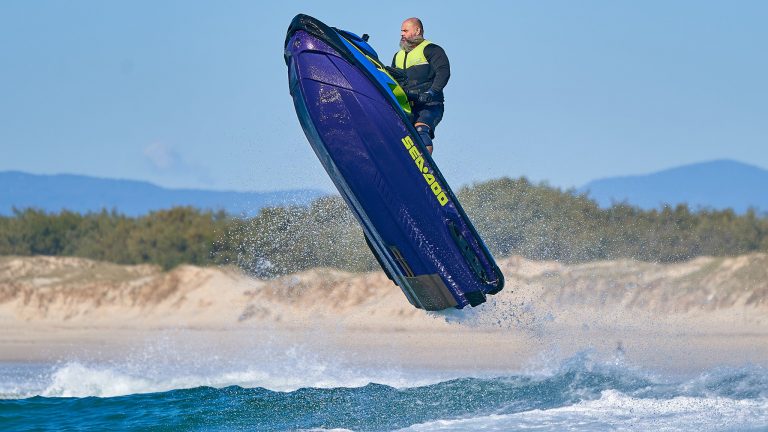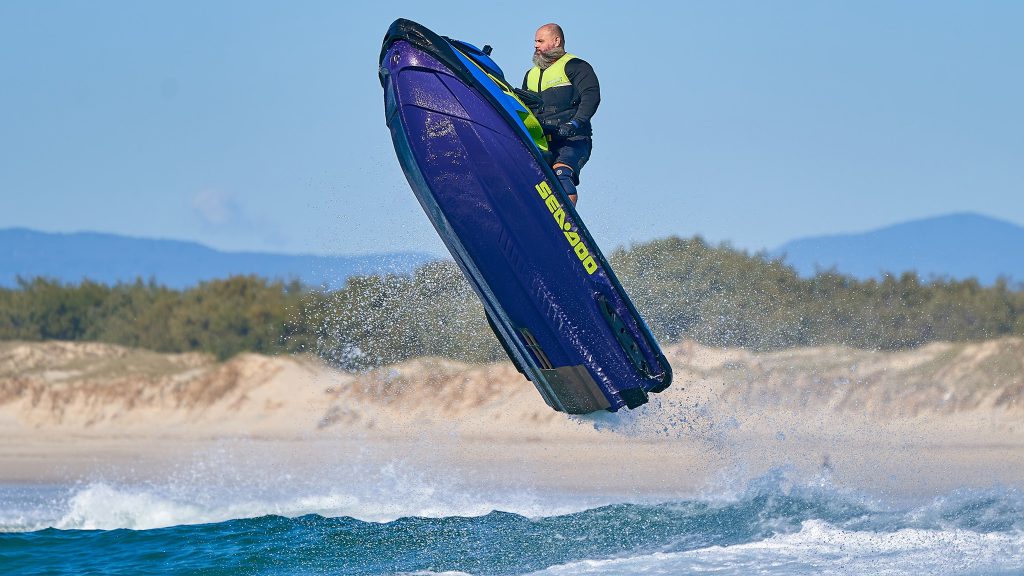 Warrick Brant is a former contender in World Strongman competitions.
Using sheer muscle – and a weight belt – Brant has pulled trams, military aircraft, trucks, harvesters, and seemingly anything else that's heavy and has wheels.
He was undefeated in Strongman competitions in Australia for 10 years until retiring from the sport in 2015.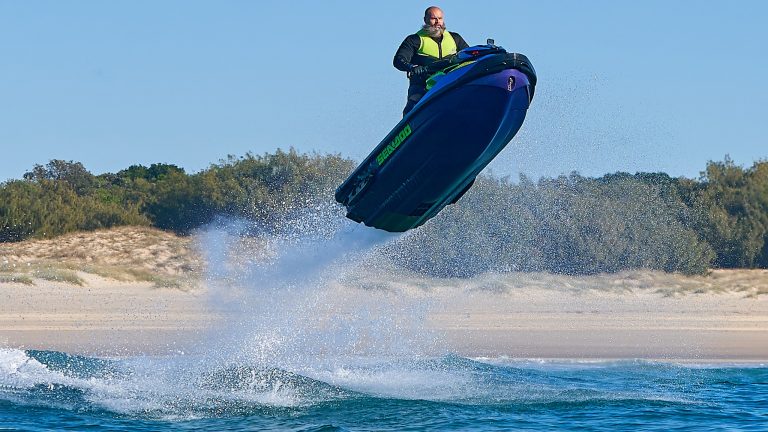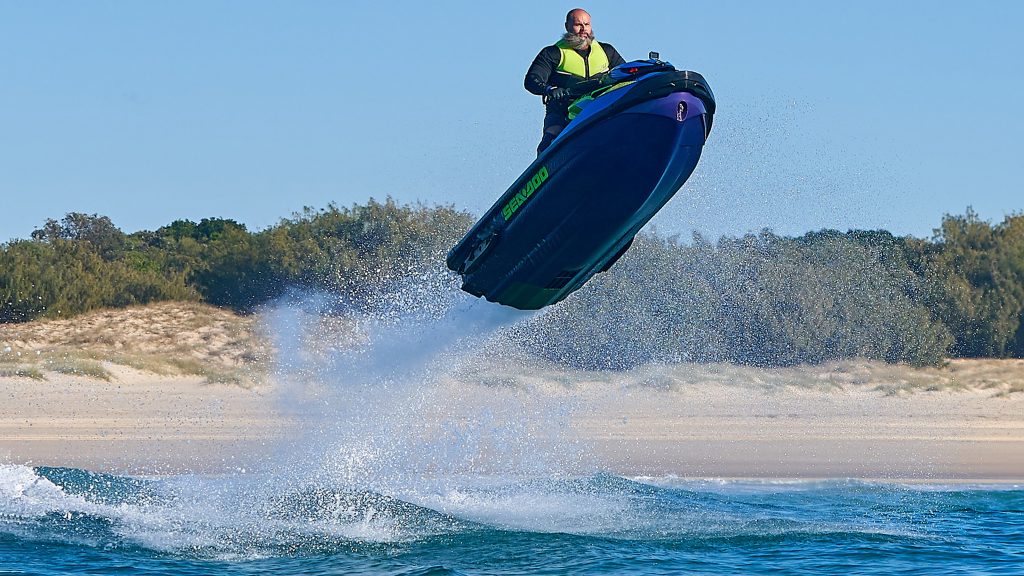 He's the first and only Australian to date to make the finals of the World's Strongest Man – and the first and only Australian to date to win the southern hemisphere competition (in 2014).
At the peak of his fitness, Brant could deadlift 420kg (925 pounds, or 66 stone) but has since settled back to doing reps of 260kg to 280kg (573 to 617 pounds, or 40 to 44 stone) since retiring from competition.
Nowadays, Brant splits his time doing stuntwork and performing at Gold Coast Movie World, and working as a sports clothing designer.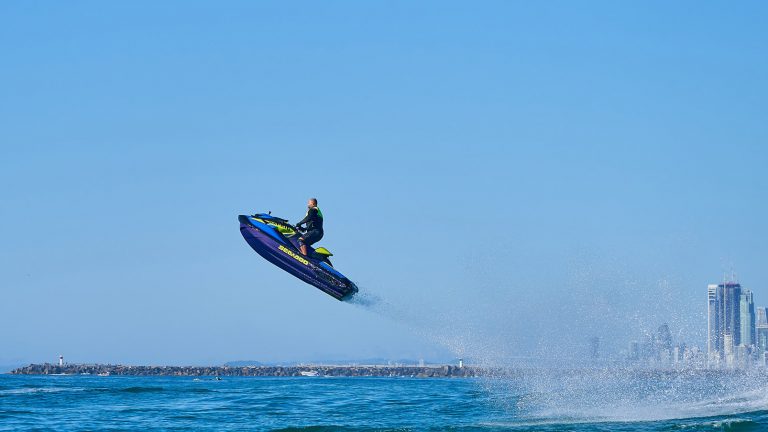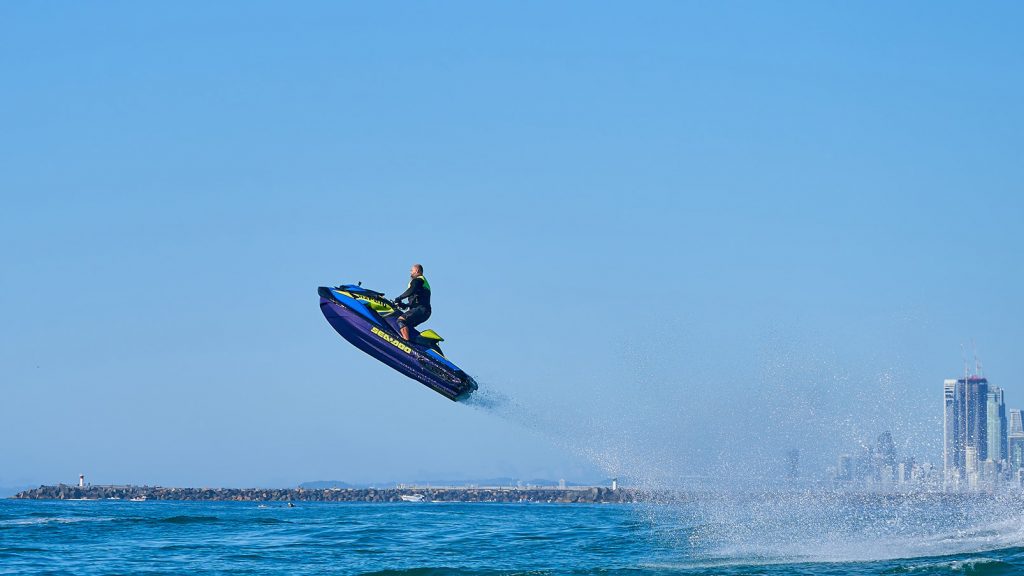 For a little downtime on weekends, he races and rides Jet Skis.
While his strength is helpful when racing Jet Skis or getting mega air in the surf, Brant says there are times it can be a disadvantage.
"Anytime friends get stuck in mud at low tide, guess who gets asked to pluck them out," Brant says with a grin behind his beard.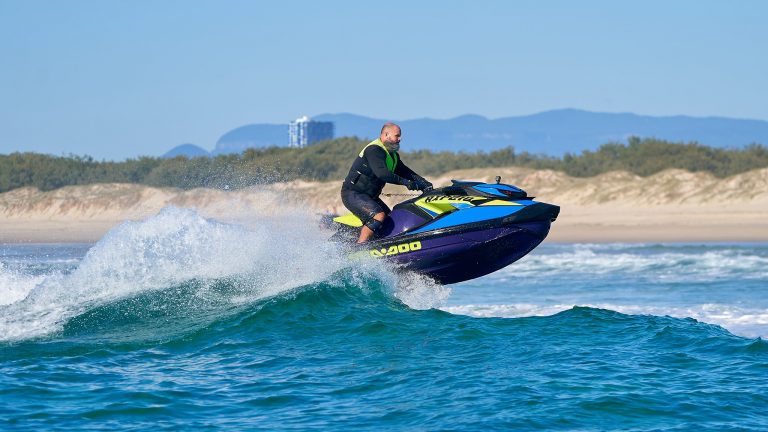 Brant, 41, has been riding Jet Skis since the age of 11 – switching throughout that time from stand-up to sit-down style watercraft.
He's owned all three brands of Jet Skis over 30 years – Yamaha, Kawasaki and Sea-Doo.
In the garage now is a 2021 Sea-Doo RXP-X300 – powered by a supercharged 1630cc three-cylinder with 300 horsepower, one of the world's fastest-accelerating watercraft – and a naturally-aspirated 2019 Yamaha VXR WaveRunner (1.8-litre four-cylinder).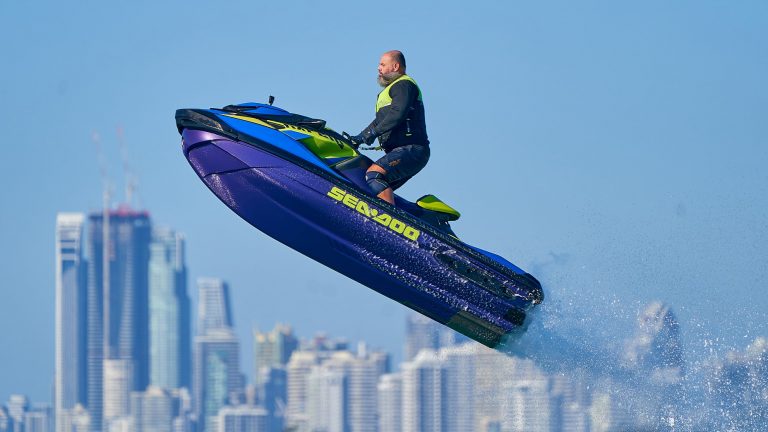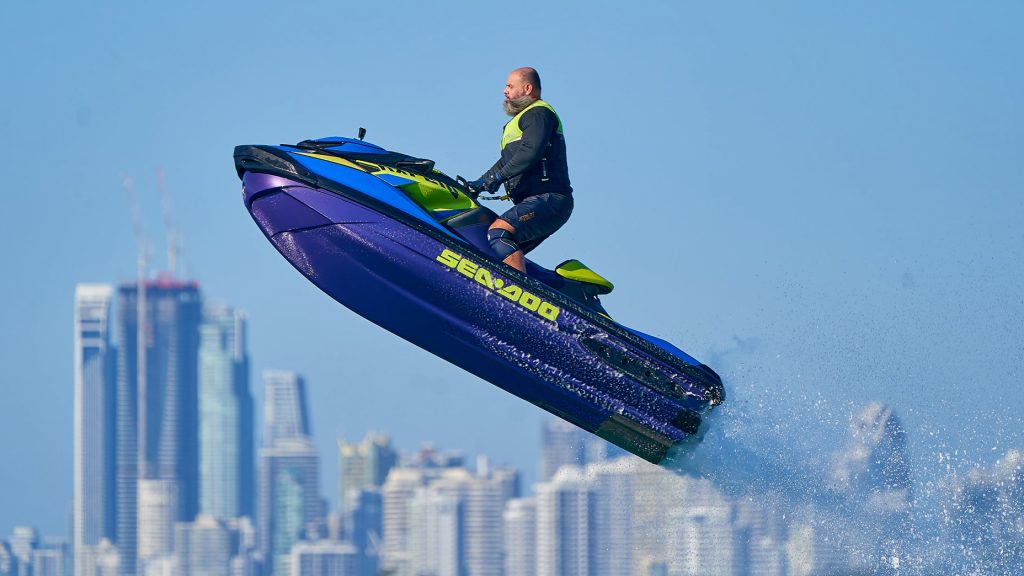 Brant races both watercraft in closed course competition, but also takes each of them out in the surf, just outside the Southport sea-way, where the locals go to get big air.
He's recovered from numerous injuries over the years – and still has eight screws and three metal plates from a neck injury when playing rugby union 20 years ago – and busted his ankle in 2020 in preparation for a closed course race.
Brant also admits he's had a few close calls when getting big air in the surf, but so far his strength has saved him.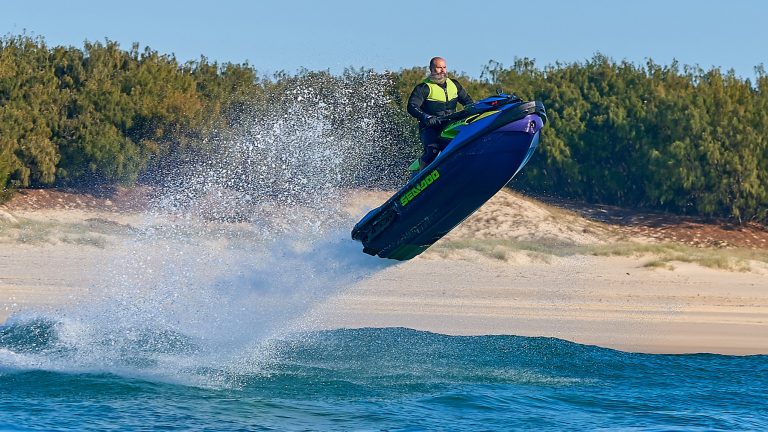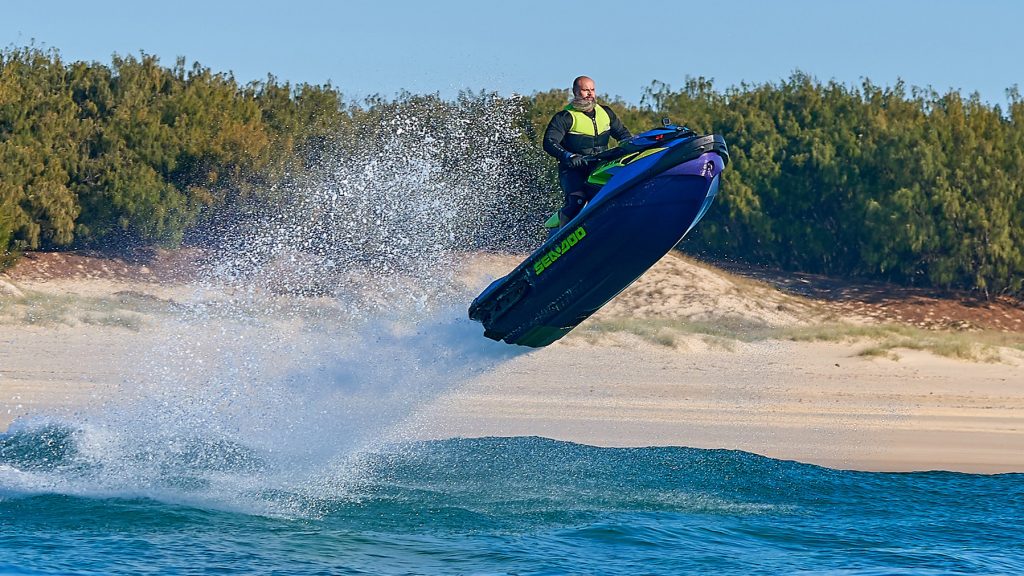 "Having a bit of strength does help you position your body when you're in the air," said Brant.
So, which is his favourite Jet Ski?
"I'm a Yamaha boy through and through," says Brant, before adding that he has respect for all three brands – and appreciates their various strengths and weaknesses.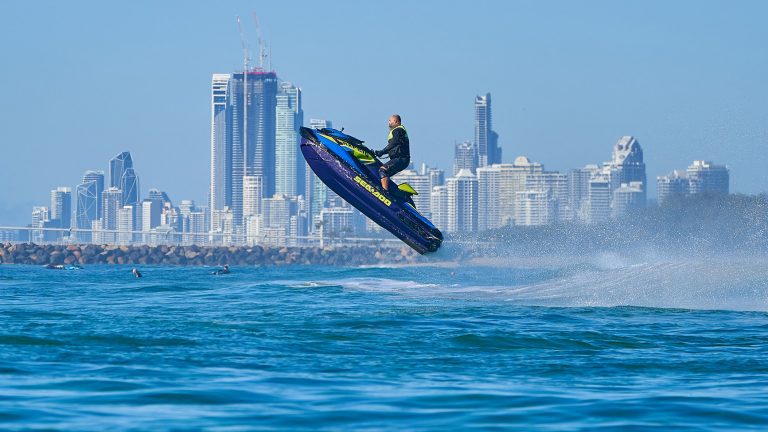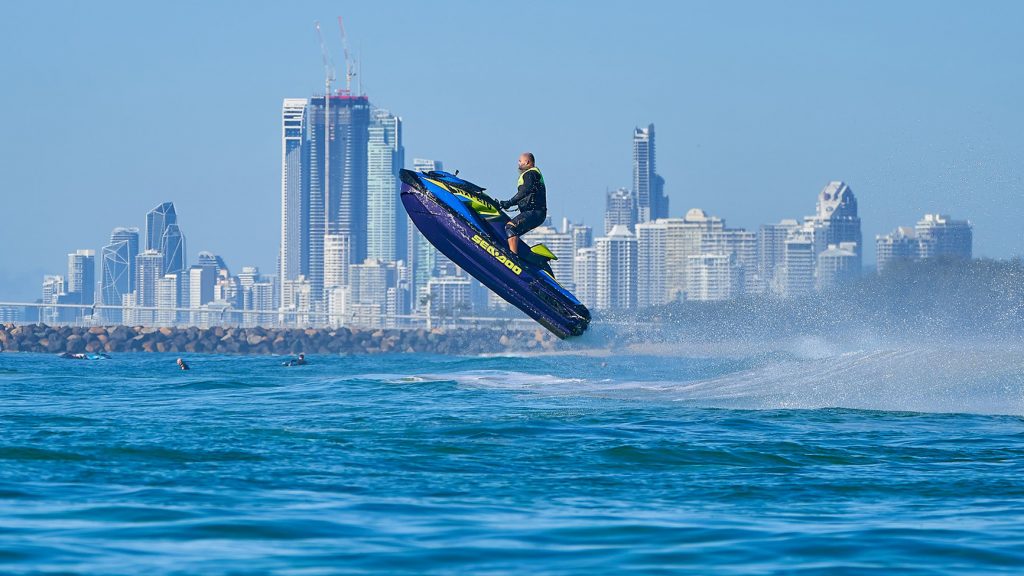 "The only reason I went to the 2021 Sea-doo RXP-X300, is when I jumped on the 2021 Yamaha VXR, it didn't feel the same as my 2019 model," says Brant. 
"The newer Yamaha VXR had a slightly different seating position and slightly different handlebar position, and I preferred my older Yamaha over the newer one."
Brant says the 2021 Sea-Doo RXP-X300 is a completely different machine that demands a different riding style to the Yamaha.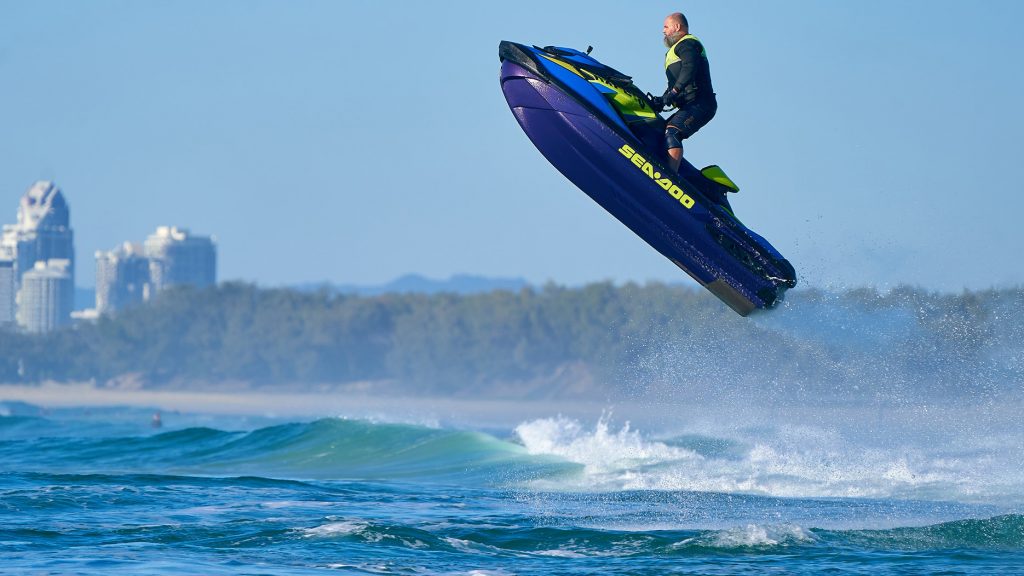 "The acceleration and the cornering of the RXP in closed course racing, it just hooks up, even with stock sponsons," says Brant. 
"I like how you can sit lower and you can tuck yourself in real good, the lower centre of gravity is important," he said. "I ride my Jet Skis like a GP bike, I drop my knee into the top deck, stick my elbows out, and get as close to the water as I can."
He says, in his experience, the Sea-Doo RXP-X300 is very sensitive to rider input in rough conditions.
"Because the Sea-Doo hooks up really well, if you're coming up behind a boat and you go over the wake, when it lands you want to be sure your body and your handlebars are neutral because the rear end just bites," said Brant. "It can be unpredictable if your handlebars or your body are not centred. You've really go to stay focused."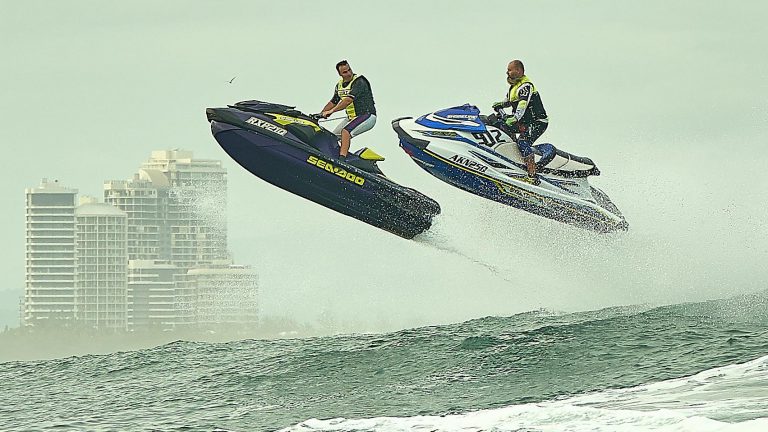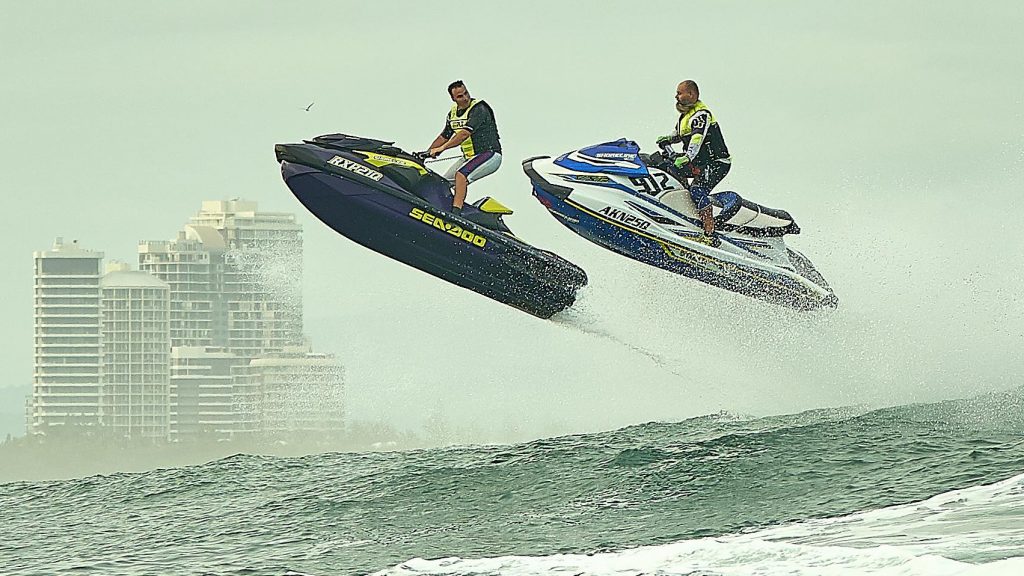 Brant says the Yamaha VXR has a "more predictable and more playful" hull design.
"I can race the Yamaha VXR hard, and hook into corners, plus it's better in choppy conditions," says Brant. "I feel I can ride the Yamaha VXR in the surf better, the balance is a lot better."
He says, in the surf, "you've got to put your body into the Sea-Doo to get it to turn, whereas the Yamaha feels more agile in rough conditions."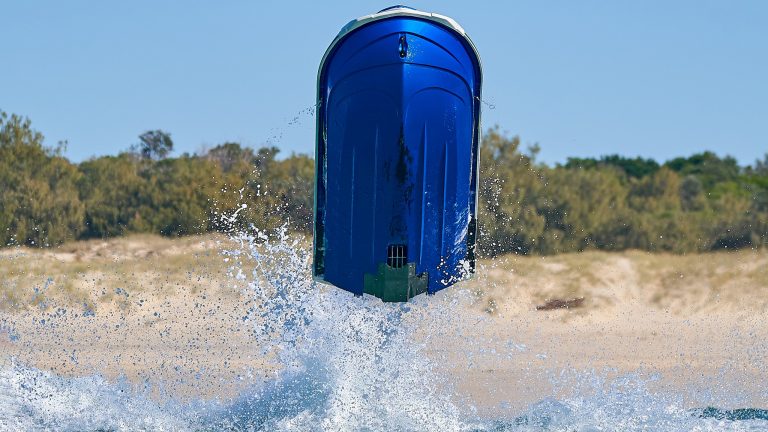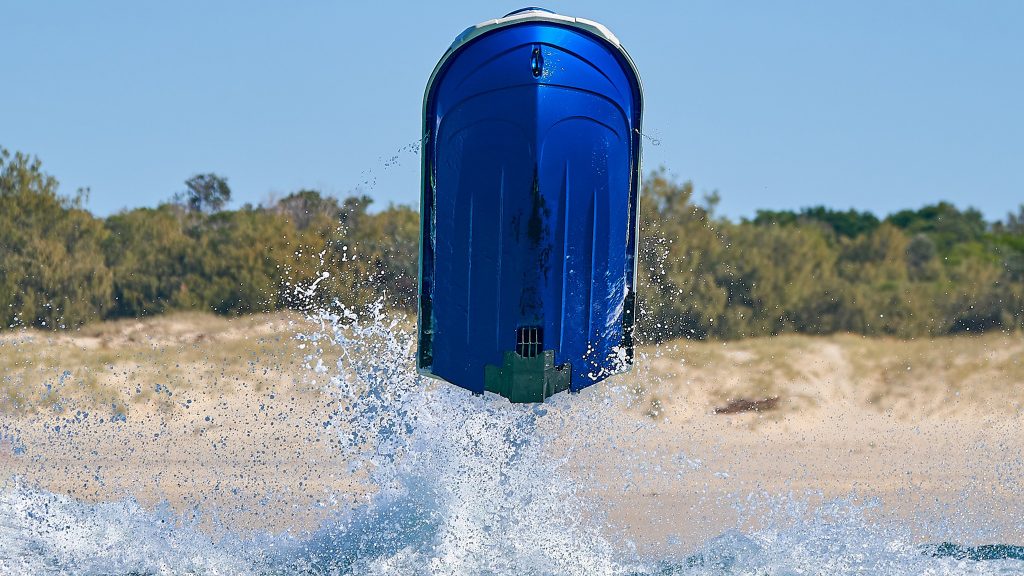 So does he have any advice for Jet Ski riders planning to get big air?
"Go out there and make sure you have friends with you who are safe, in case something goes wrong," says Brant. "Don't push yourself past your comfort zone at first. You need to learn the ski and learn the ocean swell."
Eventually, he says, you'll be ready to take the next step.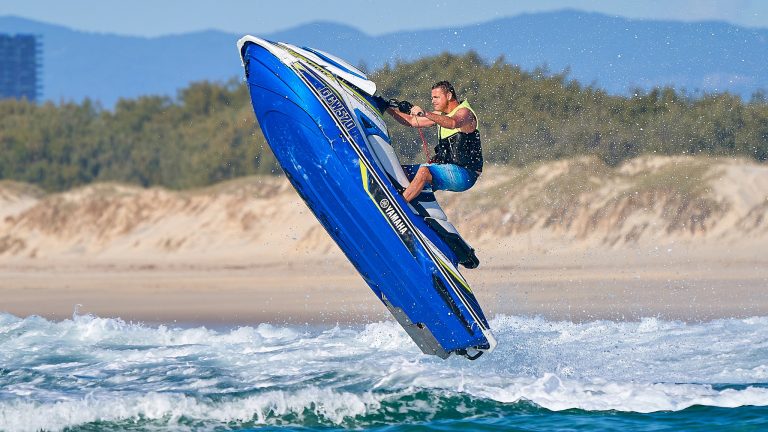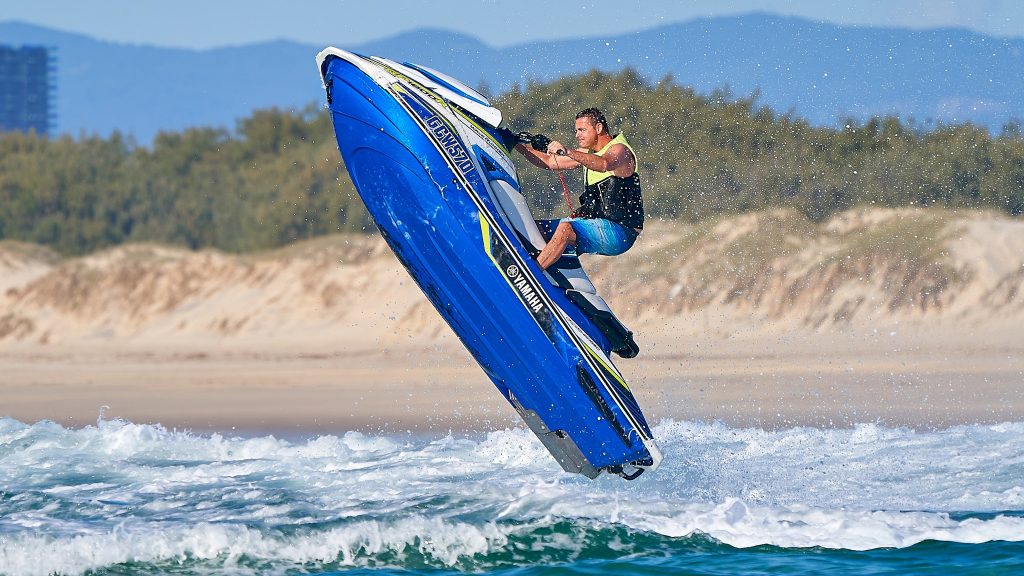 "As much as you need fear to stop you from being stupid, at some point you need to push a little bit past that fear, put a little bit more throttle into the jump through the wave, to have a better exit and to get more air," says Brant.
"A lot of people come off the throttle in the middle of the wave, and that can be worse. Often times you need to give it a pinch of throttle in the middle of the wave," he says.
Brant says he aims to launch at 45 degrees – rather than get vertical – because landing on the tail can damage the jet pump and the rear bucket.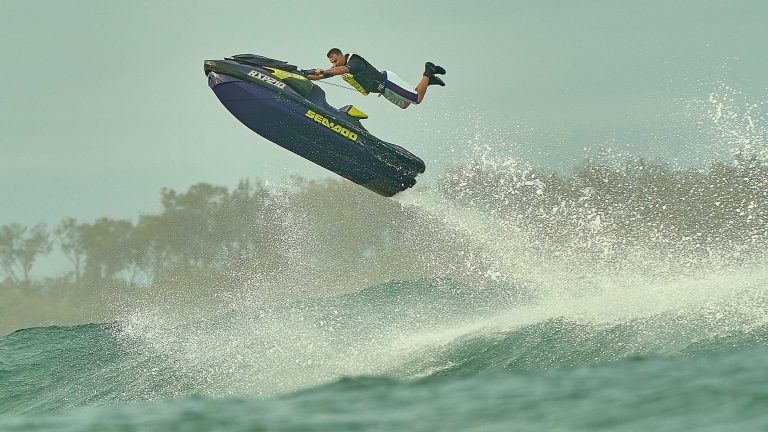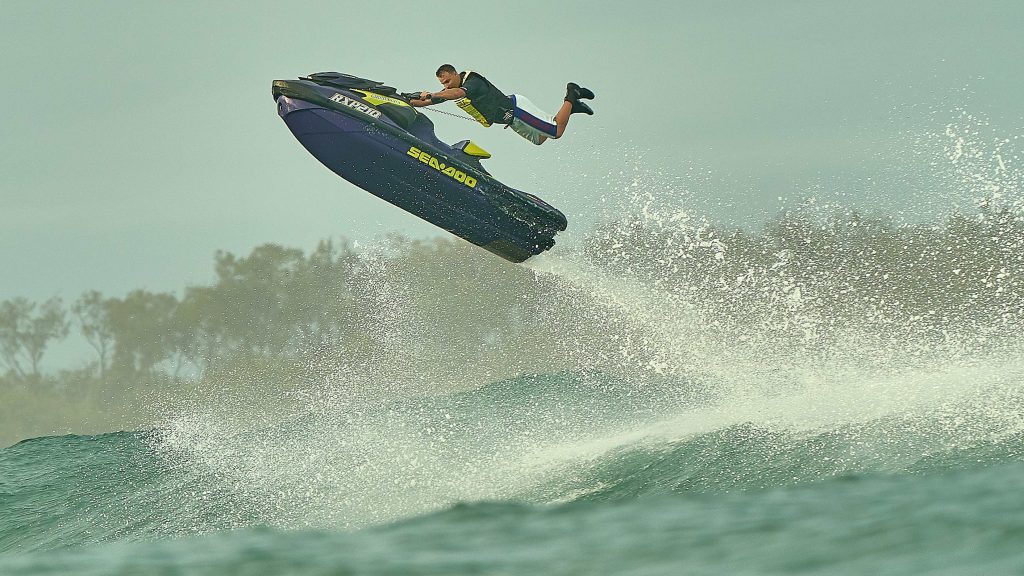 "I don't just aim for height, I want to go as far as possible too," says Brant, who warns it doesn't always go to plan.
"I recently launched off a wave to do a 'Superman' (holding onto the handlebars while quickly flinging your legs behind you mid-air), but the wave died just as I was launching off it," says Brant.
"The wave didn't continue to peak, so instead of launching vertically it sent me further forward, I was too far over the handlebars," he says.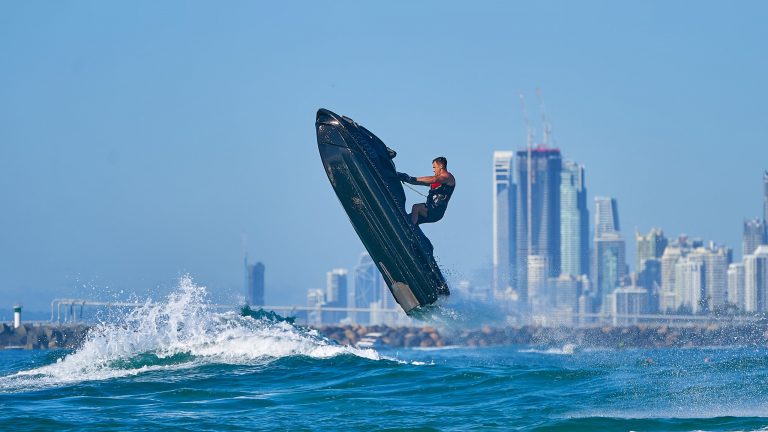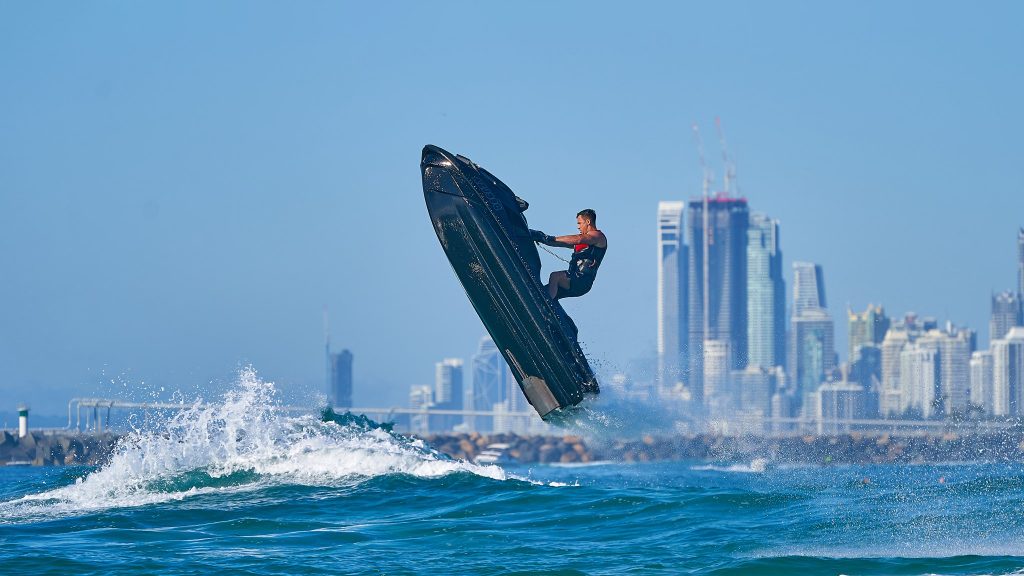 "Luckily at the very last second, I was able to hold on and reposition my body, although my feet smacked the rear deck really hard. It could have been a lot worse. I could have put my face in the handlebars."
Brant says sending a Jet Ski "vertical" can deliver a gentler landing, but be harsher on the machinery.
"Landing on the tail can hurt the jet pump, I prefer to land at 45 degrees," he says. "The way I land the craft, it's relatively gentle. I'm able to control the ski through the air, by shifting my weight around."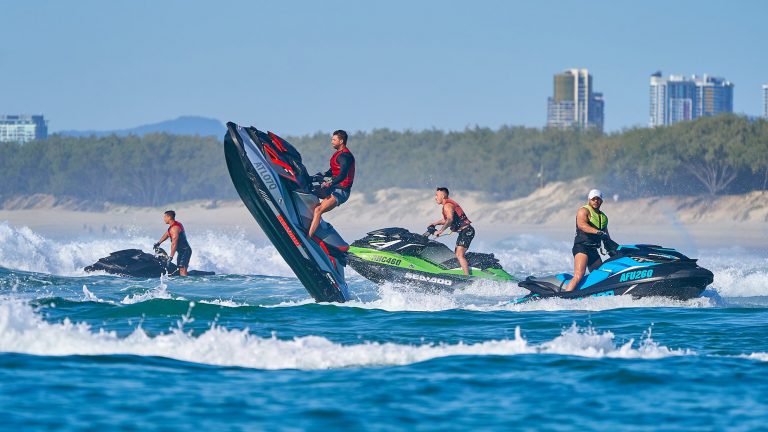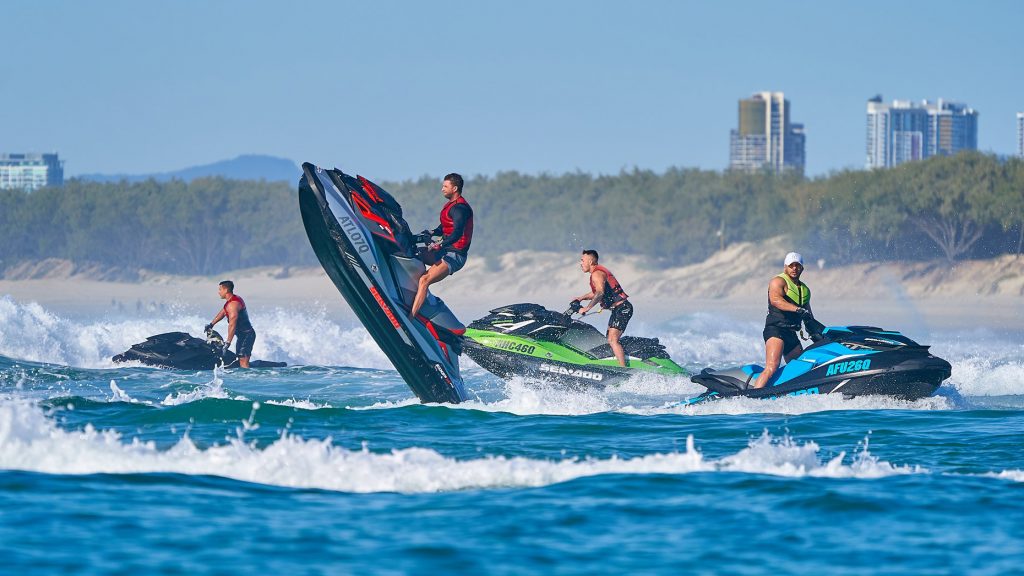 As for crowds of Jet Skis in popular wave-jumping locations:
"There's enough coastline to make sure you're not running into each other, or when riding back to shore towards another rider who is heading out," says Brant.
"If it's busy," he says, "just move to an area where there aren't many people around."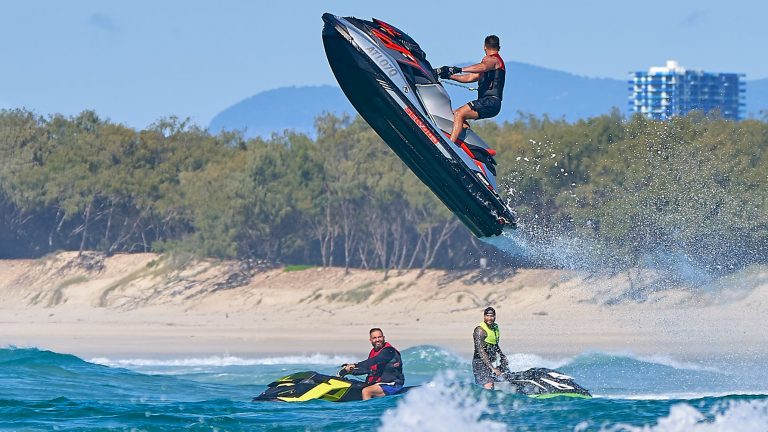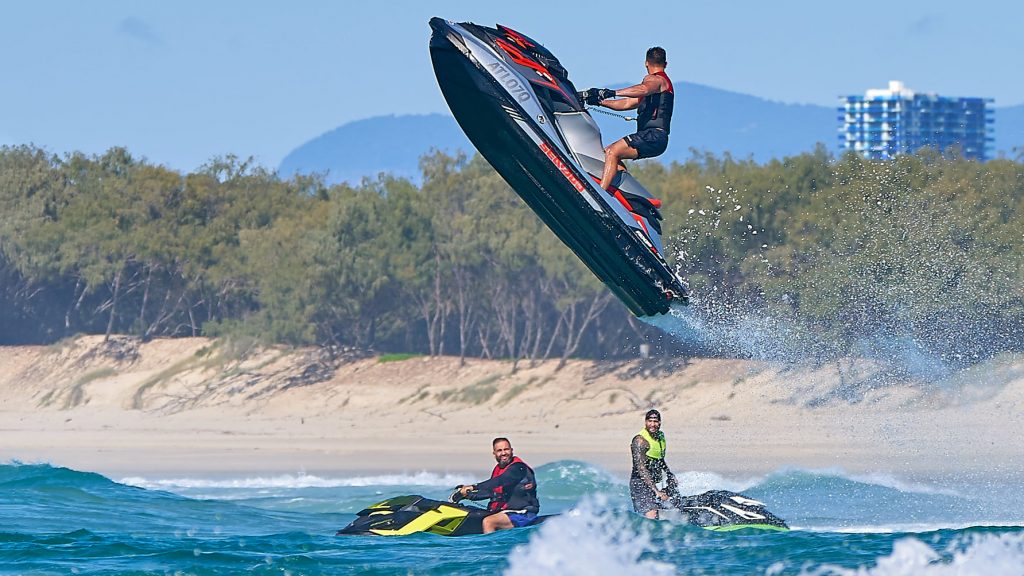 Photos captured by Jeff Lakeford and are used here with permission.
MORE: 2022 Sea-Doo prices and model changes
MORE: 2022 Yamaha WaveRunner prices and model changes
MORE: 2021 Kawasaki prices and model changes
MORE: Follow us on Facebook